I hope you've enjoyed my guides to Spring and Summer Style and Spring & Summer Shoe Styles! To wrap it up, I've saved the best for last: Accessories! I think we're all just so excited to get out of the house that we're keeping it pretty simple when it comes to accessories. We've learned to be practical and grateful for things like our families, Zoom, and restaurants with good to-go menus!
When it comes to this year's accessories, it's all about small details and functionality. We want personalized jewelry to express ourselves over Zoom. We want necklaces that double as holders for our masks and sunglasses, and we want earrings that are subtle and dainty. We want headbands to quickly style our hair and crossbody bags that free up our hands! Finally, when it comes to beauty, we realize that less truly is more.
As usual, click on any pink text links or images for more information. (And pay special attention to any green text, as it indicates an exclusive discount just for Empty Nest Blessed followers!)
2021 Spring and Summer Accessories: Trends
Colors
In the 2021 Spring & Summer Shoe Styles post, I told you to keep an eye out for blues, rose gold, and newer neutrals like blush. This holds true for accessories too! A few other color trends you'll want to know:

Textures

Patterns

2021 Spring and Summer Accessories: Jewelry
Mask Necklaces
Mask necklaces have become more popular as a cute and functional way to up your mask game. If you have to wear one, why not make it stylish jewelry!? It frees your hands, and you can leave your mask around your neck when you need to take it off, so you'll never lose it. Keep scrolling for my tips on wearing makeup with masks.
Suzy's Style Tip: You can use these for your sunglasses too! Functionality is actually fashionable now🙌!

Long Necklaces
Long necklaces are replacing shorter choker necklaces this year. Lariat necklaces are also big! I love this style because it's easy to adjust your necklace to your preferred length. Use these to spice up a plain shirt, or pair them perfectly with a tiered dress – arguably the hottest style trend of 2021!
Suzy's Style Tip: I love the Adornia lariat necklaces at Nordstrom. Many of them spell out inspirational words like LOVE, FAITH, or HOPE. (See them all HERE.)

Gold Hoops and Pearl Drop Earrings
For earrings this year, keep them dainty and pretty to compliment your brightly colored wardrobe! Simple is better, so think smaller hoops (sometimes called "Huggies") and drop earrings. Or, check out these convertible earrings to make the best of both worlds! Earrings with small flowers add just the right touch of spring. Also, rose quartz is trending, and gold is beginning to replace silver.
Suzy's Style Tip: "Statement earrings" are pretty much finished making their statement! Think smaller and feminine. (After all, have you ever been on a Zoom call with someone wearing a "statement earring?" It's downright distracting! 😂)

Pearl Jewelry
We saw pearl jewelry hit the scene last spring, but this year, brands are going all-in on the trend! Case in point, check out the stunning pearl jewelry collection at J.Crew!
Classic pearls will never go out of style, but in general, you'll see more freshwater pearls available right now. If you prefer classic pearls, look for pearl cluster earrings. I own THIS pair of $7.99 cluster earrings and wear them on repeat in the warmer months.
Chain Link Jewelry
Chain link is everywhere! You'll see it used on handbags, on necklaces, and on bracelets galore. This is an easy trend to incorporate into your existing wardrobe and it will give you an instant update!

Personalized Jewelry
After keeping to themselves in 2020, everyone wants to express themselves and show their uniqueness! Personalized anything is flying off the shelves. You know your monogram-loving pal Suzy is all about this trend! I think personalization makes everything more meaningful.
Suzy's Style Tip: Big block letter necklaces were a hit last year. Now we see smaller pendant initial necklaces too.
Beach Beads
Beach Beads are so fun and perfect for…well… a beachy summer vibe! Sometimes they're colorful, or sometimes they're just gold or neutral, but they always come with a name or inspirational message. These are a huge trend this year. Choose one with a sweet message, or get creative and make your own.
Suzy's Style Tip: Stack these to make a big style statement!

Flower Month Jewelry
We all love our birthstone jewels, but have you heard of flower month jewelry? It is one of the most trending searches on Etsy right now, and people are raving about them in the comments!

Inital Necklaces
Single initial necklaces are everywhere you look this spring. From high-end (dupe of that one HERE) to really inexpensive, there's one in everyone's price range.
Suzy's Style Tip: If you're only going to buy one piece of jewelry this year, make it an initial necklace! If you can combine several trends in one piece, more power to you! Check out THIS initial necklace I own. It combines the initial pendant trend with the pearl and chain link trends as well. That's like a trend trifecta! 😂

Personalized Apple Watch Bands
Apple Watch bands are one of those universal trends that everyone loves!⌚ I did an entire post on our favorite Apple Watch bands late last year. We've updated the links, and everything in that post should still be available, so if you're on the hunt for a cute Apple Watch band, you'll want to browse that post, for sure!
Suzy's Style Tip: With the trend toward personalization this year, a big trend is monogrammed Apple Watch bands. I think they're adorable!

2021 Spring and Summer Accessories: Handbags
Quilted Handbags
In the Spring & Summer Shoe Styles post, we talked about how quilted shoes are huge this season. Well, I have news: so are quilted handbags! The bag that started the entire trend? The nearly $2K Gucci Marmont. (I love THIS dupe for just $49.95 + 15% off when you use the exclusive code ENB15.) I guarantee you will see these all over the place! Other popular styles include quilted backpacks and totes.
Suzy's Style Tip: Style with a pair of quilted shoes to tie the whole outfit together.

Crossbody Bags
I'm a huge fan of crossbody bags because I love to have my hands free. Especially with whipping a mask on and off these days, the last thing we need to worry about is carrying a purse! I don't know about you, but I plan to be on the GO this year, and I'm ready to have easy access to my purse. Keep your eye open for spring florals and woven bags!
Suzy's Style Tip: Keep it on the small size to hold the essentials like a matte lipstick (long-wearing and transfer-proof, but of course! 💄), masks, and hand sanitizer. Or, go even smaller with a wallet size crossbody.

Reversible Tote Bags
Talk about wanting to make things easier on ourselves in 2021…reversible tote bags are SO handy! This tote went viral and sold out fast, but is thankfully back in stock with 1.7K amazing reviews! It's perfect for vacation so you don't have to bring multiple purses to coordinate with your outfits. Also, you might want to look for spring florals and woven patterns that give the option of a fun design on the reverse side!
Suzy's Style Tip: If there were ever a time to spring for a personalized, monogrammed tote, now is the time! I love the high-quality, completely customizable tote bags at Barrington Gifts. For a less expensive option, check out THESE at Marley Lilly.

2021 Spring and Summer Accessories: Headbands & Sunnies
Knotted and Braided Headbands
This is the lazy girl's perfect spring and summer accessory! Do what Princess Kate does and throw on one of these bad boys for an instant outfit upgrade or pop of bright color! How easy is that?!
Suzy's Style Tip: The knot on top is elongating, meaning it will give the optical illusion of drawing the eye up—making you look taller and slimmer!

Sunnies
Are you ready to swap your blue light glasses for some sunglasses!? This year's sunglasses trends include classic frames with a modern twist. Think cat eye, but a little more subtle. Lightly tinted gradient lenses are hot, especially pink ones! And, of course, everyone's favorite 70's tribute, the good old aviator. Go for mirrored lenses if you're feelin' trendy!
Suzy's Style Tip: As always, be sure to find the style that best fits the shape of your face! Let me know in the comments if you'd like to see a post on that, okay?

2021 Spring & Summer Accessories: Makeup
Getting back into the daily makeup routine doesn't have to be difficult! This year, the trend is to highlight your natural beauty and embrace what the good Lord gave you! That doesn't mean to go bare-faced necessarily, but it's time to focus on the wonderful features you have and learn how to enhance instead of cover. Don't be afraid to let those freckles show, and if you want, embrace your natural hair texture too!
The makeup trends right now are just perfect for midlife women. Less is more! Think about incorporating products that enhance your glow and bring out your natural beauty. 😁
Glow Like a Pro!
When it comes to getting glowy skin, here are a few products that I've found really help!

Enhance Your Brows & Lashes
There's a trend toward natural lashes that have been, um, shall we say, encouraged along, by a good lash serum. 😂 (THIS one works, and it's not as expensive as some!) Along the same lines, we want to, er, encourage brow growth too. THIS is the brow serum I use.

Build Up Your Brows
You want your brows to look as full as possible! Use a brow brush (or repurpose an old toothbrush or mascara wand), and brush your brows straight up. Trim any stragglers if needed and consider using a product that will help them appear fuller. I've used THIS buildable eyebrow enhancer for years! I like it because it goes on like mascara! Recently, I discovered a waterproof brow pencil and gel combo I really like. It has an angled pencil tip for filling in sparse areas. On the other end of the pencil, it has a gel that thickens and sculpts brows into place.
Suzy's Style Tip: With any eyebrow product, remember to use a light hand and use small strokes to gently enhance your natural brows. Less is more!

Mask-proof Makeup
The spring & summer makeup trends are all about working with our masks!
Matte Lipstick
Under our masks, we want a non-sticky matte lipstick that won't transfer to our masks and won't dry out our lips. I've found the perfect one, and I love it! It's a matte formula that is transfer-proof and, unlike some matte lipsticks, it doesn't dry out your lips!

Setting Spray
We also want a sealing spray that we can mist on to hold our makeup in place! THIS matte sealer is the one my musical theater actress daughter turned me on to—it's the one she uses on stage. This will keep your foundation from transferring to your mask. It's great for sweaty summer months as well.

2021 Spring and Summer Accessories: Nails
Again, less is more when it comes to spring & summer nail polish trends! Buh-bye French manicures Hello lighter, more natural colors. Essie has beautiful options for neutral nudes and pale pinks. (This is the color favored by the British royal family!) If you're looking for a bit more fun, opt for a brighter pink (pink is totally the color of the year!).

Probably like many of you, I started DIYing my manis and pedis last year! In fact, one of my favorite discoveries during the pandemic has been ManiMe. They're a company that uses 3-D printing technology to create custom manicures and pedicures. All you do is scan your hands with your phone, select your design, and your custom-fit stick-on gel mani (or pedi) comes right to your home. They're toxin and cruelty-free, can be applied in 5 minutes or so, and stay on for 7-10 days.
My nails are so much healthier without all of the chemicals, filing, and drilling that in-salon dip or gel manicures require. You can check out my review of ManiMe right HERE or check out the ManiMe website HERE. If you decide to try ManiMe for yourself, use ENB20 for 20% off your first set of manis or pedis. My favorite color is Venus Shell!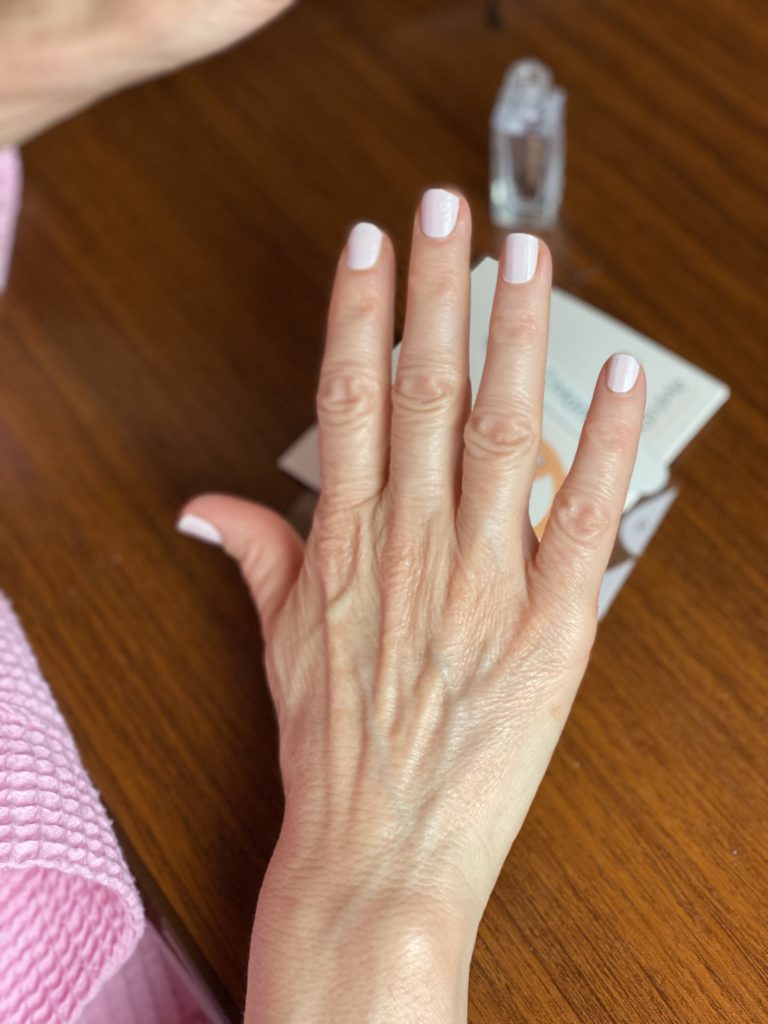 I hope it's been a fun week for you and you've learned a lot! Do the spring & summer accessories make you excited about the upcoming season? I'm so ready! Dealing with the pandemic plus the cold weather has been a challenge for a lot of us this year. I'm looking forward to coastal distancing on a beach somewhere soon!
Did you find my spring & summer style guides helpful? I hope so! If you enjoyed them, please share them with others! (Honestly, it's the sweetest compliment you could give me!🤗) You can find social media icons for sharing, along with ways to email the post at the very bottom of this page.
CLICK ON ANY IMAGE BELOW FOR MORE INFORMATION.