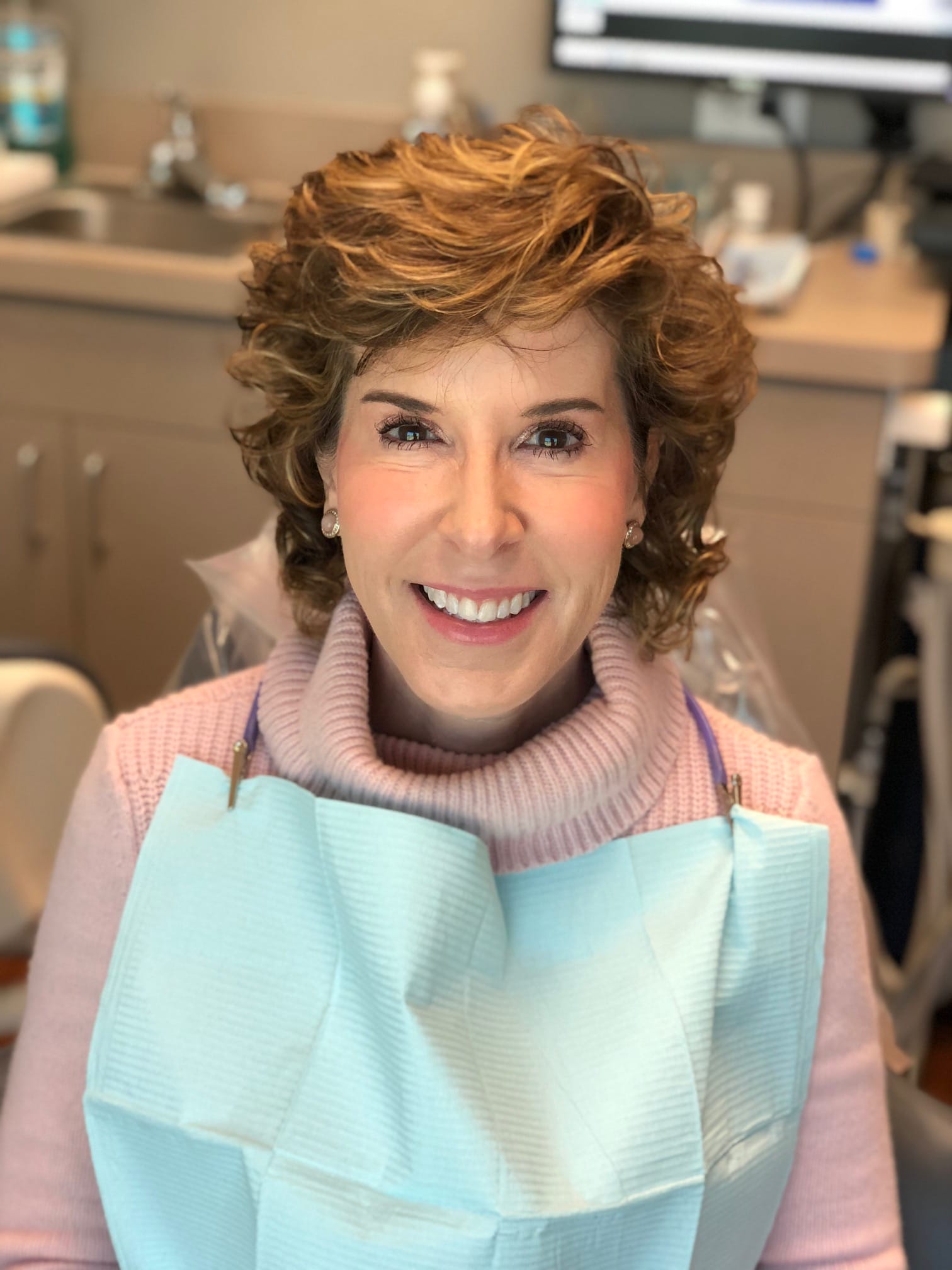 I think white teeth are one of the simplest and most effective anti-aging things you can do for yourself. (That's why I recommend it all the time!) After talking with Dr. Brian Wong, of Stonebriar Dental for my More Midlife Beauty Issues post, he offered to let me experience Zoom Whitening for myself so that I could share my experience with you. Today, I'm walking you through my experience step-by-step, complete with totally embarrassing photos. 🙂
As we age, the enamel on our teeth naturally wears down and thins, producing a yellowing as the dentin below shines through our enamel. Coffee, tea, soft drinks and red wine, as well as foods like blueberries and pasta sauce, exacerbate the issue. To combat the problem, you can use whitening strips, but unfortunately, as we age, the over-the-counter strips may not be powerful enough to do the job well. Also, as we age, the stains in between teeth worsen, and over-the-counter strips can't reach those. The best alternative? Professional, in-office Zoom Whitening, which takes less than an hour, and can whiten your teeth up to eight shades. (And reach those pesky in-between spaces.) During the procedure, a high-powered hydrogen peroxide whitening gel, along with the Zoom LED ultraviolet light, opens up the pores of the teeth and allows oxygen to enter the enamel and dentin to break up stains and discoloration. The structure of the tooth doesn't change.
Before
Since I've used white strips many times before, my teeth were already fairly white. But I do have some staining in between my teeth. (I've never had braces, BTW, so my alignment isn't perfect!) Honestly, I wondered how much whiter my teeth were going to get with Zoom Whitening. When I showed up at Dr. Wong's bright and beautiful office in Frisco, Texas, his assistant Haley, ushered me back to a room for my before pictures. 
Since some people can experience "zingers" from tooth sensitivity during the procedure, Haley offered me two Ibuprofen. I opted for Tylenol instead, which I had with me, but I never experienced any sensitivity either during or after the procedure. Since I have some recession, I already use a toothpaste for sensitive teeth, and that may have helped. Next, she made custom molds of my teeth, which went home with me in my post care kit.
Step 1: Cotton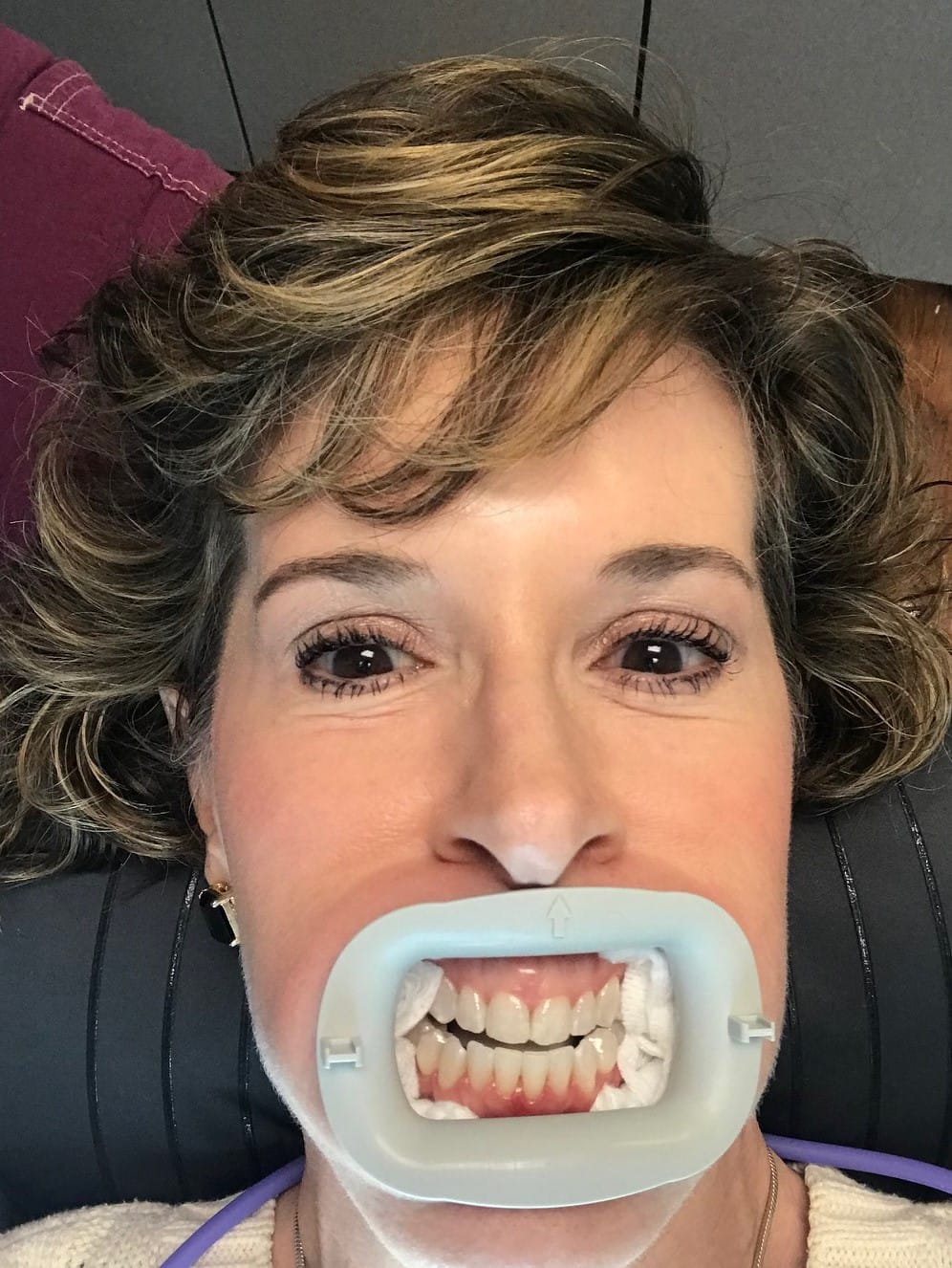 The highest strength over-the-counter white strips use a 10% hydrogen peroxide formula. Since Zoom Whitening uses a 25% hydrogen peroxide formula and a UV light for optimum whitening, great care is taken to protect the surrounding gums, lips, and skin. After taking the molds that would be used to make my custom trays, Haley took "before" pictures. Then she stuffed the sides of my mouth with soft cotton.
Step 2: Liquidam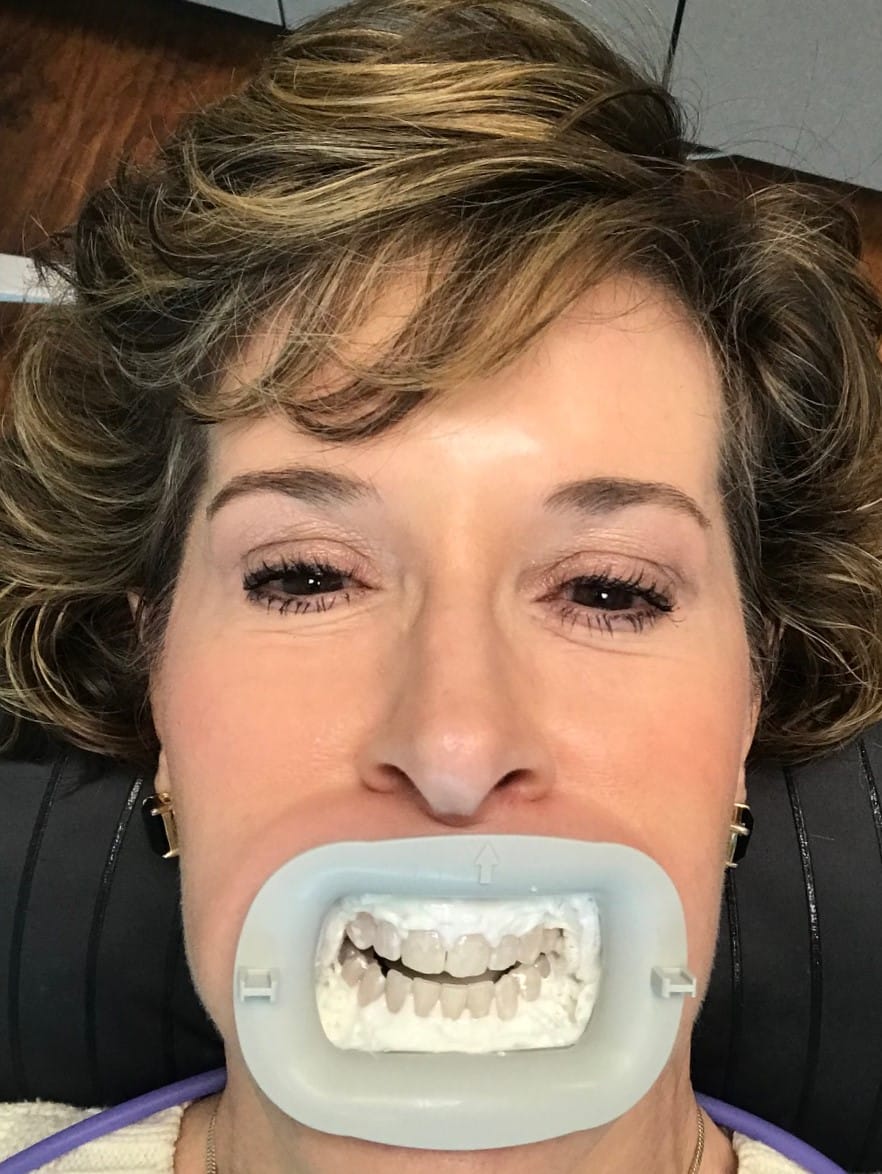 Next, she applied a barrier product called Liquidam to my gums to protect them and isolate my teeth. She used an LED light to harden the Liquidam. (It was still pliable and comfortable.)
Step 3: Skin and Eye Protection
Since Zoom Whitening utilizes a UV light to accelerate the whitening process, Haley applied a cotton fabric with 30 SPF around my mouth and gave me protective goggles for my eyes. Do I look fantastic, or what?
Step 4: Bleaching Solution and UV Light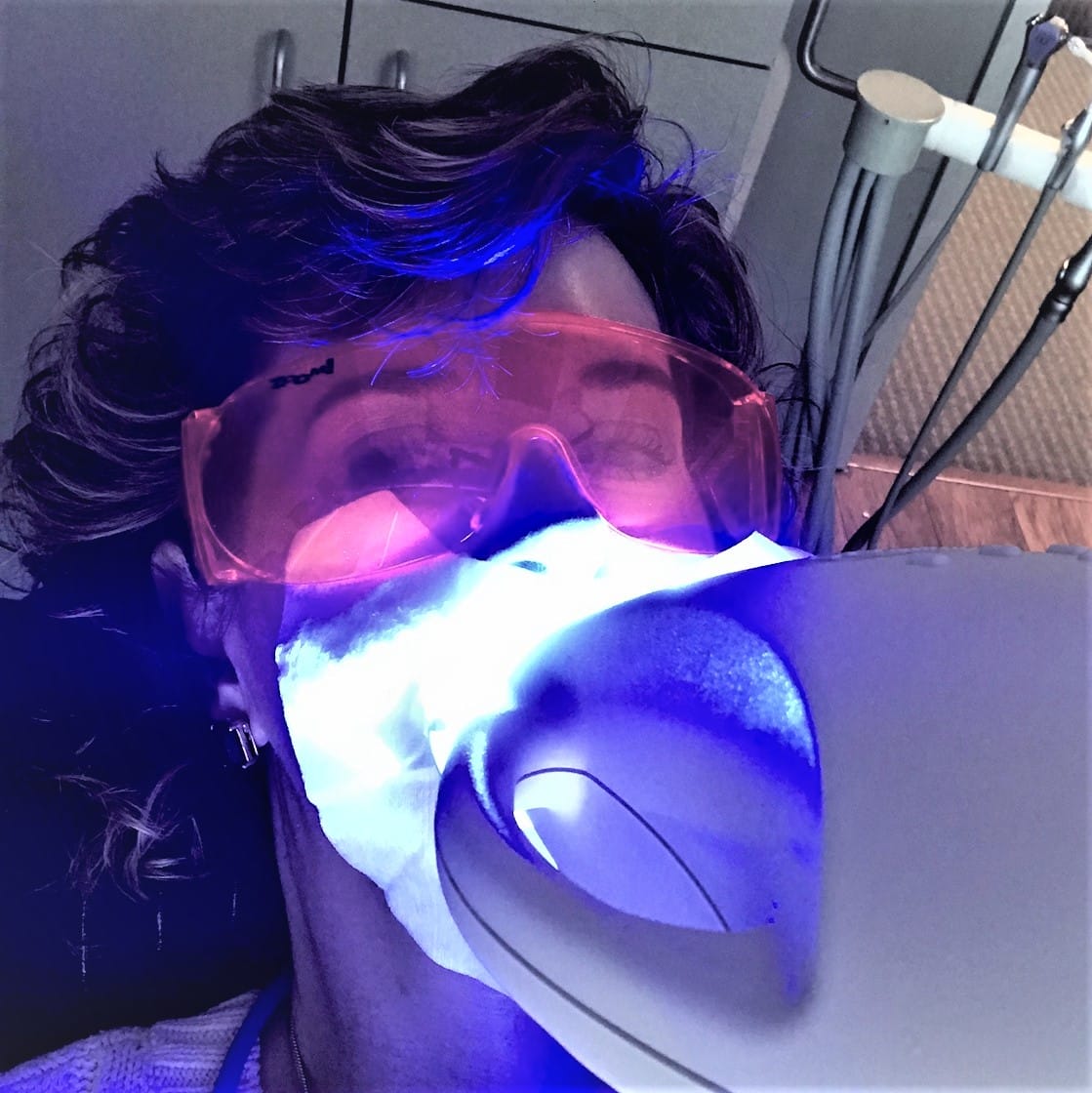 Finally, Haley applied the bleaching solution to each tooth. Then she turned on the Zoom light for 15 minutes. She repeated this twice more, for a total of three rounds. If patients experience sensitivity during the procedure, a fluoride treatment is applied immediately afterward. Since I didn't have problems with sensitivity, they sent the fluoride home with me in case I had any delayed sensitivity in the next few days. (I didn't.)
After Care and Maintenance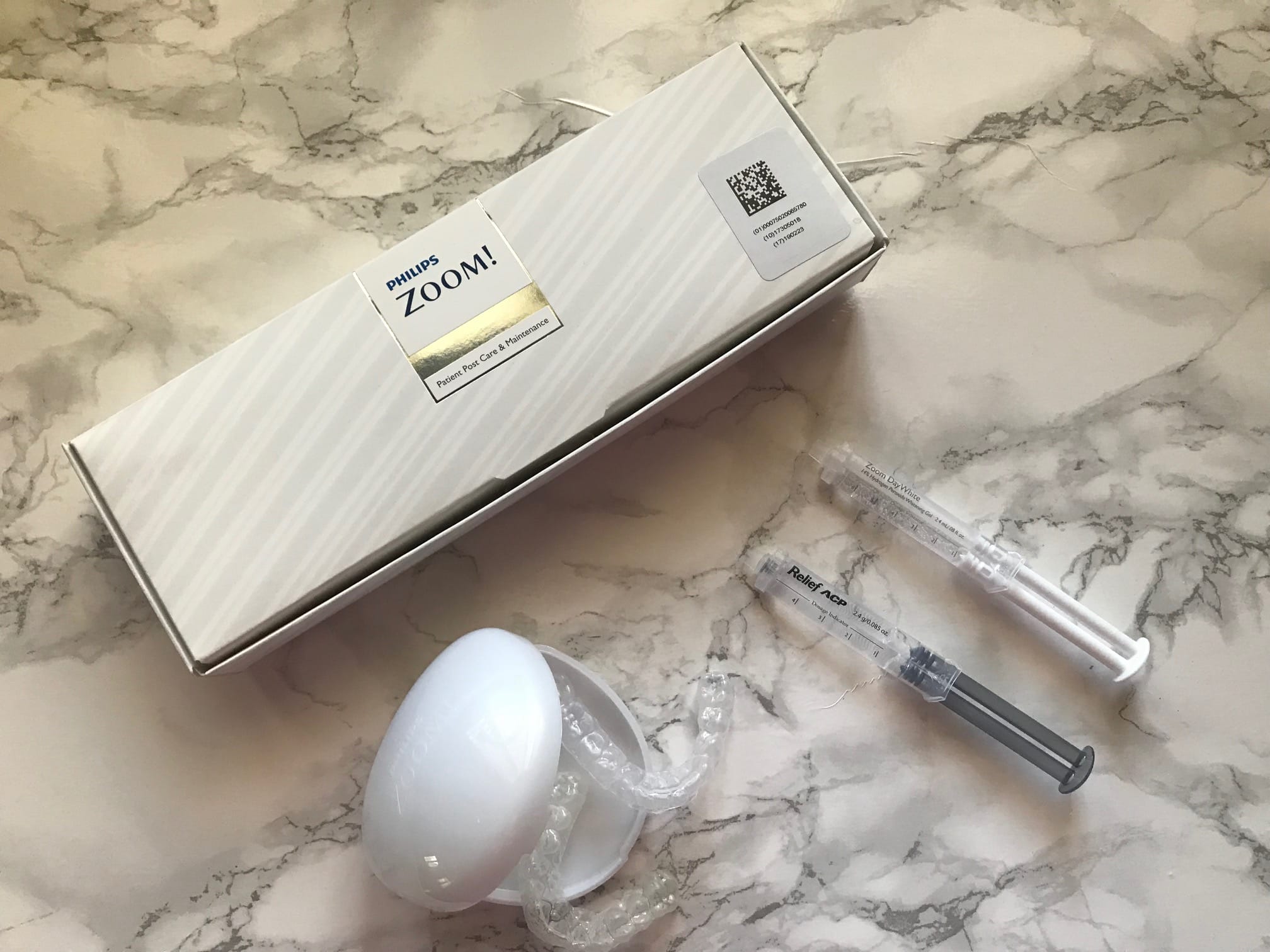 Dr. Wong charges $449 for Zoom Whitening (the national average is $500). Patients go home with a post care and maintenance kit which includes custom trays. Each post care kit includes one syringe of 14% hydrogen peroxide gel to use in the trays for touch-ups. Dr. Wong recommends that patients touch up as needed or every six months immediately following their professional dental cleaning. The additional gel for touch-ups is available for $15 per syringe, and each touch-up treatment uses approximately one-third of the syringe. Syringes expire in one year, or two years with refrigeration.
A few things worth noting:
√ Some people find in-office whitening to be too intense or painful. In that case, the dentist typically halts the procedure and sends the patient home with a take-home system or recommends an over-the-counter system instead.
√ There are other in-office whitening systems besides Zoom Whitening that provide the same results. Consult with your dentist prior to proceeding.
√ Zoom patients are encouraged not to eat or drink anything dark for two days following Zoom Whitening, as the pores of the enamel are still open and gradually close during that time.
√ For optimal results, Zoom Whitening is best done immediately after a regular dental cleaning. Dr. Wong's staff did my routine dental exam and cleaning the week before my Zoom procedure.
√ Crowns and veneers will not respond to Zoom Whitening.
√ If you're looking for movie-star white teeth, know that you can only get those with porcelain veneers.
My teeth whitened four shades with Zoom Whitening! It took less than an hour, and I had no side effects. I can't say enough about the wonderful staff at Stonebriar Dental! They cared for me so well and patiently answered every one of my (many) questions. I would highly recommend Zoom Whitening, and I'm so glad I did it. Many thanks to Dr. Brian Wong, his assistant Haley, and the entire staff at Stonebriar Dental.
Blessings,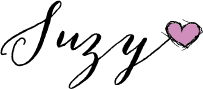 This post was sponsored by Dr. Brian Wong.