Happy Mother's Day weekend, sweet friends! Although this Mother's Day looks different from any we've ever seen, I hope you feel loved and cherished on your special day!
Our daughter will be here for a few more days before she heads up to her summer gig at Starlight Mountain Theater in Garden Valley, Idaho. (Yes, it's ON!) We've enjoyed her so much the past few months, and having her home has been really good for our relationship. I'm thrilled that she'll be here on Mother's Day!💟 My oldest son came in from Austin for the weekend, and brought me a really cool gift! You'll be hearing more about it in the coming weeks! My middle son and daughter-in-law gifted me with the most delicious natural bath bombs! They're made with Dead Sea salt and essential oils, and I've already used one. Shhhh!🤫

Here in Texas, things are gradually starting to reopen. I shared a little bit in an Instagram post and in my recent summer handbag post what it's been like as we've ventured out to eat, go to the doctor, and more. The biggest and most wonderful thing we've noticed: in general, businesses and people have been diligent, careful, and very intentional about following social distancing, wearing masks, and being thoughtful of others. It's been so encouraging, and it felt so safe! Have things started to open up where you live? If so, have you felt safe?
I've been thinking a lot (and I know I'm not the only one!) about what the world is going to look like as we all move forward, and I did a ton of research this week on that very subject! Not only what it will look like for business and culture, but also what it will look like for us personally.
The New Normal: How Business Will Change
As challenging as this pandemic has been for so many businesses, there are some that have flourished! Here's a fun little snapshot of a few of the thrivers & strugglers.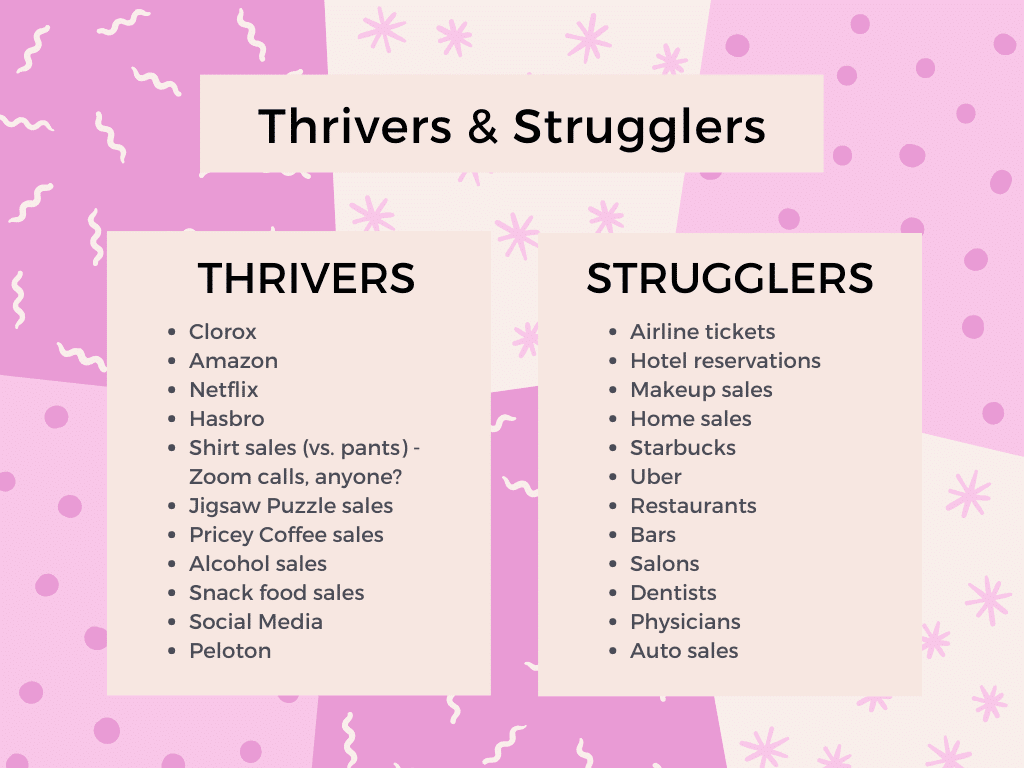 Companies like Clorox, Amazon, and Domino's Pizza can't move fast enough to meet demand. Meanwhile companies that rely on people traveling, being together, or venturing out in public are riding the struggle bus. 🚌 As the country reopens, we'll probably see the "thrivers" continue to gain, but those gains will slow, while the "strugglers" will either fold or stay and adjust to new guidelines and regulations. (Just this week, several prominent companies filed Chapter 11.)
The New Normal: How Work Will Change
Recent studies show that during quarantine, many people who traded the office to WFH (work from home) found that they liked having the ability to schedule their work lives around their personal lives (instead of vice versa) and that they were more productive and happier.
Look for WFH to become more common. According to Matt Burr, the CEO of Nomadic Learning, the most important factors for success as companies transition more workers to remote workspaces are trust, mutually agreed-upon norms, good communication, and a strong and validating work culture. Again, this can only benefit businesses and their employees. 👍🏻
Tie Dye Jogger Set | Pink Bandana (Comes in a one dozen multi-color variety pack)

The New Normal: How Airline Travel Will Change ✈
Travel has long been a priority for empty nesters, and many of us have had to cancel trips as a result of THE COVID (Bob's name for anything related to quarantine! 🤣). It's not news that the travel industry is in for some big changes as a result of the global pandemic. A few things you won't be seeing anymore:
Low Fares

– Alexandre de Juniac, director-general of the International Air Transport Association (IATA), recently stated that if social distancing is imposed, low fares may be gone.

Middle Seats

– Thanks to social distancing, middle seats are officially blocked on all of the major airlines.

Pre-Boarding Crowding

– Airlines have started calling passengers by rows to board, and loading planes from back to front.

Paper Boarding Passes

– Mobile Boarding Passes have taken over.

Pillows, Blankets, and Headsets

– Since it's impossible to ensure that they're clean, they're on their way out.

Snack Service

– Airlines like Alaska, American, Delta, and Southwest have suspended food and drink service.

No Alcohol

– American Airlines is only offering adult beverages in first-class and Delta is cutting alcohol completely.

No Trash Pickup

– Alaska Airlines is now requiring passengers to dispose of their own trash in non-touch garbage bins. The carrier has also suspended recycling. Similar practices will likely catch on industry-wide.
Want to hear more about the upcoming changes to the travel industry? I'm so excited to announce that my long-time friend (and fellow empty nester), Shannon Leyerle, of Vacations by Shannon will be my guest on an Instagram Live this coming Tuesday, May 12 at noon! Shannon is a professional travel advisor specializing in cruises, river cruises, and Disney vacations. To watch at noon on Tuesday, go to my Instagram Profile Page and tap on my profile picture. Can't join us right at noon? The Instagram Live will be upon on my Instastory (access it the same way) for 24 hours following our broadcast.
Tune in to hear Shannon's take on how the travel industry will bounce back from this pandemic, and how she expects Disney to be an industry leader in setting the standard. (BTW, Disney recently released their own fun face masks, with designs inspired by characters from Star Wars, Marvel, Pixar, Disney princesses, and, of course, Mickey and Minnie.)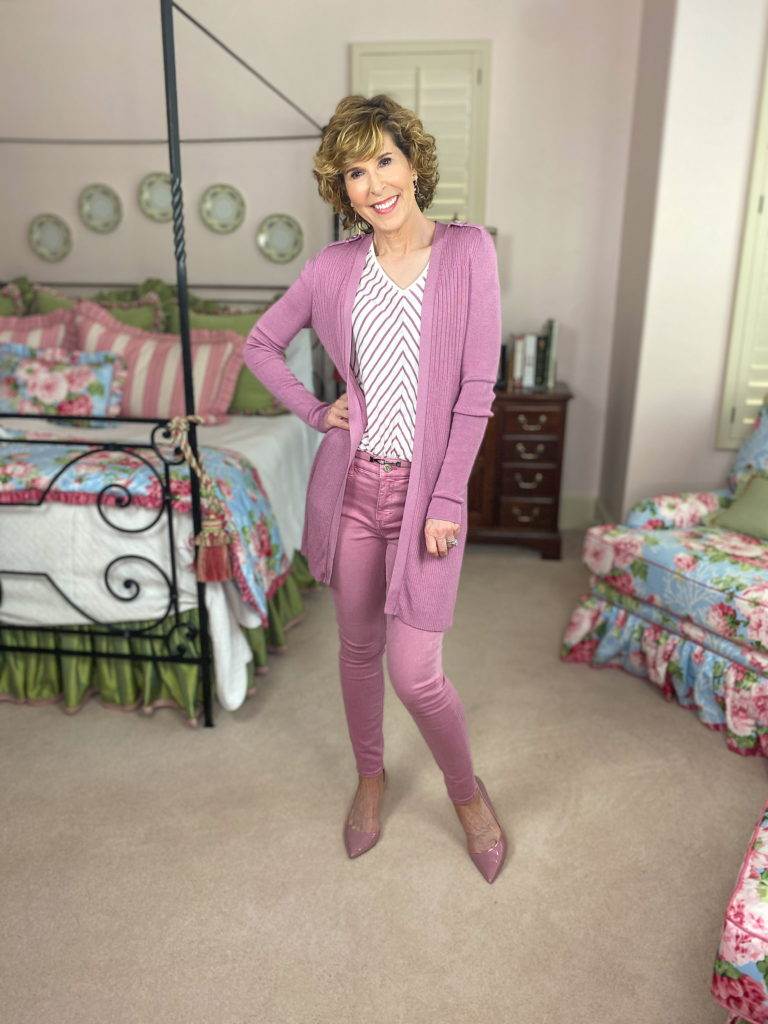 Pink High-Rise Jeans | Striped Jetsetter Tee | Pink Ribbed Detail Duster Cardigan | Pink Patent Leather Pumps | Pink Leather Skinny Stretch Belt (40% off)|Rose Quartz Drop Earrings (sold out) Similar HERE

The New Normal: How Date Night at the Movies Will Change 🍿
Bob's motto for the empty nest is "We can go where we want, when we want, and stay for as long as we want." For us, that often meant a late-night movie—with a big bucket of popcorn—on a weeknight. Ya know, just because we could. We've really missed that during THE COVID! The movie-going experience is likely to change significantly. According to the experts, here's what you can expect to disappear:
Paper tickets. Expect all ticketing to go digital.
Recycled 3D glasses.
Self-serve butter. 😬😢
Self-serve soda fountains.
Close seating.
If movie theaters practice safe social distancing, there will be fewer tickets to sell per show. This will mean more sold-out shows and probably higher ticket prices. 😢
XOXO Workout Tee | Black Sports Bra | Black Shorts | Fuchsia Tennies | Sunglasses | Apple Watch | Lip Gloss ("Nude York")

The New Normal: Will it Change You Personally?
When the world gets back to whatever the "new normal" may be, do you want your life to be the way it was before, or are there things you've learned during this time? We're all longing for the future, but I think it's important to take some time to reflect too. What were you doing before THE COVID that wasn't working for you? What are the things you can't wait to get back to—things that maybe you didn't appreciate before this stay-at-home time? Is it time to make a change? How has this time affected your relationships? Have you discovered some things that you want to do differently?
I hope you'll pause to think about these things as the country gradually reopens. I've been pondering these things myself, lately. I've especially been thinking how and where I work. If you saw my Instastory on this, you know that I've taken to working on this "hospital-style" table in my bed!🛌🏻😂 I love the lighting in my bedroom, and it's been good for me to remember that I don't need to stay in my little office under the stairs to work (even though I love my standing desk!). Hopefully, in the future, you'll see me working out on my porch, on the sofa, and even at Bob's office sometimes.

I've also realized my photos don't always need to be professional caliber! Thanks to the outstanding camera on my iPhone 11 Pro, and the skills (I use that word loosely!🤣) I've learned as I've been forced to edit my own photos, I've realized that I can have Bob take more of my pictures. (I've shared several recent ones in this post!) He makes it fun for me, and y'all have told me you appreciate the natural, authentic look of the photos you've seen the past few months. 📸 (Thank you for that feedback, BTW!)
Blessings,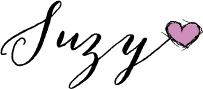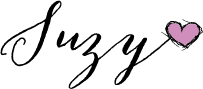 SHOP THE LOOK AT THE TOP OF THIS POST