Disclosure: As an Amazon Associate, I earn from any qualifying purchases you might make as a result of this post. 😀
If you're like me, you initially got Amazon Prime for the free 2-day shipping. When they added same-day shipping on some items in some locations, I about lost it! All of a sudden it seemed like I could think it, and a few hours later it would appear on my doorstep in a mind-reading trick of some kind! (Ahem, of course, I did have to place an actual order!)
Recently, my mom told me she wanted me to help her transfer all of her photos to the free storage that came with her Amazon Prime membership. Y'all, I had no idea what she was talking about! She got so excited that in her 80s, she knew something "techy" that her daughter didn't! Hahaha! It was then that I realized that there were wayyyyy more Amazon Prime benefits than I was aware of and FOMO set in big time! When I started looking into it, I quickly got overwhelmed trying to figure out what all of the benefits were and how to use them. So, I decided to research it, write about it, and see if we could make sense of it together. #imhereforya  🙂
Today, I'm running down the Amazon Prime benefits, telling you how to use them, and letting you know where to get more information about each one. (Yep! It's like a SO in the KNOW for Amazon Primers, right here!) 🙂
(Also, last weekend, I realized I didn't have any images related to Amazon to use in this post, so I snagged my daughter Becca, who is home on Spring Break, and we went out on the front porch, iPhone in hand to snap a couple of quick pics of this adorable top I bought on Amazon! LOL. I hope you're not cringing at the photo quality!)
Amazon Prime Benefits You Already Know
First of all, let me say that if you don't have Amazon Prime yet, you might want to consider it! If you're unsure, you can take advantage of the free 30-day trial. (Not sure if there's anyone ON THE PLANET who doesn't already have it, but I thought it was worth saying!)
In addition to free 2-day shipping. You also get:
Additional Amazon Prime Benefits: Shipping
In addition to the benefits listed above, there are a few more cool ones that may be new to you!
FREE Release-Date Delivery: If you pre-order an item (like a book) before its release date, it will be delivered to you on the actual release date if you live in a qualifying zip code. For more information, click here.
FREE No-Rush Shipping: If you're not in a rush for your order, select "No-Rush Shipping" at checkout and earn rewards toward future purchases.
Additional Amazon Prime Benefits: Streaming
It's hard to keep up with all of the jargon these days, so for those of you who aren't even sure what "streaming" is, I'm going to break it down for you! Streaming is a type of technology used to deliver content — usually audio and video — to computers and mobile devices over the internet. It transmits the data continuously, which allows the recipient to watch or listen on demand.
Prime Video: Unlimited streaming of movies and TV. (For both paid or free Amazon Prime trial members.) For more information, click here. I just finished watching the first season of Vanity Fair on Amazon Prime Video, and I highly recommend it! Also, I Can Only Imagine is one of my favorite movies, and it's free on Prime Video too.

Prime Music: Unlimited, ad-free access to more than two million songs. For more information, click here.
Interested in access to even more movies and TV? Prime members qualify for discounted monthly plans on Amazon Video Channels (like HBO and STARZ) and Amazon Music.
Additional Amazon Prime Benefits: Shopping
Additional Amazon Prime Benefits: Reading
Prime Reading: Borrow books, magazines, and more from the Prime Reading catalog, and read them on your Fire tablet, Kindle e-reader, or the Kindle reading apps for iOS and Android. For more information, click here. WANNA KNOW A BIG SECRET? I love my Kindle, but you don't have to own a Kindle to take advantage of this Amazon Prime Benefit! You can download the app for free on your device and start reading! Click here to browse the Prime Reading catalog. Need help downloading the app on your device? Click here.
Amazon First Reads: Prime members can download a new book for free every month from the Amazon First Reads picks and also purchase hardcover titles at exclusive prices. For more information, click here.
Audible Audiobooks: Listen to books in all sorts of categories! There's a 30-day free trial so that you can try it out, and you get two free audiobooks that are yours to keep whether or not you continue with the program! Click here for more information.
Additional Amazon Prime Benefits: Photos
Get secure unlimited photo storage and enhanced search and organization features with Amazon Prime Photos. For more information, click here. (This is what my mom did with her photos.)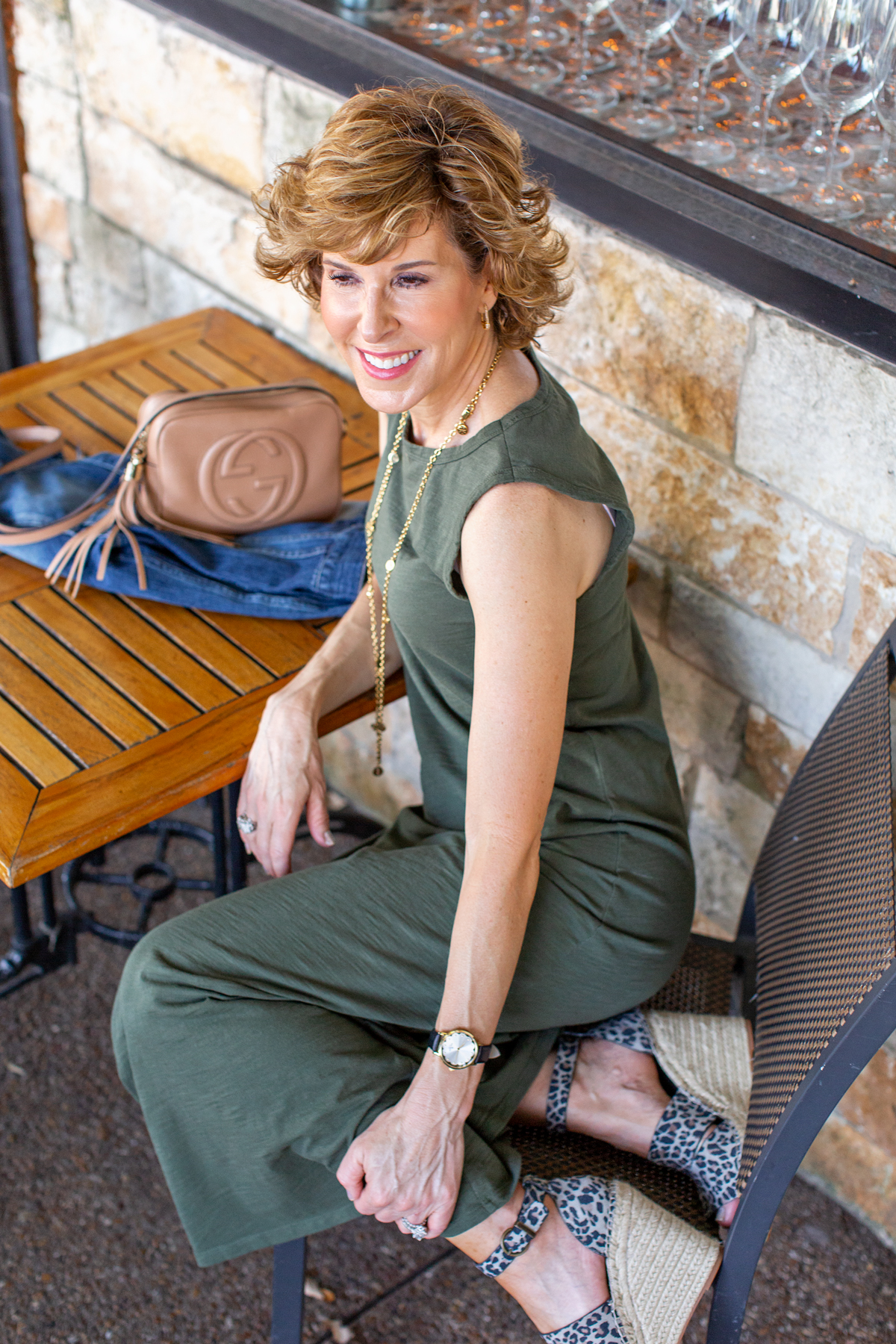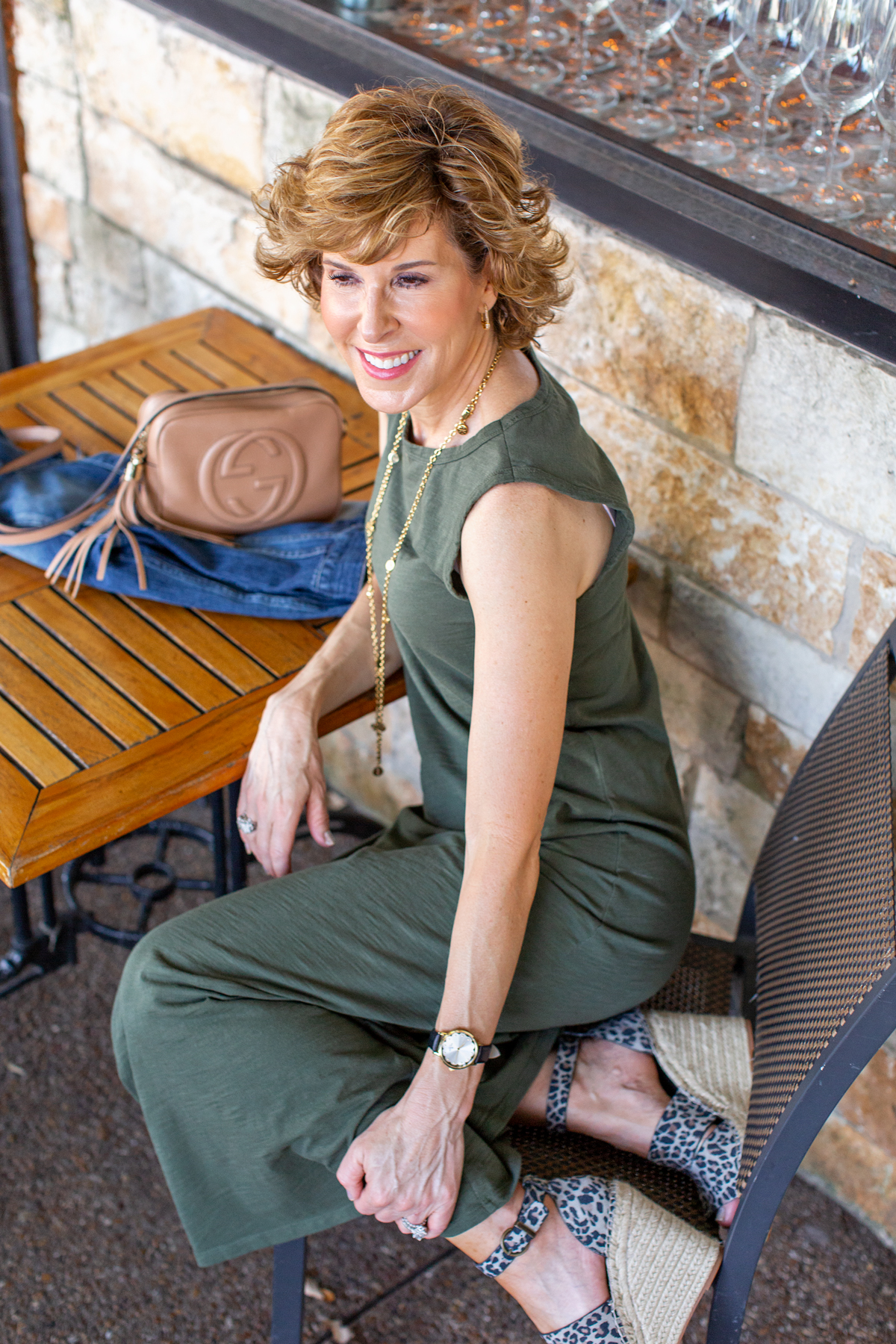 Green Maxi Dress (from Amazon!) | Similar Leopard Wedges (with lower heel) | Similar Tory Burch Station Necklace | Safety Pin Earrings | Gucci Camera Bag | Jeans Jacket

This darling green maxi dress is just one example of some of the darling fashion available on Amazon! It comes in a whole boatload of colors, and I own it in navy with white stripes as well as this pretty green. (Click on any of the images below for more information!)

Did you know I have my own Empty Nest Blessed page on Amazon? It's available to anyone, regardless of whether you have Amazon Prime or not! I add to it all the time, so be sure to "Follow" me, bookmark it, and visit often! I have an entire category called "Amazon Fashion Finds" that I am constantly adding to! This dress is on it, of course!
Did you read my recent post about the Ten Drugstore Products I Use Every Day? Y'all know I'm all about saving you time and money, so I put the entire list on my Amazon page in case you want to shop! Click here to check out the page and all of the current categories, and please let me know if there's a category you want me to create, okay? 🙂
Was this post helpful to you? I learned so much from researching it. What Amazon Prime Benefits have you used and loved (or not loved)? Please leave me a comment and let me know!
Blessings,