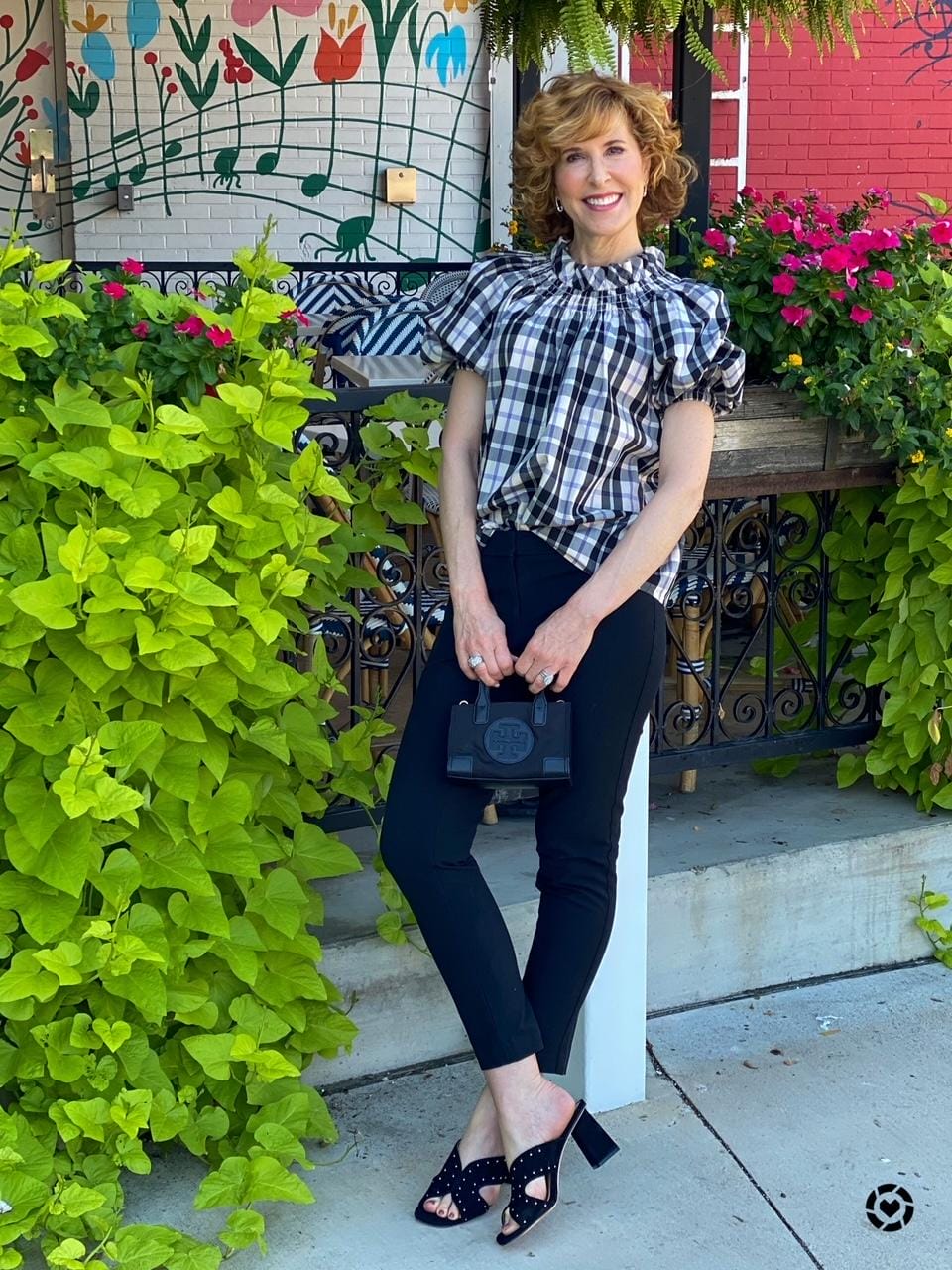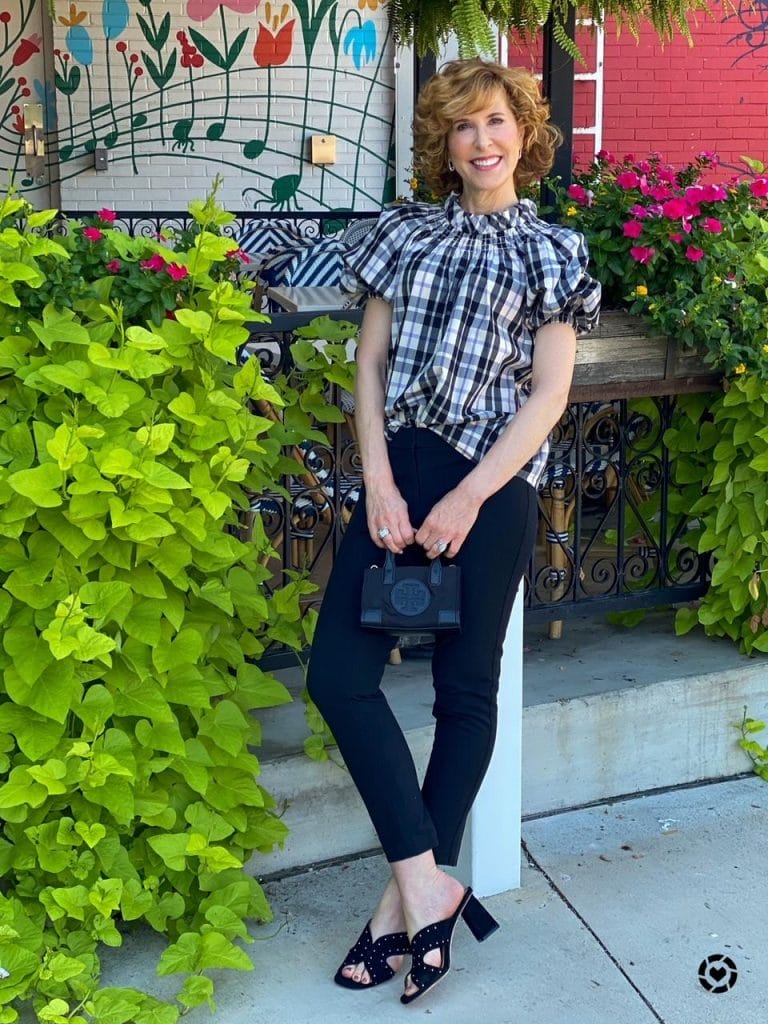 Happy Weekend, friends! As you read this, I am in sunny Sanibel Island at our beach condo! Bob and I are here for a week to relax a little bit, visit my parents, and enjoy some time together! I haven't been here since June, and I've missed my beautiful island (not to mention my parents) so much! Our condo is in Casa Ybel Resort, and I will tell you that it really does look like the photos and videos on the website!

I love the smocked neck, puff sleeve plaid top in the photo above! It's from J.Crew, and I wore it this week when I went to the store for a sneak peek at their new October collection! (More on that below!) I also bought THIS top one, which I'm bringing to Florida to shoot next week! 📷 This style has been a best-seller for J.Crew this year, and they've done it in several colors and patterns. They've also done it in dresses. You've seen me wear THIS one, which is now on big-time sale!
Let's dive into some good info!
Life Update
Thank you so much to all of you who have asked about my health! It's so sad that our health is something we discuss more and more as we get older! So, at the risk of boring you to tears, here's a quick update!
My Back

– Better. Then worse. Then Better. Then worse. 🙄 Orthopedist did an x-ray and said my spine looks great, so it's a muscle strain. The remedy: stay active, stretch, strength, ice, anti-inflammatory, apply Voltaren locally for pain. (It used to be prescription Diclofenac , but just went OTC!) Back is slowly improving!

Excema

– Thanks to a sterioid shot and steroid cream, the excema on my face and neck is finally gone! The best (unexpected) news: After all of that peeling, I was left with glowing, exfoliated skin! Hahaha! The dermatologist recommended that I switch to all Vanicream products while I was healing. It's especially made for people with sensitive skin! Vanicream is free of fragrance, dyes, parabens, lanolin and formaldehyde releasers. Here's what I used.

Decor Update
Desk | Pink Phone/Tablet Stand | Microsoft Surface Pro Computer | Acrylic Monogrammed Coasters | Kate Spade Bow Lamp

The color resolution of this photo is not good, but I just HAD to show you the beautiful painting my friend Joanne painted for me! She was sitting behind us at church two years ago on Easter Sunday, and she based this painting on my Easter dress! I didn't even know about it until she came over and dropped it off weeks later! I've been holding onto it until I was ready to hang it in my office. It is so precious to me, and she is too.
We are STILL waiting on several things, like our new kitchen table, my (pink) desk chair (!), Bob's (navy) desk chair, occasional chairs & ottomans for both of our offices! I ordered most of these things back in January or February! Everything you hear about production and shipping delays is TRUE. Have you experienced that yourself with items you've ordered? If so, please leave me a comment and make me feel better. I will share it all as it arrives on my Instagram Story!
J.Crew New Arrivals
The sweet team at the Northpark Center J.Crew Store invited me to come in before they opened early Thursday morning to show me the October new arrivals! There was so much that I loved, but these were a few of my favorite pieces! Much of it is already on sale, which is fantastic. J.Crew is one of the only brands out there that drops new arrivals and immediately puts them on sale! Unfortunately, that means they tend to sell out quickly, so act fast if you see something you like!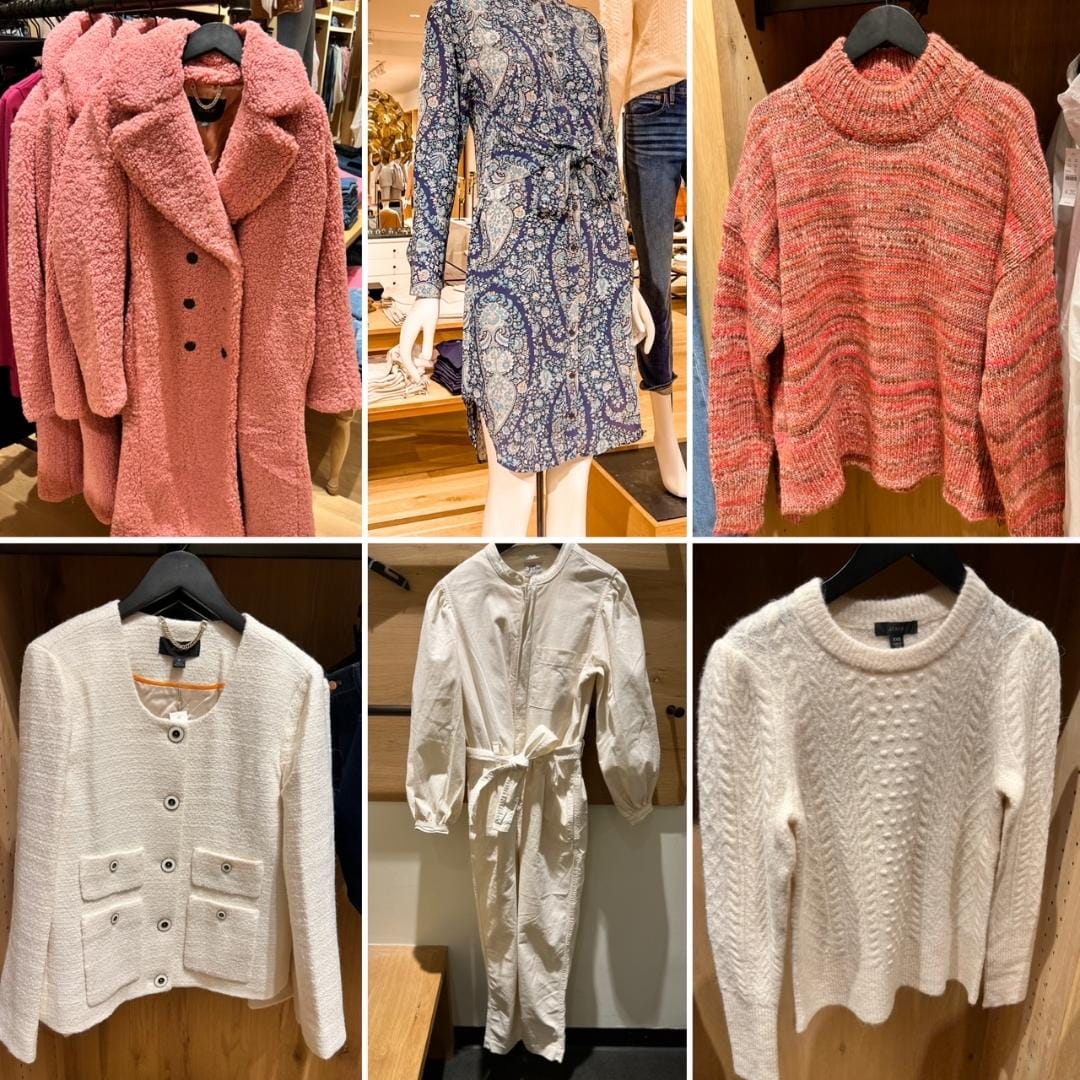 This teddy bear topcoat is as delicious and cozy as it looks! I tried it on but didn't buy it YET! I'm thinking about it and will probably do it soon. Let me know which color you think I should get! (It's 20% off right now.)

This dress was so elegant, and the tie front made it so flattering. It would be a perfect wedding guest dress! I loved the on-point paisley!

I loved the color of this on-trend space-dyed sweater. It would be perfect with high-waisted jeans! (It's 30% off right now.)

I think this ladylike tweed jacket looks like a Chanel dupe! It would be perfect for the office if you work in a professional environment, but it would also be great for a wedding guest outfit with all black underneath. (Trust me, everyone will think it's Chanel! So chic! (It's 28% off right now.)

I didn't care for this chino jumpsuit in off-white, but I did buy it in denim! (See below!) It runs large, so consider ordering a size down. The off-white is 41% off right now and also comes in lavender! 🤦‍♀️ The denim is 31% off right now.

The texture in this stretch wool sweater is yummy, and it's soft! It comes in multiple colors and is 30% off right now.

What I Bought at J.Crew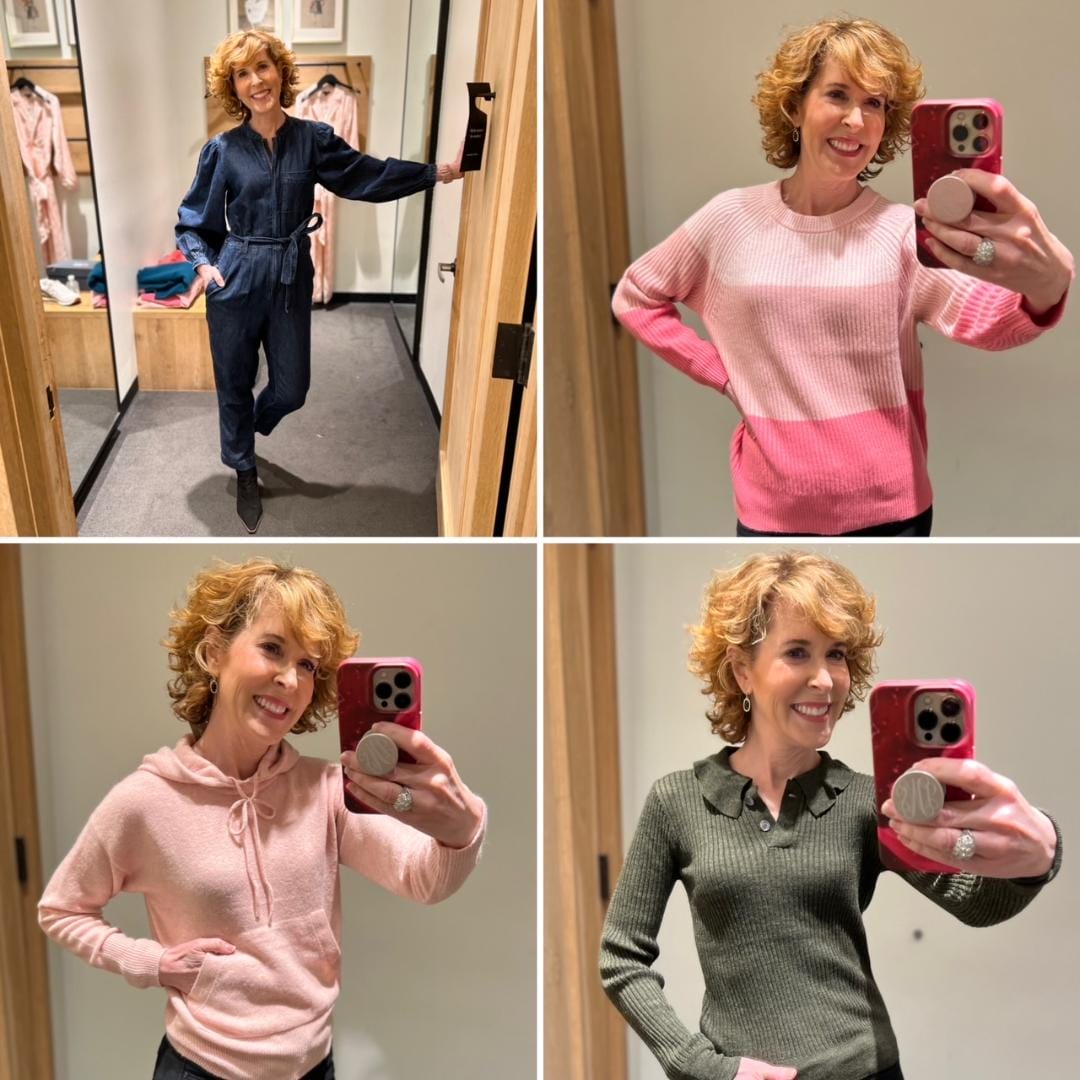 Puff-Sleeve Denim Jumpsuit (31% off) | Ribbed-Cashmere Relaxed Crewneck Colorblock Sweater | Hoodie-Sweater in Supersoft Yarn (30% off) | Ruffle-Collar Ribbed Merino Wool Sweater (39% off)
All of these come in multiple colors, so if you see something you like, click through!

How to Spot Scam Emails & Scam Texts
Scams are on the rise! I don't know anyone who hasn't been a target yet! Do you? Here's how to spot the red flags, so you don't fall for a scam email or a scam text.
Scammers are getting more sophisticated, and you should know that recreating a company's branding, logos, or letterhead is easy. Don't be fooled just because an email or text looks legitimate. Listen to your gut and look for these red flags:
How to Spot Scam Emails
The email suggests a relationship that doesn't exist.
The email is trying to tug at your heart strings (think a foreign orphanage, etc.), think twice.
Beware of emojis in the subject line or body of the email. (Legit companies don't do this, but scammers know it will get your attention.)
The sender uses ALL CAPS. (Again, scammers know it will get your attention.)
Check out who the email was sent from. If it's a financial institution (even a real one) that you don't use, it's probably not legit.
Check out who the email was sent to. If it was sent to multiple email addresses, that's a red flag.
The email asks you to "confirm" an account number or some type of personal information by clicking on a link.
The email has spelling mistakes or bad grammar. Legitimate emails from reputable companies are checked and double-checked before they are sent.
The email was sent at an odd time of day or night. A weird time may suggest the email originated in a foreign country.
How to Spot Scam Texts
Beware of a request for you to text your phone number or other personal information.
Look for language in the text that is unnecessarily urgent.
You wake up to the text first thing in the morning. Scammers from other countries may send texts from their time zone, which would be while you are sleeping. (Plus, they know you may not be thinking clearly early in the morning.)
Watch for spelling mistakes or poor grammar, suggesting that the text did not originate in an English-speaking country.
The link the text asks you to click isn't actually associated with the company that supposedly sent the text.
Beware of texts that were sent to multiple phone numbers.
What to Do if You Suspect You Received a Scam Email or Scam Text
If you're unsure about an email or text, DO NOT CLICK ON ANY OF THE LINKS!
Google it. Try something like: "AT&T text scam." (I did this today, because I've been getting those!)
Read carefully (especially emails), because grammar and spelling mistakes are the most common giveaway.
If you get an email or text from an unfamiliar company (no matter what it says or how urgent it sounds), look up the company online and send customer service a note to confirm. If the email is a scam, they are often aware of it's existence and may already be taking action.
If you get "security alert" email or text from a credit card company or bank, contact them by phone to confirm that it was really from them.
Report it to the company. Be kind to others and save someone else from getting scammed.
I hope you found these tips helpful! Be careful out there, my friends!