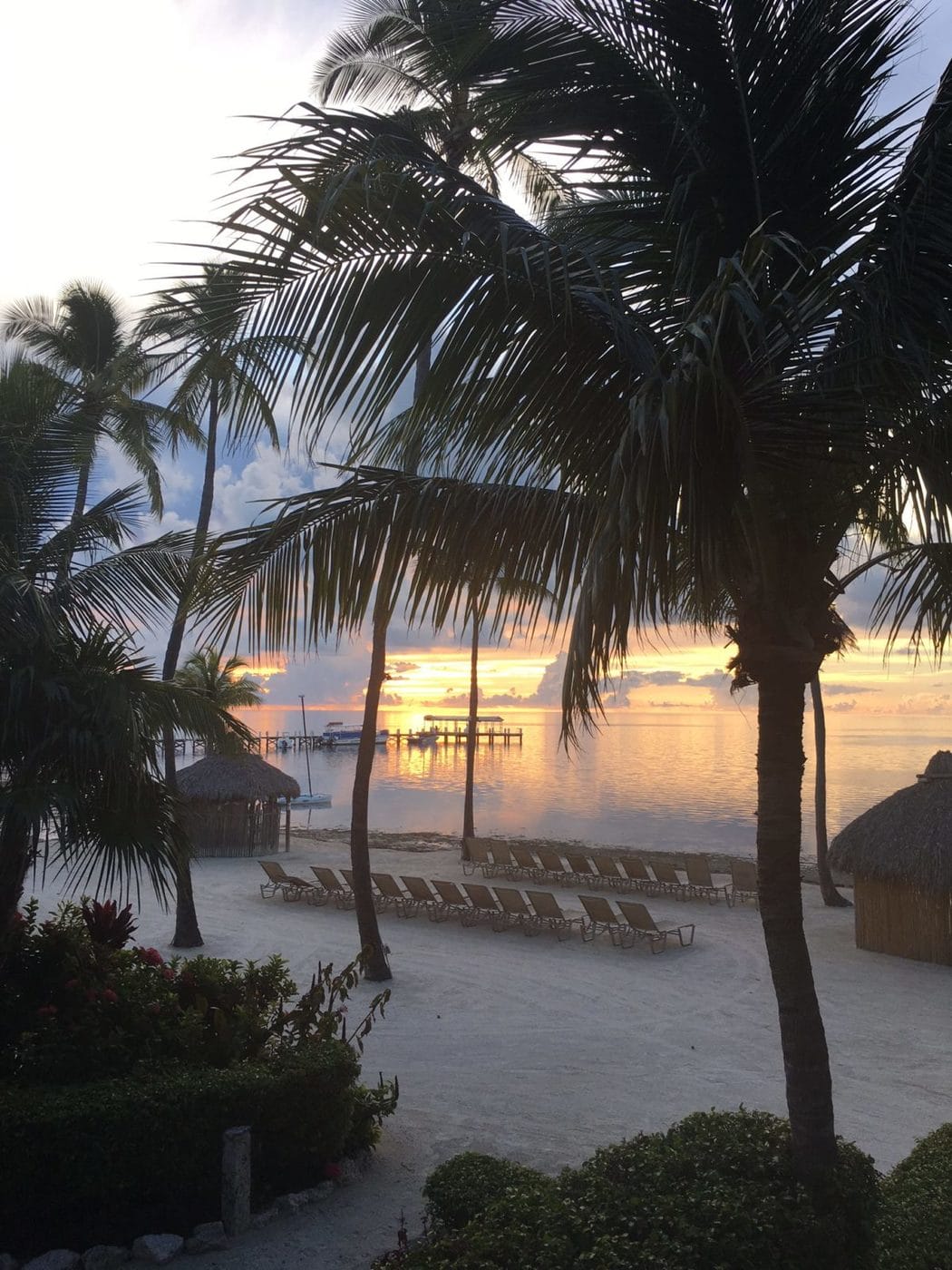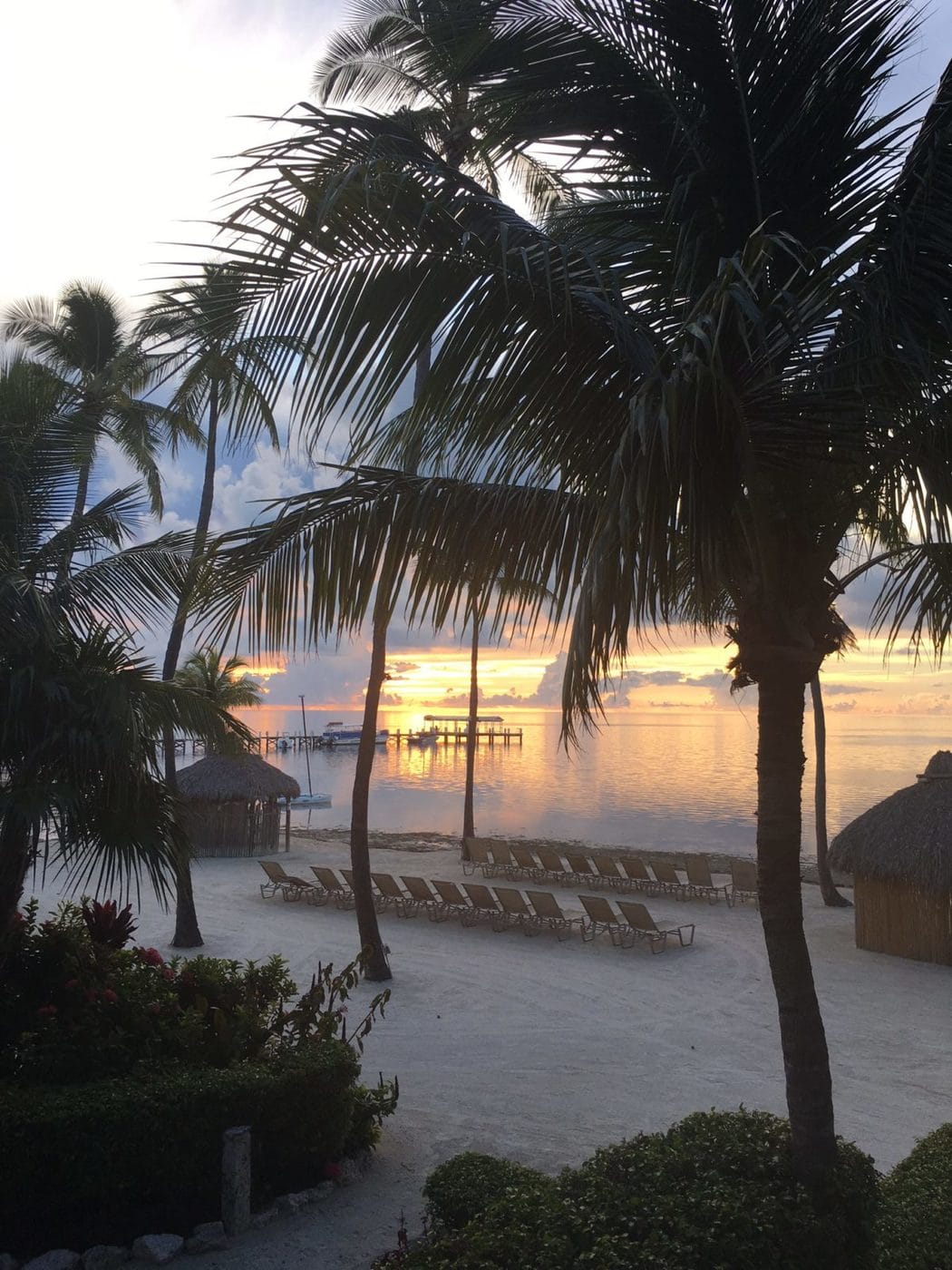 Y'all, we've wanted to take a trip to the Florida Keys since way before our nest emptied. That means we had loads of articles about where to stay, eat, and play. In contrast to all of the well-planned vacations we took with our kids when they were growing up, we relished the idea of making a list of all the things we wanted to do, the places we wanted to go, and the places we wanted to eat, and then actually planning our schedule once we reached our destination. Our plan: fly into Miami, rent a car, and head south on Highway 1 (aka the Overseas Highway). Having been to Key West previously and realizing it was not our scene, we knew we could stop before we got there. We made reservations at Hawks Cay Resort in Duck Key (near Marathon Key) for the first three nights, planning to make our way north and spend the last four nights at Cheeca Lodge & Spa in Islamorada. It was an incredible trip, and I am excited to let you in on all of the details.
Getting There

:

Fly into Miami International Airport (MIA) and rent a car. Since you are in Florida, you'll think about renting a convertible so you can be all outdoorsy and cool, but I advise against that! You'll be picking up plenty of UV rays without one, and they charge a premium for those babies. Traffic in Miami is terrible, so try to plan your arrival time for midday to stay out of the rush hour craziness. Also, opt for the toll tag that you pre-pay at the rental counter ($4.99 plus tolls) to get you out of Miami in a timely and more relaxed manner. You are on vacation! Make your way to Highway 1, which winds along the coast all the way to Key West. Please note that much of Highway 1 runs through the small, sometimes grubby little towns that make up some of the Keys, and only down in the southernmost Keys does it become a truly beautiful, coastal drive. Also, note that locations in the Keys are designated by Mile Markers, so rather than addresses, so restaurants and resorts are located at "MM__."
The Lower Keys:
Hawks Cay Resort in Duck Key is the perfect jumping off spot for the Lower Keys. You'll want to check out the Hawks Cay website for all the scoop on this truly "stay & play" resort. Included in your stay: complimentary access to the snorkeling lagoon (pictured above), tennis, bikes, paddleboards, towel and food service at all pools, and much more. For an additional fee, they also offer fishing charters, diving experiences, kiteboarding, as well as their truly unique Dolphin Connection interactive experience.  The Hawks Cay Resort website is beautiful and informative, but when you book, you'll find the best rates and deals at either Expedia or Priceline. (I've linked directly to the resort's site on each of those.)
One of our favorite things about Hawk's Cay Resort was the delicious food at their restaurant, Angler & Ale. I took the above photo while sitting at our table waiting for dinner! We love to eat outside, and this spot was a winner. For other dining options, sample some of the conch specialties at the nearby Cracked Conch Cafe. It looks like a joint the locals frequent, and we found that to be true! (I got a lot of stares in my Lilly Pulitzer skirt and hot pink top!) Also good is the Keys Fisheries Market & Marina, where the specialty is Lobster Bisque, the menu is extensive, and the food is freshly caught! At this laid-back spot, you order outside, eat on picnic tables overlooking the water, and feed the tarpon right from the dock. Be sure to check out the Butterfly Cafe at Tranquility Bay Resort. It's lovely!
While in the Lower Keys, you'll want to be sure to visit the Bahai Honda State Park, home of Seven Mile Bridge. As you can see above, it features some of the most beautiful views in the Florida Keys. We snorkeled off the gorgeous beaches – which was fun – but not nearly as fabulous as the snorkeling we did in the Upper Keys. (More on that later.)  While in Marathon, be sure to visit The Turtle Hospital, a small non-profit dedicated to the rehabilitation of endangered sea turtles. You can take an informative and educational 90-minute tour ($22), which includes a presentation on sea turtles, a behind-the-scenes tour of the hospital facilities, and an opportunity to feed the turtles. If you love dolphins, don't miss the Dolphin Research Center, a non-profit educational and research facility that is home to bottle-nosed dolphins and California sea lions. For the price of admission ($25 if purchased online), you will have opportunities to observe animal behaviors and research, interact with trainers, meet the animals, and enjoy live training demonstrations. For additional fees, you can participate a variety of hands-on programs with the dolphins.
The Upper Keys

:

After three fun days in the Lower Keys, we headed north on the Overseas Highway. We stopped in Islamorada and spent the rest of our time in the Keys with luxurious and elegant Cheeca Lodge & Spa as our home base. Once again, the Cheeca Lodge website is good, but the deals are on Expedia or Priceline, and I've linked directly to the resort's site on each of those. I took the lead photo in this post from our balcony. No filter needed. It was that beautiful! The food at Cheeca Lodge was delicious, and the service was top-notch.

All water activities are included, so we snorkeled off the beach, used the paddleboards, kayaked, and biked. We went out twice on snorkeling trips with the resort. The second-largest coral reef in the world is located in the Florida Keys, and honestly, it was some of the best snorkeling we've ever done! We got up close and personal with nurse sharks (they're harmless), rays, barracuda, tarpon, grouper, sea turtles, and of course lots of those cute, colorful reef fish. We loved snorkeling the reef so much, the next day we went out and snorkeled Alligator Lighthouse (above), where we saw giant angelfish, lots of barracuda, and more.

Cheeca Lodge is well-known for its much-photographed fishing pier. Rods and reels (in good condition!) are included in the resort fee, and live bait is available for a nominal fee. My skilled-fisherman husband had great luck, while I was just proud of myself for actually baiting my very own hooks with raw shrimp (Ewwww!). At low tide, the water around the dock is so clear you can see the fish chasing your bait. It was such fun, and as you can see above, I had a little pelican buddy who kept me company!

We didn't leave Cheeca Lodge much, but we did take about three hours out one morning to visit Theater of the Sea in Islamorada. Honestly, with giant billboards facing the road, it looks a little touristy, but in reality, it is anything but that! This incredible family-owned facility opened in 1946, and I cannot say enough wonderful things about it. There are dolphin, sea lion, and parrot shows, a bottomless boat ride, a lagoon-side beach, and a guided marine life tour with tropical fish, sharks, sea turtles, stingrays, alligators, and crocodiles. It will ruin Sea World for you forever because the shows are up-close and personal, and guest participation is encouraged. One of the shows is always taking place; you simply join the one that is in progress when you arrive. Plan to spend two to three hours in the park to catch them all. Admission is $33.95, and parking is free. Animal interaction programs are available for an additional fee. This place is really special!

Oh, my word, we ate very well in Islamorada! Bob and I are kind of obsessed with eating outside. We are even more obsessed with eating ocean-front. If our table is actually sitting in the sand, we are pretty much beside ourselves with joy. And if it's sunset, it's just all over! Aside from the fabulous food at all of the Cheeca Lodge restaurants, we loved sunset dining with our feet in the sand at Lazy Days Restaurant (above). We also adored Marker 88 Restaurant, Lorelei Cabana Bar & Restaurant, and Morada Bay Beach Cafe. We love seafood, but if you don't, it's okay. Every restaurant we visited offered chicken, beef, and vegetarian options.

As I shared in a post on Fall Getaways, September and October are ideal months for empty nesters to get away. Rates are low; crowds are light, temperatures are milder than in the heat of summer, and (maybe best of all), there are no kids around! We visited the Keys in mid-September, and the weather was pretty hot (which we don't really mind – we ARE from Texas, after all!). I think if we had to do it again, though, we would wait until late September or early October to take advantage of slightly cooler temperatures.

Did you get away recently? Or are you just about to go? I'd love to know where! One of the main things we talked about on our trip to the Florida Keys? Where to go on our next getaway!  Leave me a comment and give me some suggestions, okay?

Blessings,