Happy Weekend, friends! Don't faint, but yes, the photo you see above is actually Suzy wearing something besides skinny jeans. 🤣 This photo was on my Instastory on Wednesday as my real-life OOTD. The pants are not available in some sizes, so I linked some alternatives on my LTK page HERE. The top is linen and from Target (and only $20)! 🎯
It was a busy week, and I was headed downtown to get my hair cut & colored with Chad, then headed to the nail salon for a pedi! Don't you love a day of beauty?

Idaho! Whydaho?
Pink Twill Joggers | White Oversized V-Neck Tee | Pink Allbird Sneakers ("Lilac") | Pearl Initial Pendant | Pearl Studs | Custom Tote Bag (Make Yours HERE) | Custom Made Computer Case (Make Yours HERE) | UV-Sanitizing Water Bottle

It was a busy week, with five days worth of activities shoved into three as we prepared to head to Idaho on Thursday to visit our daughter, Becca, at the theater where she's doing summer stock this summer. Be sure to check out my Instastory this weekend to see our fun! On Thursday night, we saw her as Dorcas in Seven Brides for Seven Brothers, on Friday as Mrs. Banks in Mary Poppins, and tonight she's opening in Sugar "Some Like it Hot."
July 4th Party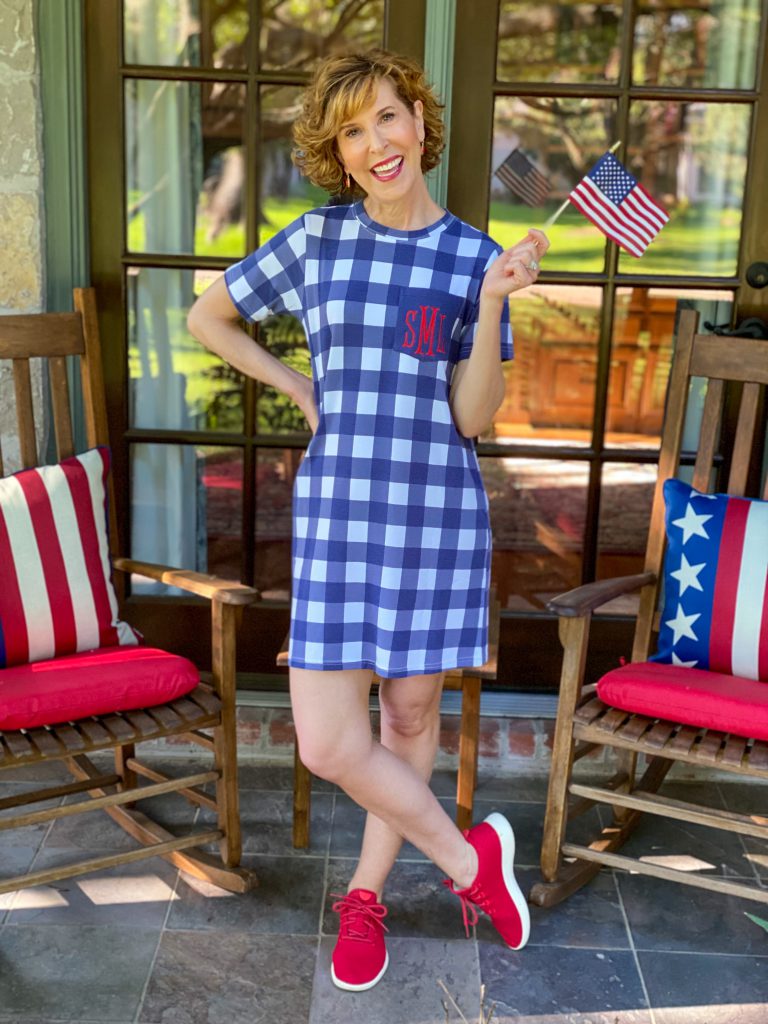 Gingham Tee Shirt Dress (optional free monogramming) | Similar Red Sneakers | Red Earrings | Red Long-Wearing Lipstick

Do you have fun plans for the 4th? We're hosting our extended family for a July 4th party this year. We're looking forward to swimming, eating, and watching the fireworks together. (We keep telling Bob's 80-something-year-old mom to wear her bikini 👙, which is getting big laughs in the family group text! 😂 I pulled together some of the decor I bought (and a few other suggestions!), so scroll through below if you need some ideas!

Decor Update
We are in hurry up and wait mode! 😁 That means (like so many of you!) we are (still) waiting for furniture we ordered back in January and February to come in! We're still waiting for Bob's desk, desk chairs for our offices, front-of-desk chairs for our offices, and an etagere for my office. (This girl's gotta have some space for all of the girly accessories I've already purchased.) 😂
This week I did work with my designer on picking out some pretty botanical prints for our entry. We're ordering them from an Etsy business called Victorian Wall Art, which I love. (I'm such a fan of small businesses!) I thought I'd share them with you! Click on any image to get more info!

Instagram This Week
To check out this week's IG posts, click HERE. Also, if you're not following me on the LiketoKnow.it app, I hope you will consider it! I share a lot of exclusive, shoppable content only there!
This Week's ENB Best-Sellers
Puff Short Sleeve Dress | Allbirds Tree Runner Sneakers
Puff Short Sleeve Dress – This really is one of my favorites of the season. It's such a comfy, easy dress! Eight color options – see them all HERE.
My pink Allbird Tree Runner Sneakers – My pink ones (called "Lilac" on the website) have been restocked for the first time this year! 🙌💃🤸‍♀️ People ask me about them all the time! They really are the world's most comfortable sneakers, and they're machine washable! Allbirds are a splurge, but they're sustainably-made 🙌, and they last FOREVER. Also, did I tell you that they're machine washable! 😂 Bob loves the men's Tree Runners too and owns two pairs. 👟
This flattering Amazon one-piece swimsuit.
This Athletic Skort on Amazon (High-waisted version HERE) – It's so cute, but I like THIS full skort even better! I just bought it in three colors!
There was so much interest in the Gifts for Dad Gift Guide on the Empty Nest Blessed Amazon page! Ya'll loved these heat-resistant BBQ gloves! I'm so thrilled that you shopped there for your Dads, husbands, etc. We really work hard to keep that page updated! There are so many great Gift Guides that we've put together in one convenient, easy-to-shop spot. (BTW, you might want to bookmark my Amazon page! If you don't know that, you can always find it by typing the URL Amazon.com/shop/emptynestblessed into your browser.)

Best Weekend Sales
Not too many to share this week, but there are a couple really worth noting!
ANTHROPOLOGIE | Two online-only events you should know about: 40% off summer entertaining + 20% off all skincare, bath & body! I've developed a true love for this brand as I've shopped with them more. You'll be seeing me in more Anthro styles in the future, for sure!
J.CREW | Extra 50% off sale styles on wear-now looks! Click HERE to browse these deals!
LOFT | 50% off full-priced Lou & Grey with code SOGOOD! I love this line of comfy clothes! ALSO, take 30% off full-priced summer styles with code SOGOOD. These offers aren't combinable!
TALBOTS | Take 30% off entire purchase, including new arrivals + an extra 15% off markdowns! I'm in love with this sweet blue popover top, and it's 30% off! WOW!
TORY BURCH | Semi-Annual Sale! Tons of new items just added. Take an extra 25% off sale items with code EXTRA. Free shipping/returns.
TULA | FREE SHIPPING on all orders (no minimum required) through Monday. That's on top of the exclusive ENB15 discount code just for Empty Nest Blessed followers. This is my favorite brand of clean skincare!
Next week on Empty Nest Blessed, I'll be bringing you an interview with Dr. Lori Stetler from the Dallas Center for Dermatology & Aesthetics. We'll be doing a Botox Q&A! We also filmed a corresponding 15-minute interview for my IGTV and YouTube Channels, so be sure you watch for those. Then, later in the week, look for June's SO in the KNOW post, where I share what I'm learning & loving in the empty nest this month.
Have a wonderful weekend with your people!