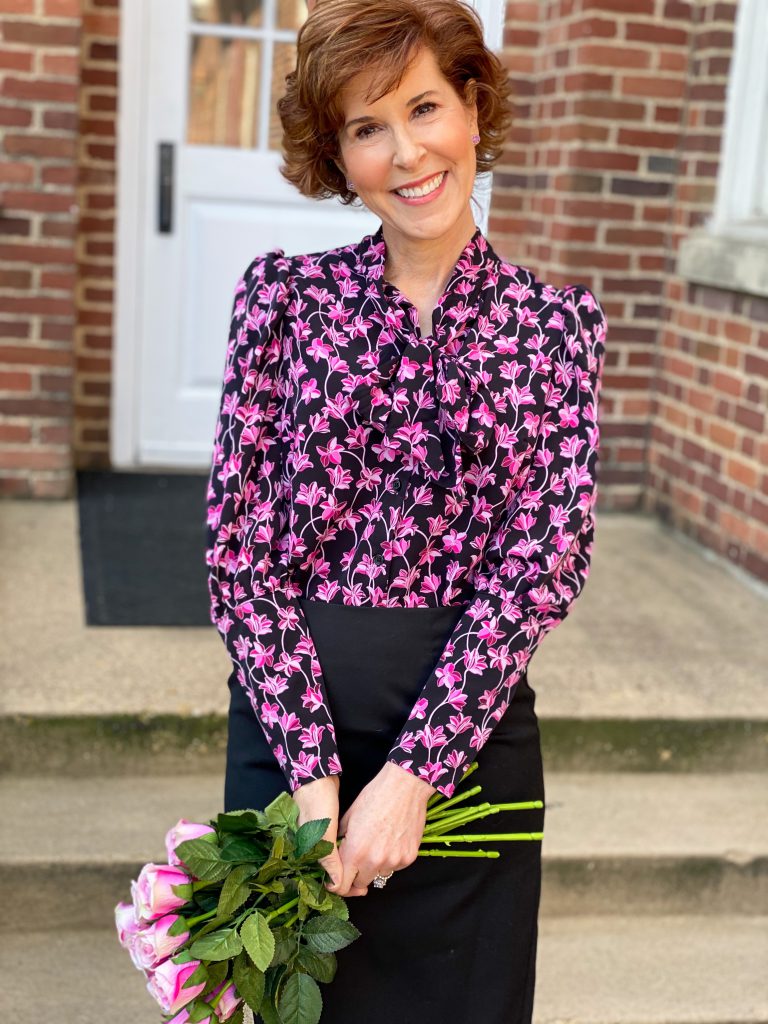 Phew! It's been a busy week at Empty Nest Blessed! Bob has been in Miami on business for the second week in a row, and I've been working with our contractor and navigating my way through the big ole' punch list on our remodel! Plus, I had a Zoom board meeting for a board I'm on, and I'm training a new assistant, who I'll introduce you to later in this post! I've got lots of scoop to share this weekend, so let's jump in, okay?
ICYMI: On ENB This Week
First of all, let me say that the first time I saw the acronym ICYMI, I had to Google it! (So if you have no idea what it means, don't feel bad! ????) It means, "in case you missed it." My challenge to you: Use it in a text to your kids this weekend! Trust me; it will 100% up your cool factor with them! I promise. ???? (For a list of other texting lingo you'll want to casually fling about with your kids, check out THIS article.) ????
I managed to share three posts with you this week, on very diverse topics! Need to catch up? Here are the links:
It's a First!
Tuckernuck, the brand that creates classic, curated collections of clothing, home décor, and gifts is having an online warehouse sale for the first time ever! Mark your calendar for Tuesday, January 26 – Wednesday, January 27, and get ready to shop over 1000 items at 50-85% off! They will have limited quantities (of course), but styles in all sizes. All sales are final.
I love Tuckernuck's colorful, classy collections, but honestly, their prices are usually more than I'm willing to pay! I'm really looking forward to shopping this sale! Head over to Tuckernuck to check out their offerings, and get ready for Tuesday! I don't know in advance what will be included in the sale, here's just a little taste of why I love this Tuckernuck's curated collections so much!

Suzy's Dry Skin Strategy
This cold weather really does a number on my skin! How about you? Does your skin get drier? No matter how much water I drink, thanks to the air's lack of moisture, my skin is drier in the winter than in the summer. I spent a lot of time last year trying out new products and refining my routine! I found out that the secret for me was to use oil-based cleansers! I'm happy to report that this year, thanks to my new regimen, my skin is doing much, much better. Here's what I'm using:
Hands

– Dr. Bronner's Pure Castile Liquid Soap is an oil-based soap made with organic oils and certified fair trade plant-based ingredients. It has no synthetic preservatives, thickeners, or foaming agents—which means it's good for the environment and your skin! Diluted, their soaps can be used for laundry and mopping, hand-washing dishes, all-purpose cleaning, to washing pets & more! I filled all of my soap dispensers with various "flavors" of Dr. Bronner's, from lavender to eucalyptus, and several in between! (My faves are peppermint and almond!) Click HERE for the sample pack so you can figure out what scents you love. To learn more about Dr. Bronner's products, click HERE.
Face – Burts' Bees Cleansing Oil is made with coconut & argan oils, and it takes off my makeup beautifully while leaving my face soft and hydrated. It's formulated with a blend of antioxidant and vitamin-infused, natural oils, and without parabens, phthalates, petrolatum, or SLS.

Body

– L'Occitane Cleansing Almond Shower Oil somehow ????‍♀️ transforms into a silky, cleansing milk when it touches the water. It has a light lather and smells delicious! It leaves my skin moisturized and soft.

Body Lotion

– Amlactin Alpha-Hydroxy Daily Moisturizing lotion is my final step! While my skin is still damp, I follow up with this skin renewing lotion (with 12% lactic acid) to gently help my skin exfoliate. It's also full of moisturizers and humectants. It's paraben-free, absorbs fully, and it's not greasy. #sogoodyall

Meet Casey!
I just hired a new assistant, and I'm dying for you to meet her!
I feel so blessed to have both Natalie and Casey working for me now. Natalie is 24 — the same age as my daughter — which is so much fun! Natalie and I have written several posts together, including this important one on 20-somethings, and she even teamed up with her former police chief dad for one! I adore her! She's working toward her nursing degree, and I'm growing, so it was clear that it was time for more help!
You are going to love the story of how I met 26-year-old Casey! Do your best to follow along! (It's pretty funny!)
My dear friends, the Hintons have a daughter named Lizzy.
Lizzy and my daughter were friends growing up because we went to the same church, and they both did musical theater in Dallas.
Lizzy did her undergrad work at Belmont University. I wrote her sorority reference letter, and she joined my sorority ????!
One of Lizzy's classmates at Belmont was Grace Williams.
When Bob and I went on a 30th-anniversary cruise to the Italian Riviera on Oceania, we noticed that one of the entertainment staff looked about Lizzy's age and had studied voice at Belmont! After the first show, we introduced ourselves to her and asked her if she knew Lizzy. She did. Her name was Grace Williams!
Later on in the cruise, we met her for dinner, and she brought along her darling roommate, Casey. We had the best time with them!
Fast forward two years later, and Bob and I found ourselves on another Oceania cruise around the Greek Isles! Guess who was on board? Casey! We renewed our friendship and took her and her boyfriend, Robbie, to dinner one night!
We all stayed in touch, and with cruising temporarily halted, multi-talented Casey was available to work for me.
Casey grew up in Cleveland, Ohio, with a love for the theater. Performing has been a part of her life for as long as she can remember, and from a young age, she studied all styles of dance. She graduated from the Conservatory of Performing Arts at Point Park University, with a concentration in Ballet. She's been working for Norwegian Creative Studios for the past four years and had the opportunity to travel all over the world (50 countries and counting)! She's been living at home with her family during the pandemic and enjoying time with her six nieces and nephews.
I love the way the Lord worked to bring Casey into my life, and I'm so blessed by her bright mind, willingness to learn, and joyful personality! She has such a heart for people, a desire to learn and grow, and she loves empty nesters. (She's cruised with a lot of them! ????) I'm excited for you to get to know her better in the coming months. Believe me, as post-pandemic travel starts up again, you'll be hearing her best travel tips and more!
This Week on Instagram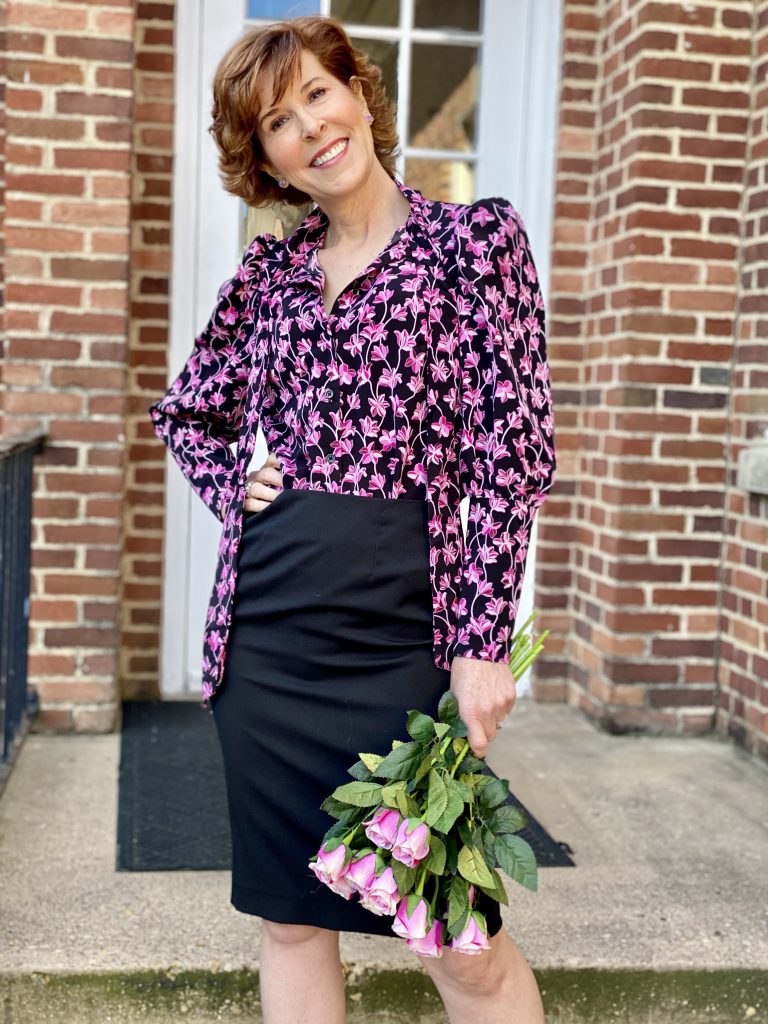 Floral Tie-Neck Puff Sleeve Blouse (Just $32.99!)| Black Pencil Skirt | Pink Opal Illusion Earrings | Roses

I'm short on time this week, so I'm sharing my favorite Instagram look of the week! Want to check out the others? Click HERE.
Do you follow me on the LiketoKnow.it app? It's a shopping app that allows you to search for and instantly purchase products from over 5,000 retailers across fashion, home, beauty, and more! You'll find all of my Instagram looks on my page in the LiketoKnow.it app. Plus, I often share content there that I don't share anywhere else! This week I exclusively shared my favorite foundation and my must-have makeup mirror (among other things) on my page on the LiketoKnow.it app. To learn more about how it works, click HERE.

Don't want another app? I get that! You can also shop everything I share on the LiketoKnow.it app, Instagram, and Facebook from this page on the ENB website.
ENB Best-Sellers of the Week

Best Weekend Sales
ANTHROPOLOGIE | Up to 70% off original prices with an extra 50% off!
BANANA REPUBLIC | Up to 75% off sale & 40% off must-haves.
CABANA LIFE | First-ever mask sale! Take 25% off masks, mask chains, and cabana covers with code STAYSAFE. I have several of their masks and they're so comfortable and breathable!
CONTAINER STORE | Take 30% off ELFA storage solutions! (BTW, have you checked out the new KonMari Collection at Container Store? It's designed by Marie Kondo!)
DRAPER JAMES | Warehouse Sale! An extra 40% off select styles. This is a great sale, trust me!
J.CREW FACTORY | Extra 60% off clearance with code SALE4YOU.
LOFT | Almost everything is on sale with code SOGOOD.
NORDSTROM | New markdowns up to 60% off just taken on some of our favorite brands like Kendra Scott, NYDJ, and Sam Edelman. Use the brand filter on the left sidebar to shop efficiently! (Free shipping/returns.)
NORDSTROM RACK | Up to 70% off cold weather gear like coats & boots; up to 60% off waterproof shoes & boots; up to 65% off sweater dresses; up to 60% off Valentine's Shop.
OLD NAVY | Up to 50% off sitewide
TALBOTS | Red Hanger Sale! Extra 50-70% off all markdowns!
TUCKERNUCK | Don't forget to mark your calendars for the big warehouse sale Tuesday & Wednesday!
Happy Weekend, friends! I'm pretty excited about what's coming up next week on ENB! Early in the week, I'll be bringing you January's SO in the KNOW post, where I tell you what I'm learning & loving in my empty nest this month. Later in the week, I'll be running down all the buzzy beauty ingredients you keep hearing so much about in the media. I'm doing that post in preparation for something special!
Next Friday, January 29, I'm going to be doing an Instagram Live at 12 noon CST with one of the derm docs from the Dallas Center of Dermatology & Aesthetics! (Set an alarm on your phone so you don't miss it!)
You may remember that I'm at the front end of a year-long partnership with the physicians at DCDA to get you some straight answers about everything from moisturizers and Botox to age spots and lasers! This month, we're talking about skincare products, so I'm going to ask all about ingredients! You told me on the recent survey we did that you wanted to know what makes high-end or medical-grade skincare better than what you buy at the drugstore? Believe me, I'll be asking that — and lots more! So fun, right? See you then!
Also, exclusively on Instagram next week, I'll be sharing a sneak peek at Chico's early spring line! I've got a haul you won't believe, so it'll be all Chico's, all the time on Insta next week! Be sure you're following me there, so you don't miss a thing, okay?