The 2022 Pantone Color of the Year is called Very Peri! It's a joyful, dynamic color that integrates tones of soothing blue, with soothing violet-red undertones. It's meant to evoke creativity and imaginative expression. (Nobody asked me, but that seems like a lot of pressure to put on a color, just sayin'! 😂)
The 2022 Pantone Color of the Year
For 23 years, Pantone's Color of the Year has influenced product development and purchasing decisions in industries, like fashion and home furnishings, as well as product packaging and graphic design. 2022 is the first year Pantone created a custom color to use as the Color of the Year.
Whether you're a purple fan or not, you have to admit, this rich color is beautiful. You're going to see it everywhere, from jewelry and nail polish to throw pillows and handbags, and more.
Today I'm going to share with you some ways to integrate this vibrant color into your life, fashion, and home decor. You'll be seeing it more and more often as the year goes on, so get ready!
"The Pantone Color of the Year reflects what is taking place in our global culture, expressing what people are looking for that color can hope to answer. Creating a new color for the first time in the history of our Pantone Color of the Year educational color program reflects the global innovation and transformation taking place. As society continues to recognize color as a critical form of communication, and a way to express and affect ideas and emotions and engage and connect, the complexity of this new red violet infused blue hue highlights the expansive possibilities that lay before us".

Laurie Pressman, Vice President of the Pantone Color Institute
I find very peri to be somewhat calming but with a touch of energy. It was actually a popular kitchen color several decades ago (see these vintage periwinkle Pyrex dishes I found with just a simple Etsy search!), so it has a timeless aura.
How to Style the Pantone 2022 Color of the Year in Your Home
For an easy way to update your yard this year, opt for periwinkle pansies or vinca!
You'll be seeing lots of very peri in home decor and tableware. Look for throw blankets, botanical prints, and this pretty glass pillar candle.

When it comes to the kitchen and dining room, there are lots of beautiful options! Check out these placemats, food steamer, and this beautiful stand mixer in Very Peri! I love these beautiful stemless wine glasses and this fun Pantone coffee mug.

You'll rugs that incorporate the Pantone 2022 Color of the Year. I love the machine-washable rugs from Ruggable, and several of them feature touches of lavender and periwinkle, including the Chrysanthemum Brights Rug, Urbano Lilac Rug, Esra Polychrome Rug, and (my favorite) Suzani Purple Rug.

How to Style the Pantone 2022 Color of the Year in Your Fashion
Veri Peri has cool undertones, so it may not look the best on those of you with warmer undertones. (To read my post on 5 Ways To Figure Out Your Skin's Undertone & Your Best Makeup Shades, click HERE.) If you have cool undertones, you're good to do. If you have warm undertones, just don't wear Very Peri right up by your face, or incorporate it into your accessories instead.
I love this quilted short jacket, and if you're thinking about updating your workout wear, check out the huge Very Peri selection at Athleta. You'll find sweaters, tees, and PJs, plus lots more! Check out this amazing selection on Amazon. It's where I found the tee I'm wearing in the images in this post!

Alternatively, you can work it into your accessories. Think handbags, watchbands, or phone cases!

Jewelry is a great way to wear Very Peri. We found earrings and necklaces galore!

How to Style the Pantone 2022 Color of the Year in Your Personal Care
Long Sleeve Tee With Polka Dot Very Peri Heart (Comes in other solids too! Click HERE to see them.) | Spanx Seamless Leggings | Black Earrings | Very Peri Nail Polish

Stay hydrated with this pretty Very Peri water bottle while you get a pedicure with this Very Peri polish from OPI. Looking for a happy way to start your day? Try this limited edition Burst electric toothbrush in the Pantone Color of 2022!

What's Up Weekend!
Cropped Sweatshirt | High-Waist Faux Leather Joggers | Machine Washable Wool Sneakers | Heart Earrings ($11) | Chain Link Necklace | Heart Necklace | "S" Pendant Necklace | Similar Tory Burch Logo Tote | Custom Laptop Case | UV-Sanitizing Water Bottle | Similar Briggs & Riley Suitcase (Lifetime Guarantee!)

I headed out Friday morning for our beach condo in Sanibel Island! My parents live nearby, and I'm so looking forward to spending time with them! I'll be also be attending a board meeting for a board I'm on, going to a cocktail party, and shooting some looks for Cabana Life, Chico's, and more! Keep reading for a sneak peek of my looks! (Click HERE to see how I stay organized when I travel.)
Since I'm there to relax a little and spend time with family, I'm not sure how much I'll be posting! As I shared with you in THIS post, I'm trying to avoid the burnout I struggled with last year by doing a better job of taking time off, so thank you for bearing with me! I'll still be posting on Instagram and Facebook, so be sure you're following me! (Especially if you are in need of a little beach scenery right now!) If you want to keep up with me, my IG & FB Stories are the best place to do it!
Best Weekend Sales
Thanks so much for shopping with my links! I get a small commission when you purchase something. It never costs you anything extra, and it's the way I get paid and pay my team. I'm so grateful for your support!
ANTHROPOLOGIE | Up to 70% off Sale Styles! This is a good sale because we're talking clothing, accessories, furniture, decor, candles, and more!
CABANA LIFE | Lots of their cute sun-safe styles on sale!
CONTAINER STORE | Take 20% off $500+ ELFA purchase! If you're ready to finally organize your closet, this is the sale for you!
CHICO'S | Closet Refresh Event with prices on select styles starting at just $19! Here's what I just ordered from Chico's! Look for these on my Instagram next week!

J.CREW | Extra 50% off sale styles with code EPIC. Y'all, these are wear-now styles at EPIC prices!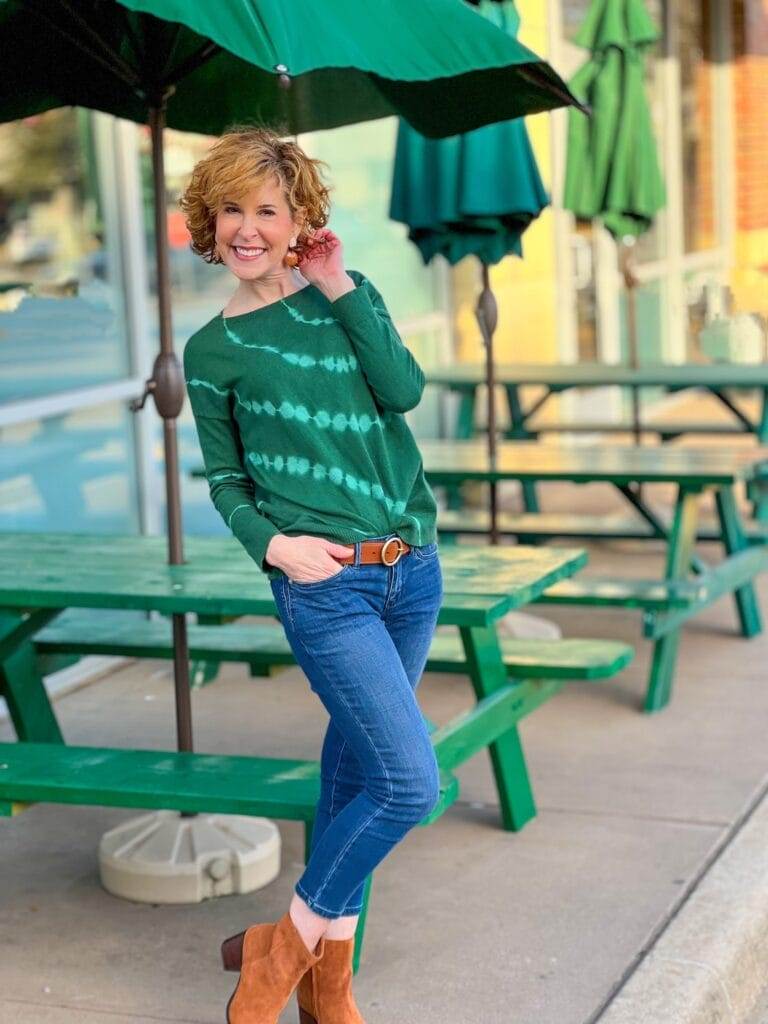 Tie-Dyed Boat-Neck Pullover | Authentic Slim Fit Jeans (Other colors available) | O-Ring Belt in Cognac ( Other colors available)

J.JILL | The Cozy Up Event! Take 30% off select full-price styles + 40% off all wear now sale styles. Ends 1/17.
LAND'S END | Up to 60% off your order with code ARCTIC.
LOFT | 50% off full-price styles with code GOBIG + an extra 20% off sale styles! This is a good sale! I think THESE Tie-Waist pants are so good for spring!
Y'all Sweatshirt | Seamless Leggings (Won't ride up in embarrassing places! 🙄) | Jambu Faux Shearling Lined Mules ($10 off right now + use EXCLUSIVE code ENB21 for an additional 20% off on the entire Jambu site!) | Black Drop Earrings

MARLEY LILLY | Flash Sale on THESE cute items + FREE Everyday Striped Sweatshirt with $100+ purchase!
NORDSTROM | Always some great deals at Nordstrom!
NORDSTROM RACK | If you think the deals at Nordstrom are good, you should see the deals at Nordstrom Rack! Use the filters in the left sidebar to filter for size, price, color etc. to make your shopping more efficient!
NYDJ | Buy 2 or more styles and save! THESE slimming black bootcut jeans have been a favorite purchase! See them on me in THIS Instagram Reel!
ON LEFT: Cool Nights Pajama Top (Now 25% off!) | Cool Nights Tassel Tie Ankle-Length Pajama Bottoms (Now 25% off!) | Antique White Pom Pom Throw | Anduze Tabletop Urn (similar linked) | Silk Peonies
ON RIGHT: Cool Nights Modern Sleep Shirt (Now 25% off!)

SOMA | 25% off your full-priced purchase + new styles added to Clearance with prices starting as low as $9.98! Ends 1/17.
TALBOTS | Winter Red Hanger Sale! Take 60% off original prices.
WHBM | Up to 40% off select styles in their Winter Update Sale (excludes gift cards and special buys). Ends 1/17. I am in love with all of the gorgeous blue styles they just got in!
Are there other brands you love that you'd like to see me try this year! Drop me a comment and let me know, okay!