"Joy does not simply happen to us. We have to choose joy and keep choosing it every day. "– Henri Nouwen
Happy Almost Christmas Weekend! I hope your home is getting fuller and fuller and your heart is as well! Read on to see what's up for us this weekend!
Adapting Family Christmas Traditions
One thing is certain, if you have adult kids (and/or senior parents), you have a dynamic, ever-evolving family situation! Me too. As much as I love cherished, long-standing Christmas traditions, I've realized I have to allow things to evolve over time.
As empty nesters, things will undoubtedly look different from year to year. Several years ago, Bob and I made a commitment to each other that we would never be the parents or in-laws who demand our kids' presence every holiday or did some kind of score-keeping from year-to-year. That is a quick ride that heads right to Resentment Avenue! Instead, we try to make our home a warm, loving place to celebrate, so that even if our kids are celebrating somewhere else, they'll miss the family Christmas traditions and the fun at our house!
This year, our middle son and his wife are going to visit her family in Arizona for the holidays, so they'll spend the night here before they leave, and we'll take that time to open presents and go to dinner. We're keeping the granddogs while they're gone! Belle is a fun and sassy, attention-seeking Goldendoodle and Bear is a 100+ pound lab who is the sweetest thing you can imagine and has no idea how large he is! We love having them!
Our youngest, our daughter, Becca, will be driving in from Virginia, and arriving late on Christmas Eve night.
Our eldest son was planning to come in from Austin for Christmas and then head out the day after Christmas to visit his girlfriend and her family. Sadly, last Saturday morning he tested positive for Covid. 😢 So, he'll be spending Christmas alone in his apartment in Austin. Thankfully, his symptoms have been fairly mild, and he is feeling fine. But it has been such a sad turn of events for all of us. Of course, we'll Facetime with him so that day, but it just won't be the same.
So many people struggle with disappointment at the holidays, and I'm no different. Whether you lost a loved one this year, you're estranged from a child or family member, or illness is keeping you apart, please know that I cannot put myself in your place, but I do understand the pain of not having Christmas look the way you pictured it and feel the way you wanted it to in your heart. It's tough.
Bob and I are doing our best to be thankful for whatever and whomever we have in our home, and to remember that what we celebrate at Christmas isn't tied to who we have in our home! There's always a way to make it special and to keep our focus on gratitude for the fact that God came to earth as a baby to save us.
Our Family Christmas Traditions
I know you have unique family Christmas traditions. We do too! I've gotten several emails asking about ours and how they've evolved as the kids have gotten older, so today, I'm sharing them with you, along with a couple of our favorite holiday dishes.
Noel, er, Leon
These cute blocks spell out Noel, but inevitably, it only takes 5-10 minutes for someone (sight unseen) to rearrange them into "Leon" every time we get together during the holidays! It's one of our funniest traditions!
Black Puff Shoulder Balloon Sleeve Sweater | Black High-Waisted Coated Jeans | Similar Black Block Heel Booties | NOEL Blocks | Poinsettia

As always, you can click on any of the pink links or images in the post for more information.
Santa Hat with Tiara | Similar pajamas | Lipstick

Family Christmas Traditions: Christmas Eve
I don't know about your family, but for ours, several of the most beloved family Christmas traditions are built around what we eat!
On Christmas Eve, I like to have something festive (but not filling) that people can munch on if they're hungry. I've either made the fruit and cheese Christmas tree or the all-fruit tree in the past. They're easy, healthy, and not too filling! #trifecta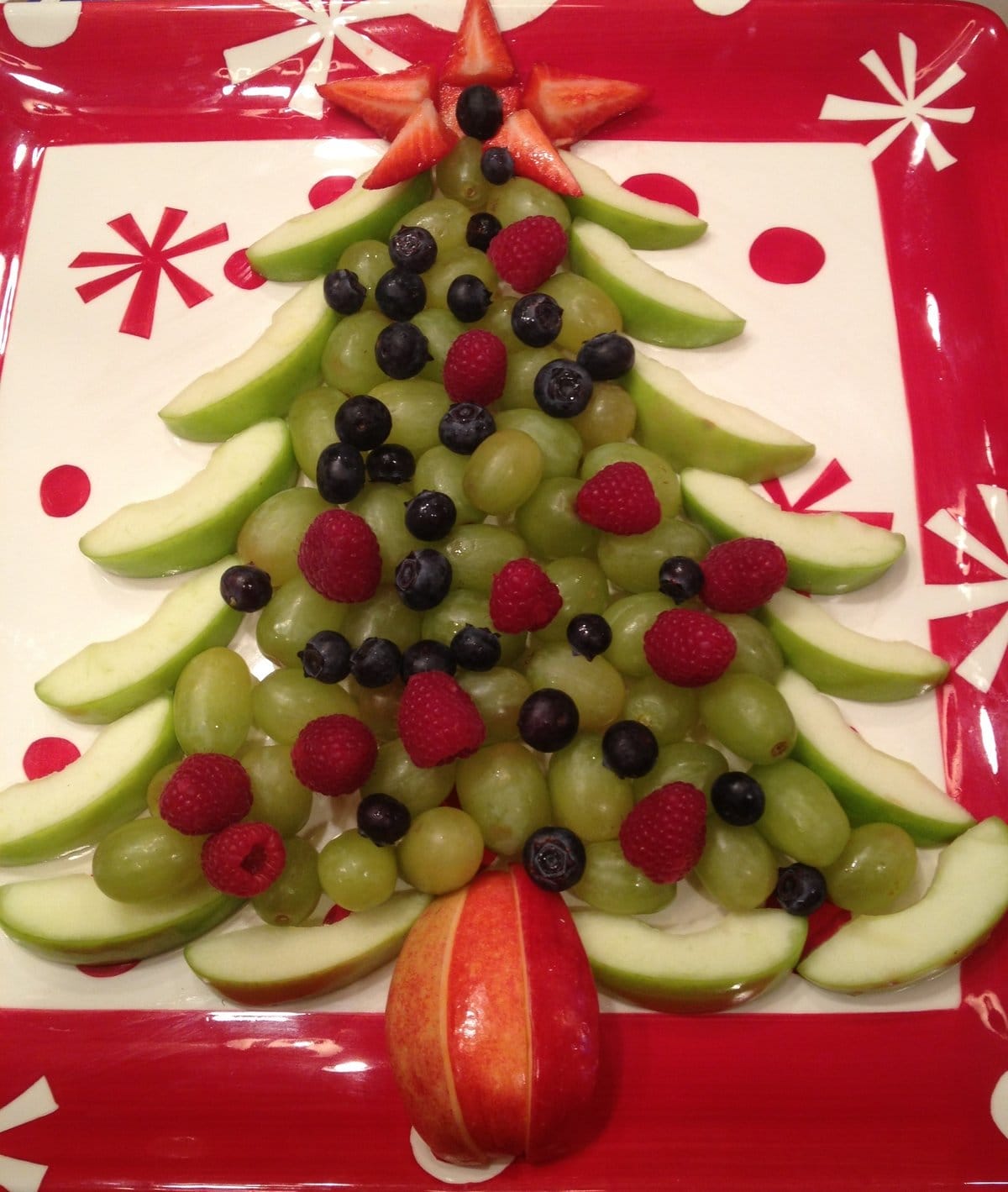 Back in the day when I was serving a lot of people, I used to make something easy to serve a big group for dinner, like chili or tacos. In the last few years, though, we've been ordering all the fixings for fajitas from Cantina Laredo. This allows me to enjoy everything without being stuck in the kitchen! Fajitas are always a crowd-pleaser (we do live in Texas, after all!), and the great thing is that Bob and I get to freeze the leftover meat to use later!
No matter what I serve for the entree, one thing I always make on Christmas Eve is Merry Cherry Jello. One year I skipped it, and there was almost a mutiny!

Merry Cherry Jello
1 lb. applesauce (I use unsweetened.)
8 oz. can crushed pineapple
6 oz. package cherry jello (I use sugar-free.)
1/2 c. chopped pecans (optional)
pinch of salt
mint leaves & maraschino cherries for garnish
Mix applesauce and cherry jello together in a heavy saucepan. Bring to boil. Stir in drained crushed pineapple, salt, and pecans. Put in a square pyrex dish and refrigerate until firm. Serves 8.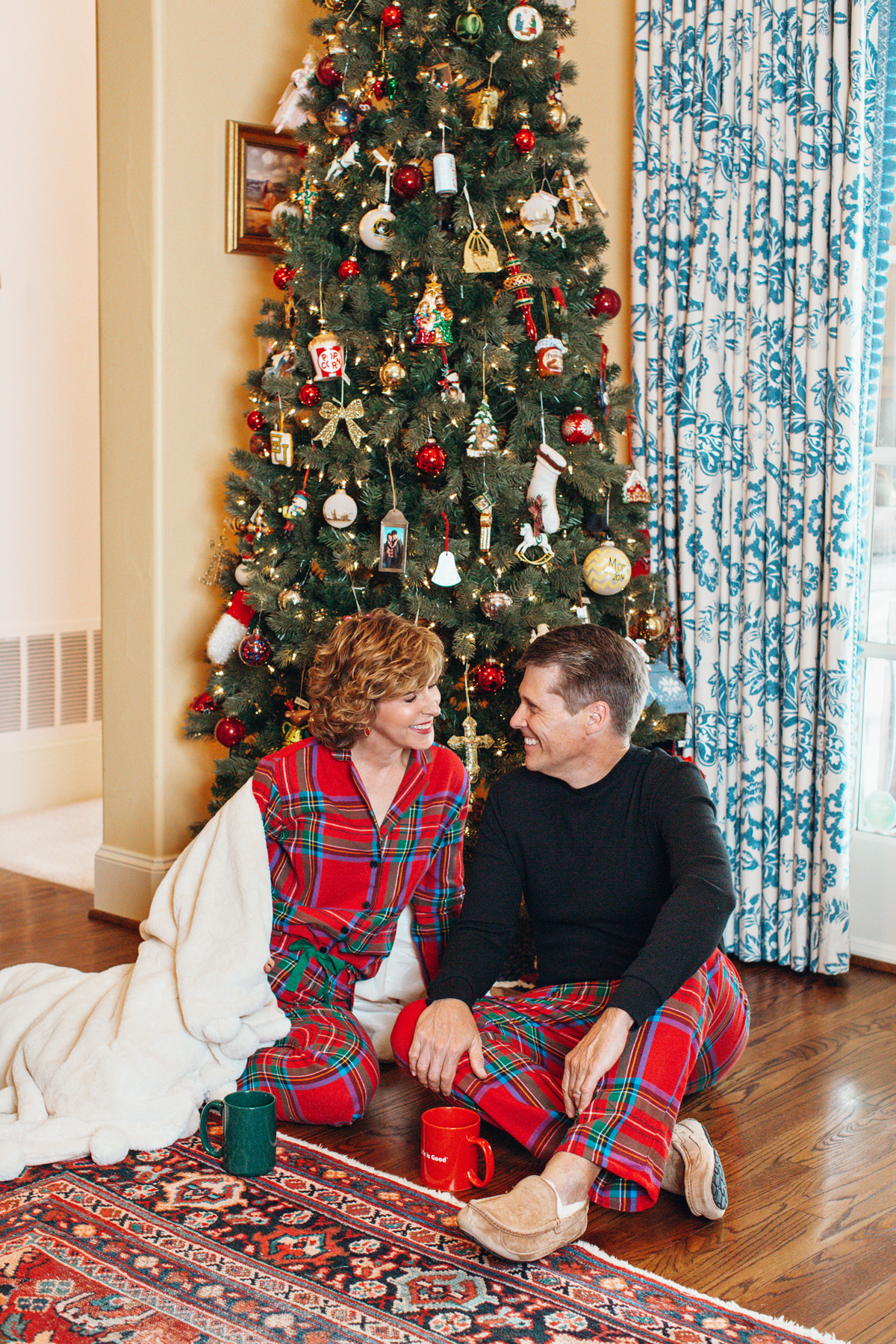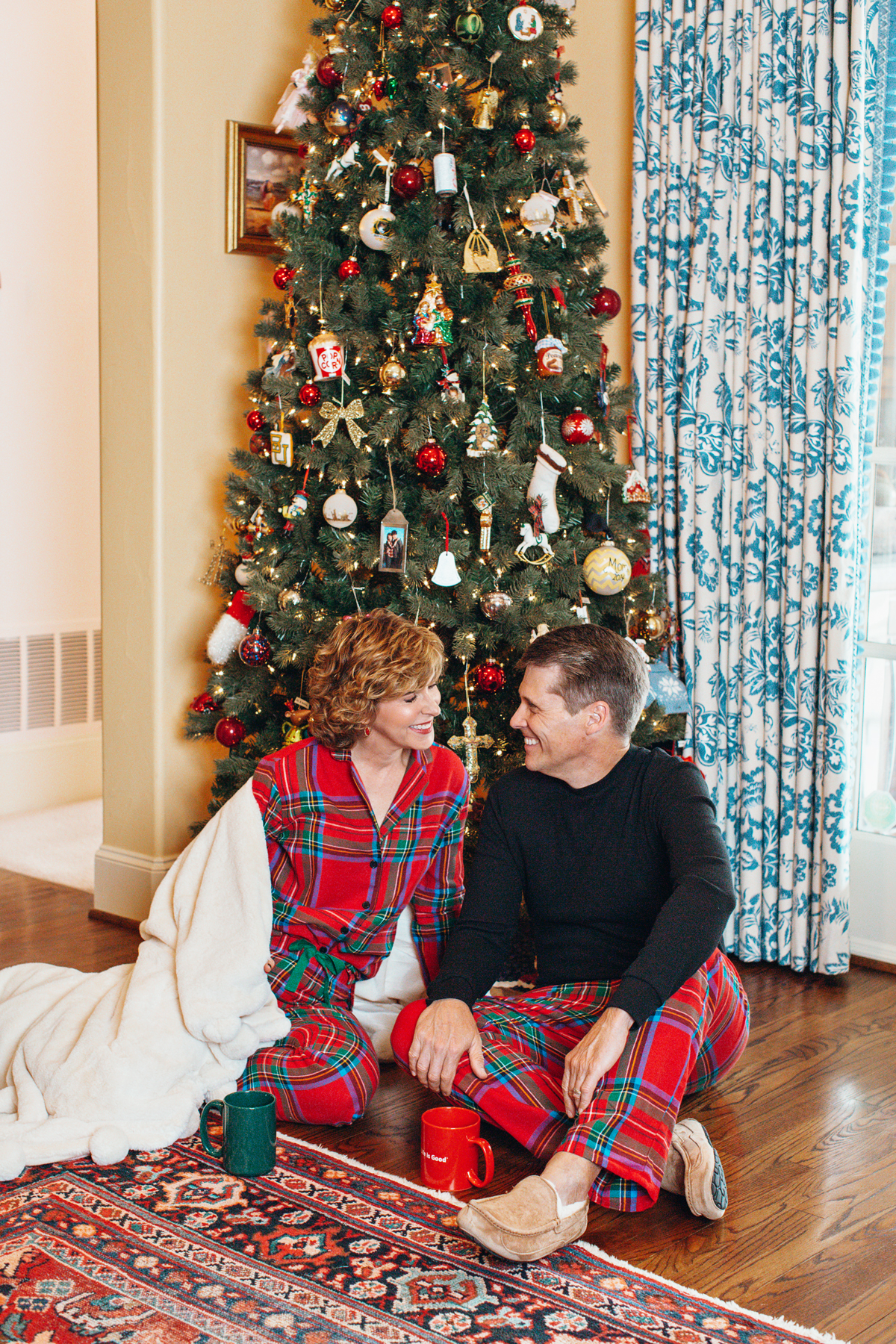 Similar pajamas (Suzy) | Similar Pajamas (Bob) | Bob's Long Sleeve Tee | Bob's Slippers | Cream Pom Pom Throw Blanket | Lipstick

Birthday Party for Jesus
For dessert on Christmas Eve, we always have a birthday party for Jesus, complete with cake, candles, ice cream, and singing. We started doing this before the kids were born, and we'll never stop! It's one of our favorite family Christmas traditions. When the kids were little, we used to bake the cake together. As they've gotten older, they've typically taken over the baking and decorating. When my son Weston married Sarah (who teaches 2nd grade AND has a side hustle baking business!), she and Becca took over. (And the decorating improved, thanks to Sarah!) This year, I'm going to do the baking honors, because Sarah will be in Arizona and Becca won't get home until late at night on the 24th. (Read that: Jesus will be having a gluten-free Birthday cake this year and everyone will have to deal.) 😂

Nativity Play
When the kids were little, they did a full-on nativity play! Even as they got older and bigger, the only thing that changed was that the costumes got smaller! Two years ago, we finally stopped, but I'm sure we'll start it up again when grandkids come along! No matter what, Bob reads portions of Luke 1 and 2 while we eat Jesus' birthday cake. It's one of our most precious family Christmas traditions.
LCR
After dinner and birthday cake on Christmas Eve, we play LCR! (LCR stands for "left, center, right.") If you've never heard of the game, you need to know about it! The best thing about this game is that it's a game of chance. (That means there's no arguing. YAY!)
Each player starts the game with three poker chips and takes turns rolling the three dice. For each "L" rolled, they give a chip to the player on their left. For each "R" rolled, they give a chip to the player on their right. For each "C" rolled, they put a chip in the middle of the table. For each dot rolled, nothing occurs. The dice are then passed to the next player. When one player has all of the chips, that player wins the game.
However, when we play it, Bob and I give everyone three one-dollar bills instead of poker chips. Everyone gets so into it; you'd think we were playing for hundreds of dollars! It's such a hit, one year, I bought a set of four LCR games, which I broke up and put into each of my kids' stockings. (If you're interested, there's still time to get LCR before Christmas with Amazon Prime.

One more quick note! My 80-something-year-old parents have been entertaining my sister and her three teenagers this week in Florida, and they're having the best time playing the game Headbanz! It's a "What am I?" guessing game, that comes with 6 fun headbands for players to choose from, including a cat, crown, unicorn, and a pirate. (So the headwear is funny in itself!). When it's your turn, you flip over the timer and start asking yes/no questions to figure out the card shown on your headband. It's a great multi-generational game!
Depending on where you live, you may still be able to get it before Christmas from Amazon.

Family Christmas Traditions: Christmas Day
On Christmas Day, we usually spend the morning opening gifts; then, we typically head over to Bob's side of the family for presents and dinner. Last year we played LCR with that group after opening gifts, and it was so much fun!
Sometimes, for dinner on Christmas or sometimes during the holiday week, I serve Pot Roast and veggies. (Other people bring the sides.) I fix my roasts in the big ole' 7 qt. slow cooker, because the slow cooker makes the meat so moist! My recipe is pretty simple!
Suzy's Pot Roast
3-4 lb. boneless beef roast
1 c. water or beef broth
3 medium potatoes, thinly sliced
2 large carrots, thinly sliced
1 onion, sliced
1 tsp. salt
1/2 tsp. ground black pepper
Put veggies in the bottom of the slow cooker. Salt & pepper meat, then place in the slow cooker on top of veggies. Add liquid. Cover and cook on low 10 hours or high 6 hours.
What's Up, Christmas Weekend
Have you missed any of my latest looks? You might want to bookmark THIS page on the Empty Nest Blessed website, where you can always find them. Or, you can go straight to the Empty Nest Blessed shop on the LTK app and shop right from there!
Need Last-Minute Gifts?
Are you still stuck for last-minute gift ideas? Did you catch last weekend's post where I included a bunch of unique and creative off-the-beaten-path gifts you can get up through Christmas morning? (Plus, they keep on giving all year long!)
Brands Offering Buy Online, Pick Up In-Store
I've shared lots of gift ideas with you over the past two months, and I'm so grateful to you for shopping with my links and making me a part of your holidays! Your support lets me continue to do this job I love, and I'm so thankful for each of you!
If you still have a few last-minute things to pick up, never fear! Some of your favorite brands are offering not only the option to buy online and pick up in-store, but also some great last-minute deals!
CHICO'S | Styles starting at just $19! Up to 40% off jewelry, plus 10% off your entire order when you buy online and pick up in-store!
KENDRA SCOTT | Buy online, pick up curbside, or in-store. I bought several earrings and necklaces from Kendra Scott this fall. They're always classic and classy! Bob I bought one of my Christmas presents at Kendra Scott this year 😂! Unlike past years, the discounts at Kendra Scott have been insane! The necklaces are great for layering and if you're ever unhappy with anything from Kendra, they will just swap it out for a new one! When my gold and platinum drusy necklace stopped sparkling as much as I did when I bought it, I took it in to ask them how to clean it. They just took it from me and gave me a brand new one 😲! Now that's a great brand! Here are the Kendra pieces that I own.

TARGET | Buy online, pick up in-store!
WHBM | Take an additional 10% discount on everything if you buy online, pick up curbside, or in-store! I'm so thankful to have exclusive, advance notice of these select deals on select days (see below).
Sharing My Heart With You
Cotton-Cashmere Pullover Sweatshirt | Cotton-Cashmere Jogger | Sole Bliss Black Croc Patent Sneakers (use code ENB15 for 15% off) To read more about why I love this brand, click HERE. | CZ Huggie Hoop Earrings | Initial Pendant Necklace | Porcelain Tea Mug with Infuser and Lid

I think Christmas has become more precious to me as an empty nester. Do you feel that way too?
When the angels announcing Christ's birth sang about "good will toward men" [Luke 2:14], they weren't singing about people showing good will toward other people, but about God showing good will toward men. Christmas is about God acting in an extraordinary way in order to show His goodness and love toward us. By becoming human, dying on the cross for our sins, and rising from the dead, Jesus Christ overcame sin and the grave for us. Christmas is all about the birthday boy who came to save our lives. With His help, I want to be loving, thoughtful, encouraging, and gracious to my family this year.
Hugs and blessings to you and your family this Christmas! I'm going to take a break for a few days right around Christmas Day to focus on my family, but I'll be back after Christmas with a detailed, organized list of the best post-holiday sales. Also, you can always stay tuned to my Instagram Story or my Facebook Story for a BTS look at what's happening in my life. Be sure you're following me on Instagram and Facebook as well as liking and commenting on my posts so I keep popping up in your feed!
As this year comes to a close, I want to thank you for being such amazing friends! Thank you for reading Empty Nest Blessed, for your sweet comments, and for following me on social media, and for allowing me to open up and share my life with you. I wish I could hug each of you personally and tell you what you mean to me.
Merry Christmas, my precious friends!