Happy Weekend, sweet friends! It's been a busy week full of catching up from being out of town, holiday preparations, and more! This is the first weekend in a while that we're not traveling, and I'm excited just to be home and crank on my to-do list. 😁 I love a good list!
Speaking of lists, I had a few people ask me what was on my Christmas wish list this year, so I thought it would be fun to share it with you!
My Christmas Wish List
Just think of this as Bob's cheat sheet! 🤣 (You're welcome, honey!)

My Sherpa Obsession!
Any and all things fuzzy Sherpa are trending, and recently I flipped over THESE cute and affordable totes at Target! Here are a few of my other Sherpa faves.

Oprah's Favorite Things 2021
Oprah's Favorite Things list is always so well curated and full of fantastic gift ideas. You can check out the entire list HERE. (But hurry! Some items are already sold out!) I'm going to settle into a comfy chair with a big cup of tea this weekend and linger over it!
SPECIAL EVENT ALERT! Dallas Date Night With Suzy & Bob!
Thursday, December 9, from 4-8 p.m., Bob and I are hosting a fun & festive Date Night event at the J.Crew Store in Northpark Center! They just merged their J.Crew Men's Store into the existing J.Crew & Crewcuts location, and now everything is in one location.
Grab your hubs and make a date night out of it! There are tons of fantastic dining options at Northpark, the holiday decorations are amazing, and J.Crew has lots of fantastic gift ideas for women, men, kids, as well as the home! We'll be sharing our personal picks, offering styling suggestions if you're shopping for clothing, and of course, Bob is always down to talk all things sports or fishing with your husbands! We can't wait to meet you!
ICYMI (In Case You Missed It)
(By the way, ICYMI is a great hipster acronym to oh-so casually drop into a text to your kids! They'll be super impressed with you!) 🤣
Thanks to some tech problems this week, we only published one blog post—but it was a fun one! Whether you're a good hostess or a bad hostess like me, if you're hosting the fam over the holidays, you don't want to miss my 8 Bad Hostess Tips, Tricks, Hacks, and Gimmicks!
Coming up next week on ENB, we'll be sharing some gorgeous holiday party or winter wedding guest looks, and of course, I'll have a full rundown of Black Friday/Cyber Monday WEEK sales! Also coming up, we'll have a fun post that I had my two assistants write on what their boyfriends want for Christmas! If you're shopping for a 20-something year old son, son-in-law, fiance, or boyfriend, this is the post you need.
Best Weekend Sales
Thanks so much for shopping with my links! I get a small commission when you purchase something and I was the one who led you to the sale. It never costs you anything extra, and it's the way I get paid and pay my team. I'm so grateful for your support!
I think the best sales of the weekend are at SOMA (BOGO 50% off sleep, bras and apparel), ANTHROPOLOGIE (20% off select gifts), KENDRA SCOTT (30% off sitewide), BROOKS BROTHERS (25% off sitewide).
ANTHROPOLOGIE | 20% off select gifts. Anthropologie's gifts are some the best curated out there, and this sale is worth your time. It includes candles, beauty, and more.
BROOKS BROTHERS | 25% off sitewide (exclusions apply) + 40% off 4+ shirts, suit separates $299, and more. If your man needs a swanky suit or you have a wedding coming up and the groomsmen need, er, help (!), this sale is awesome! Bob will be shopping this sale, for sure! If your man needs something bougie, this is the spot!
Easy Spirit Martha Stewart TGarden Garden Clogs

EASY SPIRIT | 30% off sitewide. I've been working out in the yard and enjoying our new landscaping so much! I couldn't resist THESE cute Garden Clogs! (Just $29.99!)
GAP | 40% off sitewide (exclusions apply) with code GREAT. Plus, Gap Rewards members (free to join) take an extra 10% off with code FIRST.
J.Crew Hoodie-Sweater in Supersoft Yarn (50% off) | J.Crew Straight-Leg Cords (44% off) | J.Crew Neutral Flat-Soled Brown Trainers | J.Crew Acetate Drop Earrings

J.CREW | Up to 50% off holiday party-ready styles (online only). Last week I ordered the Hoodie-Sweater in Supersoft Yarn I have on in the photo above in brown AND this Quilted Cocoon Puffer in brown. They both arrived this week! I love the puffer because it's quilted, rather than puffy, so it doesn't add the bulk that puffers can! It also comes in black, pink, green, and navy.
J.CREW FACTORY | Up to 50% off new arrivals + an extra 50% off sale styles. Plus, take an extra 15% off a $100 purchase & an extra 20% off $125 purchase with code MERRY. I'm wearing THESE plaid pants with a black cashmere sweater (50% off at Land's End right now) to Bob's company party in Miami this year! I also bought THIS pretty relaxed sweater-dress in extra-soft yarn to wear to another event in December. The fit of the dress is not clingy at all, and it looks and feels like cashmere! Both fit TTS and are on sale!

JOY CREATIVE SHOP | Joy Creative Shop is celebrating Gratitude Month through this Sunday, Nov. 21 by giving you THIS cute set of 10 Thankful For You notecards (a $15 value) with any $100+ purchase! You can also sign up for encouraging daily emails or read their Gratitude blog posts HERE. In my 4 Things You Can Do Right Now to Prepare for the Holidays post, I shared my Joy Creative Shop Holiday Gift Wrap haul with you! Click HERE to check it out.
KENDRA SCOTT | 30% off sitewide! This is the best sale I've ever seen them have!
LAND'S END | Up to 60% off your order with code TURKEY. This is my favorite place to buy affordable and high-quality cashmere anything! The black cashmere sweater I'm wearing to Bob's company party in Miami this year is 50% off at right now.
LOFT | 40% off sitewide with code PARTY (exclusions apply) + 50% off early access to Black Friday deals when you use your Loft credit card. (Ends 11/22, 3 am)
Marley Lilly Sherpa Pullover Tunic (collar slightly different) | Marley Lilly Quilted Popover | Marley Lilly Corded Sweatshirt (Lots of color options.) | Marley Lilly Boyfriend Cardigan (Lots of color options.)
(All can be monogrammed or not.)

MARLEY LILLY | Up to 75% off + a free Weekender Bag with a $150 purchase. Monogramming is always FREE at Marley Lilly, and it's a great, affordable spot for gifts! Click HERE to check them out!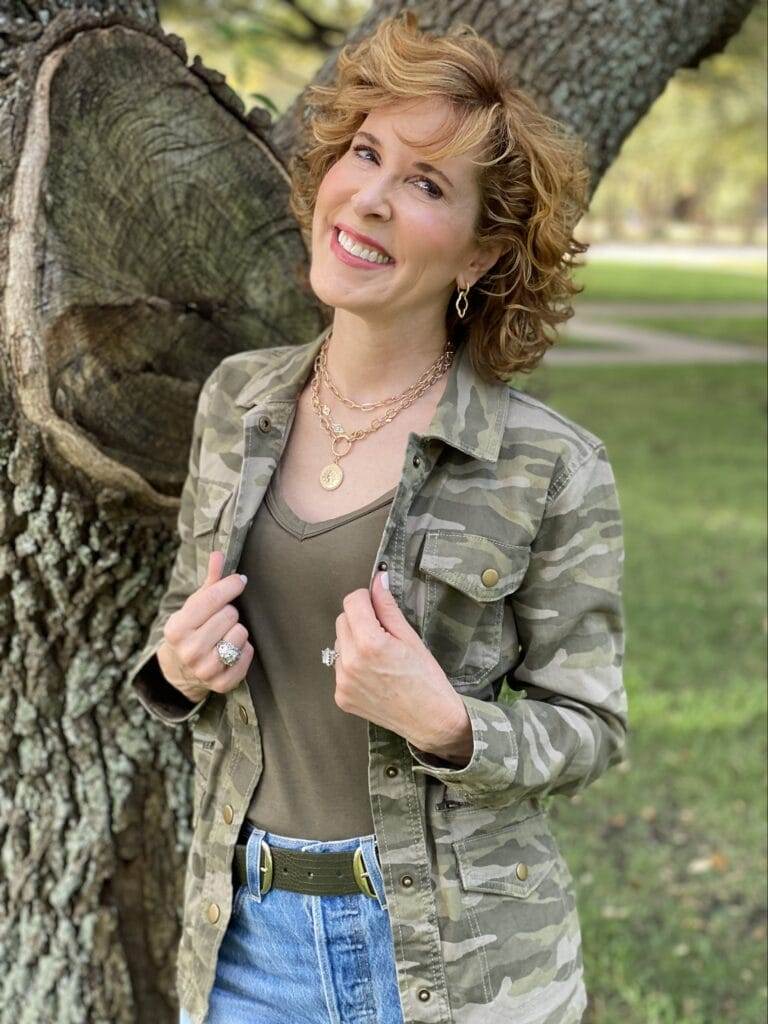 My Nordstrom Camo Utility Jacket (with flattering drawstring waist) was $79, now $47.40

NORDSTROM | Up to 40% off Black Friday deals NOW! Remember to use the filters on the left sidebar to narrow down the types of items/brands/sizes you want to see!
OLD NAVY | 50% off pajamas, sweatshirts & hoodies + 35% off the rest of your purchase.
ORVIS | Save up to 50% on men's & women's gifts! (Bob will be shopping this sale, I guarantee it!)
SOMA | BOGO 50% off sleep, bras and apparel in their pre-Black Friday event!
TALBOTS | 30% off regular-priced outerwear & cold weather accessories including shoes & boots! (I'm dying over THESE boots!) Great gift ideas in this sale!
TULA | Use code 15SUZY for 25% off at my favorite brand of clean skincare. (Ends Friday, 11/19.) This is an exclusive ENB discount!
WALMART | They've released info on their upcoming Black Friday deals, so you can plan your shopping! See them HERE. This is an amazing sale, with deals sitewide! They're giving Walmart+ Members (kinda like Amazon Early Access to the Black Friday deals Nov 22nd at 12pm PT / 3pm ET! Walmart+ has a FREE 15-Day Trial, which might be worth it for Early Access!
WHBM | They're not on sale, but their holiday party styles are gorgeous and well-priced if you have a swanky event coming up!