Does it seem a little early to be thinking about holiday prep? I hear ya! But with supply chain issues being what they are this year, I do believe we need to focus on preparing for the holidays early and joyfully this year! So today, I'm sharing four things that you can do right now to help you prepare for the holidays.
The Empty Nest Blessed Holiday Gift Guide goes LIVE for ENB Subscribers this Friday (and to the general public on Monday), and you'll want to focus on gifting, so now is the time to take care of holiday prep! I want to help you have peaceful and happy holidays this year, and today we're getting started by laying the foundation. You're gonna be so organized this year, and I'm here to help!

1. Update & Upgrade as Needed
Several years ago, when our son got married and I got a precious daughter-in-law, I realized I was in a Christmas stocking dilemma. My kids' handmade-by-their-grandmother Christmas stockings were well-loved (read that: worn), and now I needed one for our family's new addition.
I've always loved the look of needlepoint stockings, but I was not about to make my own 😂, so I started looking for some that were both high-quality and affordable. (It was challenging to find both, lemme tell you!) I finally settled on the darling needlepoint stockings from Land's End in the photo above. They're high-quality and velvet backed, which I love, and personalization is just $8. Right now, many of the designs are on sale with code CHILLY.
I will say that Land's End switches out the designs for these stockings every year, and I was pretty disappointed this year. The angels are out, and surfing Santa is in, apparently 🙄. That just makes me sad. Thankfully they do still have one with a church on it. Click through below to see all of the options.

Since I was so disappointed with Land's End's designs this year, I wanted to offer you some other options! Check out THESE from L.L.Bean. They're only $29.95, and you can personalize them with up to ten letters ($8 or free if you have an L.L.Bean Mastercard). Unlike the Land's End stockings, these are cotton-backed. There are seven designs so you can pick the stocking that you feel suits each person in your family perfectly.

Another great option would be to buy (or make) whatever stocking you prefer and personalize them with these beautiful wooden name cutouts we found. They're inexpensive, highly rated, and I love the font!

Finally, if you're a DIYer and are feeling ambitious, you might check out THESE gorgeous needlepoint stocking kits at Michaels. (For next year, perhaps!)
2. Consider an Advent Calendar
I don't need to tell you that this year is not like any other! Many of you may have had to forego time with loved ones last year, so that makes this year extra-special! I can't think of a better way to get everyone excited about the season than sending a personalized Advent Calendar.
There are so many wonderful advent calendars out there now. In fact, thanks to Covid, Advent Calendars emerged as a hot trend in the gifting world last year! Now is a perfect time to order. Here are a few of my favorites:

As an alternative to Advent Calendars, if you've got some foodies in your family, you also might want to check out these fun gingerbread house kits! I get one every year for us to put together, and it's always good for a lot of laughter and fun!

3. Order Your Holiday Cards – Consider Collage Cards!
I do my best to order our holiday cards early every year, but I'm behind this year! Last year, a lot of people didn't send cards. Did you? I didn't, but this year I'm going to restart.
I'm a big fan of collage cards because it can be hard to get everyone together in one spot for a photo unless you have a big event like a family wedding! Here's how to do it!
Ask each of your kids to email you the picture they want you to use.
Save them on your computer.
Click through my link to to one of the sites I'm recommending and pick out your collage card. (Usually you can type "collage card" in the search engine and find them.)
Upload the photos and play around with the sizing and location of each one on the card.
When you're satisfied, place the order.
In most cases, if you order now, you can take advantage of early ordering discounts, which will save you a bundle. Here are the spots I recommend.
Remember to use the ENB exclusive ENB10 promo code for a 10% discount on your entire order! Browse their Holiday Cards HERE.
In 2019 I ordered our cards from Minted, and I was thrilled with the quality! I love that they use independent artists to design everything on their site. If you order now, you can take advantage of early ordering discounts, which will save you a bundle. Through Monday, 11/1, Minted is offering 15% off holiday cards with the code JOY2021. They also throw in FREE recipient addressing! They provide you with a template. You enter your addresses and upload them to their site! Then, all you have to do is stuff, stamp, seal, and send when your cards arrive!
If you're a big fan of Minted, you might want to consider joining the Minted More program to save 30% off your holiday card order + 20% off year-round orders, with unlimited free shipping. They also send a gift box with $160 worth of curated items from their site, which is fun! It's $38 for an annual membership, but with 30% off, you may save double that on your holiday card order alone!
Right now, Shutterfly is offering 50% off gifts & home decor + up to 50% off everything else (like Holiday Cards!) Shipping is free at $79 with code SHIP79. Plus, you can unlock an extra 20% off your entire order if you sign up to receive texts from them. (Just type STOP to cancel that at any time.)
Right now, take 50% off holiday cards at Zazzle! To save even more, you can join their Zazzle Black program. For just $9.95 per year, you get unlimited standard shipping on all orders for qualifying products (and you can get a free 30-day trial to save on your order starting today!) Just like Minted, Zazzle uses independent designers to design their cards, and I think that's awesome. You can check out their designs HERE.
While you're at the Zazzle site, keep an eye out for their cute personalized gift wrap! How fun would this be for Christmas morning!

4. Get Your Gift Wrap On
When the kids were little, I bought the cheapest, thinnest, easiest-to-tear gift wrap I could find! Did you do that too? Oh sure, it ripped and tore the whole time I was trying to wrap, but I knew the kids wouldn't care when it came time to open their gifts!
Not any more! As you can see from the photo above, now I buy beautiful, quality gift wrap, and I love to color coordinate the look under our tree with matching gift tags. I've even been known to break out the glue gun and add candy canes, pine cones, or a sprig of holly berries from the tree in our front yard!
Now that the kids are gone, I've come to really enjoy wrapping gifts! I find it relaxing and creative to put a fire in the fireplace, a Hallmark Christmas movie on TV, and get my gift wrap on in a big way.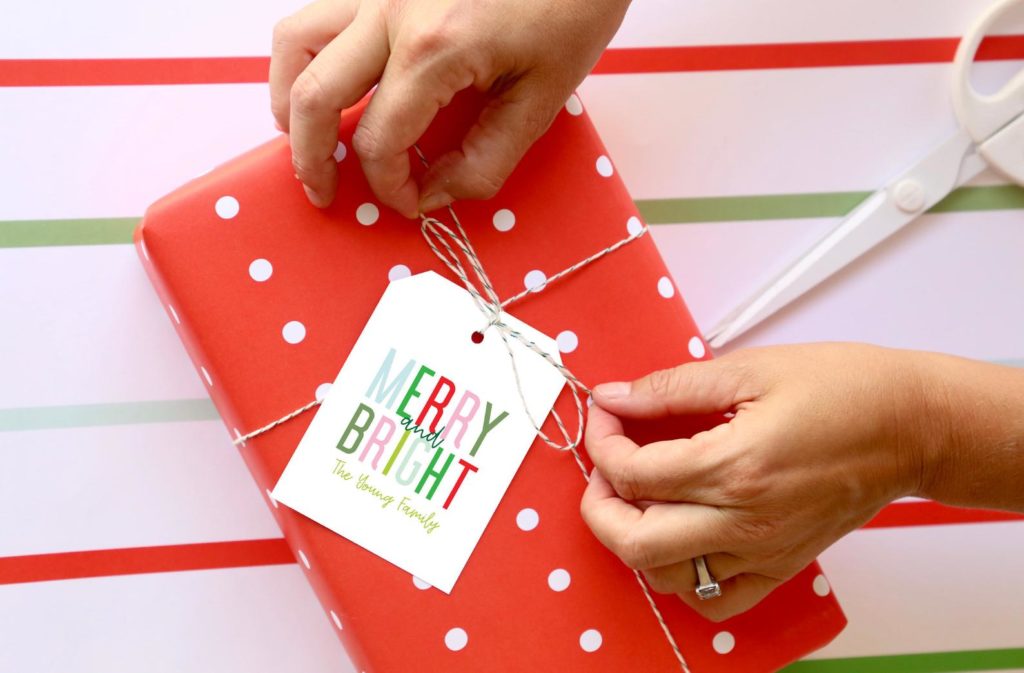 I think the gift wrap at Joy Creative Shop is just the most beautiful and, well, joyful gift wrap I've ever seen! You've heard me talk about Joy Creative Shop many times before, and it really is one of my favorite places for high-quality paper goods and gifts. Joy Creative Shop's gift wrap coordinates perfectly with their gift tags. If you prefer stickers, they've got those too!

Remember to use the exclusive ENB10 promo code for a 10% discount on your entire Joy Creative Shop order.
In addition to gift wrap, tags, and stickers, Joy Creative Shop is an awesome spot for gifts! One fun example: I gifted our daughter, Becca, THESE pretty custom-designed notecards from Joy Creative Shop recently. (She's a pink lover like her mom!)
Several gift items from Joy Creative Shop made the Empty Nest Blessed Holiday Gift Guide this year! (For a sneak peek, use the arrows on the side of the images and scroll through the items below. You can click on any of them for more information.)

Ribbed-Cashmere Colorblock Sweater | Gray Jeans | Faux Suede Tie Knot Gray Ankle Booties (Fit TTS – 9 colors available) | Joy Creative Shop Gift Wrap

Do you feel more prepared for the holidays after reading today's post? I hope so! If you're an ENB subscriber, Friday is your big day! Yep! The Empty Nest Blessed Gift Guide goes LIVE for subscribers this Friday, October 29! Look for an email in your inbox early Friday morning! It will contain a secret password that will allow you exclusive access to the Empty Nest Blessed Holiday Gift Guide. You'll have exclusive access for three days before I release it to the public on Monday, November 1!
If you haven't joined my email list yet, you can do that HERE. (We've got lots of great holiday content planned, and I don't want you to miss a thing!) 🎁🎄