I love Lilly Pulitzer's classic styles, but they tend to be expensive, and they rarely go on sale. But when they do, they go BIG! Twice a year, Lilly Pulitzer holds a giant Sale, and if you like Lilly, it's well worth your time! This year it starts on Monday, September 13, at 7 a.m. CST (8 a.m. EST) and goes through Tuesday, September 14 at 10:59 p.m. CST (11:59 p.m. EST). Today, I'm going to give you all the scoop you need on the sale, and even share a few insider tips and tricks you need to maximize your shopping success! (Look for those in Lilly green below!)
My Outfit Above
Lilly Pulitzer 7″ Scallop Hem Shorts (stretchy!) | Draper James Pink Trimmed Flutter Sleeve Top (sold out) | Pink Allbirds Sneakers | Kendra Scott Tassel Hoop Earrings (on sale)

What You Need to Know About the After Party Sale
New styles will be added throughout the sale, so come back and check several times throughout it. In fact, they've promised to

drop

new sale items during the sale, one for sure on Tuesday, September 14th! Stay tuned to @lillypulitzer on Instagram to find out specifically when!
Although you can shop from your phone or tablet at LillyPulitzer.com., the best experience will be shopping at LillyPulitzer.com on a laptop or desktop so you can see each item in the best possible detail.
Once you get to the Lilly Pulitzer site, you'll be placed in a virtual waiting line. Don't panic and think you need to refresh your page. Keep it open and give it time. Refreshing will knock you out of the queue! It usually moves pretty fast!
Once you get into the sale,

use the filters to guide your search

! First, filter by your size. You can also filter for specific prints.
During the sale, even if an item is in your cart, it isn't reserved for you! That means you need to be ready to checkout quickly once you're finished shopping. (See the pre-sale to-do list below!)
All sales during the Sunshine Sale are final.
Due to high demand during the sale, it can take four to six weeks to receive your items.
Similar Luxletic Justine UPF 50+ Printed Popover | Hot Pink Tee (underneath) | White Jeans | Tory Burch Silver Logo Earrings

Shhhh…BIG INSIDER SECRET…Items tend to start "disappearing" from the Lilly website in the week or so before the Sunshine Sale. For example, the Lorina Dress I'm wearing in one of the photos above currently says "sold out" on its product page. All I'm saying is, don't be surprised if it is suddenly "restocked" for the sale. Those Lilly peeps can be tricky like that!

Florin Reversible Tank Top (Click HERE to check out the other patterns/colors) – from $44 | Similar Blush Denim Shorts | Snake Print Belt | White Acrylic Monogram Necklace | Faux Pearl Stud Earrings | Collagen Powder (See this post for more info.)

To Do Before the

After Party Sale
If you're not familiar with the Lilly Pulitzer website, it would be smart to familiarize yourself with it before the sale.
Go to LillyPultizer.com and create an account if you haven't already. Enter your credit card info now, before the sale, to save time during the sale and increase your chances of getting everything in your cart. (Remember,

just because it's in your cart, unfortunately, it isn't reserved for you. It's not yours until you actually check out

.)
Fill out a

Fit Predictor profile

to get a suggested size in any given style. You should also use your best judgment and previous experience with Lilly Pulitzer products to make your decision, as these size guides are based on industry averages and sizing may vary based on personal preference.

Find the "Fit Predictor" tool right under the sizes on each product page.

To set yours up and link it to your account, go to a product page like the awesome Florin Reversible Tank Top (also comes in patterns) in my photo above, click "Calculate Your Size" next to the Fit Predictor, and fill out the info they ask for. They will calculate the correct size you should order. (I've found this to be very accurate.)
Once you've created an account, look for the Wish List area on your account page. It should say "You haven't added to your wishlist yet. Start Shopping. As you shop, click the ♥ at the top right of any style to add it to your wish list. That way, when you shop, it's easy to see your favorite styles all in one spot.
INSIDER SECRET…Once the sale begins and you gain access, add everything you like into your cart. Then, once you're done shopping go back and edit your cart before checking out. That way, you don't get caught up in the excitement and overspend! I've found it's always good to take a breath and take a second look before you purchase. But, if you find something you just can't live without, it might be worth it to check out and then go back in and resume shopping. You don't want it to sell out while you're checking out other items!
Lilly Pulitzer 7″ Darci Knit Short | Lilly Pulitzer Essie Tank Top (Also in other colors/patterns) | J.Crew Factory Navy & Pink Espadrilles | Amazon Sunglasses

Four Classics to Shop During the After Party Sale
While we can't predict exactly what will be on sale, when it comes to Lilly, there are four classics that I think you should consider shopping if they are on sale.
The Printed UPF 50+ Popover – I have several of these, and I take them every time we go to the movies, or I head to Florida. They're perfect when the weather gets a little chilly, or somebody gets a little feisty and overachieving on the A/C front. I always get compliments on them!
The Elsa Top – A true Lilly classic, this silk blouse can be dressed up or down, and Lilly brings the style back in new patterns every year. I own multiple prints and wear them tucked and untucked, with jeans, shorts, and skirts.
Sweaters & Cardis – I love my Lilly Pulitzer cardigans and sweaters. They're beautifully made and have lasted for years. If any of these are on sale, snag them quick! You'll be able to wear them this fall and winter! Also, be sure to check out their wraps! I bought this neutral Marcelle Wrap and use it constantly when we travel!

Accessories & Gifts

– Finally, before you check out, be sure to check out the sale offerings in this category for some of the cutest jewelry, planners, and handbags you've ever seen.
INSIDER SECRET…Actually, I think one of the best-kept secrets of the sale is the Gifts Under $50

you can find

(like, wayyyy under $50!). Think ahead for Christmas or gift yourself!
What are you going to shop for during the Lilly Pulitzer Sunshine Sale? I'd love to know! I hope you've found my tips and tricks helpful as you get ready to shop.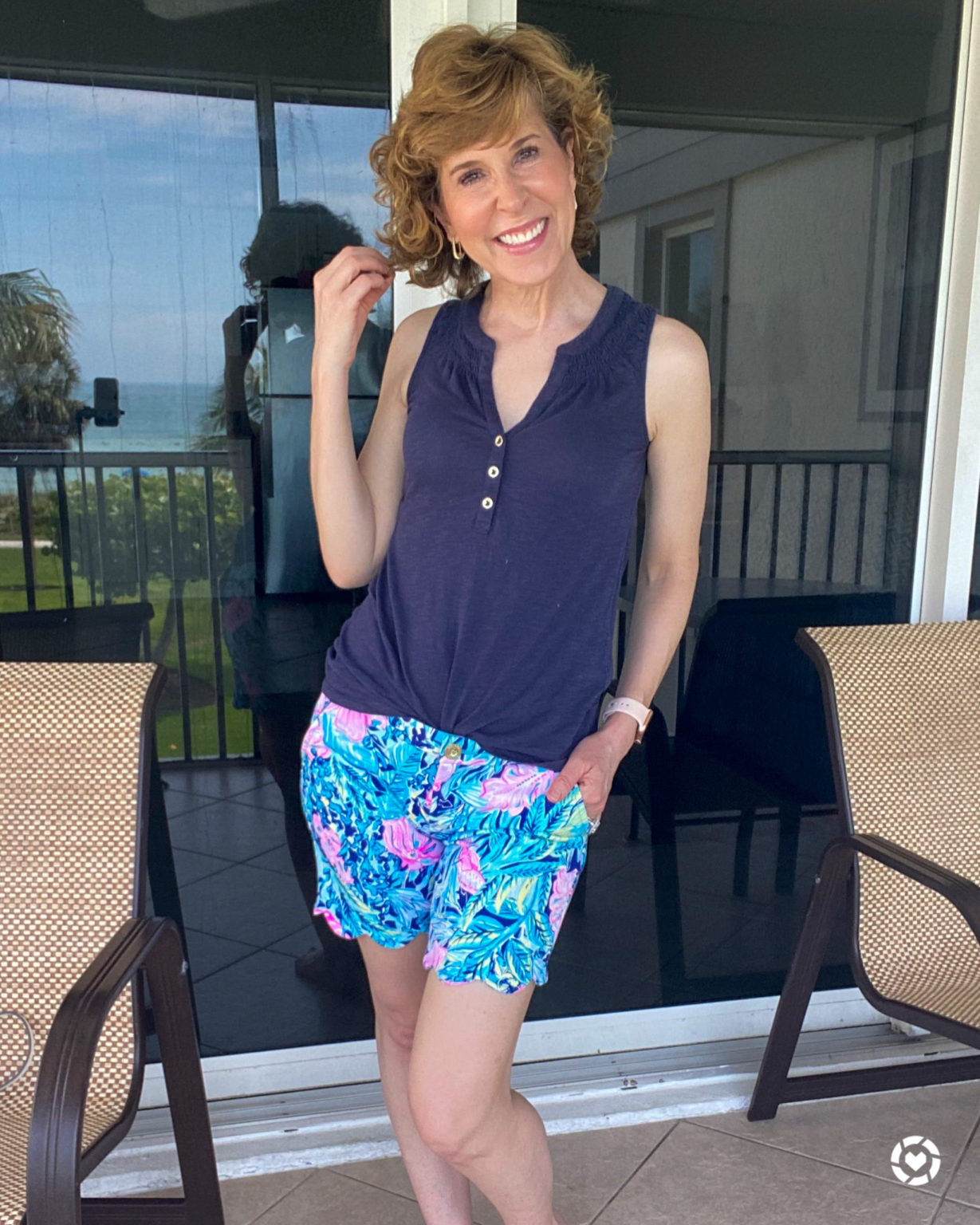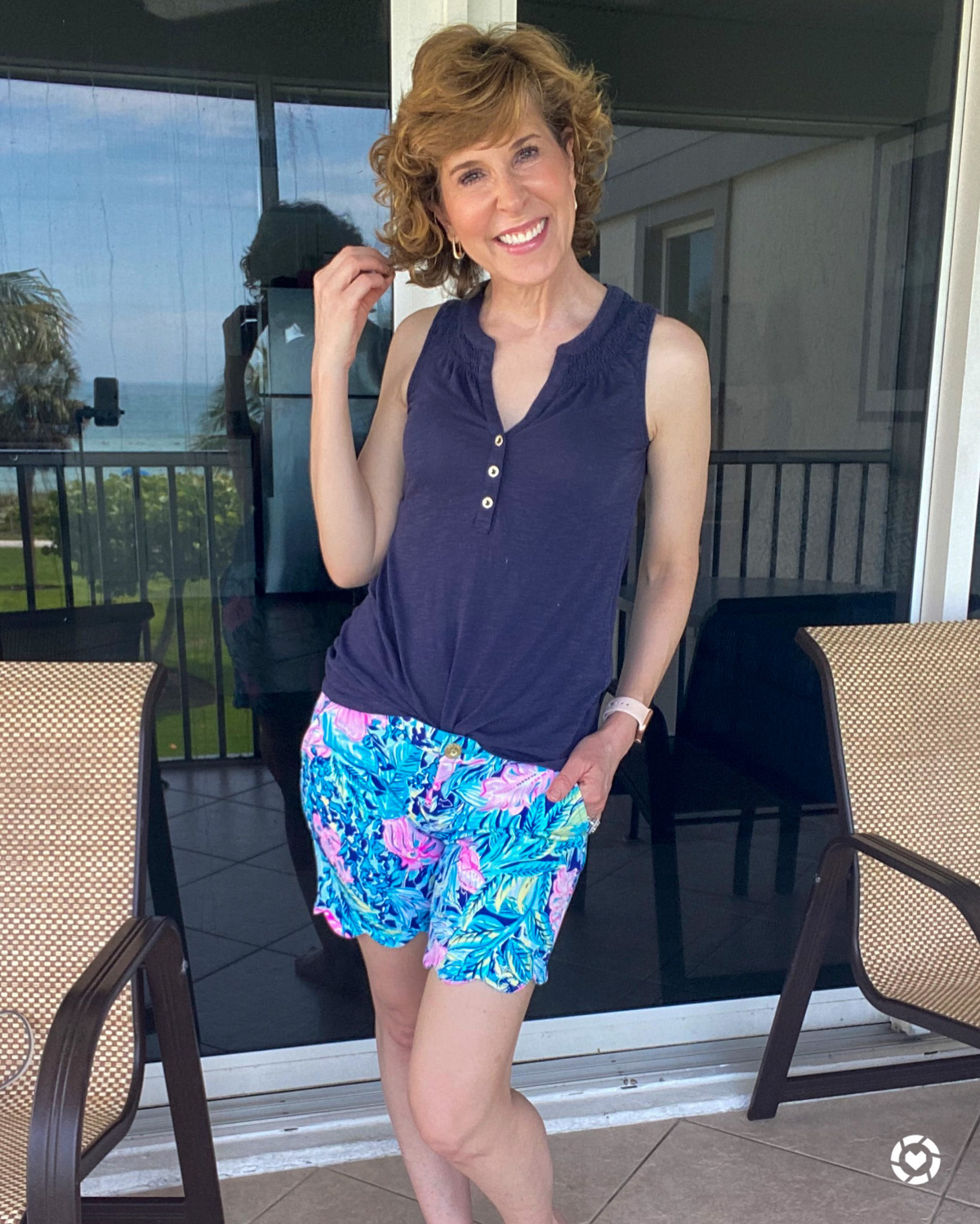 Lilly Pulitzer 7″ Darci Knit Short | Lilly Pulitzer Essie Tank Top (Also in other colors/patterns) | Safety Pin Earrings


Happy shopping on Monday & Tuesday! I'll be shopping right alongside you! xoxo