I had so much fun putting together the 2021 Fall Fashion Trends post, but I must say, even with all the great trends, I am most excited about the accessories and shoes this year! I think it's because adding a chic accessory is such an easy way to transition into the fall season. Also, accessories work on everyone, no matter what your age, stage, or size!

When it comes to accessories, start small by adding a little bit of "fall" to your outfit. Think about adding a belt or a pair of fall booties as the season changes. Integrate these trends into your wardrobe to get your closet up-to-date and ready for the season.
As usual, all of the pink text links and images in this post are clickable for more information, to view size and color options, and to shop.
2021 Fall Accessory & Shoe Trends
In my 2021 Fall Fashion Trends post, I told you that this fall, everything "old" is new again. This is also true with accessories! We're seeing styles reminiscent of the past, especially the 70s and 90s. Oversized square sunglasses and tall boots remind us of the 70s, while a relaxed retro style with track sneakers and white tube socks reminds us of the 90s.
"Above the Keyboard" style became prominent as we have learned to dress for Zoom meetings. Think ruffles, pearl accents, and cocktail rings. Pieces like these capture the eye, even through the computer screen! We definitely want to be comfortable, but look put together when it counts as well! It's all about the combination of fashion and function!
Trending Colors
Gold
When it comes to jewelry, gold is definitely the metal of the year! If you prefer silver, try mixing your metals and combining silver and gold! That look is trending too!

Blush Pink
Pink is everywhere this season. You'll find it in many shades, but predominantly a lighter brownish blush shade.

Trending Patterns:
Mixed Metals
Look for layered necklaces with both silver and gold. Also, consider mixing gold with pearls. We are seeing a lot of this pretty combination in earrings, necklaces, and bracelets.

Animal Print
Animal print is usually a popular fall pattern, with leopard standing strong as a crowd fave! This year Tortoise print is popular too…you can see it everywhere from sunglasses to hair clips.

2021 Fall Accessory Trends
Micro Bags
Tory Burch Convertible Micro Bag (removable strap) | Jetsetter Tee in "SKETCHY POPPY ROCCOCO" | Spanx Faux Leather Joggers | Kendra Scott Black & Gold Drop Earrings | Pink LARQ UV-Sanitizing Water Bottle

These teeny-tiny mini bags are just big enough to hold your phone, a credit card wallet, and lipstick. (Or sometimes, just your phone!) But really, what more do you need?

Convertible Bags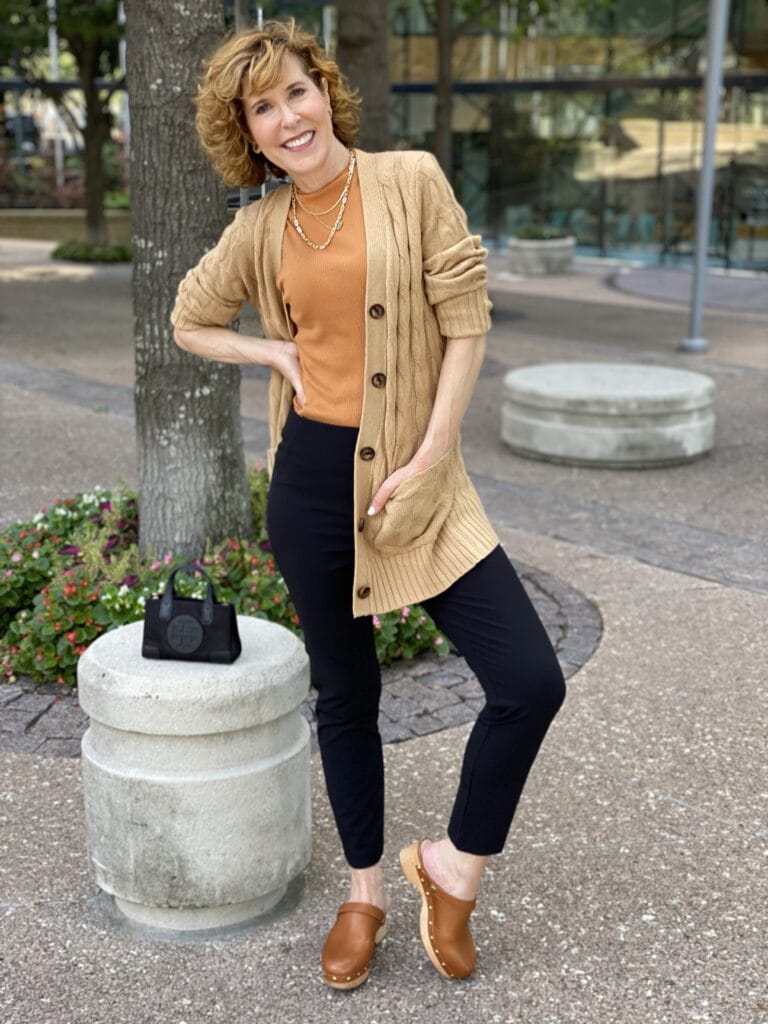 Cable Knit "Grandpa" Cardigan (28 color options!) | Mock Neck Tank | Black Ankle Pants | Brown Convertible Leather Clogs (other colors available) | Tory Burch "Micro" Bag (can be worn crossbody) | Necklace Stack: Tennis Necklace + Chain Link Necklace + Platinum Drusy Pendant Necklace | Tory Burch Gold Logo Earrings

Mini bags are just one type of bag that can be carried crossbody, and at least one other way. Use your crossbody bag for daily errands, then dress it up at night by using it as a clutch. I also found this cute leather backpack on Amazon that has a strap so it can also be carried as a purse!

Hobo Bags
Hobo bags, or round bottom bags, have a more relaxed and "slouchy" feel than the harsh edges of a square purse. This year, it is all about being laid back and cool, with minimal effort!

Large Square Sunglasses
This fall, we are loving a dramatic look with oversized square sunglasses! They're glamorous, make a statement, and lets us hide behind them on make-up-free days! The square frames are back, and so is our beloved 70s style, baby!

Calf Hair Belts
Do you have a dress or a pair of pants that need a little something? Add a calf hair belt! These fun belts have "fall" written all over them! They're perfect for adding a little touch of fall. Let's be honest! Leopard and Cheetah prints add that cozy fall feel to any outfit!

Necklace Stacks
Flutter Sleeve T-Shirt Dress ($22!) | Duplet Chain Link Necklace ($15 – can be worn separately) | Similar Tory Burch Station Necklace (wearing it doubled) | Tory Burch Gold Logo Earrings

The popularity of coin pendant necklaces, initial pendant necklaces, and chain link necklaces have influenced the huge necklace stack trend. Get creative and make your own stack, or buy one that has natural layers already. Use different textures and lengths so that each one stands out. Gold is the hottest trend now, but we are also seeing a combination of gold and silver, and also gold with pearls.

Pearls Reign Supreme
Can you think of anything more timeless and classic than pearls!? I think pearls are here to stay for a reason…everyone loves them! They're classy, elegant, and can be incorporated into any type of accessory. For earrings, bracelets, and necklaces, look for a fresh take on the classic strand of pearls. THIS necklace is a mix of both chain links and pearls, and how precious is THIS tiny pearl ring?! I love how pearls make a solid color shirt or dress shine!

Textured Hoops and Huggies
Small gold hoops in all different textures are a hot trend just now. They are pretty and detailed, but also dainty and simplistic. Huggie earrings are small and sit close or "hug" the ear. They are great for everyday wear. If you have multiple piercings, consider a coordinating package set that allows you to create your own cute huggie combination!

2021 Fall Shoe Trends
Clogs
Slightly Distressed Straight Leg Jeans (Levi's are the brand of the moment!) | Puff Sleeve Tee (also comes in white) | Brown Convertible Clogs | Calf Hair Leopard Print Belt | Crossbody Bag | Earrings | Necklace Stack: Tennis Necklace + Platinum Drusy Pendant Necklace + Chain Link Necklace

Believe it or not, clogs are back! We saw them tearing up the runway and worn by our favorite celebs. I understand if you are hesitant to hop on board with this trend…I was too! But I've come to love them, and own THESE, which are convertible and come in multiple colors. The sleek leather combined with a block heel makes jeans and a mock neck tank or tee look chic! They're comfortable and offer just the right height boost!

Multi-functional, Waterproof Booties
We all know the terrible feeling of soggy, wet shoes! Waterproof booties are multi-functional since they are both stylish, and provide puddle protection! I'm all about fashion and function, and these cute booties are all waterproof or weather protected. Rain boots are cute with pants, but can sometimes feel heavy and clunky. These waterproof booties compliment any fall outfit, even dresses or skirts!

Lug-soled Boots
Spanx Faux Leather Joggers | Lug-Soled Booties with Pearl Trim | Dupe Booties HERE (plus, use code ENB15 for 15% off)

Lug-soled booties add a hint of edginess to an otherwise conservative outfit. If you tend to dress more simply, consider adding a pair of thick-soled boots for a trendy look. (It's what the cool kids are doing!) These high fashion shoes take combat boots to the next level, and give you a little extra height while maintaining stability! Stick to ones that are a little less chunky for maximum comfort, like these Chelsea boots! By choosing smaller soles, they won't totally look like space boots…haha!

Track Sneakers
I told you that "everything old is new again!" Old School track sneakers reminiscent of the 70s and 90s, paired with or joggers (or bike shorts and tube socks if you're under 30) are trending now. Even our beloved old brands like New Balance, Adidas, and Reebok are proving to be timeless classics. Keep an eye open for bright colors and pastels! I'm crazy about the J.Crew x New Balance collaboration!

Did you find something to accessorize your fall wardrobe? I hope so! If you want a fall closet refresh, or want to scope out more of this year's hottest trends, be sure to check out my 2021 Fall Fashion Trends post. I hope you're as excited as I am for football, apple picking, cozy sweaters, yummy candles, all other things FALL! (BTW, did you see my Fall Decor Under $30 post? If not, you can check it out HERE.)
I would love to hear what you're looking forward to this fall in the comments!
Check out the boutique below of all of the styles we highlighted in today's post! If you see a style you like, be sure to click through for color and style options!