The list is in, and I am so ready to shop these fabulous fall fashion trends with you! As you enjoy the last of your pool parties, BBQs, beach walks, and summer fun, it's time to get excited about fall! This week, I will be sharing all the fall fashion trends and how to style them. I have collected items from my favorite brands and grouped them into an easy-to-read format, so you can be up to date on the latest and greatest fall fashions for 2021.
As usual, all of the pink text links and images in this post are clickable for more information, to view size and color options, and to shop.
Fall Fashion Trends for 2021:
If there's one underlying trend to everything you'll see in fashion this fall, it's this: We've come to love our comfy loungewear…but we still want to get dressed and feel "cute!" That's why many of the general trends we are seeing encompass the best of both worlds. Elevated loungewear, fashionable joggers, utility jackets and utility pants, large, cozy cardigans, and easy blazers say it all. We want popover tops that are kind to our silhouettes and flowy dresses that hug in the right places. We want to dress up easily and still be comfortable!
I love watching these trends and sharing them with you! Here are a few general ones that stand out this year:
Workleisure
"Workleisure" is next-level leisure clothing you can wear at the office that still has the comfort you've grown to love at home. It elevates comfy, yet-casual WFH (work from home) wear in order to strike a happy balance with professional pieces. Athleta (pair THESE with pumps and go!) and Lululemon (check out THIS crewneck sweater) now offer work clothes to fit this genre.

Neutral Layering & Monochromatic Color Schemes
Use blazers, tops, and pants to create a uniform look. Beige, brown, and neutrals are everywhere because different shades are easy to mix and match while still giving a clean, put-together look.

That 70s Show
Complete with sleek knits, bold plaids, and standout accessories like tall boots and oversized sunnies.

Relaxed Retro
Old-school menswear with oversized sweaters & cardis. Biker shorts with oversized graphic Ts and crewneck sweatshirts, track sneakers, and white socks. Think Champion joggers/sweats, Adidas Originals, and Reebok Classics.

Little House on the Prairie (Prints)
Keep your eyes open for small Bohemian florals, soft ruffles, and light paisleys.

Carpe Denim!
Look for head-to-toe denim in all hues and washes…I told you the 70s were here to stay! Indigo denim is especially popular. The dark wash is visually slimming, and it looks great paired with chambray or other shades of denim.

Colors

Fall Fashion Trends for 2021: Must-Have

Pieces

Tops

:
One thing evident in all trendy fall tops is the emphasis on sleeves. Puff sleeves, ruffles, and flutter sleeves became popular last year, and are still a huge must-have for fall! Keep your eye out for these feminine detail as you shop for tops.
Smocked Neck

Blouses
Smocked neck collars are a result of the huge ruffle trend carried over from Spring and Summer. The smocking at the neckline creates tiny ruffles at the top of the neckline. They can be very flattering and frame your pretty face beautifully! The smocking hugs the neck, elongating the line.

Clip Dot (aka "Dotted Swiss")
The sweet polka-dot embellishments make a normal blouse so feminine. Dotted Swiss, or Clipdot, refers to where this fabric was first made, in Switzerland. It's typically a sheer and lightweight fabric, so it's great for fall in warmer climates. Look for it in bright and fun colors, especially pink.

Popover Tops
Popover tops are a result of wanting easy-to-wear fashion, that still looks pulled together. (Are you seeing this overarching trend as we go through these styles?) Since popover tops only have a few buttons at the top, you simply "pop" them over your head for an easy outfit. They typically have a soft, loose-fitting hemline, making them super comfortable tucked, half-tucked, or untucked with jeans or leggings.

Sweaters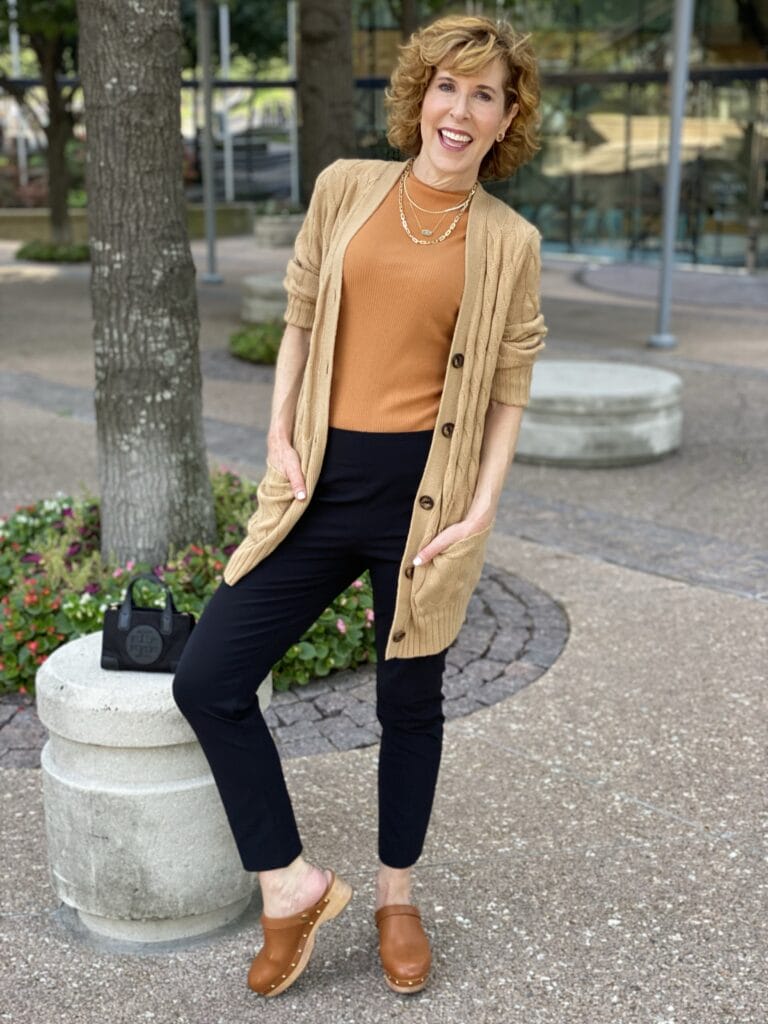 Cable Knit "Grandpa" Cardigan (28 color options!) | Mock Neck Tank | Black Ankle Pants | Brown Convertible Leather Clogs (other colors available) | Tory Burch "Micro" Bag (can be worn crossbody) | Necklace Stack: Tennis Necklace + Chain Link Necklace + Platinum Drusy Pendant Necklace | Tory Burch Gold Logo Earrings

Button-Front Cardigans
Button-front cardis, also known as "Grandpa Sweaters," are another example of how we want comfort combined with style. They're definitely not just for grandpas! I've been so into THIS one from Amazon and I've already bought it in several colors!
Thanks to Taylor Swift with her music video "Cardigan," you'll catch all the Gen Zers wearing Grandpa cardis this fall!

Textured Sweaters
Look for textured sweaters to stay warm and cozy this fall. There are so many unique patterns that are a fun take on the classic cable knit sweater design. We found sweaters with braids, bobbles, open weave, stitched designs, horizontal cable knit patterns, and embroidery.

Nontraditional Sweaters
This fall, we are making other tops out of sweater material to keep the cozy, comforting feel of a sweater in a new form. You'll see sweaters in everything from tank tops and vests, to polos and blazers. Sweater tanks are especially trending, and make great layering pieces as well! They're perfect for transitioning into early fall, and work well under blazers.

Dresses
Leopard Print Tie-Waist Shirt Dress | Suede Rounded Toe Stacked-Heel Booties | Acetate Drop Earrings | Necklace Stack: Tennis Necklace + Serpentine Chain Necklace + Coin Pendant Necklace

Shirt Dresses
Shirt Dresses are similar to popover tops in that they're easy to get on and off! They may have buttons all down the front or just a few at the top. If you prefer a cinched waist, choose one with a tie belt or add a belt of your own! Animal prints are especially popular!

Swing Dresses
Swing dresses have an A-line shape that hugs at the bust and flows the rest of the way down. They swing when you walk or dance. (Hence the name!) Easy and breezy is the name of the game for fall, and swing dresses are perfect. Look for fun florals or prints like leopard!

Slip Dresses & Skirts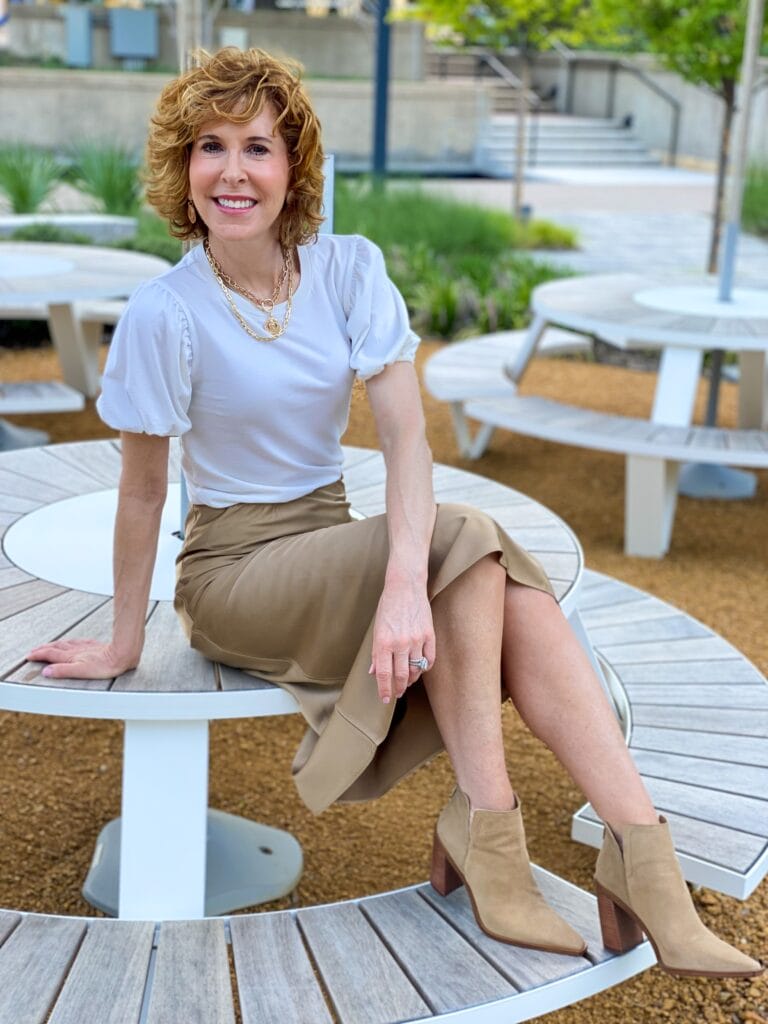 Tan Pull-On Slip Skirt(comes in other colors) | Puff Sleeve Tee | Taupe Suede Booties | Acetate Drop Earrings | Necklace Stack: Tennis Necklace + Serpentine Chain Necklace + Coin Pendant Necklace

Slip dresses and slip skirts are back! For 2021, you'll see them paired with tees, oversized cardigan sweaters, or blazers. Honestly, I wasn't sure I was going to like this trend, but when I tried on the pull-on skirt you see in the image above, I was ah-mazed at the way it skimmed over my curves (and my lumps and bumps). It wasn't clingy like knits can be! If the idea of wearing a solid color slip dress or skirt makes you cringe, consider trying a solid black skirt, a print slip dress, or a pretty floral skirt.

Jeans
Slightly Distressed Straight Leg Jeans (Levi's are the brand of the moment!) | Puff Sleeve Tee (also comes in white) | Brown Convertible Clogs | Calf Hair Leopard Print Belt | Crossbody Bag | Earrings | Necklace Stack: Tennis Necklace + Platinum Drusy Pendant Necklace + Chain Link Necklace

If you're a skinny jeans lover, know that they aren't going away anytime soon! They still offer a clean, sleek look under fall's blousy tops or oversized cardigans. The latest trend in skinnies? Look for high-rise coated skinnies as an alternative to leather or faux leather. They're usually made of a stretchy fabric that moves with you, but they have the coolest finish. I own THESE in both colors!
Wide-leg jeans are still trendy, and this fall you'll see them high-rise and cropped. The newest way to wear them is with a great pair of booties. You'll also see bootcut jeans with a flattering high-rise waist. I just bought THIS black pair.
If you only buy one pair of jeans this year, however, make it straight-leg jeans. I think they're a universally flattering style. You'll find cropped high-rise straight-leg jeans (often distressed) and plenty of full-length straight-leg jeans, frequently in an easy pull-on style. They can be worn with all types of shoes, from sneakers to pumps. A great way to style them is to roll up a full-length pair and wear them with fall booties, or flats!

There are so many trends to look for while you're shopping for your fall outfits this year, and I hope you've enjoyed checking out the most notable. Stay tuned later this week as we share more fall trends, including accessories and shoes.
Click through on any item below to view prices, as well as style and color options. Happy fall, y'all!