Every Saturday morning, our family group text starts this way: "Get up: it's Game Day!" If you've been hanging around here for a while now, you know we're huge college football fans in our family. My son even writes regularly for Solid Verbal, a college football podcast, and website. This Saturday is the first big day of college football, and we've all been counting down the days for months!
I don't know about you, but when I go to a game, I totally check out everyone's game day looks! I think it's so fun to see how creative people are! Today, we've rounded up game day looks you're going to love! Of course, not everyone has the same home team, so feel free to draw inspiration from the outfits we've put together. Many of the items I've featured come in a bunch of other colors, so if you see something you like, click through, because it probably comes in your school colors too!
As always, click any of the pink text links or images (including the collages) for more information.
Best Sources for Game Day Looks
2021 NCAA Men's Basketball National Champions Joy V-Neck T-Shirt (now on sale!) | Similar White Cropped Jeans | Similar Tory Burch Miller Sandal in Yellow (mine are gold) | Green & Gold Tassel Fan Earrings

No matter where you went to school or what team you're cheering for, these brands have got you covered! I'm sharing my favorite sources for game day looks! Click through on my links to head right to their game day shops!
FANATICS – They carry everything from NCAA to MLB and Nascar!
LIDS – Although best known for hats, they also have fan gear, and apparel! Start HERE and shop by team!
MARLEY LILLY – Mostly Southern schools, but a great selection of monogrammed clear bags.

KELLY WYNNE

– My favorite spot for gorgeous, high quality stadium approved bags! (I carry this one to all Baylor games!) They've got clear wristlets, clear crossbody bags, and clear belt bags. They've also got accessories for clear bags, like "privacy pouches" to carry items within your clear bag that are, well, private! Start HERE and filter by team color to see what's available!
ACADEMY – A great spot for tailgating gear, as well as apparel. Start HERE and filter in the left sidebar by team.
Game Day Looks: Outfits
Cute N Casual
These functional and practical outfits are for the sports fan who wants to look good and feel comfortable at the big game. I live in Texas so the weather in the upcoming sports season can be all over the place! These cute outfits would be great for trudging up and down stadium stairs, sweating in the Texas sun, or carrying an armful of concession stand food back to your seats!

Suite Styles
For the lucky fans who get a *suite* view of the big game, these stylish looks are bound to impress!
Suzy's Tip: Nix the logo attire, unless it's very subtle! For a classier look, go for fewer patterns and graphics, and opt for solid colors. But take a handbag that will impress.

Watch Party Approved
For those days when you want a cute and casual outfit to watch the big game with your friends or family, I've got you covered!

Friday Night Lights
These outfit ideas are perfect for watching a nephew's high school football game or seeing your granddaughter play her first soccer game!

Branded Apparel
Baylor Basketball National Championship Tee | Black Athletic Skirt (built-in shorts) | Brooks Running Sneakers | No-Headache Headband

When it comes to branded apparel, shopping online at your alma mater's bookstore, is a great way to go, but you'll pay more, and since campus bookstores are usually privately-owned, proceeds don't benefit your university. I'd start at Fanatics, for sure, and maybe also check LIDS and Academy (start HERE and filter in the left sidebar by team).
Game Day Looks: Accessories
Clear Bags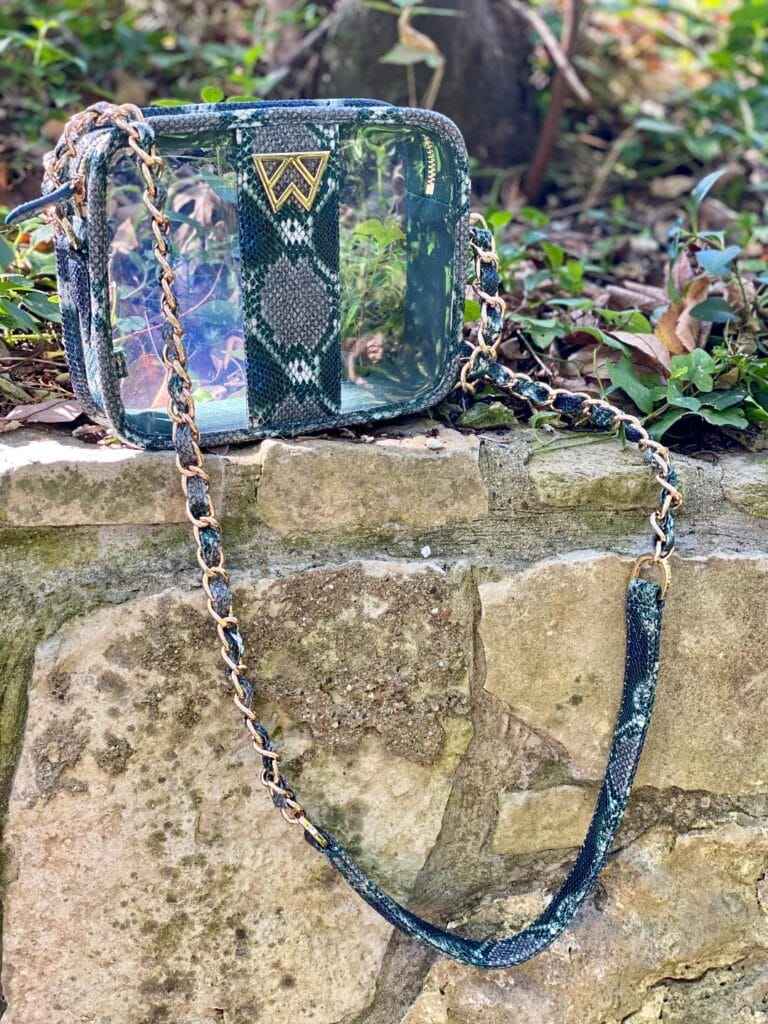 Clear Green Python Mingle Mingle Mini
Clear, stadium-approved bags are everywhere now, and you can find them in all styles and price ranges. Figuring that I'd have it for years, last year, I splurged on THIS high-quality bag from Kelly Wynne that I love. It was a great purchase, and I'm so happy I got it! I've linked some really cute ones for you!

Jewelry
The great thing about Game Day jewelry is that, even if you're usually pretty conservative on the jewelry front, you can go a little crazy, and step outside the box a little (or a lot!). My very favorite places to shop for Game Day jewelry are and Kendra Scott's game day shop, The Tiny Tassel, and THIS page on Etsy. I just ordered THESE!

Spirit Shoes
Y'all know that shoes are one of my favorite ways to accessorize an outfit! I want comfortable, fun shoes to go with most game day outfits. Look for shoes that are easy to walk in and that won't give you a blister!
Of course, if you're living the suite life, you don't have to worry so much about comfy shoes, and you can go for chic, neutral sandals, shoes, mules, or booties that will go with anything! Remember that clean, white sneakers will also always work in a pinch!
I kinda feel like game day is a time you can get a little (or more than a little) extra! So, if you want to take things up a notch, check out THIS page on Etsy for a wide variety of customized team shoes. (At various price points.) Even Nordstrom got in on the action, featuring THESE Chuck Taylor All Star High Tops in a bunch of team colors!

Tailgating Supplies
From cupcake toppers to balloon banners, there are so many cute things to choose from for tailgaters and party planners. If you want something customized, I recommend starting at THIS page on Etsy.
For team flags, I recommend starting on THIS page on Fanatics.

Game Day Looks: For Everyone Else
For Him
Similar Women's Long Sleeve Shirts | Black Joggers | Brooks Black & Blush Pink Running Sneakers | Similar Men's Short Sleeve Tee | BU Flag

If you want to coordinate outfits with your man, or if you want to gift him something special to wear on game day, check out the great options below!

Raise 'Em Right
While I don't have any grandkids yet, and no pets of my own, I LOVE seeing cute outfits for both! These would also be great gift ideas to surprise family and friends with on game day! Check out the cute baby outfits and shoes below, plus lots of cute fan gear for pets!

I've put together a comprehensive game day boutique for you to browse! Remember, if you see something you like, but it's not your team, click through anyway, because you'll probably find it!
Have a fun Saturday cheering on your team! If you have other good sources for game day looks, I'd love to know about them! Leave me a comment and give me the scoop, okay?