Who doesn't love Target!? They have everything, including the hottest spring trends! If you're like me, chances are if you head to Target for one thing, you may leave with a whole cart full of goodies! If you run in to grab apples, you may or may not pick up some new earrings, discounted Christmas decorations for next year, a cute Apple Watch band, a new shade of lipstick, and definitely something from Bullseye's Playground (the dollar section)! Um, if that sounds like a true-to-life story, um, well, yeahhhh!
I mean, seriously, have you ever made it through the checkout with just the items on your list and nothing more?! (Asking for a friend!) 😂 Honestly, shopping online at Target.com has definitely helped reduce my impulse purchases!
Everybody knows that Target is a great place to shop for well-priced, on-trend clothing that is fun to wear and usually looks more expensive than it is. Today, we're running down some of our favorite Target spring trends for 2021.
Honestly, this is just to whet your appetite, because all next week on Empty Nest Blessed, we'll be featuring our 2021 Spring & Summer Style Guide! We'll be sharing all the hottest trends in clothing, shoes, and accessories. As we've been pulling together those posts, we noticed how on-point the Target spring trends are. We decided they needed their very own post!
I know I'll always be able to find what I need in Target, and more… I love getting most of my shopping done in one trip! (I think I could live there.🤣) We're also sharing our favorite Target shopping tips and tricks, so Keep scrolling for a few handy Target Trip Tips! You'll never shop Target the same way again! Enjoy! 🎯

Target Spring Trends
Hot Spring Fashion Trends at Target
Target has seriously upped their fashion game in the last few years. They have all the hot trends for the spring season, at an affordable price! In fact, certain outfits have gone viral on social media, and are already sold out! You'll want to scoop up these popular items before they go out of stock too!
I definitely hit the BULLSEYE finding these adorable Target Style trends:
Sleeves, Please!
TARGET faux Leather Balloon 3/4 Sleeve Blouse | TARGET High-Rise Skinny Ankle Pants | TARGET Calf Hair Animal Print Belt | Sam Edelman Animal Print Ballet Flats | Amazon Sunglasses

It's still all about the sleeves this season! That's clear in the blouses, tops, and dresses I'm sharing with you in this post. Everywhere you look, you'll notice puff sleeves, bell sleeves, balloon sleeves, and exaggerated shoulders with ruffles.
Suzy's Style Tip: The secret to sticking with this sleeve trend for women over 50 is to keep it small! We don't want to completely head back to the 80s! 😂 (Or maybe we do! How were the 80s for you?!)

Detailed High Neck Blouses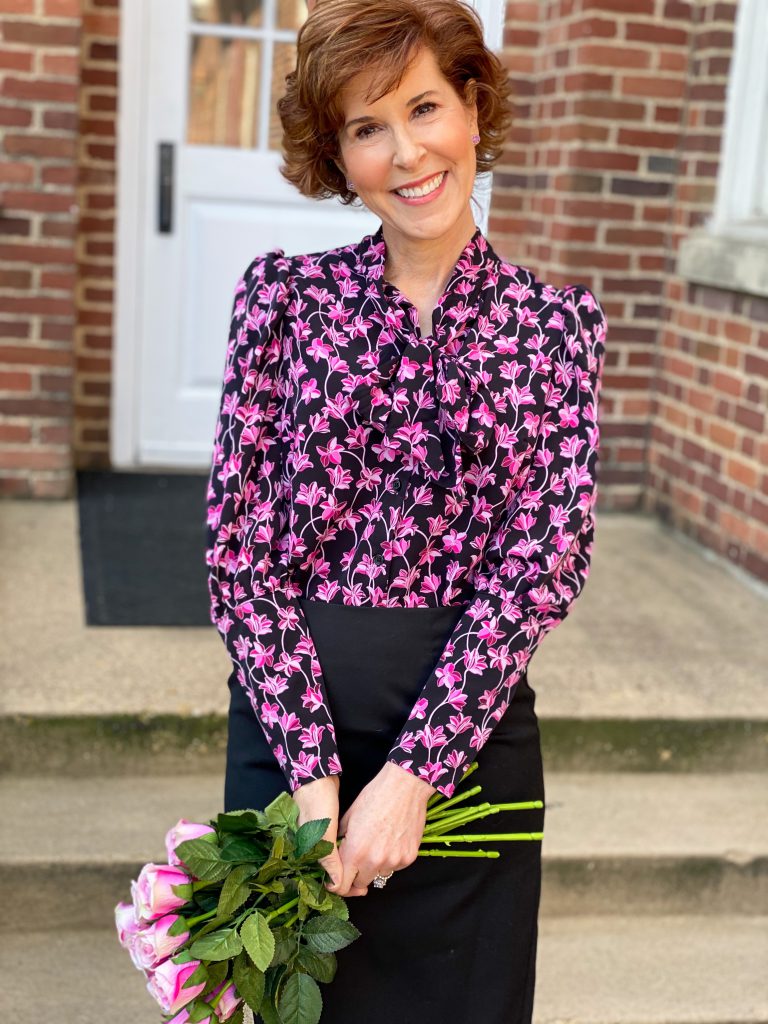 TARGET Floral Print Puff Long Sleeve Tie Neck Blouse | Spanx Perfect Black Pencil Skirt | Pink Opal Illusion Earrings | Silk Roses

Thanks to Zoom, sweet shirts with tiny neck ruffles, smocking, bows, and other detailing around the collar are really popular. They elongate the neck (think ballerina!) and elevate a boring blouse! (It's off the subject, but if your aging neck is driving you crazy, you can try THIS device. I just bought it and I've only used it a couple of times, but am already amazed at the difference!)
Suzy's Style Tip: For blouses with bows, keep it casual by leaving the tie undone.

Midi Dresses
The always classic Midi dresses are back again! This spring, tiered midis are especially popular. I love how comfortable, light, and airy they are, making them perfect for the hot summer months! All dresses are 20% off right now!
Suzy's Style Tip: Tiered dresses are universally flattering. If you want a more fitted look, consider adding a belt!

Other Favorite Dresses
TARGET Long Sleeve Polka Dot Sweater Dress (20% off right now!)| Sam Edelman Black Faux Suede Boots | Kendra Scott Earrings | Pre-Owned Louis Vuitton Handbag

I can't believe how fast some of these dresses are selling…but then again, I can—because they're adorable! Typically, Target offers lots of different colors and patterns to choose from, so you can easily select the perfect dress. Hurry, before they sell out! All dresses are 20% off right now!
Suzy's Style Tip: See what I mean about the sleeve trend?

Flats, Baby!
Thank goodness that comfort is IN! White sneakers are still huge, and I am so happy about that. Mules, slip-ons, and two-toned ballet flats are especially big for spring! As we've researched the styles for 2021, we're seeing a reimagining of the classic ballet flat. Looks for updated tweaks like pointed toes, laser cut outs, and platform soles. They elongate the line of the leg and pair perfectly with the dresses above! If you need more support, you can always add a Dr. Scholl's insert made just for flats.
Suzy's Style Tip: To elongate the leg line even more, opt for a nude color and avoid shoes with ankle straps.

Target Shopping Tips and Tricks!
Free Returns

– Target always has free returns! All you have to do is visit the online return center, and print the label! You won't be charged for return shipping. Alternatively, you can simply return an online order to the store.

Save Your Receipt

– Target has a 90-day return policy, so always save your receipt! Actually, if you have a Target Red Card, you don't even need a receipt—they look everything up in their system!

Return Almost Anything

– Some Target private label items and beauty items can be returned if you're not satisfied, even if you've opened them!

Rain Check

– If you notice a sale item is out of stock, go to Customer Service and ask for a rain check! Target will honor the sale price for the next 30-45 days, at any Target store.

Price Match

– Target will price match your item for up to 14 days from the purchase date! That means, if you buy a qualifying item at Target and then find that identical item for less at Target.com, an online competitor, or in a local print ad, they'll match the price or give you a refund for the difference.

Clearance

– If you see a price tag that ends in .04, buy the item! It won't go any lower!

Red Card

– If you don't have a Target Red Card, you might want to think about getting one, because you can save some serious dough! You get free shipping on most items. You receive 5% off all purchases, even at the in-store Starbucks ☕! Save more on clearance and get exclusive top deals.

Join Target Circle

– Target's FREE reward program let's you earn 1% in Target Circle earnings rewards every time you make an eligible purchase with non-Red Card payment. These rewards can be used at Target, in-store or online.  You also get a 5% birthday discount and you can cast votes to help direct Target's giving to approximately 800 nonprofit organizations.

Download the Target App

– Available on both the App Store and Google Play, the Target app lets you browse hundreds of Target Circle offers. You can even scan barcodes to add offers while you shop! When you check out, you just scan the Wallet barcode to apply all your savings.
Plan to come back next week for our big Spring & Summer Style Guide! In fact, if you're not an Empty Nest Blessed subscriber, this might be a good time to join my email list! I don't want you to miss a thing!
What are your best Target shopping tips and tricks? I would love to know, so leave me a comment below and give me all the scoop, okay? I know one thing for sure; a trip to Target always puts me in a good mood!