This post is sponsored by Keeper Security. I only highlight and share brands and services that I use and truly love. Thank you for supporting the brands and services that support Empty Nest Blessed!
Do you remember the early days of the internet, when we were told to use passwords that were easy to remember and even consider using them across multiple sites we visited? ???? I do! PASSWORD123 became the most used password on the internet, and it didn't take long for hackers and identity thieves to take notice. They quickly pounced, and as more and more of life moved online, it became clear to all of us that we needed to do a better job protecting ourselves and our online assets.
THE PROBLEM
As you can probably imagine, 2020 was a banner year for scammers and hackers! With all of us spending more and more time online, identity theft and online fraud hit an all-time high. Last year alone, cyber attacks were up by 600%! Even back in 2019, identity thieves were responsible for stealing over 12.6 billion dollars! Poor password management can potentially allow identity thieves to access your personal information, using things like birth dates, email addresses, and even Social Security numbers to access your financial accounts.
THE SOLUTION
The best defense against fraud? It's YOU! When it comes to staying safe online, you can do many things to protect yourself. The most important is to utilize strong, secure passwords and safeguard them well.
Did you know that the average American adult has at least 200 online accounts requiring passwords? I told Bob this at the dinner table the other night, and he couldn't believe it! He was absolutely certain that he didn't have that many. So we started counting! We included:
Financial accounts.
Patient portals for multiple physicians.
Insurance companies. (auto, home, life, health, dental)
Credit Card companies.
Apps like Uber.
Retailers like Nordstrom.
Travel carriers like American Airlines.
Reward programs for everything from hotel chains to restaurants.
Music apps like Spotify.
Social Media sites.
Alumni organizations.
Charitable and non-profit organizations.
Business services like FedEx, Zoom, etc.
By the end of it all, he was nearing 200. Since I work online, and shopping is part of my job, I have more than 300 passwords!
Staying Safe Online: 6 Steps to Take Today
The good news? You can manage and safeguard access to your online accounts, by taking a few simple steps.
Up your password strength

– Gone are the days when the best password was one that you could easily remember. Today's rule of thumb for staying safe online: if you can remember your password, it's probably too easy to be secure. For optimum security, passwords should be at least 12 characters long and made up of symbols, numerals, and upper and lowercase letters.

Don't log in with Facebook or Google

– More and more websites offer the option of logging in with other accounts. As tempting as it is when you're in a hurry, don't do it! A security breach to Facebook or Google could jeopardize the security of your other accounts. Also, if you decide to delete Facebook at some point in the future, you could find yourself locked out of apps you've linked to it.

Authorize "dual-factor authentication" whenever possible

– Many retailers, financial institutions, and services are now offering this. If you're concerned about staying safe online, say "yes" every time it's offered. All it will mean is that, after you initially enter your login name and password, they'll send you a unique code (usually 6 digits) via text or email that you will need to enter to get to your account.

Reset when you need to

– Never feel bad about clicking the "Forgot Password" link and going through the reset process!

Don't reuse passwords

– Security experts report that the highest numbers of compromised accounts come from reused passwords. Every account you have needs a unique password.

Utilize an online password manager

– Secure your accounts using a password manager that will generate strong passwords and store them in an encrypted "vault' that you access by logging in with one password. Our family has used Keeper Security for years.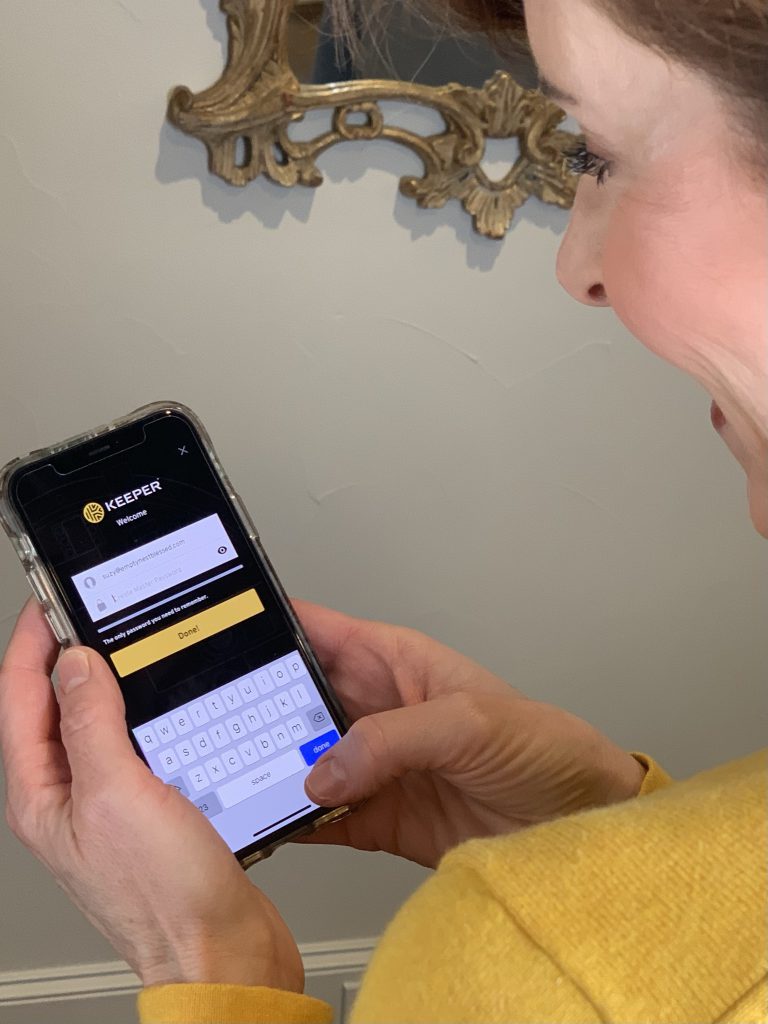 Staying Safe Online
With Keeper Security
As someone who works online, the security that a password manager offers makes it a must-have for me! But as I shared with you, even a "normal" person like Bob ???? needs it more than he thinks! The bottom line? Anyone who is concerned about staying safe online can benefit from a service like Keeper Security. They're the leading cybersecurity platform for preventing password-related data breaches & cyberthreats.
Keeper offers a free version, allowing users to access features like password generation and unlimited password storage on one mobile device. Bob and I started with that, but soon realized the advantages offered by the Keeper Unlimited version were well worth it for our online peace of mind. We opted for the free 30-day trial of Keeper Unlimited, which allowed us to access and sync our passwords on all of our devices. It also let us autofill passwords on any device and utilize the Keeper browser extension on our laptops, among other things. (to check out the difference between the Keeper Unlimited Free Trial and the Keeper Free Version, click HERE.
For us, staying safe online is worth the (under $35) annual cost of our Keeper Unlimited plan! For a limited time, Keeper Security is offering an exclusive 25% discount to Empty Nest Blessed readers with the code ENB25. Isn't your online peace of mind worth checking out Keeper?