Was there ever a year when we needed Valentine's Day more? The idea of a holiday that celebrates love is one to cherish, and now more than ever! For some of you, Valentine's Day is a big deal💝. For others, it may be more of a cheek kiss and a high-five kind of holiday 😂. Either way, I think you'll agree that it needs at least a little bit of attention this year of all years! 💗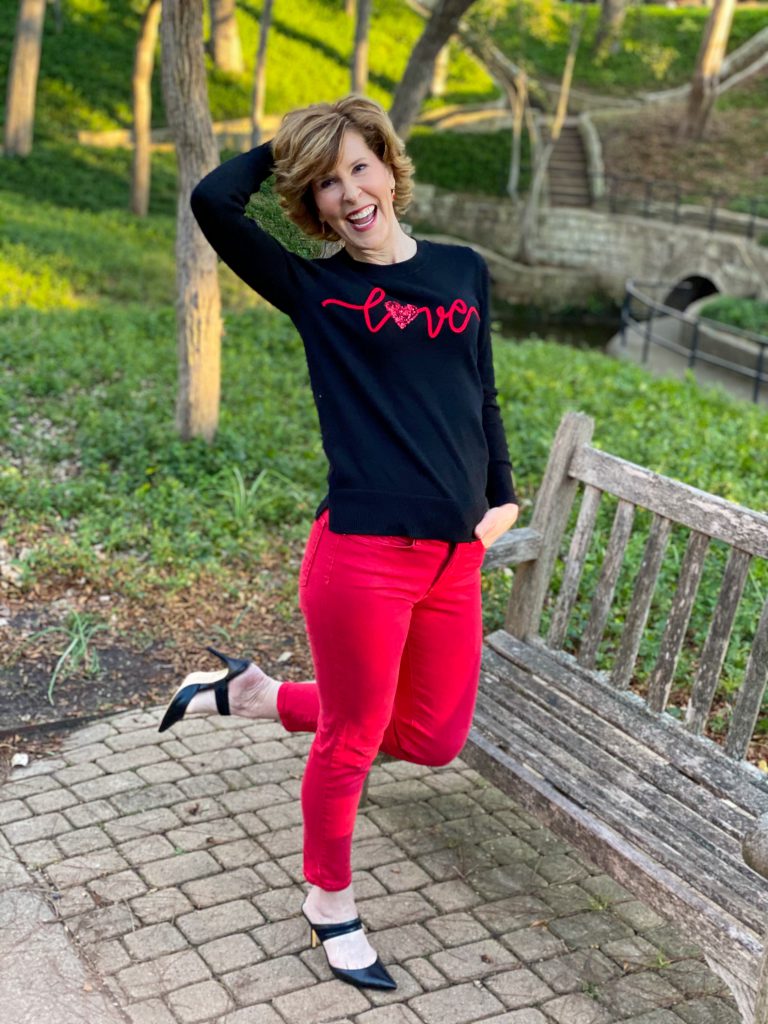 Personally, I love the idea of a holiday that is all about love. I usually go all-out decorating! This year, I dialed back my Christmas decor because we were in the midst of our empty nest refresh & remodel project, and I just couldn't handle another thing 😬. But things are winding down now, and I'm so ready to pull out my Valentine's decor! And of course, you know your friend Suzy is always up for theme dressing 💗😂!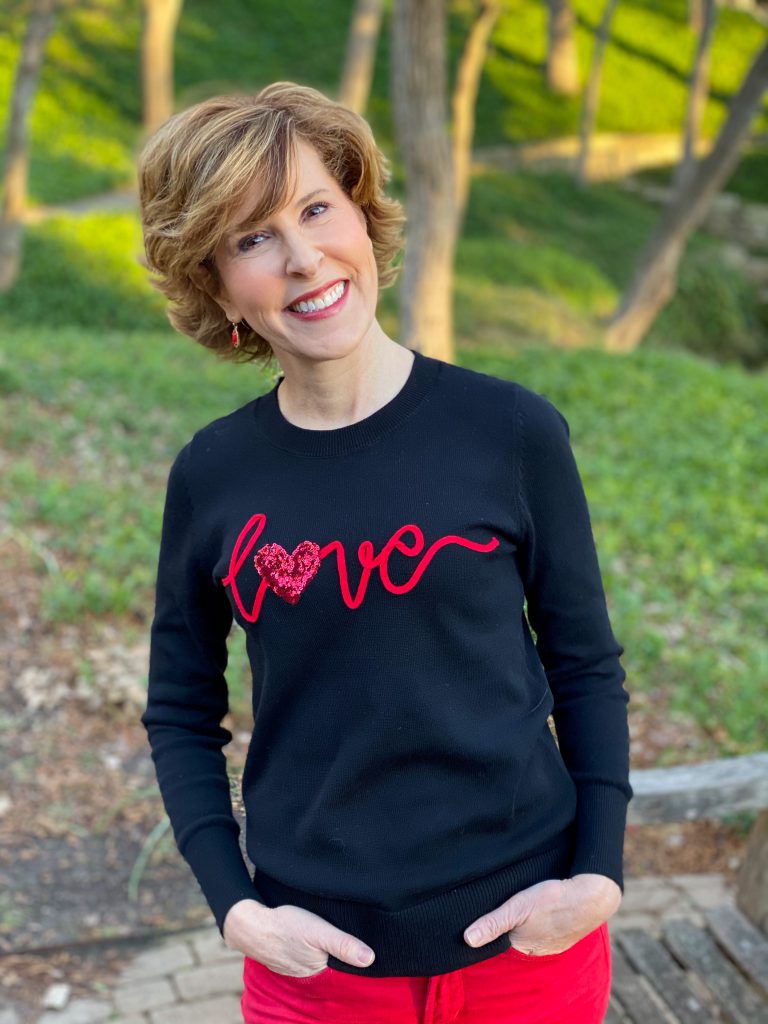 This year, instead of a traditional gift guide, I've put together something a little bit different! In my Empty Nester's Guide to Valentine's Day, I've included everything from decor to fashion, with some fun gift ideas thrown in too. Whether you're looking for a cute heart sweater for yourself or a special way to remind your kids or grandkids that you're thinking of them, I want to help you make that happen!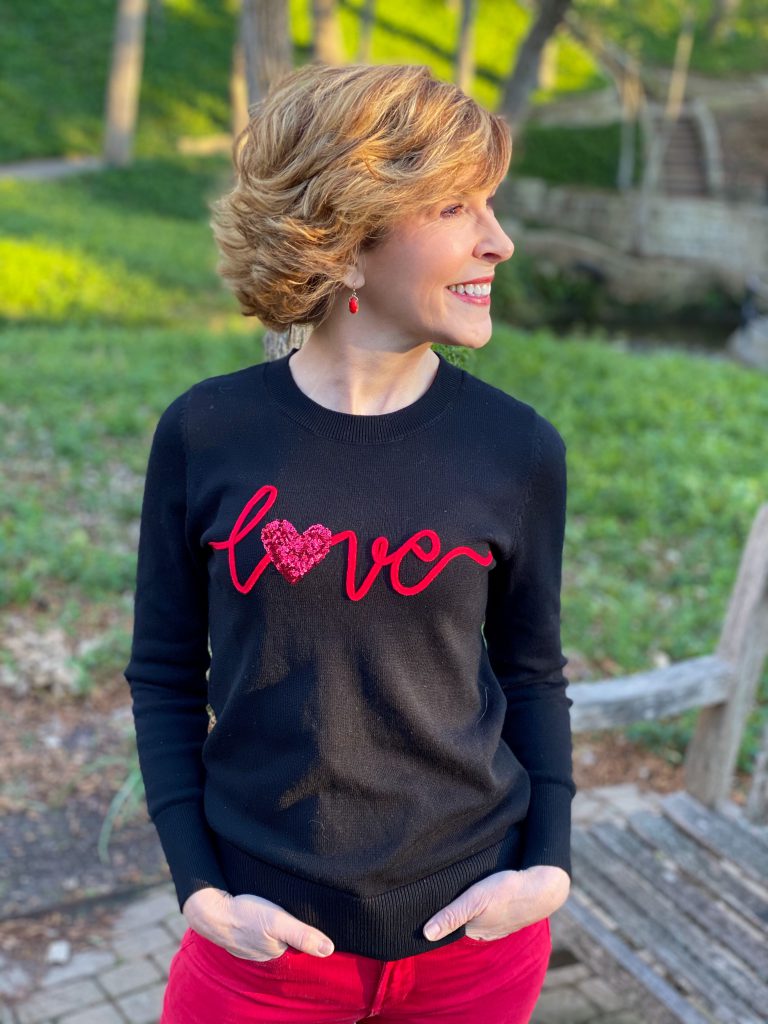 Also, you know how excited I get when my relationship with brands allows me to offer you a discount that saves you money! If you're looking for darling gift stickers, flat notecards, stationery, printable Valentines (perfect for you teachers to give to students), and more, check out the absolutely adorable selection at Joy Creative Shop. My friends at Joy Creative Shop have generously offered Empty Nest Blessed readers 15% off with the exclusive discount code ENB15. Click HERE to check out the entire selection at Joy Creative Shop!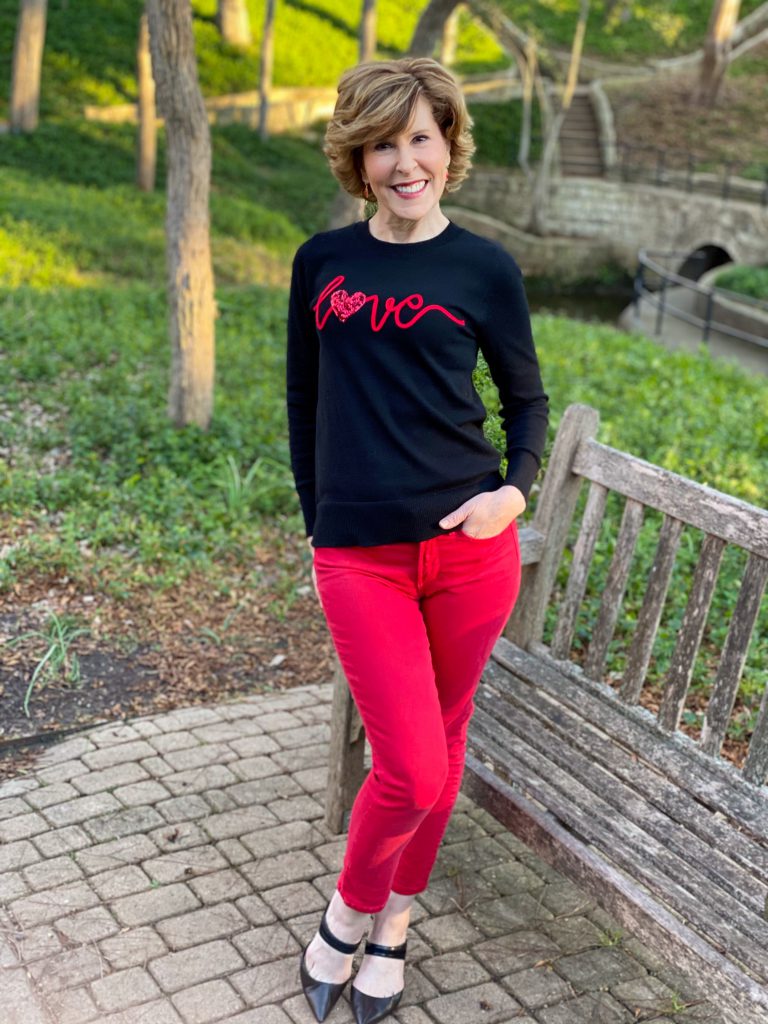 Red Sequin Heart LOVE Sweater ($15) | Red Jeans | Similar Black Heeled Mules | Red Earrings | Lipstick

I loved this sweater the moment I saw it, and I nearly flipped when I saw the price! It's a cotton/poly blend, so it's not too hot. My red jeans were a great find! They're a great wardrobe staple, and I find myself pulling them out at Christmas, Valentine's, July 4th, and more. Both the sweater and the red jeans fit TTS.
The collage at the top of the page is clickable for more information, or you can scroll down to the bottom of this page and click on any image for details. I hope you find something to inspire your Valentine's Day celebration this year of all years. 💘 Enjoy! xoxo
Oh, and BTW, if you want even more Valentine's inspo, be sure to check out the Valentine's Inspo section on my Amazon page!