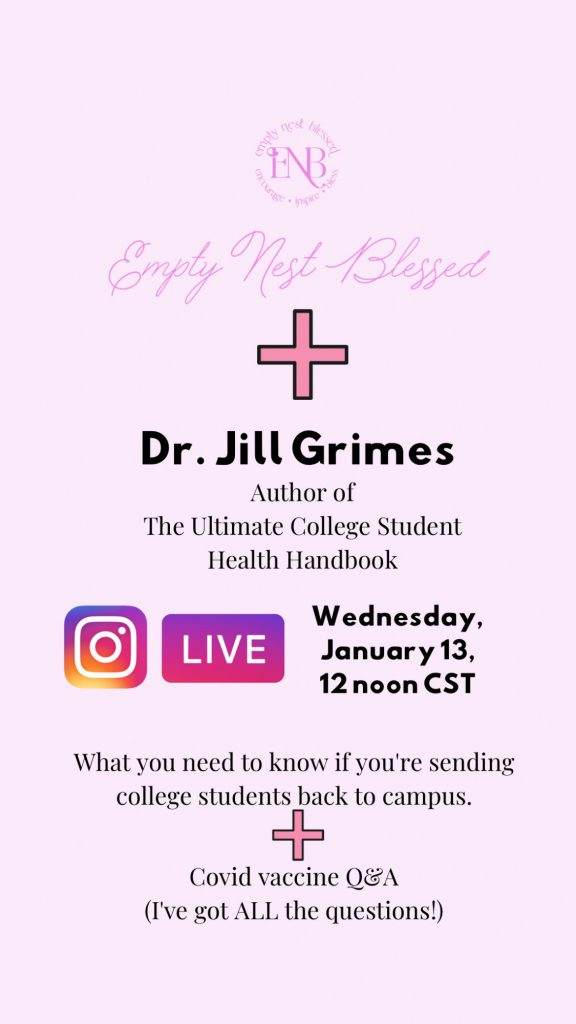 In July 2020, I published a post called Sending Kids Back to College in the Age of Covid-19. It was a partnership with my friend, Dr. Jill Grimes. She's a nationally recognized medical media expert, the award-winning author of the book The Ultimate College Student Health Handbook: Your Guide for Everything from Hangovers to Homesickness, a medical editor, and a Board-Certified Family Physician. And, she's an empty nester and the proud mom of two awesome collegiate daughters. (BTW, I consider Dr. Grimes' book a "must-have" for every college-bound kid (and their anxious parents!).
That Was Then…
Dr. Grimes did an Instagram Live with me that corresponded to that post, and she also graciously put together two helpful shopping lists: a "Covid Care Kit" AND a "College First Aid Kit." It was for all of you mamas with college kids—so you could gather and send all of the needed supplies to campus with your kids in the fall. We put them all in the Empty Nest Blessed storefront on Amazon, so you could easily shop—and even send—right from Amazon. (Look for the "College First Aid Kit" list.)
Last fall, I got several emails from sweet Empty Nest Blessed followers with kids who caught Covid telling me that those supplies were such a blessing! Not only that, but Dr. Grimes' advice NOT to rush to the side of their kids if they caught Covid rang in their heads. Multiple people said it might have even kept them from making a very poor decision with long-ranging consequences.
Others of you shopped the Covid Care Kit list for yourselves, stocking up the medicine cabinet in your empty nest. You later found that the supplies were a lifeline when you or a family member contracted the virus. ???? I am so happy that our list was helpful.
This Is Now…
Many college students have been home since Thanksgiving and are getting ready to return to campus for the first time in two months. Some of those students may have even contracted Covid during the fall semester. You may have questions about how long their immunity will last or if they can get the disease again. That's understandable!
I've also heard that that you're concerned about your students' mental health. With restrictions in place on campus, your students aren't having the "college experience" they expected. Many never even attended a football game this fall! Your freshmen may be having trouble making friends, due to all of the social distancing. And your graduating seniors are struggling to get a job in a market that is more challenging than any in recent memory.
We will be addressing all of these issues and more during Wednesday's Instagram LIVE.
What About the Covid Vaccine?
Since that first Instagram Live and blog post with Dr. Grimes was published, a lot has happened in the fight against Covid. Most notably, several versions of a Covid vaccine were released, with widespread distribution expected in the next few months. But lots of people have questions and concerns about the vaccine. Is it safe? How do we know?
We'll be addressing your questions about the vaccine in detail during Wednesday's Instagram LIVE.
Do You Have Questions?
Dr. Grimes and I have put together a list of commonly asked questions about college students and Covid, as well as the vaccine. I've also asked my friends, family members, and Instagram followers for questions. If you have specific questions you'd like me to ask Dr. Grimes, feel free to leave them in the comments.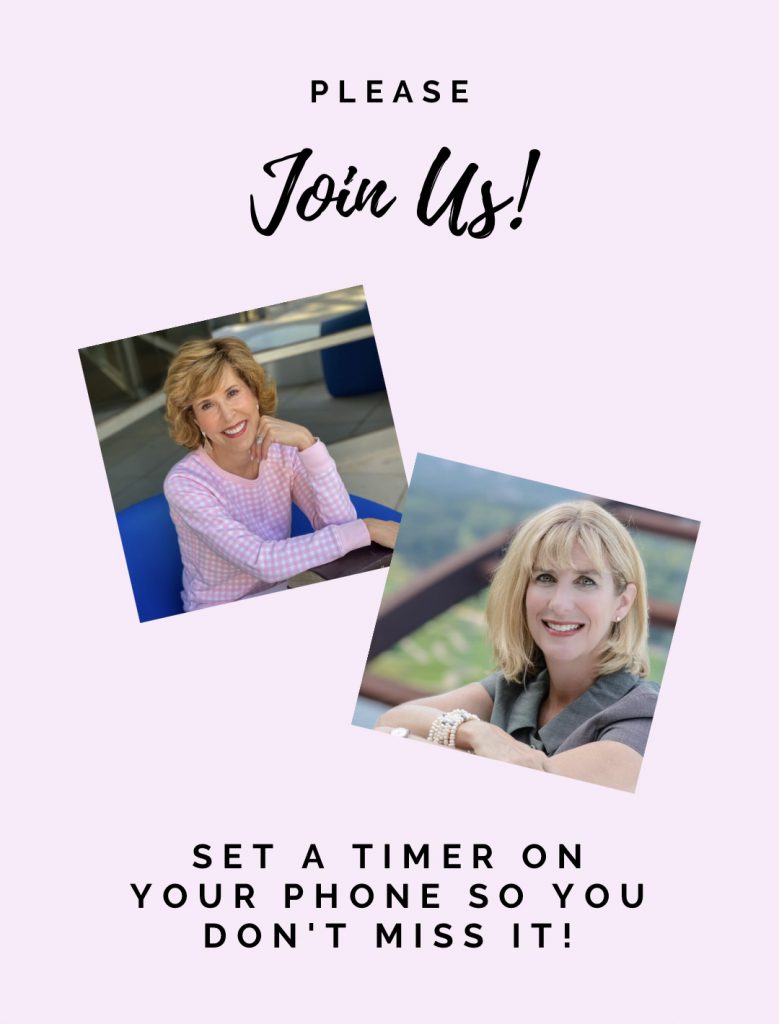 How to Join Us
1. At 12 noon (CST) tomorrow, head to my profile page on Instagram.
2. If you're not already following me, tap the "FOLLOW" button.
3. Wait until you see the word "LIVE" show up under my profile picture on that page.
4. When you see it, tap the photo to join us! During the broadcast (which should be about 30 minutes), you can comment or ask questions by typing in the COMMENT box at the very bottom of your phone screen.
You can also "LIKE" what we're saying by tapping the heart at the bottom of your screen.
So set an alarm on your phone for Wednesday, January 13 at 12 noon CST, and join us on Instagram for lots of up-to-date COVID-19 info! Also, please consider sharing this post on your social media and with friends by using the share icons at the bottom of this page.