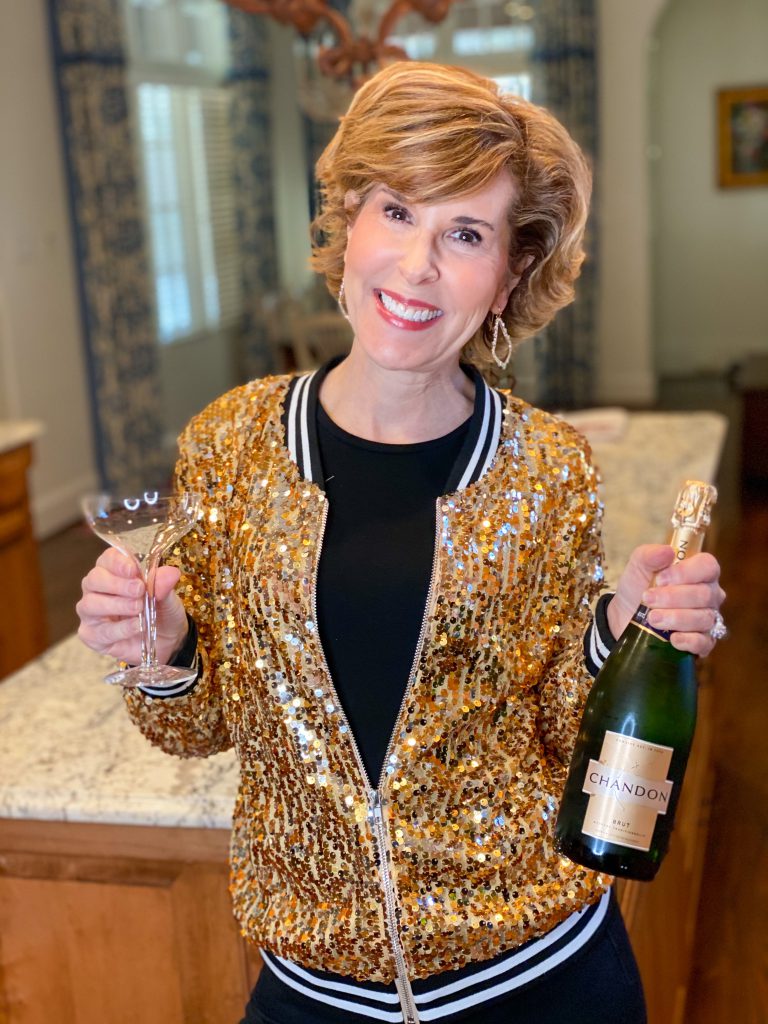 I hope you've had a wonderful week with your family! With Christmas (and New Year's) on a Friday this week, it was nice to have a Christmas long weekend. Right? It was so relaxing! We "played" with our gifts, went out to eat a few times, watched some football, and shopped some of the after-Christmas sales. You can see my complete listing of the sales in this post. (Many of them are still going!)
Graphic Sweatshirt (only my XS size left!) | Lululemon High-Rise Leggings (sizes going fast but other patterns available – RUN SMALL) | Sneakers (I work out in these every day and have identical pairs for indoors & out! 😂) | Initial Necklace (just $38!) | Surface Laptop | Monogrammed Tumbler

I'm so looking forward to our family NYE at HOME. Yep, that's right. This is the year that even those of you who normally go out with friends or to some swanky party will be probably be doing it our way! Welcome to cozy comfort land!
We always have a pajama party and do it up right. Today I'm letting you in on what we wear, what we do, and even the crazy way we spend New Year's Day. The collage at the top of this post is clickable for more information.
NYE at HOME Attire

Pajamas are the mandatory attire for our party. As an empty nester, I spend more time in my jammies than I ever used to when I was running around to kids' activities. Do you do that too? Sometimes I get into my jammies around 4 p.m.! (My husband probably thought that in the empty nest season of life, I would greet him at the door in some slinky lingerie. Um, that hasn't happened, as I favor flannel. 😂)
At least I've upgraded my pajama game by tossing all of my tired and worn pajamas and replacing them. 💕 If you need to do that, now is a perfect time because everything is on sale! Nordstrom is having their big Half-Yearly Sale right now, and they have lots of yummy winter jammies (that you'll still be wearing for months to come!) at significant savings. All of the ones I've linked below are on sale (plus lots more). Click the images for more information.

As much as I love the wide selection at Nordstrom, I'll have to admit that my favorite jammies and loungewear are from Soma. (They're also having their Semi-Annual Sale right now, with styles up to 70% off!) Their Cool Nights PJs are designed to keep women of a certain age 😊 cool at night. They are incredibly soft, and the quality is always fantastic.

NYE at HOME Activities
For our NYE at Home Pajama Party, we always have a puzzle going. (This one and this one are real crowd pleasers!) We work on it a little at a time and usually don't finish it until the next day. Games are always fun, and y'all know we're obsessed with the game LCR! (I told you all about it in my post on our family's Christmas traditions.)
The great thing about LCR is that it's a game of chance, so there's no skill involved. (Translation: No arguing!) The big secret to this game? Play with real money! (Don't panic, only $3 per person.) We played with my extended family on Christmas Eve and Bob's family on Christmas Day, and it was a huge hit. My sister's family is really into Telestrations, so I just bought that for us to play this NYE.
I've also heard that Speak Out is hilarious. Our other long-standing favorite is Taboo. This year, for Christmas, I bought the We're Not Really Strangers Card Game, and I've heard it's a great relationship-building game to play with close family and friends. I'd love to know what your favorite family games are! Please leave me a comment and give me your recs!

Other Ideas for NYE at HOME
Some years we've worked an enthusiastic karaoke session into our evening, and this year we might mix it up with a game that my friend recommended called Spontuneous. Of course, a good set of silly hats, noisemakers, and plastic leis is a must for midnight revelry.
Want a quieter night? I love the movie New Year's Eve that came out in 2011. It features a bunch of your favorite stars in a mash-up story about various New Year's Eve experiences that intersect in ways you can't even begin to imagine. I watch it every year between Christmas and New Year's Eve!

NYD at HOME is DIP DAY
Camo Loungewear Set | Black Sneakers (Amazon lookalike version HERE) | Sparkly Drusy Drop Earrings

New Year's Day is our annual family Dip Day. That basically means that we whip up about five different dips, and we eat (nothing but) dip the whole day while watching copious amounts of football. I am not kidding you. 😁 To paint the picture for you—there is a lot of Velveeta involved, along with massive amounts of cream cheese, and of course, Fritos. 😂
Please don't be confused. It is not for the faint of heart. (And I mean that literally.) We do not mess around with a bunch of wussy veggies on this particular day. My little1.5 qt. dip warmer (affectionately known as The Little Dipper at our house 😍) is a must for making everyone's favorite queso and keeping it warm.
Suzy's Super-Easy Queso
1 lb. block of Velveeta cheese
(In an effort to save our arteries, I've switched to 2% Velveeta, and so far nobody has noticed!)
1 can Wolf brand Lean Beef Chili (no beans)
(I tried to switch to turkey chili a few years ago, but there was a massive revolt.)
Fritos
(One year, I attempted to substitute baked tortilla chips for the Fritos, and it did not go well for me. 😂)
Cut cheese block into cubes and place it into the dip warmer (It will take about 30 minutes to be ready to eat). Add canned chili. Plug in The Little Dipper. Stir occasionally with a spatula. That is it. Yes, really. It is fantastic. 🤸🏻‍♀️💃🏻🎉
I'd love to know what you have planned for New Year's Eve! Are you going out or spending NYE at HOME with the FAM? Please leave me a comment below and let me know! I'd also love to know what your favorite family games are. We need some new ones!
As 2020 draws to a close, I want to thank you all for reading and following Empty Nest Blessed! I am so honored to share this little corner of the Interwebs with you, and I love getting to know you and having the opportunity to share my life with you. I can't tell you how often I feel like pinching myself because this is my job! You all make that possible, and I'm so grateful!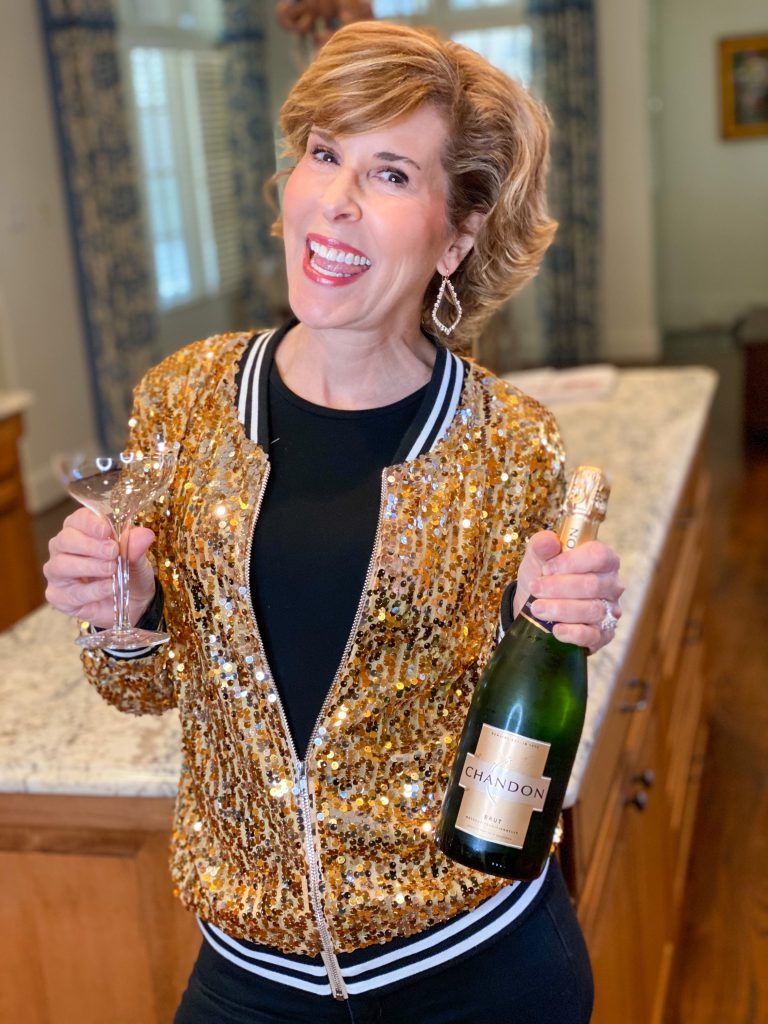 Black Jeans | Black Long Sleeve "Underscrubs" Tee (I have the best source for these tees in all colors! These are the ones favored by front line healthcare workers!) | Gold Sequin Bomber Jacket | Sparkly Crystal Drop Earrings

Thank you for all of your comments, suggestions, and encouragement this year. They mean so much to me! I pledge to do my best in 2021 to bring you more content that is encouraging, inspiring, fun, engaging, and, most of all, a blessing.
I've got some big things planned that I can't wait to share with you! (Starting with a big surprise in my very next post!) I don't want you to miss a thing, so if you aren't signed up for my email list, I hope you'll think about it. I typically send out emails three times a week, telling you about blog posts, good deals, and encouraging you along the way. You can unsubscribe at any time. Sign up here or in the box below this post.
Although 2020 has been challenging, this empty nester season is a precious season of life, and we're in it together, my friends. Hugs to you all, and Happy New Year! xoxo