"Joy does not simply happen to us. We have to choose joy and keep choosing it every day. "– Henri Nouwen
Wishing all of you a very Merry Christmas! I know this year hasn't been what any of us expected when we rang in the New Year for 2020, but God is faithful, and He taught us all so many things this year! More than anything, He reminded us how precious life is, how much we have to be grateful for, and how we need to cherish and live every day to the fullest.
A Fun Year-End Project
One of the funniest things I got to do this December was to get to know Mrs. Claus! She is one sassy lady, lemme tell ya! She partnered with Hair Biology and shared the scoop on things like what the humidity in the North Pole does to Santa's beard 😲, what she and the elves do together every day, and she even shared a hair tip that you're going to love!
Mrs. Claus Outfit | Black Pumps | Personalized Stockings (currently unavailable)| Hair Biology

Helpful Links
Be Happy, Be Bright, Be You Side-Zip Tunic (Order online, pick up curbside at store! Was $79.50, now $35 with code 64888.) | Red Leggings ($15 and available in lots of colors) | Sneakers | Similar, Less Expensive Sneakers

I've shared lots of gift ideas with you over the past two months, and I'm so grateful to you for shopping with my links and making me a part of your holidays! Your support lets me continue to do this job I love, and I'm so thankful for each of you!
Along with gift ideas, I've really tried to share some helpful content to encourage and inspire you. Here are some quick links that might come in handy:
Our Family's Holiday Traditions
I know you have unique family Christmas traditions. We do too! I've gotten several emails asking about ours and how they've evolved as the kids have gotten older, so today, I'm sharing them with you, along with a couple of our favorite holiday dishes.
Noel, er, Leon
Black Puff Shoulder Balloon Sleeve Sweater | Black High-Waisted Coated Jeans | Similar Black Block Heel Booties | NOEL Blocks | Poinsettia

Did you see my Instagram post where I shared the story of one of our funniest Christmas traditions? If not, you can read it HERE. (And if you're not following me on Instagram yet, I hope you'll do that!)
As always, you can click on any of the pink links or images in the post for more information.
Santa Hat with Tiara | Similar pajamas | Lipstick

Christmas Eve
On Christmas Eve, we typically host my side of the family. Everybody heads over about mid-afternoon, and I like to have something festive (but not filling) that people can munch on if they're hungry. I've done either the cute fruit and cheese Christmas tree or the all-fruit tree in the past. They're easy, healthy, and not too filling! #trifecta 🙌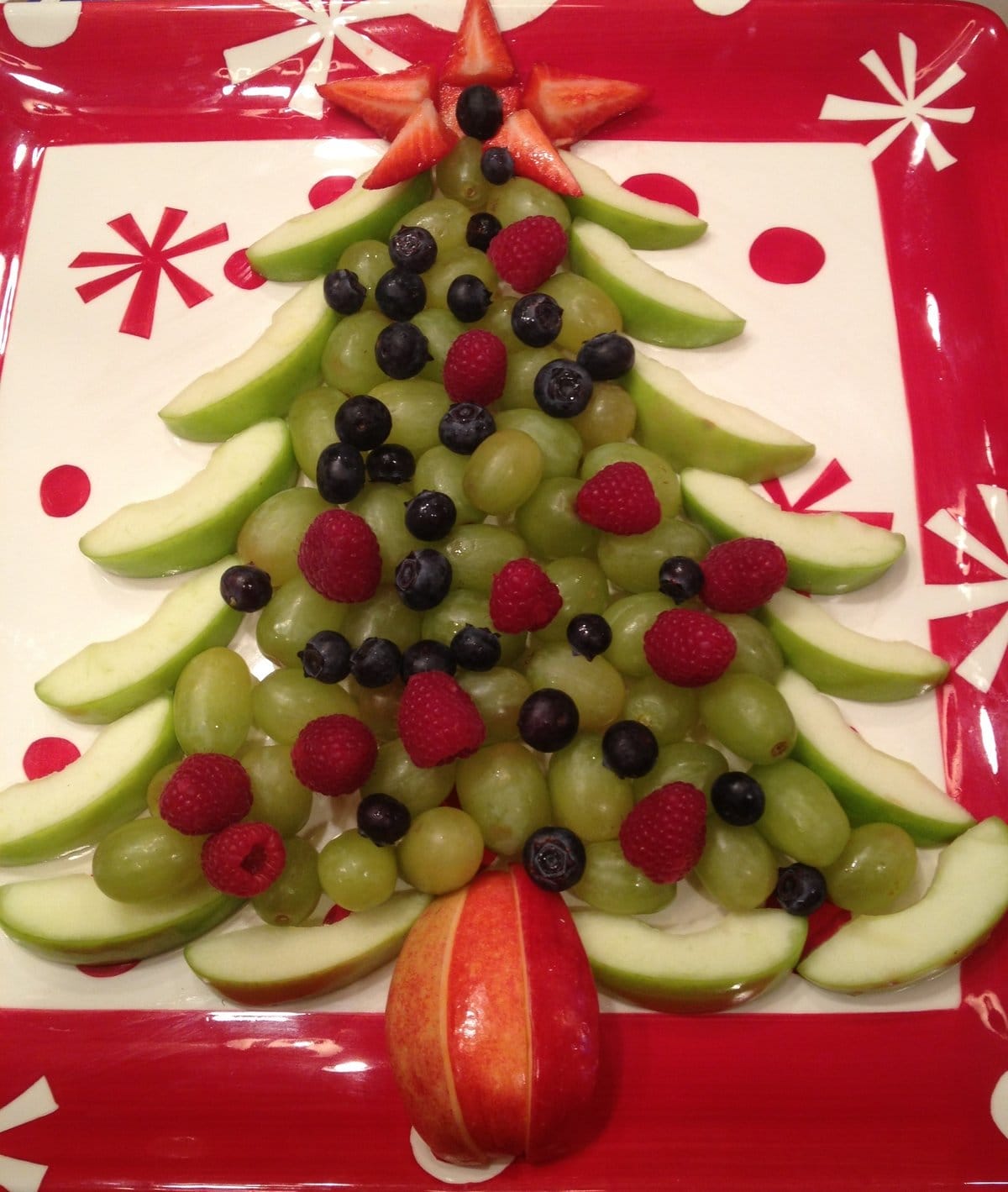 This year is different for sure, and we'll all be careful, but my sister and her family are still coming over, just like always. (She's a nurse, so you know we'll be taking appropriate precautions!) She has three teenagers, and the boys (+ the granddogs!) always go outside to play football or basketball before dinner. This year, my "boys" are 28 and 26, and hers are 18 and 16. Her 16-year-old is actually a starting lineman on his high school football team, so we're praying no one gets hurt and we don't end up in the emergency room! 🙏🏻😬 #onlyhalfjoking
While the boys play outside, the girls usually stay inside and decorate a gingerbread house. I buy them ready-made, and you can probably still pick one up at your local grocery store if this sounds like fun to you.
I used to make something easy to serve a big group for dinner, like chili or tacos. In the last few years, though, we've been ordering all the fixings for fajitas from our favorite Mexican restaurant, Cantina Laredo. This allows me to enjoy everything without being stuck in the kitchen! Fajitas are always a crowd-pleaser (we do live in Texas, after all!), and the great thing is that Bob and I get to freeze the leftover meat to use later! 😋
No matter what I serve for the entree, one thing I always make is Merry Cherry Jello. One year I skipped it, and there was almost a riot!

Merry Cherry Jello
1 lb. applesauce (I use unsweetened)
8 oz. can crushed pineapple
6 oz. package cherry jello (I use sugar-free.)
1/2 c. chopped pecans (optional)
pinch of salt
mint leaves & maraschino cherries for garnish
Mix applesauce and cherry jello together in a heavy saucepan. Bring to boil. Stir in drained crushed pineapple, salt, and pecans. Put in a square pyrex dish and refrigerate until firm. Serves 8.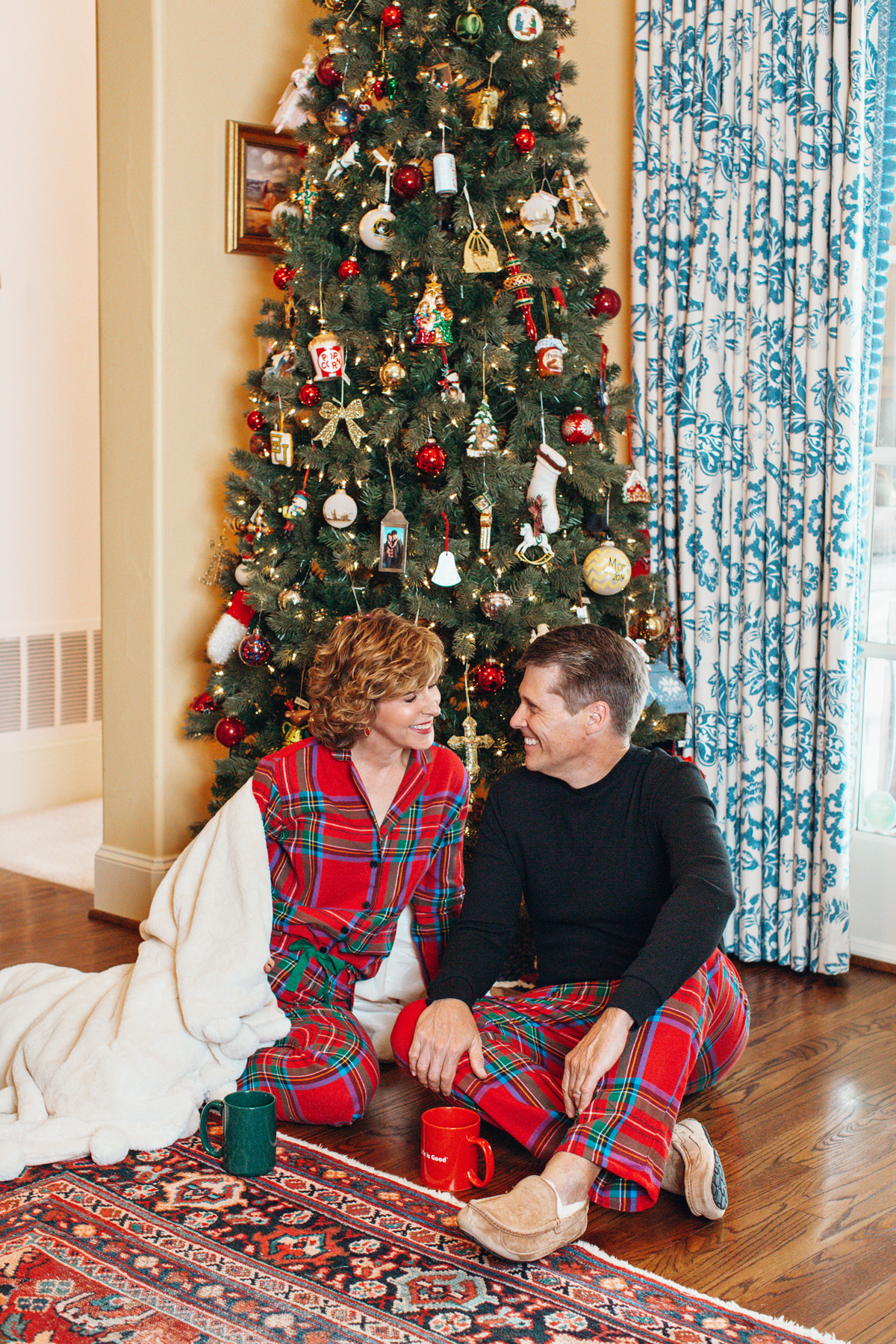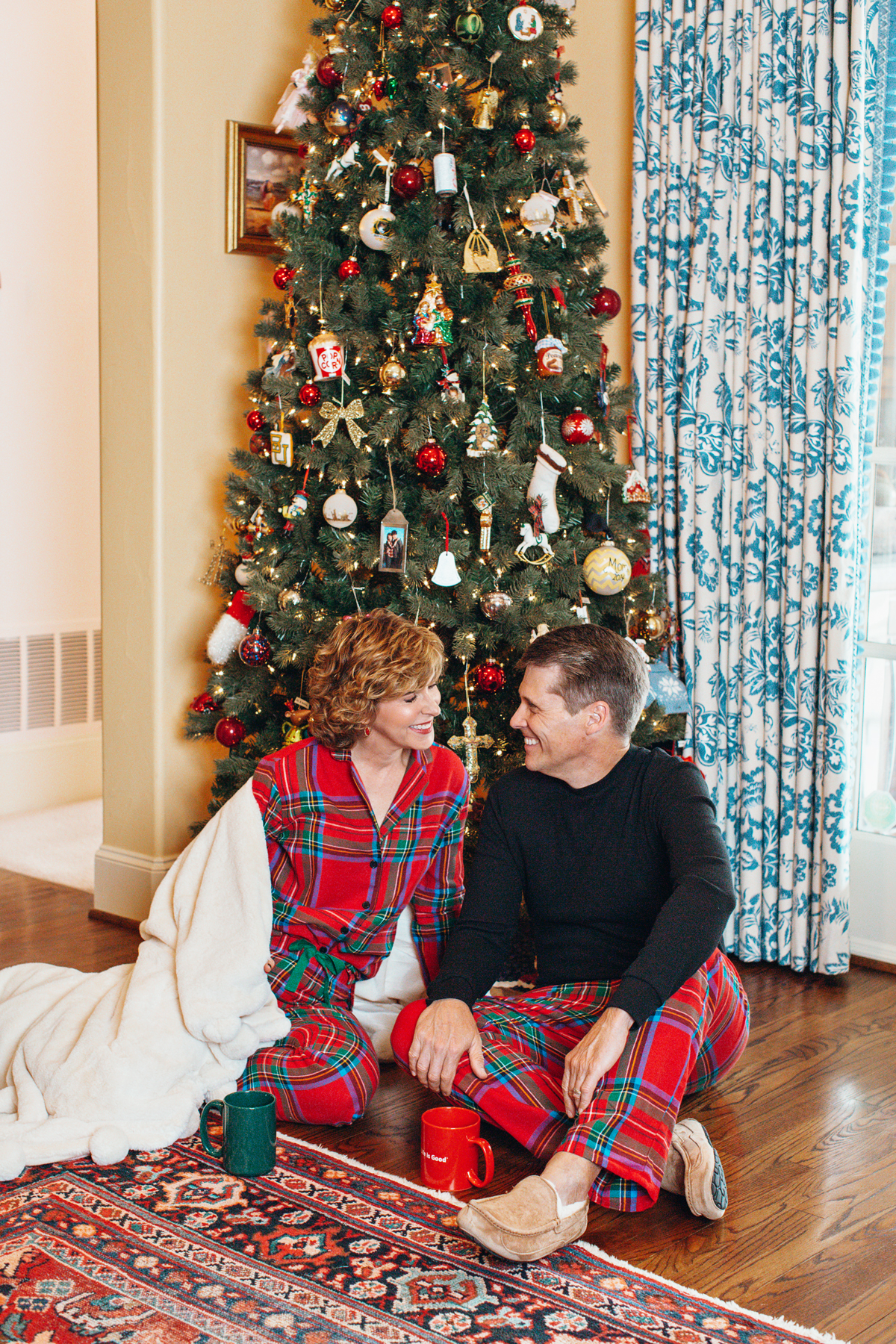 Similar pajamas (Suzy) | Similar Pajamas (Bob) | Bob's Long Sleeve Tee | Bob's Slippers | Cream Pom Pom Throw Blanket | Lipstick

Birthday Party for Jesus
For dessert, we always have a birthday party for Jesus, complete with cake, candles, ice cream, and singing. We started doing this before the kids were born, and we'll never stop! It's one of our favorite family Christmas traditions. When the kids were little, we used to bake the cake together. As they've gotten older, they've taken over the baking and decorating. When my son Weston married Sarah (who teaches 2nd grade AND has a side hustle baking business!), she and Becca took over. (And the decorating improved, thanks to Sarah!) This year, my sister and her daughter are going to do the honors.

Nativity Play
When the kids were little, they did a full-on nativity play! Even as they got older and bigger, the only thing that changed was that the costumes got smaller! Last year, we finally stopped that, but Bob still reads portions of Luke 1 and 2 while we eat Jesus' birthday cake. It's one of our most beloved family Christmas traditions.
LCR
After dinner and Birthday cake, we play LCR! (LCR stands for "left, center, right.") If you've never heard of the game, you need to know about it! The best thing about this game is that it's a game of chance. (That means there's no arguing. YAY!)
Each player starts the game with three poker chips and takes turns rolling the three dice. For each "L" rolled, they give a chip to the player on their left. For each "R" rolled, they give a chip to the player on their right. For each "C" rolled, they put a chip in the middle of the table. For each dot rolled, nothing occurs. The dice are then passed to the next player. When one player has all of the chips, that player wins the game.
However, when we play it, Bob and I give everyone three one-dollar bills instead of poker chips. Everyone gets so into it; you'd think we're playing for hundreds of dollars! It's such a hit, one year, I bought a set of four LCR games, which I broke up and put into each of my kids' stockings. (If you're interested, there's still time to get LCR before Christmas with Amazon Prime.

Christmas Day
On Christmas Day, we usually spend the morning opening gifts; then, we typically head over to Bob's side of the family for presents and dinner. Last year we played LCR with that group after opening gifts, and it was so much fun!
This year, things are different, of course. After a deli-style lunch with our immediate family, we'll be doing our gift exchange over Zoom.
That night for dinner, I'm serving Pot Roast and veggies. (Other people are bringing the sides.) I fix my roasts in the big ole' 7 qt. slow cooker, because it makes the meat so moist! My recipe is pretty simple!
Suzy's Pot Roast
3-4 lb. boneless beef roast
1 c. water or beef broth
3 medium potatoes, thinly sliced
2 large carrots, thinly sliced
1 onion, sliced
1 tsp. salt
1/2 tsp. ground black pepper
Put veggies in the bottom of the slow cooker. Salt & pepper meat, then place in the slow cooker on top of veggies. Add liquid. Cover and cook on low 10 hours or high 6 hours.
Are you still stuck for last-minute gift ideas? Did you catch my post on Subscription Boxes as an option for last-minute gifts? (They keep on giving all year long!)
Want another option? Try a gift card from Amazon's gift card shop! There are gift cards available from just about anywhere you can think of, from Ulta to Lowe's, and everywhere in between. Many of them come with next day delivery, and some are even available as a same-day download so you can print, wrap, and gift! (Also, Amazon gift cards themselves are always an excellent choice. Many of them come in adorable gift boxes like this one in a darling holiday gift box and will still arrive in time.
Sharing My Heart With You
I think Christmas has become more precious to me as an empty nester. Do you feel that way too? Having my chicks back in the nest enriches the season! I've been thinking and praying a lot lately about the importance of valuing relationships over right, and it's something I'm really trying to remember this year. The relationships with our kids, parents, and extended family are way more important than who is right or wrong in any given situation. 😍
That said, I know some of you don't have your kids home this year, and that's really hard. The holidays can be a tough time, and my heart goes out to you. Even though I may not know you personally, please know that I will be praying for you. 💕
When the angels announcing Christ's birth sang about "good will toward men" [Luke 2:14], they weren't singing about people showing good will toward other people, but about God showing good will toward men. Christmas is about God acting in an extraordinary way in order to show His goodness and love toward us. By becoming human, dying on the cross for our sins, and rising from the dead, Jesus Christ overcame sin and the grave for us. Christmas is all about the birthday boy who came to save our lives. With His help, I want to be loving, thoughtful, and gracious to my family this year.
Hugs and blessings to you and your family this Christmas! I'm going to take a break for a few days to focus on my family, but you know I'll be posting a bunch of photos on my Instastory and Facebook Story. I hope you'll follow along with me there! Also, I'd absolutely love it if you'd tag @emptynestblessed on your holiday Instagram photos so I can see what you're up to as well! 📸 💗
I'll be back after Christmas with a detailed, organized list of the best post-holiday sales.
Thank you for reading Empty Nest Blessed, for your sweet comments, and for shopping with me this season! I wish I could hug each of you personally and tell you what you mean to me.
Merry Christmas, my precious friends!
Blessings,