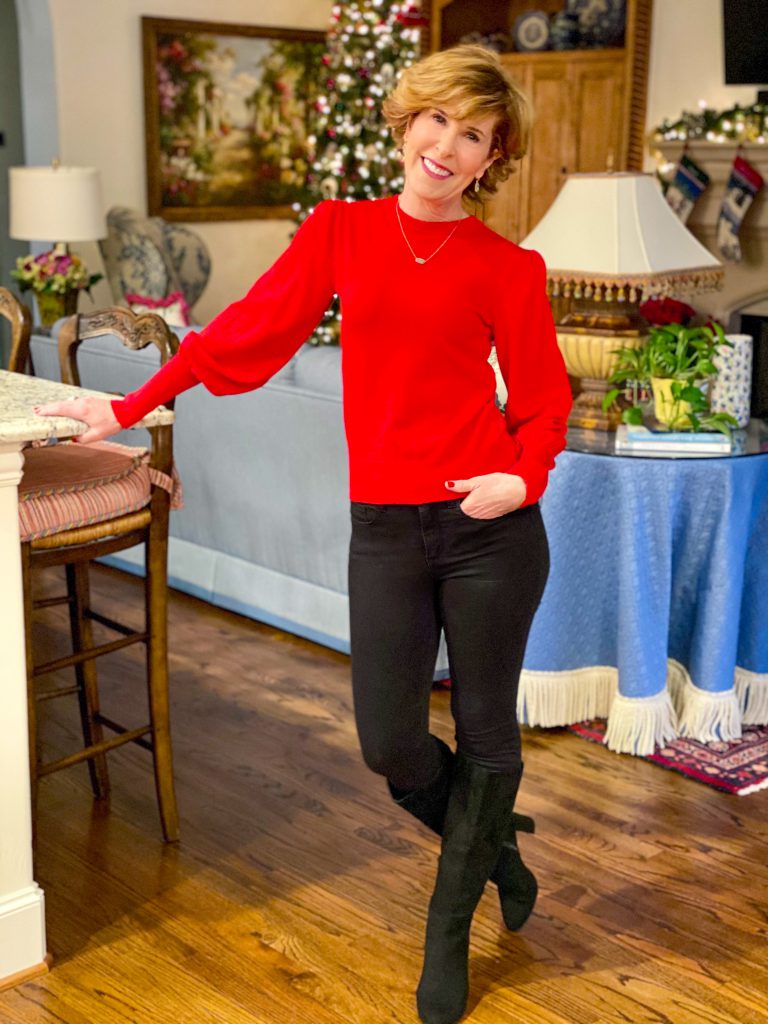 It's the last weekend before Christmas! What are you doing? Will you be finishing up your wrapping, grocery shopping, and maybe enjoying a special holiday tradition or two? I'll be doing all of the above and, through it all, doing my best to keep my eyes fully on the Birthday Boy. 💗
It was a fun and busy week here at Empty Nest Blessed, and I'm looking forward to things slowing down a little bit next week. I'm counting on fewer emails, meetings, and projects, for sure! It's so sweet to know that next week will be all about faith, family, food, and fun.
Here's the good scoop I've got to share with you this week!
Remodel Update
I actually had a couple of days this week with no workmen in the house! Although it was a nice reprieve, after 6 weeks of living upstairs, we're really wanting to get things finished up in the master bathroom so we can have our bedroom back! This week we:
picked lighting for the entry
picked lighting for my office
got all the switch plates in the house changed from off-white to white
picked the grout for the master bath
got lighting installed in the pool
decided on pool decking
We're making progress! Let me know if you'd like to see a little tour on my Instastory next week! We'll have lots of workmen here early next week!
NYE Prep
Whether you're having a small group over, Zooming for the ball drop, or just curling up on your sofa, NYE is right around the corner! It's not too soon to make plans and think about supplies!
First of all, I highly recommend the 2011 movie New Year's Eve! It's one of my favorites, and I watch it every year about this time. (Read that: When I'm getting a little sick of Hallmark Christmas movies! 😂) It's a rom-com set in New York City, and it features intertwining stories about love, hope, forgiveness, and second chances. The cast includes Michelle Pfeiffer, Ashton Kutcher, Sarah Jessica Parker, Zac Ephron, Lea Michele, Robert De Niro, Halle Berry, and lots more! For more info, or to rent it on Amazon, click HERE.
If you want hats, streamers, blowers, or other festive party supplies, now is the time to order! THIS is the party-in-a-box set I own, and we bring it out every year!

Good Skin? Good Foundation!
People compliment my skin all the time – trust me, it's this foundation! Other blush & eyeshadow brands come & go, but I've never switched from this foundation/CC+ cream. Right now, they're offering a deal! Spend $50, save 20%; spend $75, save 25%; spend $100, save 30%. (Don't worry! They will help you pick the shade that is perfect for you right on their website!) 🙌 Also, I've got an exclusive deal for you! 😲You can enjoy a free IT Cosmetics Rosy Tone Kit when you spend $100 (before discount) with code GETROSY. (This kit includes Confidence in a Cream Rosy Tone Moisturizer, Je Ne Sais Quoi Hydrating Lip Balm Treatment, and a free Santa's Secret Surprise!
The Season of Giving
As we approach the holidays, this season provides a precious opportunity to help those in need. Many families have been impacted by the pandemic and are experiencing unstable living conditions with limited access to resources.
Recently, mymove.com reached out to me with a guide they put together for those who want to donate gently-used furniture to help families. It runs down 8 non-profits that offer free pick up. This is one to bookmark so you can come back to it when you need it. Click HERE to see it.
A Drugstore Concealer I'm Loving!
I feel like a good concealer is hard to come by! Do you have one you love? For years I used an expensive one. But as I've gotten older and my skin has gotten drier, I felt like it was looking cakey and emphasizing the wrinkles under my eyes.
So I did what all smart women do! I asked my friends for recommendations! In this case, I just so happened to ask the beauty bloggers in my Facebook influencer group. (Over 4.0K members!) 🙌
Several of them recommended Ilia Beauty's True Skin Serum Concealer ($30), but a few suggested Maybelline Age Rewind Concealer. After researching, I found out that Maybelline Age Rewind Concealer is the #1 concealer in America, a 2018 Allure Beauty award-winner, and the worldwide best-selling concealer on Amazon! It has a cushion-tip applicator for gentle, no-rub application, and it covers without caking. I love it and am patting myself on the back for saving money!
Shop Maybelline Age Rewind Concealer on Amazon ($7.98).
Shop Maybelline Age Rewind Concealer on Walmart.com ($7.98).
Shop Maybelline Age Rewind Concealer on Target.com ($7.99).

When it comes to selecting a shade, my makeup artist pal Bebe Tran of B-Lashed Beauty & Bridal Bar recommends that for the undereye area, you select a shade of concealer that's no more than one or two shades lighter than your natural skin tone. You want to avoid a white circle around your eye area, so don't go too light! For your face, select a concealer that matches the color of your foundation.
Instagram This Week
Turtleneck Tunic Sweater | Velvet Leggings | Faux Suede Boots | Earrings | Lipstick | Gift Wrap & Gift Tags (Take 10% off your entire order with code EMPTYNEST10.)

Velvet Leggings are a holiday season must-have for me! My favorite way to wear them? With a big ole cozy tunic sweater! (My red one is sold out, but the same cable knit style is still available in teal, gold, black, and cream. I put on my (affordable) faux suede boots for this photo, but rest assured, as soon as Bob finished snapping 📸, I was right back in my black bootie slippers! 😂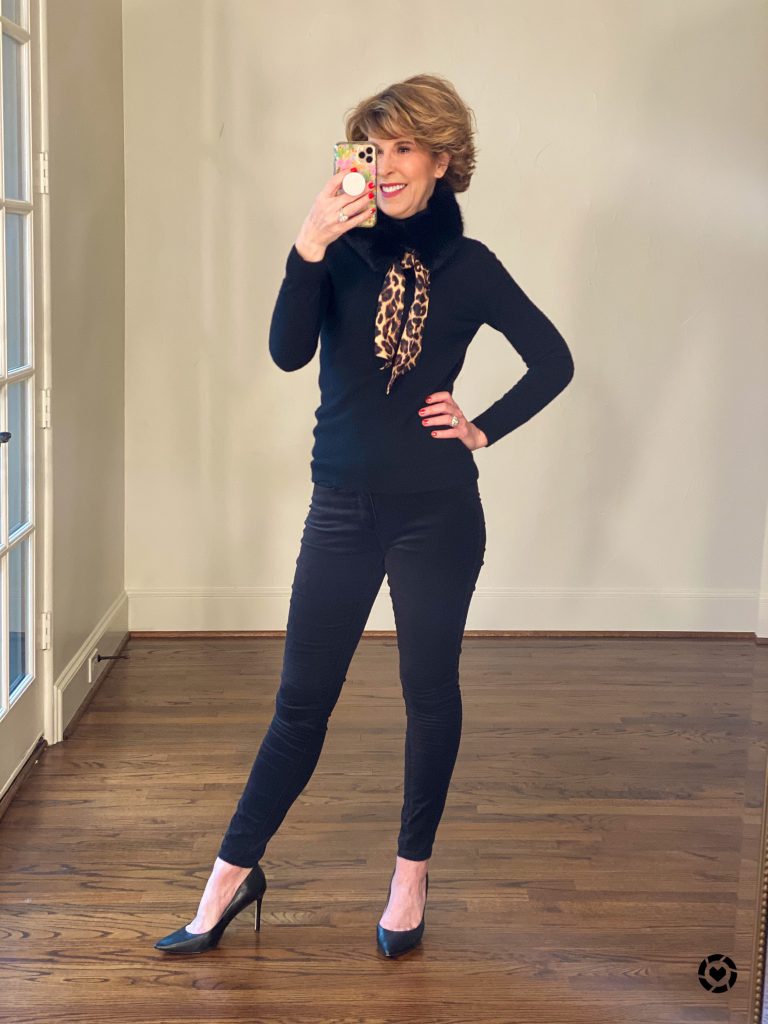 Black Faux Fur Collar With Animal Print Ties (gifted) | Black Cashmere Turtleneck | Black High Waist Velvet Jeans | Black Pumps | Clear Floral Phone Case (now under $20!)

I love this under $25 Black Faux Fur Collar With Animal Print Ties! It's a total outfit maker! I added other, simple pieces right from my closet, and I'm good to go for Christmas or New Year's Eve! (And if my feet get tired of these very comfy pumps, I can always go back to my black bootie slippers and still be color coordinated! (I think every woman needs a pair of black slippers for just that reason! 😂)

This is my "dressy" robe 🤣! It was a gift from my pals at Soma last Christmas. I thought it was so nice that they had it monogrammed with my @emptynestblessed logo! My kids were very impressed! "Wow, Mom! branded merchandise!" (And my kids are hard to impress—especially when it comes to their mother! 😆)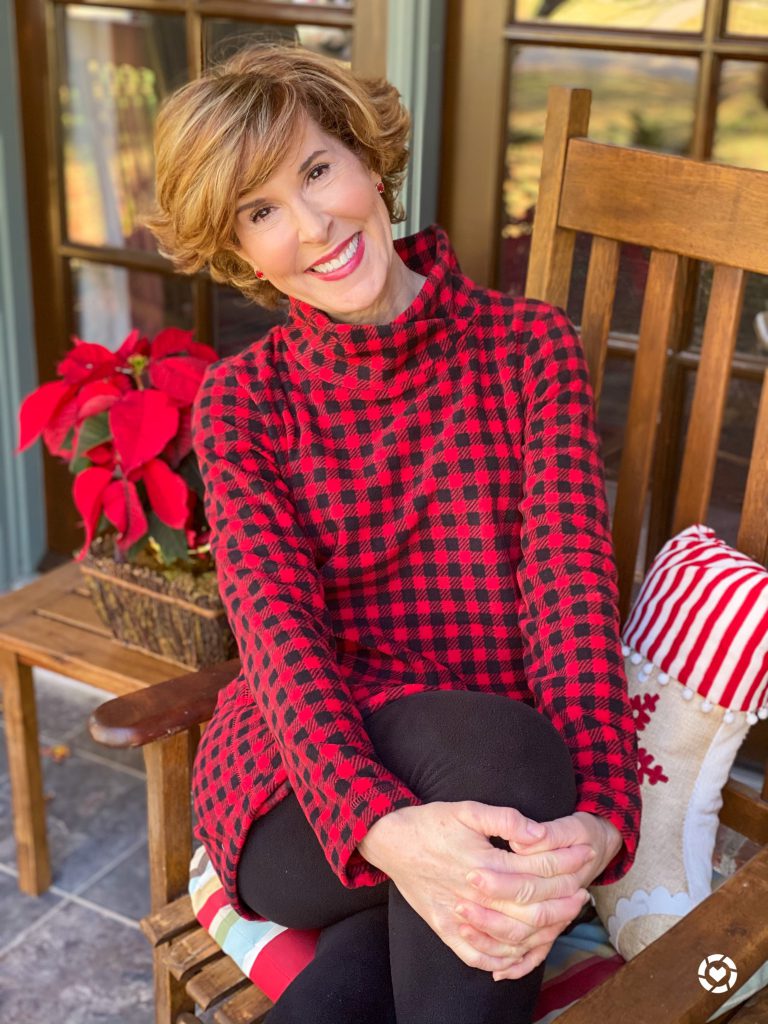 Cozy Buffalo Plaid Fleece Tunic | Fleece Leggings | Earrings | Lipstick

I don't know about you, but when cold weather hits like it did this week in Dallas, all I want to wear is cozy fleece! This yummy buffalo plaid fleece tunic fits the bill perfectly! I paired it with fleece leggings, which are technically sold as long underwear, but I wear them out and about all the time in the winter!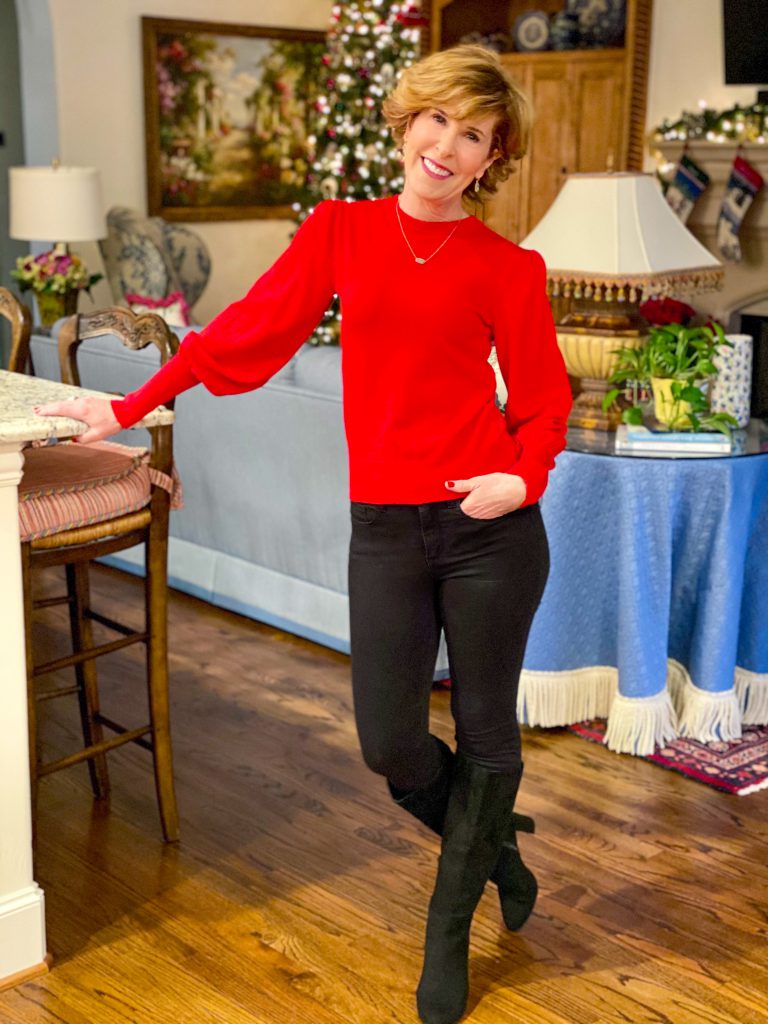 Fine-Gauge Knit Puff Sleeve Crewneck Sweater | Black Jeans | Faux Suede Boots | Earrings | Necklace | Lipstick

I simply won't shut up about this puff sleeve crewneck sweater from Amazon! I said it before, and I'll say it again, it is by far the nicest quality fashion item I've ever ordered from Amazon! It's under $40 and looks like a designer sweater! So much so that I ordered it in black and tan too!

This Week's ENB Best Sellers
The Power of Praying For Your Adult Children – This book changed my life! It will change the way you pray, the way you love your adult children, and your relationship with God. #powerful
THESE long-sleeve crewneck tees (favored by frontline healthcare workers) will hold up to repeated washings and come in every color imaginable!
THIS digital home weather station. Perfect for all of those weather-obsessed people in your life!
THIS indoor flameless S'mores maker. (How fun for NYE at home!)
THESE Disney Parks scented candles (Just $5.25 each!)
THIS faux leather & fleece Sherpa moto jacket.

Last-Minute Gifting Solutions

+

Best Weekend Sales
Every retailer on my sales list this weekend is offering either same day pickup or pickup after the item is shipped to the store.

Sometimes you last-minute shoppers save the most! Still need gifts? I've got you covered with my list of the top retailers that offer in-store pick up! Don't forget to select the "pick up in-store" option at checkout! Click on the links to place your order.
ANTHROPOLIGIE | 30% off sitewide right now!
CHICO'S | Take 40% off your entire purchase (exclusions apply) with code 64888🎉
J.CREW | Up to $200 off coats & jackets; $25 off cashmere; 60% off "festive finds;" PLUS an extra 25% off entire purchase with code SHOPNOW and free gift wrap set with $50+ purchase when you use code WRAPITUP.
J.CREW FACTORY | 80% off over 100 women's & men's styles! 😲 I just snagged THIS shirt for Bob! Tons of gift ideas under $25 HERE.
LULULEMON | I'm loving this camo line of workout wear!
MADEWELL| 30-50% off sitewide with code BIGTIME.
MARLEY LILLY | Fast shipping! Get a free weekender bag with a $125 purchase. Tons on FLASH sale!
NORDSTROM | Click HERE to save time and shop their gift guides by recipient, category, and price range. As always, the best deals will be in their SALE SECTION!
OLD NAVY | 60% off sitewide right now!
POTTERY BARN | 40% off gifts for everyone on your list.
SOMA | 30% off select sleep & apparel! I'm obsessed with these Embraceable Christmas jammies! See the top HERE and the bottoms HERE!
TARGET| Click HERE to shop their convenient gift guides and get it today with same-day pickup & delivery!
THE CONTAINER STORE | My fave one-stop-shop for the best stocking stuffers! Use code PICKUP for 15% off your curbside pickup order (regularly priced items)! Plus, their normally-held-in-January 30% off Elfa sale has started!
WALMART | Click HERE to shop their gift guides. Now you can shop last-minute gifts delivered right to your door before the holiday!
You may remember that in December's SO in the KNOW post, I told you about Walmart's new Walmart+ membership program! They're taking a page out of Amazon's book and piling on the benefits! (Think Amazon Prime at Walmart!) Here's what you get:
Membership pricing options are $12.95/month or $98/year, and some restrictions apply. Click HERE for more information or to start your free 15-day trial!
WHBM | 60% off all tops (exclusions apply) + 40% off full-price styles. I love THIS camo puff sleeve, tie-neck blouse!
Holiday blessings to you, my friends! I'm spending the weekend grocery shopping and meal planning, with a little photo shooting too! Also, finishing up the wrapping and laundry. Always the laundry! 🧺