Happy December, friends! I hope you're doing well. I can hardly believe that Christmas is just a few short weeks away! Unlike other years when our plans are already set in stone, this year, we're in the midst of a remodel (not to mention a pandemic), so flexibility is the name of the game for our family! Are you in the same boat?
We've kept the decorating to a minimum this year, which, to be honest, has been kind of nice! All we did was the tree and the stockings! It's helped me keep my focus on the spiritual side of the holiday, which is just where it needs to be. 💗
I've got lots to share with you today, so let's get going!
Mrs. Claus Makes Her Debut!
Something pretty special and hilarious launched this week! 🤶 I've been dying to share it for so long, and the day has finally come!
If you've been following me here on Empty Nest Blessed for a while now, you know that I love Hair Biology's line of hair care products. (How great is it that there is an entire hair care line made especially for women over 45?!) 🙌🏻 Well, I recently found out that I'm not the only one who loves this awesome line sold exclusively at Target.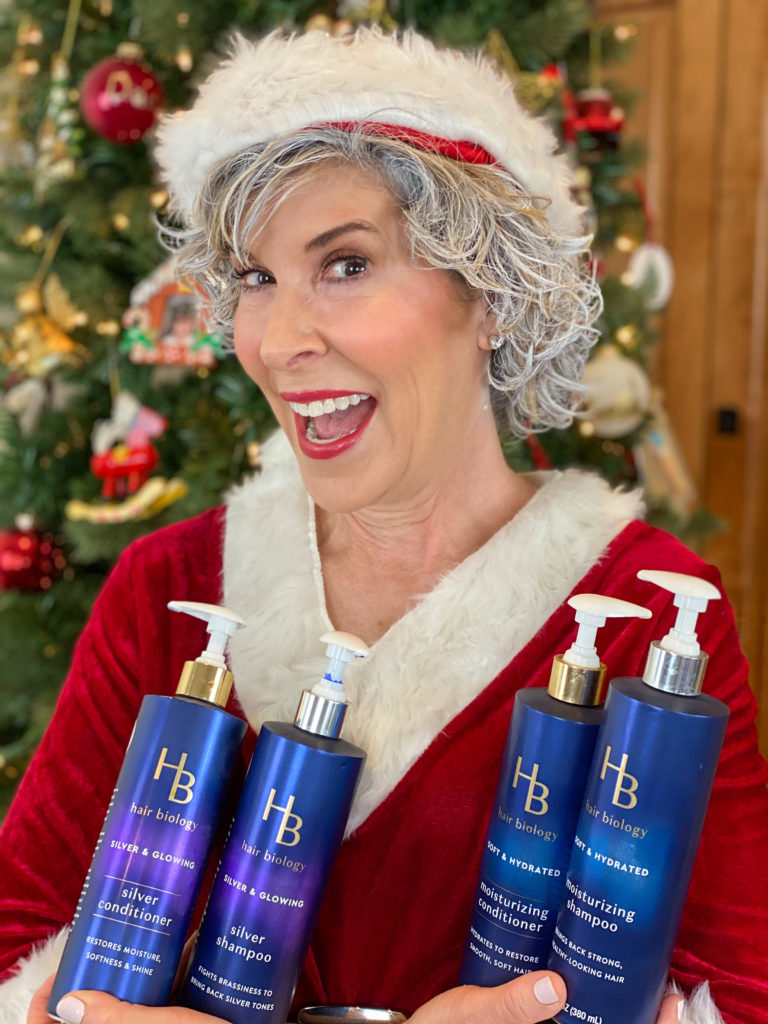 Apparently, Mrs. Claus loves it too! 🤶 While I primarily use Hair Biology's Soft & Hydrated line, Mrs. Claus is ALL about the Silver & Glowing line.
Throughout December, Mrs. Claus is going to be sharing hair tips and answering your questions on the Hair Biology Instagram account, so if you're not following @hair.biology yet, you'll want to do that! (And you'll want to tag all of your silver & glowing friends so they can benefit from Mrs. Claus' hair wisdom too!) 😂
Remodel Update

Thank you for your sweet interest in our empty nest refresh remodeling project! We are making progress. Here's what happened this week:
The painting is finished! What do you think? I thought I would miss the warmth of my yellow walls, but I don't miss them a bit!
Wallpapering has started in my cute new blue & white powder room. The pattern is Schumacher Paul Poiret.
Tiling is continuing in our master bath. The countertop slab is down. Lighting is here!
The tub is sitting in my garage, ready for installation!
Our poor, old pool was cracked, leaking, and tired! This week the pool was drained, and demo started! The former hot tub is turning into a "tanning ledge" with an umbrella sleeve and space for chairs.
An Awkward Tech Question
I took to my Instagram Story this week and asked for everyone's tech questions. I'll answer some of them in the Tackle Your Tech post I'm going to publish next week. (It's going to primarily deal with how to stay safe online during the holidays + tech gifts that I think are worth your time and money.)
But there was one question that I thought was worth answering now! I've been dodging it for a while, but it's time…
You're so good at helping us find the best deals and save money in the empty nest. Have you ever heard of Ratuken or Honey? Sometimes I use your links to go to a product, and then Ratuken finds a coupon code to help me save even more! Your followers might be interested in knowing more about those!
Y'all, my mom always told me that it's crass to talk about money 😂, so I guess that's why I've never really gone into this with you! But I always want to be honest, so, as awkward as it might be, here's the scoop.
When brands sell a product, they build things into the retail price like shipping, advertising, and of course, a profit markup. Once upon a time, newspaper, magazine, and TV advertising drove sales, but those advertising vehicles' effectiveness has waned with the rise of digital advertising. In fact, brands now spend more on digital advertising than traditional advertising. It's actually better for them because it allows them to accurately track clicks and sales and who is driving the sale. They pay out a "commission" to whatever advertising vehicle "drives" the sale, which they also build into the retail price.
When you Google an item, click on it and make a purchase, Google gets a commission for "driving" the sale. If I link to an item, you click on my link and make a purchase, I get a commission for driving the sale. But if you click on Google's link or my link and then use a coupon or coupon code provided by Ratuken or Retail Me Not, for example, they get the commission. So, essentially, the last click wins (the commission).
This is SOOOOO "cringy" for me to talk about!
From a business standpoint, it seems right that the driver of the sale. (i.e., the recommender of the product), would get the commission for driving the sale. But the last click wins, so if you use a coupon site after following my link, they get the commission, even if you're buying the product based on my recommendation. Make sense?
Now you know why I never talk about them! 😆😊 I can't speak for other influencers, but I can tell you that I only recommend products I use myself or would use (if Bob would let me spend all of our money that way!) and that I absolutely love. Even when brands gift products to me, in most cases, they allow me to select the pieces they send to me. (And I never accept gifting or sponsored posts from brands I don't already love.)
From a business standpoint (awkward 😬), I hope you want to thank me for recommending products that you end up buying by clicking through with my links and sending the commission to the one "driving" the sale. 😊
Instagram This Week
It's been so cold in Dallas this week, and I am such the weather wimp! I've been mostly snapping selfies instead of doing photos outside!
Lettuce Be Friends Sweatshirt | Charcoal Gray Jeans | Gray Sneakers | Earrings | Phone Case | Rose Gold Monogrammed Pop Socket (Great gift idea!)

Peace, Love, Chic Cashmere Blend Sweater (#gifted) | Velvet Jeans | Faux Leather & Faux Fur Chain Link Mules | Necklace | Earrings

I love this Chico's cashmere-blend sweater! The coralish-pink color is universally flattering, and the message is so sweet. Chico's has a new deal every day in their 12 Days of Chic event right now! Friday, 12/4, all sweaters are 50% off – including this one! Tomorrow (Saturday, 12/5), I have special inside info that they will be offering 50% off all Tunics & Leggings. 😮 Those are amazing sales!
Look for me to elaborate on what "peace, love, chic" means to me in an upcoming post on the Chico's blog! (Which, BTW, is like a sophisticated online magazine you will love! Check it out HERE.)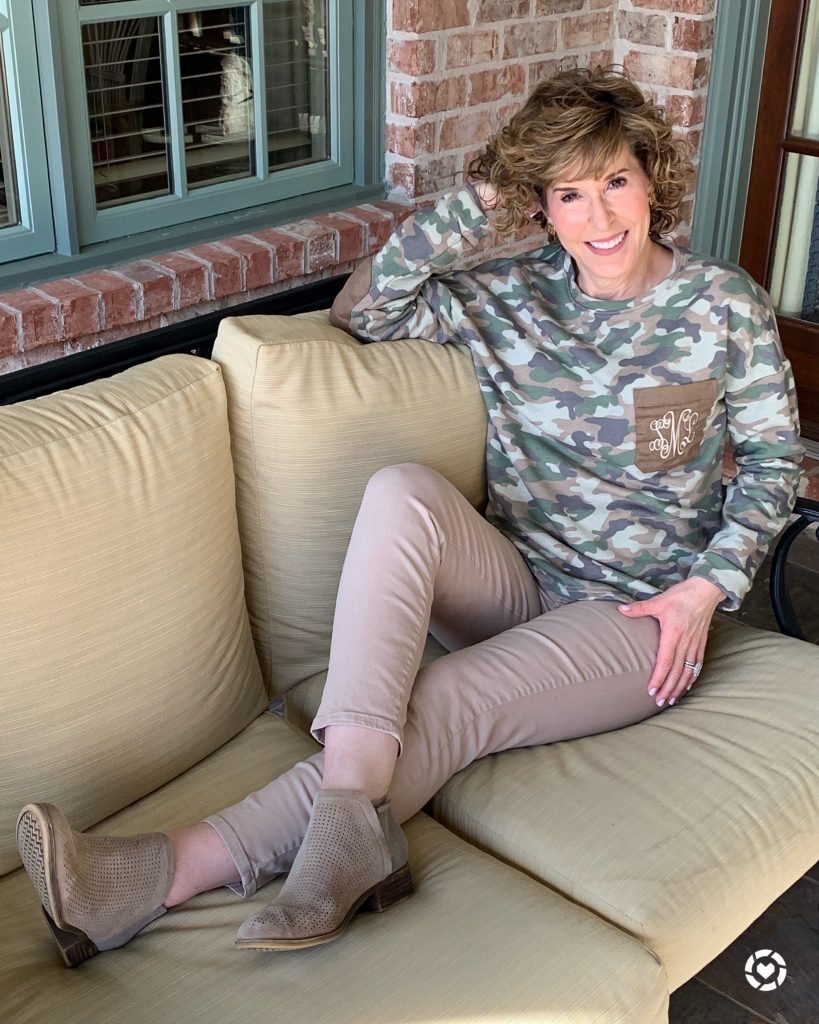 Monogrammed Patch Elbow & Pocket Camo Sweatshirt | Khaki Jeans | Similar Taupe Perforated Booties

My cute camo sweatshirt is from Marley Lilly. (Available with or without monogramming.) Honestly, I pretty much love everything at Marley Lilly! It's a true cross-generational brand! My daughter and daughter-in-law love it too! Marley Lilly has so many affordable gift ideas this holiday season! Check them out HERE. The up-to-75%-off Cyber Week sale ends Saturday 12/5 at 11:59 pm!
ENB Best-Sellers Of The Week
Oh, you guys really made some great picks over Cyber Week! I loved seeing what caught your eye! Here's what you loved:

Best Weekend Sales
This week, I read an article that said that brands took a look at their Cyber Week numbers and planned out their pricing strategies for the rest of 2020 based on how things went. Apparently, in most cases, sales were disappointing. Um, I did my part, sooooo…😂
What that means for you is that, if you haven't finished your holiday shopping yet (Who has?), you can still get amazing deals. Here are some of the best of the best this weekend:
ANTHROPOLOGIE | 50% off 200 select full-price clothing & accessories + free shipping. Click HERE to see all of them. I'm in love with this festive but comfy velvet tunic. (Anthropologie calls it a tunic/dress, but if I wore it as a dress, my kids would be all like 🙈🙅‍♀️🙅‍♂️!)
CHICO'S | 12 Days of Chic Event, with a different deal each day! Today (12/4), take 50% off sweaters; 40% off already reduced styles; Tomorrow ( 12/5), take 50% off all Tunics & Leggings.
DRAPER JAMES | The Holiday Dress Event is on! Take 40% off festive holiday attire, jewelry, and more with code DRESSEDUP.
J.CREW | 60% off great gifts + extra 20% off with code FESTIVE. (Ends Sunday, 12/7, 11:59 pm, ET) Check out these festive tartan & plaid tops for up to 60% off! (Swooning over this one!)
J.CREW FACTORY | 50-60% off everything + extra 50% off clearance with code DAZZLE. I love these ruffleneck sweaters (7 color choices)! I think the burgundy would be so festive for Christmas Eve! (Ends Sunday, 12/6)
MARLEY LILLY | Up to 75% off Cyber Week Sale ends Saturday, 12/5, 11:59 pm, so shop now! I'm ordering a ton of stuff this weekend, including THESE adorable leopard sneakers!
NORDSTROM | 40% off designer collections; 15% off top beauty brands. I have friends who swear by this NuFace Mini Facial Toning Device, and it's 15% off! Also, remember my secret trick: shop the SALE section at Nordstrom for the best deals. Once you're in the sale section, use the filters on the left side of the screen (on a laptop or tablet) to filter, so you are time-efficient and don't get overwhelmed by all of the offerings. (That's what happens to me!)
Also, for a well-priced gift that will work for literally anyone on your list, check out this Bliss Plush Throw. It comes in 8 colors to match anyone's decor or color preferences. Free shipping + a free DIY gift kit!
SEPHORA | Sephorathon started this week! Take $20 off a $75 purchase with code 2020SAVE. Everyone loves getting beauty gifts, and there are so many beautiful choices at Sephora! See the deals HERE.
SOMA | $25/$35 select bra styles and 30% off sleep separates (Both sales end 12/6.)
TARGET | Click HERE to take $10 off a $50 purchase on holiday trees, lights, wrap, decor, and more! (Ends Saturday, 12/5.) Plus, new deals every day. Click HERE to see the latest.
TULA | Free shipping sitewide this weekend only! This is my fave brand of clean skincare! Take 40% off all Holiday Essentials Sets! Plus, take an EXTRA 15% OFF with my exclusive code 15SUZY!) Here's a rundown of my fave Tula products:
WAYFAIR | Deals upon deals on everything, from area rugs to appliances! See them all HERE.
Happy Weekend! Bob's been in Miami all week on business, so I've had the bed all to myself! When he's gone, I sleep smack dab in the center of the bed and hog all the covers! 🤣 Do you do that? I've missed him, and honestly, it's been a lot to deal with all of the remodeling stuff by myself! I'm so excited that he's coming back!
This weekend I'm going to put the house back together now that the painting is done and the cleaning crew has cleaned everything. BTW, that was not cheap, but it was a dream-come-true, lemme tell ya! There were parts of this house that have never been cleaned, and these 5 ladies from Nina Hayes Cleaning Service descended like a whirling dervish and worked for 7 hours straight. 😃
Blessings,