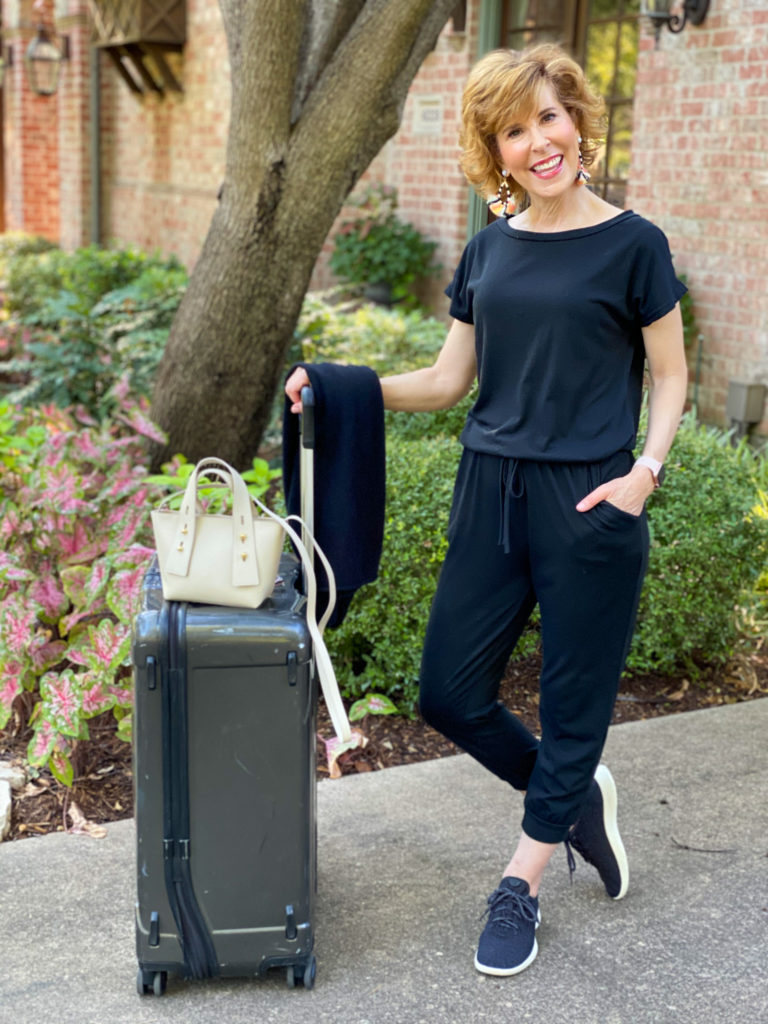 As you read this, we're back in the mountains of Idaho visiting our 23-year-old daughter, who's been performing at Starlight Mountain Outdoor Theater this summer. Long before the pandemic was ever a "thing," Becca booked this job, and because it's an outdoor theater in the remote mountains of Idaho, they were able to continue with their season! To me, it's such a beautiful example of how the Lord goes before us to make His plans for our lives come to pass in His perfect timing. I love this verse:
"The Lord himself goes before you and will be with you; he will never leave you nor forsake you. Do not be afraid; do not be discouraged."

Deut. 31:8
As usual, you can click any pink text link or image in this post for more information.
Nordstrom Anniversary Sale Wrap-Up
As per usual every year, I'm happy to see the end of the Nordstrom Anniversary Sale! You have to admit, the hype can get to be a little much! 😂 That said, whether you bought anything or not, you have to admit, it's great styling inspo for the fall! 🍂🍁
I wrapped up my coverage of the sale this week with a fun post from my 24-year-old assistant Natalie and a men's makeover post! Natalie's post was mostly about how Gen Z shops, what they buy, and what factors influence their purchasing decisions. If you have kids or grandkids who are a part of this never-known-life-without-the-iPhone generation, you'll love the info in her post!
My men's post was about the latest trends in men's fashion. Even if your guy is more into baseball ⚾ than boots and hockey 🏒 than hoodies, I always think it's fun to know the trends! Don't you? Even my 85-year-old mom likes to keep up! When I was writing that post, I was picturing my 85-year-old mom telling my 81-year-old dad that he needed a pair of Chukka boots. 😂😂😂
Face Mask Update
It's hard to believe that we've been dealing with THE COVID for half of a year now. I, for one, cannot wait for the vaccine! I think I'm going to be one of the first in line! 🙋🏼‍♀️
That said, we're all in for a cute face covering these days, right? If you'd told us a year ago that this would be a thing, I would have joined you in a good laugh! 😂 But here we are. 😷
Back in mid-June, I published a post featuring Fashionable Face Coverings. (You can check out that post HERE.) Since then, a bunch more of our favorite brands have come out with, shall we say, on-brand face coverings! (By that, I just mean that they ring true to brand styling.) Here are a few of my favorites:

Best Sellers of the Week
Isn't it interesting to see what other people are loving and buying right now?
Instagram Looks of the Week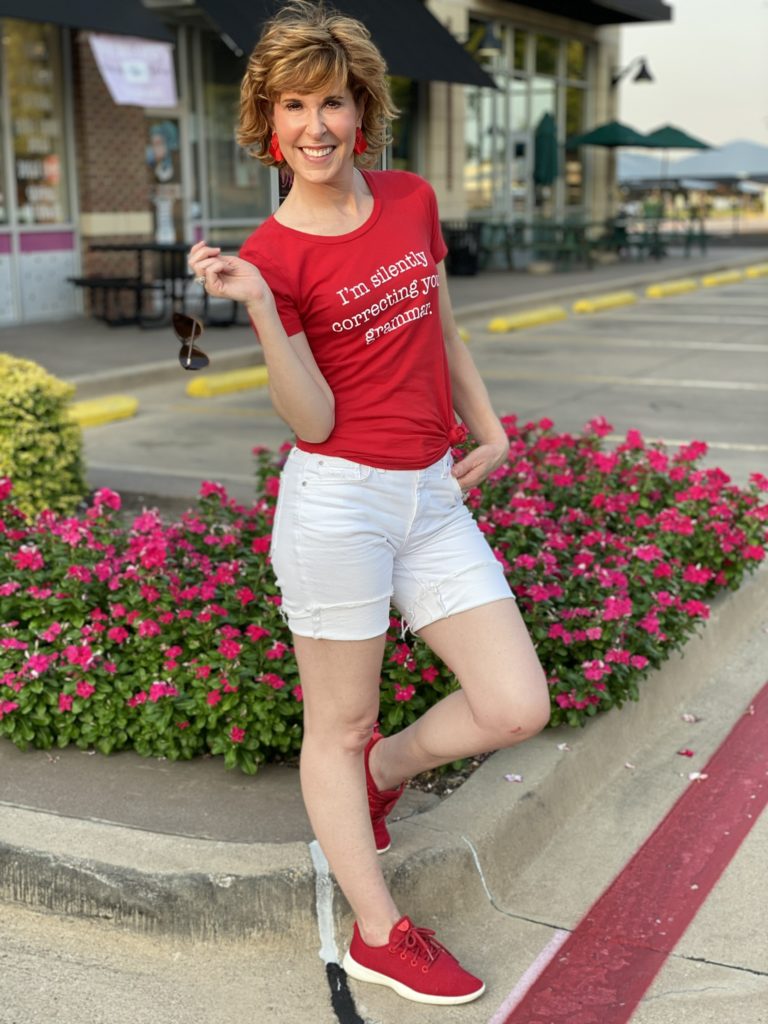 "I'm Silently Correcting Your Grammar" Tee | White Shorts (I cuffed mine.) | Red Tennies (Amazon Lookalike)| Red Earrings (sold out)

Tie-Front Tee (Multiple Color/Pattern Options) | NYDJ 5-Pocket Skirt (So Slimming!) | White Wedges (similar) | Faux Pearl Initial Necklace | Faux Pearl Cluster Earrings

Split Sleeve Tee | White Scarf Tie Jeans (Also Available in Blue Denim) | 12-Variety Pack Square Scarves | White Wedges (similar)

I talk about these scarf-tie ankle jeans all the time! I'm mentioning them again because everything at NYDJ is up to 35% off (+ free shipping/returns) this weekend with the code TREAT! They have a hook & eye trouser closure, covered with two flaps of denim with grommets at the ends. You feed the ends of any square scarf through, and tie it for a custom look! I ordered an inexpensive 9-pack of square scarves on Amazon so I could coordinate with various tops for a custom look. The jeans also come in light wash and medium wash blue denim, and in petite, regular, and plus sizes! You can see them all HERE.

Coral Tee (similar HERE, HERE, OR HERE) | Khaki Shorts | Oversize Square Scarf (so versatile) | Flip Flops (Amazon Lookalike HERE) | Octagonal Wood Cuff Bracelet | Raffia Earrings

Reversible High-Waisted Pull-On Fringed Cuff Ankle Jeans | Reversible Fringed Cuff Denim Jacket | Tee (Same Color, Similar Style) | White Wedges (similar) | Blush Slip-Ons (similar HERE and HERE)| Faux Pearl Initial Necklace | Faux Pearl Cluster Earrings

Oh, you're not seeing things! 😳 These pull-on high-waisted jeans are reversible, as is the denim jacket! (Both gifted by the brand.) I'm wearing the same twist sleeve tee underneath in both photos. One look is styled for date night, and the other is super casual for running errands! All I did was reverse the pieces, style the top differently, and change my shoes! How cool is that?
The possibilities are amazing! I was so taken by these, I did a short IGTV video this week with all the details! (Watch it HERE.) If you're looking for a good value, look no further!! This set comes in various patterns too! See below.

Be sure to watch my Instagram and Stories to see our adventures in the beautiful mountains of Idaho in the next few days! Have a wonderful weekend!
Blessings,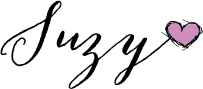 SHOP MY TRAVEL LOOK
This black jumpsuit is the perfect travel outfit because it's super comfy and the joggers on the bottom half make it feel so on point right now! It can be worn off-the-shoulder or on, which I love!
When you travel, do you take a wrap? I've fallen hard for these affordable cashmere blend wraps that come in just about every color you can imagine! They're also good when you have to go to one of those buildings with over-achieving A/C systems!
🥶
Finally, what's a travel look without a fun earring? I've got mine!