Happy Weekend! Maybe it was getting back from vacation, or maybe I'm still playing catch up from THE COVID, but this week was a full one! With appointments with everyone from the dentist to the lady doctor😬, and a hair cut & color stuck in there too, I felt like I was running a little bit crazy. Looking forward to a dinner with friends (actually previously mentioned dentist and wife!) tonight and then a weekend spent packing!
Yep, you heard that right! I'm packing up again! This time we're headed off on a big ole' multi-generational (ages 20-80!) trip to the mountains of Idaho, where our musical theater actress daughter is performing at an outdoor theater this summer. (Don't worry, no cases of THE COVID around there in months!)
Good Stuff to Know
Here's some good scoop!
Bob and I saw Knives Out in theaters right before THE COVID had us all binging Tiger King at home instead of enjoying movie popcorn 🍿and big ole' sodas 🥤at the theater. (Those delicacies 😂 were a big part of why we loved to go!) You can watch Knives Out on Amazon Prime right now! There's a little bit of language, but it features a great cast, an intriguing mystery, and it's just plain fun!
Now, if you actually want your kitchen knives 🔪out, but they're dull, I can help with that too😂! A dull knife blade can be hard to control, making it dangerous. But at-home sharpening isn't really feasible! Now, you can drop your knives in the mail, thanks to a company I just heard about called Knife Aid.
Apparently, you pack up your knives (they even accept scissors) in a special prepaid envelope, and they travel, fully insured, to a sharpening pro. You'll have them back in about a week, ready to chop, mince, and dice to your heart's content! I've never tried this service, but I'm just about to! I'll report back! Click HERE to learn more.
A Late Edition!
I found a brilliant and unique Weekender Bag this week! If I'd known about it sooner, I would've added to the Father's Day Gift Guide! (Which many of you told me you used to shop for upcoming birthdays or even Christmas!😲) It's a little late to add now, but this bag is so cool, I'm sharing it anyway!

Zipped shut, it's a stylish duffel, but opened, it's a hanging organizer that keeps clothes and shoes within easy reach. For the neat freak (I'm looking at you, Bob!), it's a real find! #wowza
Quarantine Weight Quandry
Oh, wow! It's all caught up to us, now, friends. I'm hearing from so many people who ate too many sweets during quarantine, and now their summer clothes don't fit! I feel ya. I didn't go too crazy (If you read my recent What I Eat in a Day post, you know why!), but if you're struggling, I recommend Noom. Bob had success with this unique program last fall, and he managed to keep the weight off during quarantine too🙄. He just got an email saying that the company is offering two weeks free right now as their way to help out during this challenging time! Click HERE for more information.
Here's what makes Noom different:
They give you a personal health coach (called a "Goal Specialist") that helps you set goals. You text with them every day.
They provide you with a support group (led by a "Group Coach") that supports you, challenges you, and helps you put what you're learning into practice.
You wake up each morning to a customized to-do list of #PsychTricks. (These are quick, research-backed, psychology-based articles, and you'll learn a lot. Bob did!)
No food is off-limits and you log your food right on the app. Noom uses a calorie-density system that helps you understand appropriate portions.
You can connect your wearable fitness device to the app, and it automatically tracks calories burned in workouts and daily activity, providing half of the calories burned as additional calories you can eat in your daily calorie budget.
Noom gives you access to healthy recipes, fitness tips and tricks, and many more tools to help you stay motivated.
Also, if your sweet craving is still there, think about ordering these cool inexpensive silicone molds that you can fill with juice, yogurt, or even another beverage of choice 🍷🍾🥂 and freeze for a chilly summer treat! (Suzy: Add to cart 😁!)

Summer Reading Recs
This week, I read about The Last Flight by Julie Clark. It comes out on June 23, and it's a great price on pre-order right now! It's a thriller in which two women try to escape their lives by switching airplane tickets! Claire married into a political dynasty where the staff watches her like a hawk. She swaps flights with Eva, but Eva's plane crashes. Claire, now presumed dead by her family, assumes Eva's identity, along with the secrets Eva was trying to hide. Doesn't that sound good? I just added it to my Kindle queue!

Last weekend, I told you how much I was enjoying my Kindle! I can read it outside with no glare, and inside with no light equally well! It's been a game-changer for me! I also told you about Amazon's current Kindle Unlimited for two months free deal. I got a couple of questions about it, so let me clarify! (Because, um, that FREE two months will get you through the summer, right?!🙌🏻) Here's the scoop:
Kindle Unlimited is a subscription service. If you want to continue after the free two months, it's $9.99/mo.
You can cancel your subscription at any time by visiting your Amazon account and adjusting your settings.
It doesn't include every book on Amazon or Audible, but many best-sellers are included. When you're browsing, look for the titles marked with the Kindle Unlimited logo. (You can browse the catalog HERE.)
It does offer access to over one million books, a rotating selection of magazines, and thousands of books with Audible narration. Click HERE for more information.
This Week on ENB
Thanks for your great response to my post on Fashionable Face Coverings! Never would I ever have thought I'd be writing a post on that🤣, but it was fun to put together for you! Y'all have such great taste! Here were your favorites:

In that post, I also shared my three go-to lip products that won't smear under your face covering. Matte lipsticks and lip stains can be drying in the winter, but with the humidity of the summer they work for me! I shared an Instastory yesterday after I went to the dentist to get my teeth cleaned. I was wearing Lip Couture, and it was still on afterward!👍🏻 I discovered that brand when I read an article about the waterproof makeup that the US Olympic Synchronized Swimming Team wears!
Lip Couture (I wear "Latte Confessions" or "Innocent Vixen" | Cover Girl Outlast All Day Lip Color (Not pictured, but I love the pinky shade "Wine to Five" in the summer.) | City Lips Matte (Unfortunately, all shades except red are out of stock until September due to manufacturing delays.🙁 )

In case you're interested, here are the other products the US Olympic Synchronized Swimming Team swears by for waterproof staying power:

Thanks also for the love you showed on my Hair Over 50 post where I confessed that for some reason 🤷🏻‍♀️, I hadn't changed my haircare products in about 25 years! I don't do sponsored posts very often, and when I do, it's for a product I really believe in, so believe me when I'm telling you that Hair Biology is good stuff, y'all! Just like aging skin, aging hair needs different care. (Aw, Suzy made a rhyme!😂) If you didn't get a chance to check out that post, you can do it HERE.
Sleeveless Pintuck Blouse | Ankle Jeans with Scarf Tie Waist | Similar White Tory Burch Flip Flops (non-designer version HERE) | Crystal Double Pave Hoop Earrings (only $18 this weekend!)

My pals at NYDJ let me pick out some goodies last week to share with y'all, and I couldn't wait to show you this happy pintuck sleeveless top and these clever scarf tie waist jeans! (The jeans also come in two shades of blue in regular and plus size!) Instead of a button fly, they have a hook similar to the ones you'd usually find in trousers, and two grommets on either side that you thread a scarf through to customize your look! My white ones came with this neutral scarf, but of course, I had to buy a 12-scarf variety pack on Amazon so I could play around!

Best Weekend Sales
As I do every weekend, I'm sharing the best deals and sales! I do it to save you time, money, and to help you be efficient in your shopping and get back to enjoying your weekend!😁
Thank you for shopping with my links! It supports Empty Nest Blessed and allows me to keep doing this job I love so much!
I think the best weekend sales are at J.CREW, NORDSTROM, CHICO'S, and SOMA (starting tomorrow).
BAUBLEBAR | Take 15% off their best-selling gold ball Pisa bracelet collection with code PISA15.
BODEN | 15% off + free shipping/returns.
Navy Geo Sleeveless Shift Dress (Total of 50% off now with code SUN40) | Navy Stripe Sleeveless Terry Tunic (Not included in sale.)

CABANA LIFE | 40% off sale styles (like the two above!) with code SUN40. This is my fave brand of UPF50+ clothing.
White Linen Shorts (40% off with code 29238 through 6/21) | Navy Tee with White Mini Pom Pom Detailing (15% off)

High-Rise, Pleated Paper Bag Waist Utility Shorts (on sale this weekend at WHBM!)| Linen Tee in "Sand" (40% off through 6/21 with code 29238)| Tory Burch Flip Flops (43% off with code EXTRA)| Convertible Circle Two-Row Necklace | Pave Circle Drop Earrings

CHICO'S | 40% off entire purchase with code 29238 through 6/21! Have you seen their linen collection? I'm wearing shorts they sent me from the collection in the beach photo above. They run large! I typically wear a 2, but these are a 00, so order down a size or two. My navy tee is from Boden (15% off this weekend!), has tiny white pom poms around the neck and sleeves, and comes in several different color options. You can see them all HERE. The tan v-neck linen tee (gifted) I'm wearing in the lower photo above is also from the linen collection and 40% off with code 29238 through 6/21! It comes in a couple of different styles and I think the loose and flowy style just says summer!
COLUMBIA |25% off almost everything in their Gear Up for Summer sale!
THE CONTAINER STORE | 30% off closet essentials; 25% off Elfa; 25% off drawer organizers, and lots more on sale! Click HERE to check out all the deals!
DRAPER JAMES | This entire weekend – All chambray dresses $79!
J.CREW | 60% off "Look Your Best" Styles, including the prettiest dresses (I'm eyeing this one!), things like this darling flutter sleeve crocheted top, and this lovely eyelet top.
KATE SPADE | Extra 40% off sale styles with code EXTRA40.
LAND'S END |Take 60% off your entire order with code BLUE. Did you catch my recent swimwear post featuring the adorable Draper James + Land's End swimwear collection? It's all 60% off now! Headed to the beach soon? Bob and I love their beach shoes with an adjustable bungee cord lock at the back for a secure fit. They keep the sand out while you're walking in the surf!
LOFT | 40% off full-price styles with code NEWNOW.
MARLEY LILLY | Free Americana cooler with $100+ purchase I just ordered this cute insulated personalized skinny tumbler! (Would make a great gift!)

NORDSTROM | Up to 60% off in their huge CLEARANCE sale + an extra 25% off for a limited time (for a total savings of up to 70%). Prices are as marked. There are some really good deals in this sale! Remember to filter in the left sidebar by size, brand, etc. for efficiency!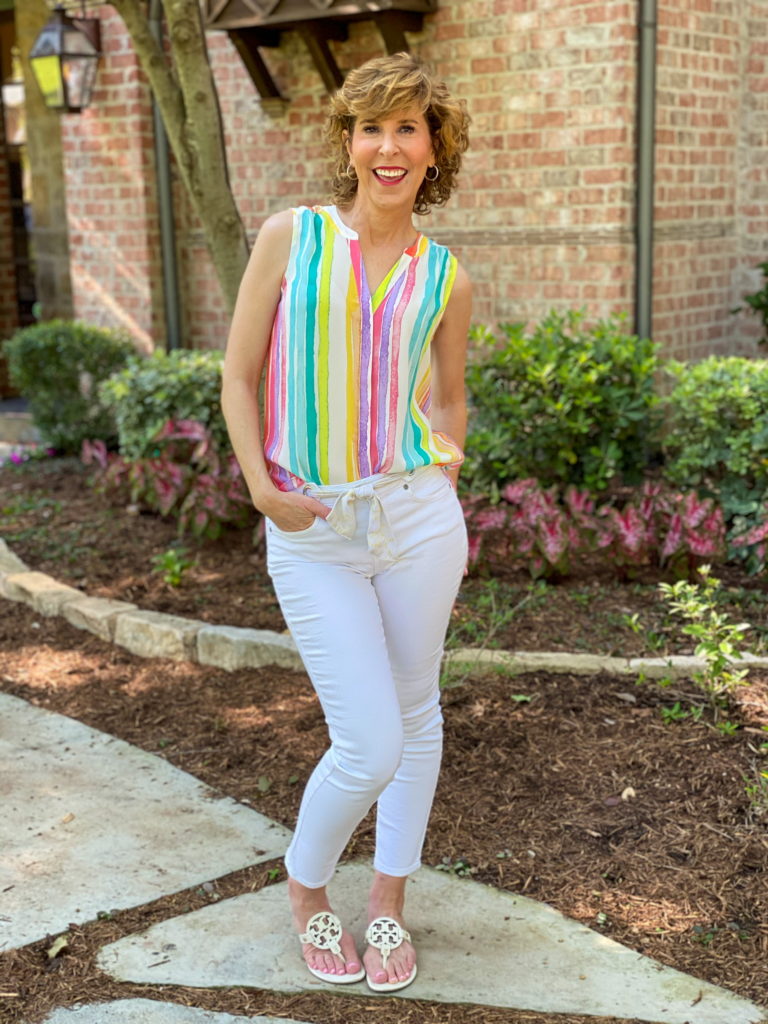 NYDJ | 5 Days of Surprise Savings! Today (6/19), 2 for $80 tops. Unfortunately, this particular top isn't included in the sale, but other patterns in the same style are. Click HERE to check them out!
PETER MILLAR | I almost didn't include this sale because I'm afraid Bob will see it and go a little crazy😂! This is one of his favorite brands! Take 30% off select items including the Crown Collection. Ends 6/20.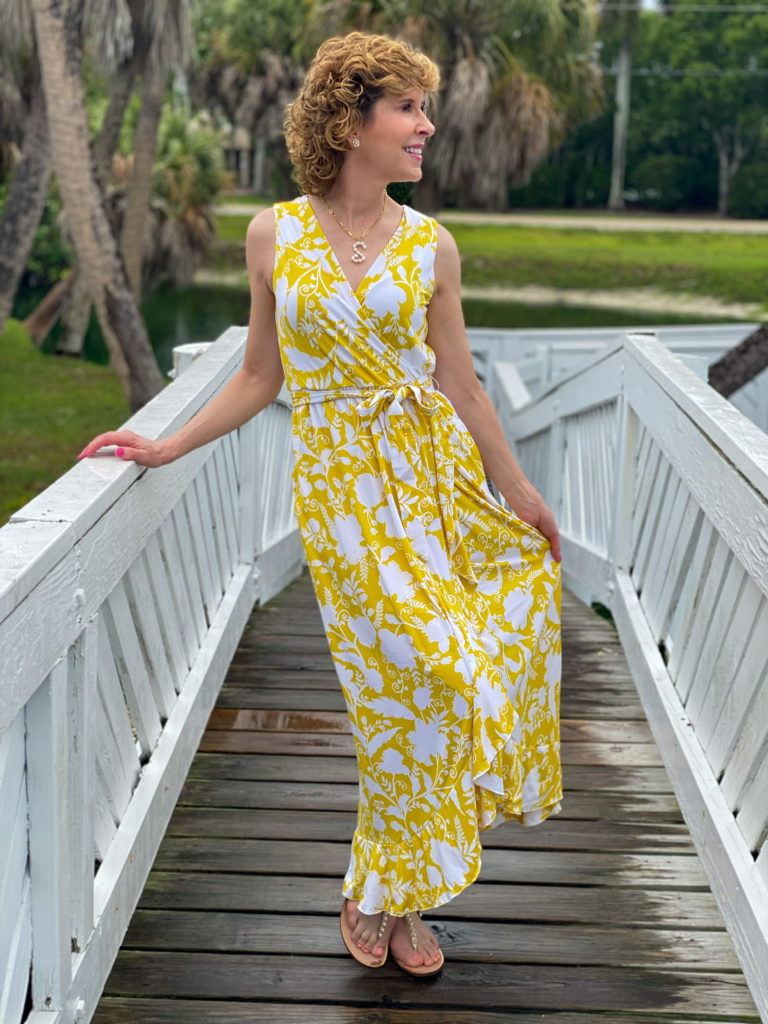 Double Lined Ruffle Trim Maxi | Pearl-Embellished Sandals (similar) | Pearl Initial Pendant Necklace | Pearl Stud Earrings

SOMA |Shhhh!!! I just got an advance word from my pals at Soma about a big upcoming sale! Tomorrow (6/20) through Monday (6/22), you can take 30% off your entire purchase! Take an extra 30% off styles that are already on sale! THIS maxi dress has been your favorite of all of my vacation looks! Y'all made it a best-seller! It's still available in XS and XL, and it fits TTS. This is a great time to stock up on their Cool Night PJs. I love them so much!
TALBOTS | 40% off markdowns + extra 15% off for Talbot cardholders.
TARGET | They always have great Father's Day gift ideas, and this year is no different! Check them all out HERE. There's also lots of other goodness on sale this weekend at Target:
ON LEFT: Pink & White Stripe Jetsetter Tee (almost sold out, other colors/patterns HERE) | Pink Smooth Stretch Shorts |Coordinating Pink Belt | Similar White Tory Burch Flip Flops (non-designer version HERE) | White Ribbon Fan Earrings

ON RIGHT: White Off-the-Shoulder Poplin Blouse | Pink Smooth Stretch Shorts | Oblong Scarf (worn as belt) | White Wedges (similar) |Convertible Mixed-Stone Necklace | Earrings sold out

WHBM | $29 best-selling tees + $49 shorts & crops. This sale includes my personal favorite, the Jet Setter Tee (pictured above and also in THIS post), which is loose and flowy and so perfect for summer! I'm also a huge fan of their Smooth Stretch Shorts. They come in 5″ or on-trend 11″ Bermuda length. I like that they aren't too clingy, but have the perfect amount of stretch to make moving easy.
Have a great weekend, sweet friends! If you're not subscribed to my email list, now would be a great time to do that! I don't want you to miss a thing I have coming up! You can unsubscribe at any time! Also, be sure to follow me on Instagram, Facebook, Twitter, Pinterest, YouTube, and the LiketoKnow.it app for lots more content!
Blessings,