What's Up, Weekend? Y'all how can it be May? Here in Texas, restrictions started easing up today as we moved into Phase 1 of "reopening." As things begin to open up a little, people seem to feel somewhat hopeful, but many are still feeling concerned about venturing out. I get it! We'll continue being careful, but it's so lovely to think about maybe going out for a patio meal at one of our favorite restaurants this weekend. We'll see! Be sure to watch my Instastory to see if we venture out!
Here's some good stuff to know this weekend!
Mask Up, Y'all!
After doing a bunch of research about masks 😷 this week (THIS was the best article I read), I bought a couple of good quality washable cloth masks on Etsy. (You know I love supporting small businesses on Etsy, so after checking out what was available on Amazon, I headed over there instead.) They weren't cheap (and the shipping…😲), but they checked all the boxes of what the CDC says we need to look for in a mask:
Fabric type: The very best is two layers of high-quality, heavyweight quilter's cotton, with a thread count of 180 or more. A double-layer mask with a simple cotton outer layer and an inner layer of flannel got good marks as well.
Filter Pocket: Adding a layer of paper towel in between two layers of fabric could make your homemade mask more efficient. An engineer at an air purifier firm ran his own test and found a single paper towel filters 23 percent of 0.3 microns, and two paper towels filtered 33 percent.
Washable & Durable: Since you'll be washing your masks frequently, you need a durable, well-made mask.
Breathable: The thicker your mask is, the more it filters out, but the less breathable it is. That's just the way it goes. My main concern was making sure ours were cotton and linen, to cut down on the sweat factor! 🥵
Snug Fit: You don't want gaps on the top, bottom, or sides, so I opted for a mask that was made with a fabric to cover the nose and sit flush to the face around the edges.
The ones we bought were available in several solid color options (dusty pink for me, steel blue for Bob!), and shipping was fast.

Zoom Tips & Tricks
Have you been doing a lot of Zoom video calls? I've done a virtual Birthday party, Bible Study meetings, and more! I'm pretty used to being on camera, so when an Empty Nest Blessed reader reached out this week and asked me to share some tips for looking your best on those Zoom calls, I decided to share them with you all as well!
Good lighting is essential! Position yourself facing a window that gets good natural light. If you have a window behind you, it will over-expose the camera, and your face will be shaded. The best light in our house is in our bedroom, so that's where I film everything from YouTube videos to Zoom calls!
Don't worry about what's behind you! If it's unsightly, or cluttered, opt for one of Zoom's customized backgrounds!
Utilize Zoom's "Touch Up My Appearance" soft-focus feature. For instructions, click HERE.
Position your camera slightly above eye level, so you have to tilt your head upward a little bit to look into it. That will reduce any neck wrinkles or double chin issues!
Wear a solid color top that you feel good wearing. Need help finding out your most flattering colors? Click HERE. What you wear on the bottom is your decision! 😂 Need some ideas for what to wear, check out this specially curated collection of "What to Wear from the Waist Up" items at Nordstrom.
Add a little extra blush and lipstick. I've used this blush for years! I like it that it's highly pigmented, so it doesn't fade out over the day. This inexpensive and bright lipstick is what I always use for Zoom calls! It looks good on pretty much everyone!

Home Maintenance + Gardening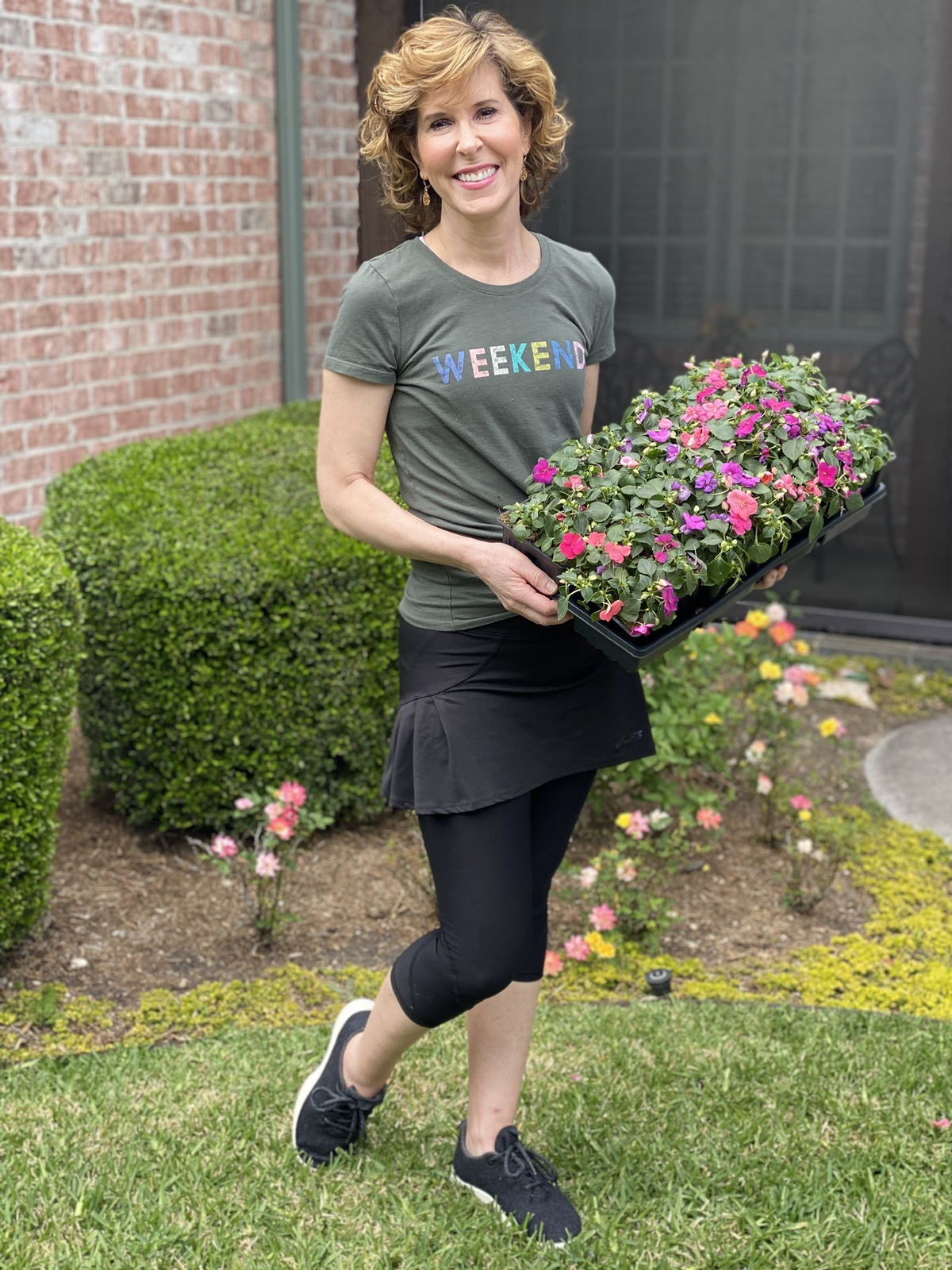 Weekend Tee (similar) | Skirted Cropped Leggings (similar) | Black Tennies | Lip Gloss (Sun Diego) -Take 25% off right now with code EMPTYNESTBLESSED

Bob and I worked in the yard last weekend! The weather was lovely, and we planted caladium bulbs and these pretty impatiens. It was so good to be outside and garden! The weekend tee I'm wearing in this photo is from a year ago, but I found and linked a similar one that I like even better! On my bottom half, 😊 I'm wearing skirted crop leggings (aka "skeggings" 😂)! They feel girlier and a little more modest than leggings without a skirt, and I like that I can wear a tee or sweatshirt with them without being concerned that my rear end is covered! 🙈 Mine are old, but I linked similar, and you can find lots of different styles HERE.
The other thing we did last weekend was to demineralize our shower head. If the water from your showerhead is shooting out in all directions, or your flow has become almost nonexistent, the holes in your showerhead are probably clogged with minerals. Ours was! Here's how we did it:
Fill a plastic bag with vinegar
Attach the plastic bag to the showerhead, so the holes are immersed in the liquid, and secure the bag to the shaft with a rubber band or two.
Allow it to soak at least 15 to 20 minutes or overnight.
Remove the bag and run the shower on hot to flush it out.
Our shower flow is so much better!
Giveaway Winner
In last weekend's post, I told you that I was partnering with my friends at City Beauty for a Mother's Day giveaway! Many thanks to all who entered! The winner is Kenda D! She won one City Lips Clear (I use it as a serum for my lips at night!), along with one City Lips colored gloss and one matte lipstick of her choice!
If you entered but didn't win, you can still take advantage of the 25% SITEWIDE EXCLUSIVE discount just for Empty Nest Blessed readers at the City Beauty site! Click through with THIS link and use the promo code EMPTYNESTBLESSED at checkout to get the discount.
Mother's Day & Graduation Gift Ideas
I shared some Mother's Day Gift Ideas in THIS post. You can also check out my Amazon page for lots more!
I shared some Graduation Gift Ideas in THIS post. For my Amazon Graduation Gift ideas, check out the "College Essentials" section if you have a high school grad or the "Gift Ideas for Young Adults" if you have a college grad.
What are you up to this weekend? I felt a little burned out this week, so I'm going to try to rest and enjoy the outdoors. I bought myself a UPF 50+ pop up tent 🤣 so I could be out in the sun, without the sun damage! The weather is supposed to be in the 90s here in Dallas, so the pool is calling my name!
Blessings,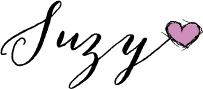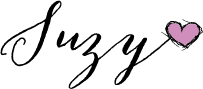 SHOP MY LOOK