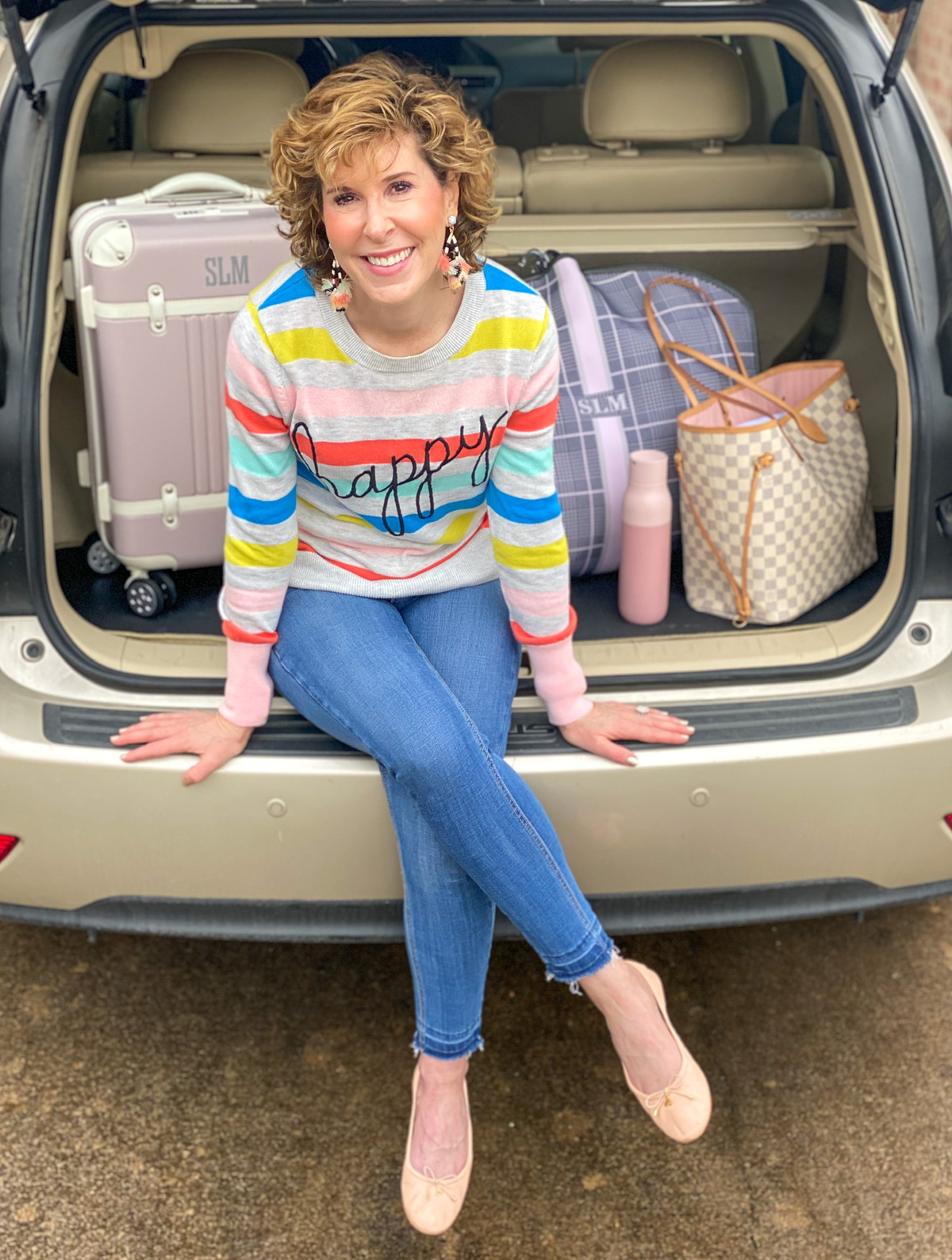 Welcome to the weekend, y'all!  I hope you've had a great week! Honestly, mine's been kind of wild! I think we got used to this sort of thing when our kids were younger, but as empty nesters, we're out of practice at it! It was just one of those weeks where there we a lot of moving parts, and I never quite felt like I got it together! Are you feeling me?
My Wild Week
Last weekend a couple of things went down in our family. One of them was joyful! One of them was tragic. They were things that happened to our kids. (But we all know, if they happen to our kids, it's like they happened to us.) I love sharing my life with you here on ENB, and on my social media too, but I do have to be careful to honor my kids and not make their lives too public! I always try to ask permission before I share about them, and sometimes I receive permission, sometimes I don't! (And, in the case of the tragic thing that happened last weekend, I didn't even ask. It was just too tender.)
The joyful news is that our 23-year-old musical theater actress daughter, Becca, who's been living back at home while she was in between show contracts began to get multiple offers! She's now accepted work through the end of the year, and the first one starts next Monday. So she's spent the week getting ready to leave in a flurry of activity! #bookedandblessed
Bob and I have loved having her home these past few months, and the three of us have worked very hard to move our relationship to an adult level. She bought and prepared her own food, did her own laundry, and came and went as she pleased. We tried not to ask where she was and what she was up to, and we did our best not to offer advice unless we were asked. Having a boomerang child (she hates that term!) back in the nest takes effort. We really wanted to move our relationship to an adult level, but was tough (for all three of us) not to slip into old patterns and habits! It took a lot of intentionality, prayer, and honest communication. All in all, I think the three of us have done pretty well, and we are really going to miss her when she's gone again! 😢
I had a speaking engagement in Houston on Wednesday, and on Sunday, I decided to head out a day early. I could see the writing on the wall, and I knew that the latter part of the week was going to be crazy. If I wanted to be able to get the 2020 Spring & Summer Style Guide post out this week, as promised, I was going to have to have some quiet and focused time to work. So on Monday, I headed out for Houston. I worked at the hotel on Tuesday, and on Wednesday, I spoke to a group of parents from Memorial High School's PTA about Preparing For the Empty Nest. I love doing that! We talked about how to get your kids ready to leave the nest and the best way to get yourself prepared for that transition as well. (Interested in having me come and speak to your group? Browse my most-requested topics HERE and email me at [email protected] if you want to talk details. 😃) I hit the road back to Dallas right after I finished.
Back at home, I put the finishing touches on the 2020 Spring & Summer Style Trends post, published it, and then tried to pitch in and help Becca as much as I could! We're also dogsitting our sweet granddog for a couple of days, and so enjoying her!
Weekend Plans
We're headed to Waco on Saturday for some college basketball! It's our #1-ranked Baylor Bears vs. the #3-ranked Kansas Jayhawks. Our eldest son is driving in from Austin to go to the game with us, and this momma could not be more excited to hug her big ole' boy! I'll be all over my Instastory, so you can catch all the fun there. On Sunday, we'll head to the airport with Becca, go to church, and rest! What's up for you this weekend?  I hope it involves something that brings your heart joy!
Style Alert!
Next week, I'll be working on my 2020 Spring & Summer accessory guides! All of the spring & summer style posts I've been working on have me longing for warmer weather! It's fun to plan ahead, but realistically, lots of us still have plenty of winter weather to get through. In the spring & summer trends post, I worked hard to include examples of some of the spring & summer trends that were available in wear-now styles. Here are a few examples:
I'm loving this classic gingham sweatshirt 💙
Pom poms are a fun embellishment that you're going to see a lot of this spring and summer! There are lots of sweaters out right now that feature pom poms knitted right into them!

This one incorporates the multi-colored trend that's everywhere this season!
This one features the statement sleeve trend, and it comes in light pink, baby blue, and cream.
This cozy cardigan makes me want to curl up with a good book in front of the fire, for sure!

Multi-colored stripes are everywhere! You can find both vertical and horizontal, and you'll find every color of the rainbow🧡💛💚💙💓💜🤎💗, but not in rainbow order! The sweater I'm wearing in this post is a "happy" little example, as is this classic crewneck cashmere beauty.

This Week's Best-Sellers
It's always fun for me to see what you all loved from the past week, and tracking that helps me know what kind of content you're enjoying here on Empty Nest Blessed! There were two this week!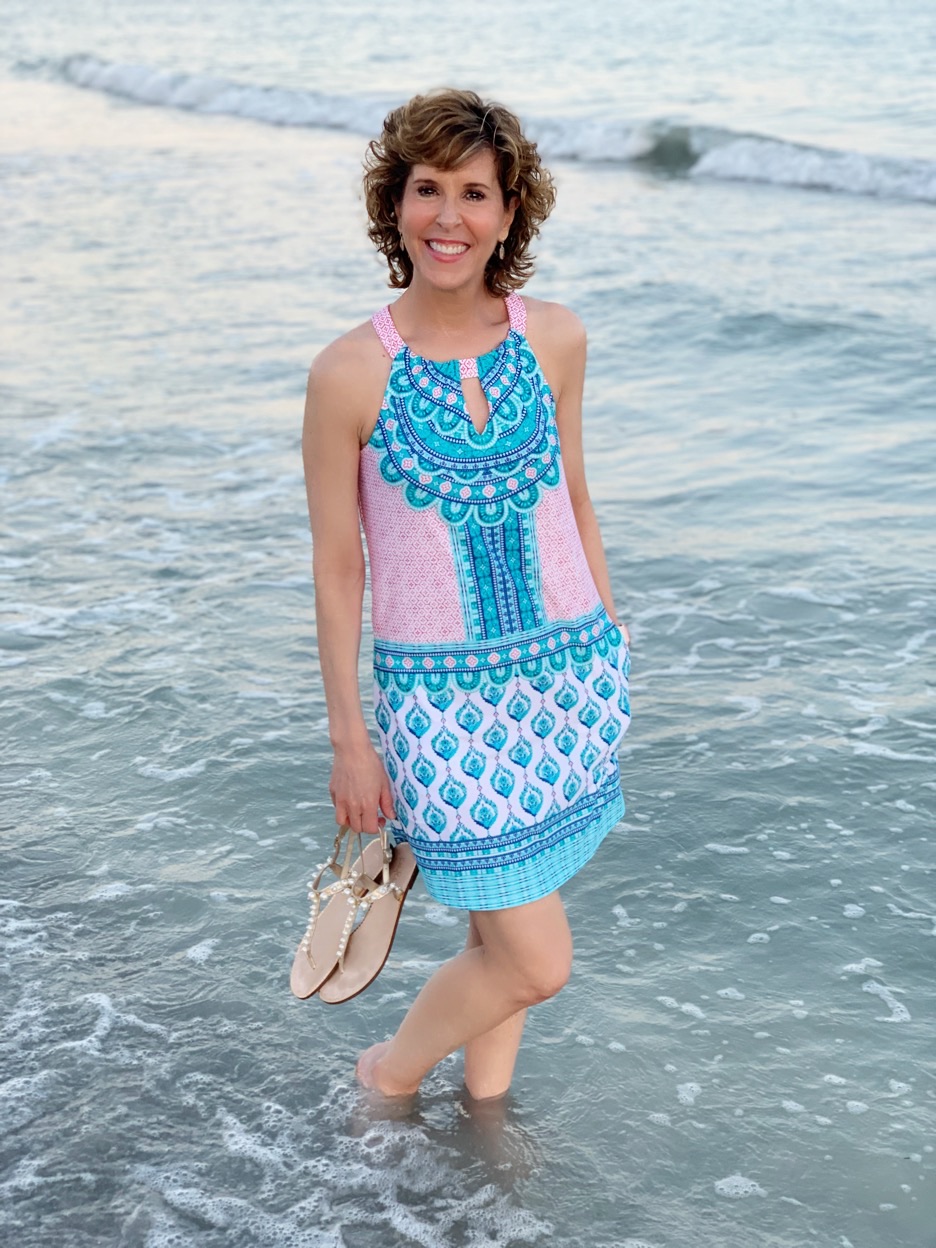 Santorini Sleeveless Dress UPF50+ | All Cabana Life Sale Styles
Some of y'all must be planning Spring Break getaways, because several people shopped the big Cabana Life sale this week! I love this colorful brand, and I especially love that everything on their site is UPF 50+. The dress I'm wearing in the photos above is included in the sale, along with tons of other great styles of dresses, coverups, swimsuits, and more! I even included this on-sale hooded tassel coverup in the 2020 Spring & Summer Style Guide when I was talking about the fact that tassels are still in style (in a big way!).

Striped "happy" Sweatshirt (Hurry—only a few left!) | Jeans (similar) | Blush Ballet Flats (similar) | Colorful Fan Earrings | Pink Suitcase | Monogrammed Garment Bag | Larq Sanitizing Water Bottle | LV Tote (pre-owned)

How fun is this "happy" sweatshirt?! 😁 People comment on it every time I wear it! I couldn't believe how well these colorful fan earrings went with it! That was what I used to tell my kids was a "happy accident!" I bought them for my birthday late last summer to wear with this easy-fitting swing dress. (See below!)
Monogrammed Swing Dress | Black Slip On Tennies | Black Straw Tote Bag (similar) | Colorful Fan Earrings

Have a wonderful weekend, my sweet friends!
Blessings,