It's that time of year again! In two weeks, we're headed to Miami for Bob's company party. It's always fun to get down there for a couple of days in December! This year the party is at the Perez Art Museum. The museum features sweeping views of Biscayne Bay, along with gorgeous outdoor terraces. We'll start the evening with cocktails on one of the museum's outdoor plazas and then head inside for a meal and other festivities. 😉 The attire is generally pretty casual, but holiday party looks abound!
Today, I'm asking for your help. I'm going to let you decide which of these three holiday party looks I should wear! We're going to break down each one, and I'm going to ask you to vote in the comments. Then, I'm going to wear whichever look you choose! (BTW, I'm also going to be asking my followers on Facebook, and Instagram to vote as well, so please only vote one time! 😀)
As always, click on any image or pink text links for more information or to shop.
Holiday Party Look One: Metallic Pants
If you saw my post about hiring a stylist and asking him to put together affordable holiday looks at Target, you've already seen this look! Everything's from Target except the shoes and earrings!
Metallic Paper-Bag Waist Ankle Pants | Short Sleeve Turtleneck | Black Pumps | Faux-Fur Clutch | Gold Drop Platinum Drusy Earrings

I love these metallic pants and I love the way this chic turtleneck balances them! Fun fact: both the pants and the turtleneck are machine washable and dryable! (I tested this before taking this photo! 😮) I think this look would work for New Year's Eve too, don't you? Both the pants and the top fit TTS (true to size), and I'm wearing my normal size in each. Target is currently offering an online-only special, with $10 off a $40+ purchase or $20 off a $75 purchase. (Click HERE for details.)
Trendy Elements
The paper-bag waist emerged as a trend in the spring, and we continue to see it! Just like most women, I was worried that it would make me look wider in the waistline, what with all of that extra fabric and such. My stylist told me the secret: pair it with a fitted top! The puff sleeves on this turtleneck are another hot style trend right now. Finally, big bows 🎀 are, well, big, 🤣 right now too! The tie on these pants is removable, and if you'd like a more tailored look, replacing it with a pretty black velvet belt would change up the look entirely.
UPDATE: Once all votes were tallied, look #1 got 32% of the vote. (Although one follower called them "tin foil pants" 🤣)
Holiday Party Look Two: Black & White Ruffles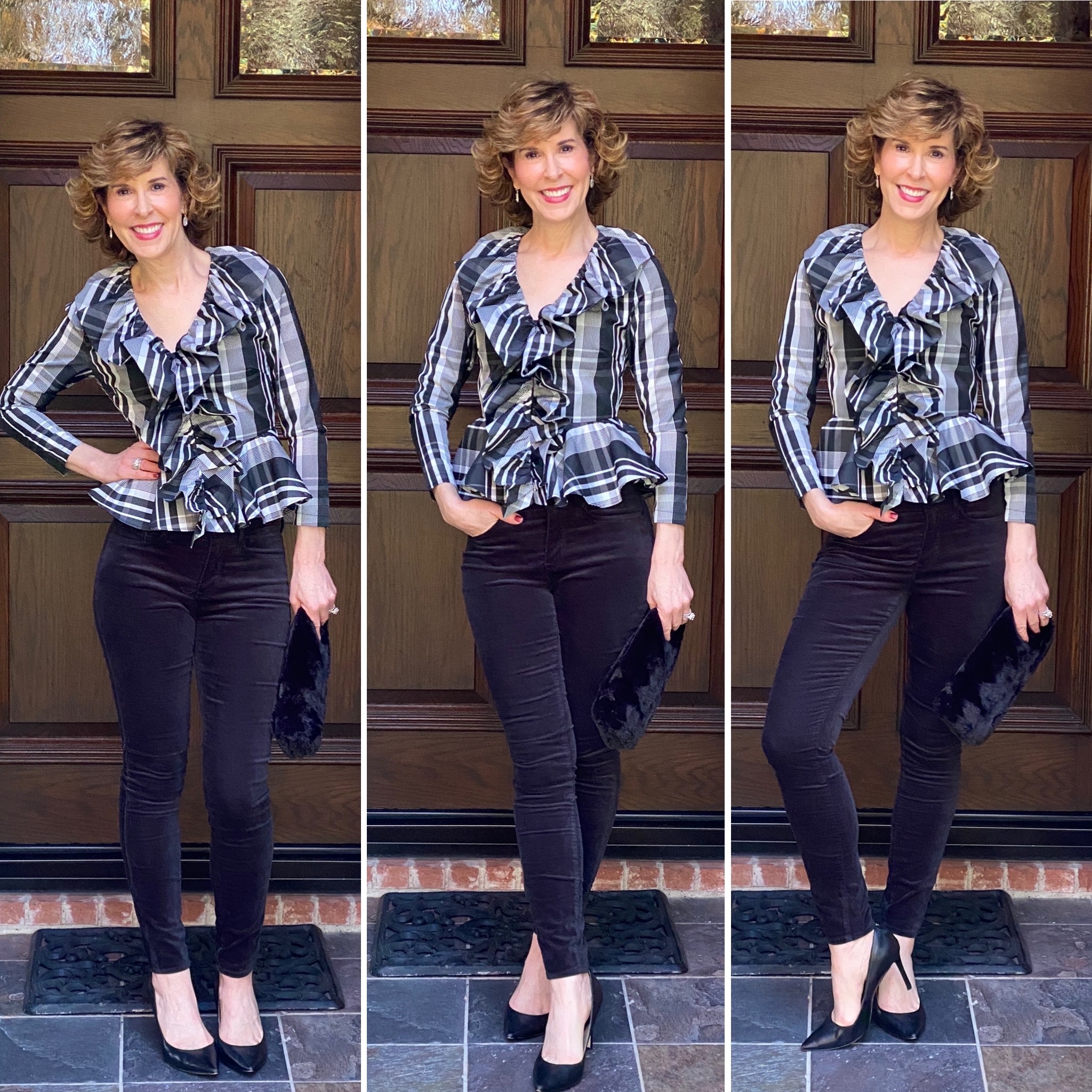 Ruffle Plaid Peplum Top | "Ami" Velvet Skinny Jeans | Black Pumps | Faux-Fur Clutch | Gold Drop Platinum Drusy Earrings

I fell for this ruffle plaid blouse the moment I spotted it! It reminds me of the taffeta prom dresses I wore in high school! The fabric is a polyester taffeta, so, again, it's machine washable. It has princess seams, a hidden button placket, and ¾-length sleeves. (It fits TTS but doesn't have stretch, so there's no "give" when you move.) It's from Boston Proper, and they're currently offering $50 a $150+ purchase from their holiday collection with the code HOLIDAY50.
The velvet jeans are a classic piece that I think every woman needs in her wardrobe for the holiday season! My friends at NYDJ gifted these jeans to me for the holidays, and I love the way they're easy to move in, and they boost and tuck in all the right places. They also come in burgundy velvet and green velvet, which I've linked below so you can check them out. (To read more about NYDJ's patented fit technology, click HERE.) Their jeans come in regular, plus, and petite, and are guaranteed to take you down a size, so be sure to order one size down from your normal if you order. 🙌

Trendy Elements
Girly ruffles are definitely a hot look right now, and this top delivers them in a big way! Velvet jeans are always on-point for the holiday season, and I'm so glad NYDJ finally designed some with give and stretch. (Dance floor, here I come!) 💃🏻
UPDATE: Once all votes were tallied, look #2 got 16% of the vote. (This was Bob's favorite, so I told him I would count his vote twice! 💘)
Holiday Party Look Three: Plaid Pants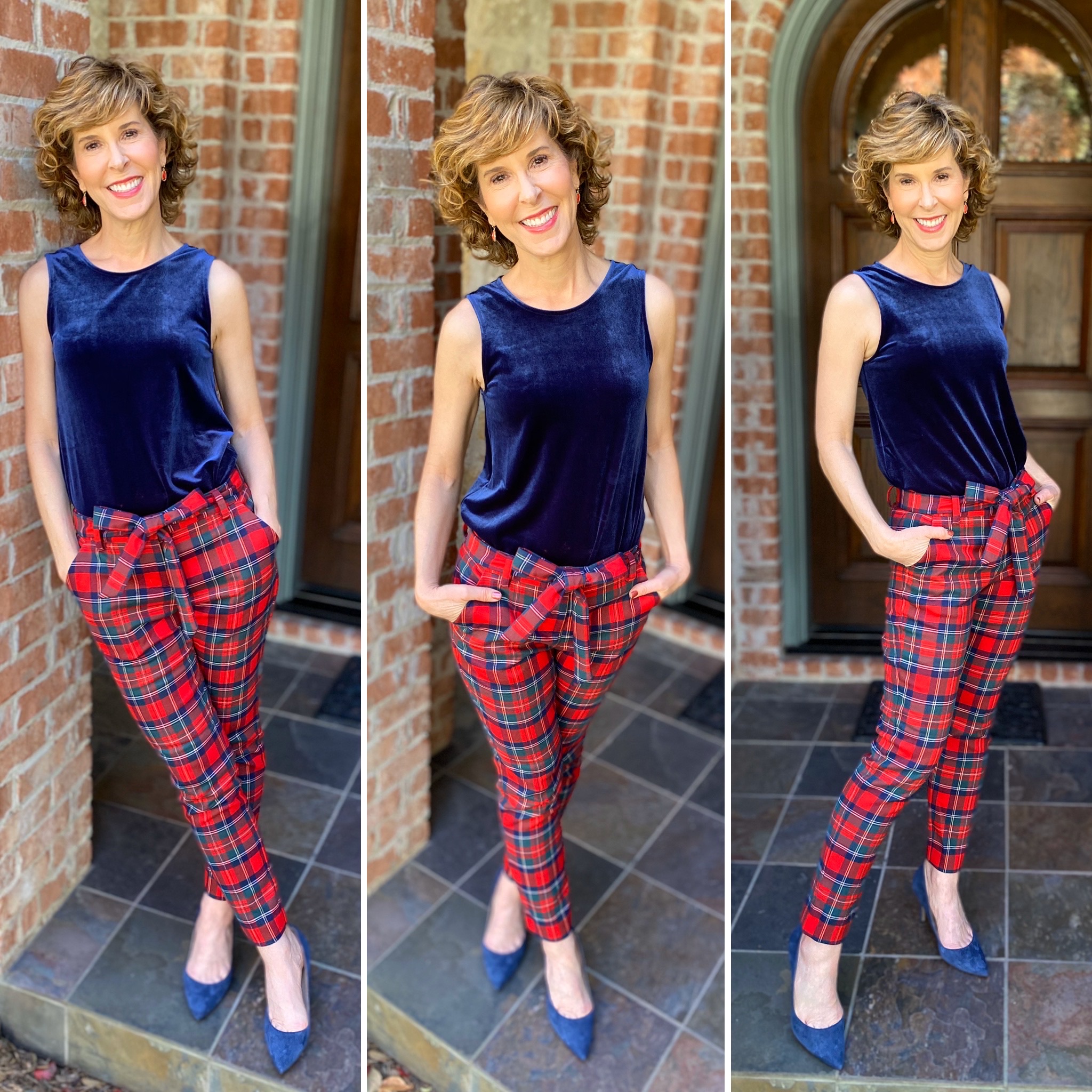 Knit Velvet Shell Pullover | Plaid Ponte Cocktail Pants | Navy Suede Pumps | Navy Clutch Purse (not pictured) | Gold Drop Earrings in Red Illusion

Of course, I love the explosion of color in this look! I have to admit, I wasn't very original in putting this look together! 😳 The top and pants are both from Vineyard Vines, and they're shown together right on the website! (I figured, why mess with a good thing?😂) I love the preppy, slightly beachy vibe. The velvet shell is drapey and comfortable, with a rounded hemline. It has a keyhole closure in the back. The pants feature an easy fit with 4% spandex and front pockets. Both fit TTS and both are 25% off right now with a $100+ spend and the code GIFTS19.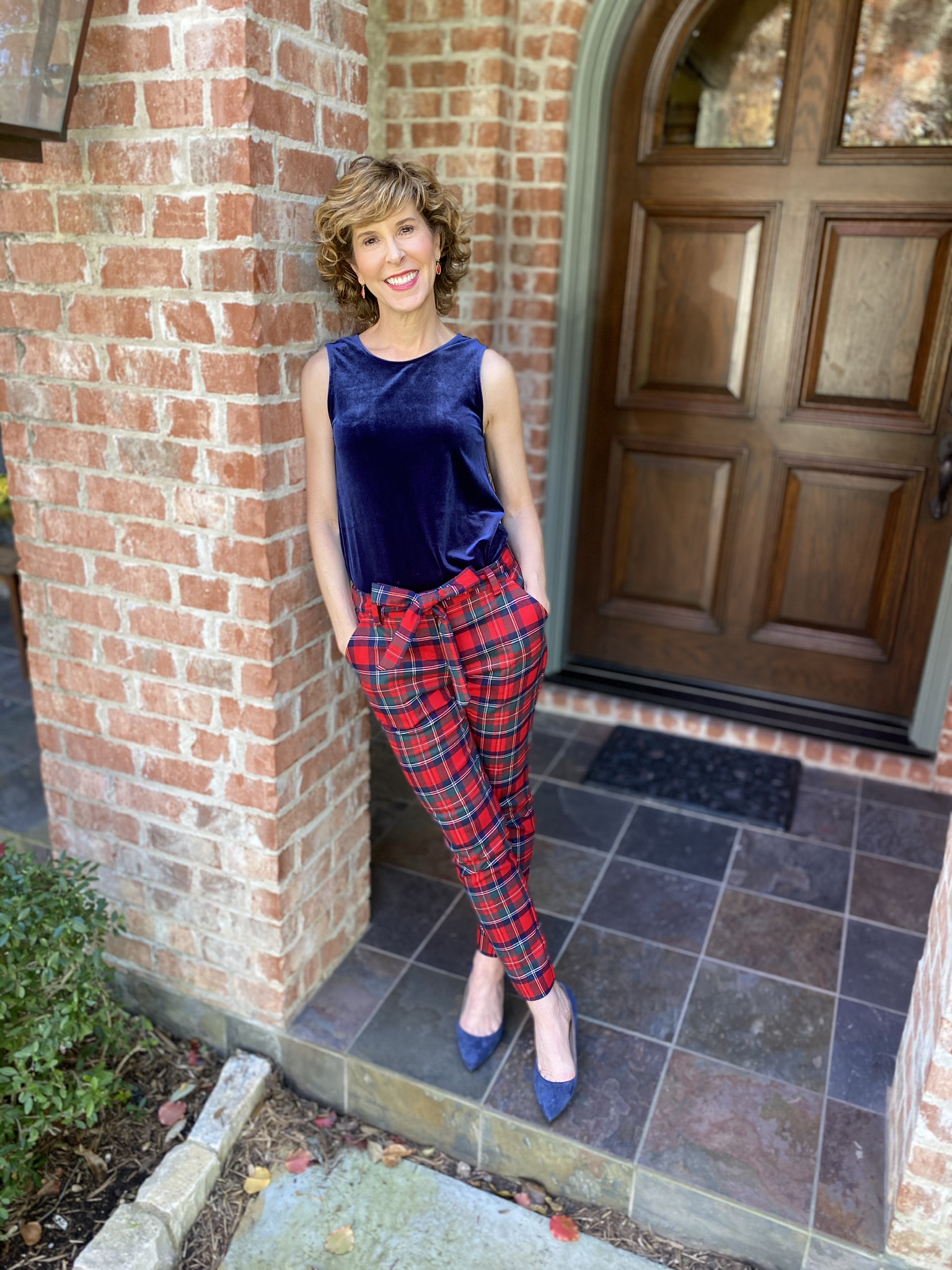 Trendy Elements
Once again, we see the bow trend front and center (literally!) in this look. As in the case of the metallic pants above, the belt is removable. That means the pants would be easy to dress up or down. Add a crisp white blouse, a black belt, and strappy shoes, and you've got an entirely different look going! (I'm all about versatility when it comes to fashion. Aren't you?). The flattering ankle-length pants mean that your shoes can be the star of the show, whether you go sparkly, or keep it classic as I did with these more-comfortable-than-they-look Sam Edelman suede pumps.
I ordered a navy clutch to go with this outfit, but it didn't come in before we took these photos. When it came, I took a quick photo so I could share it with you.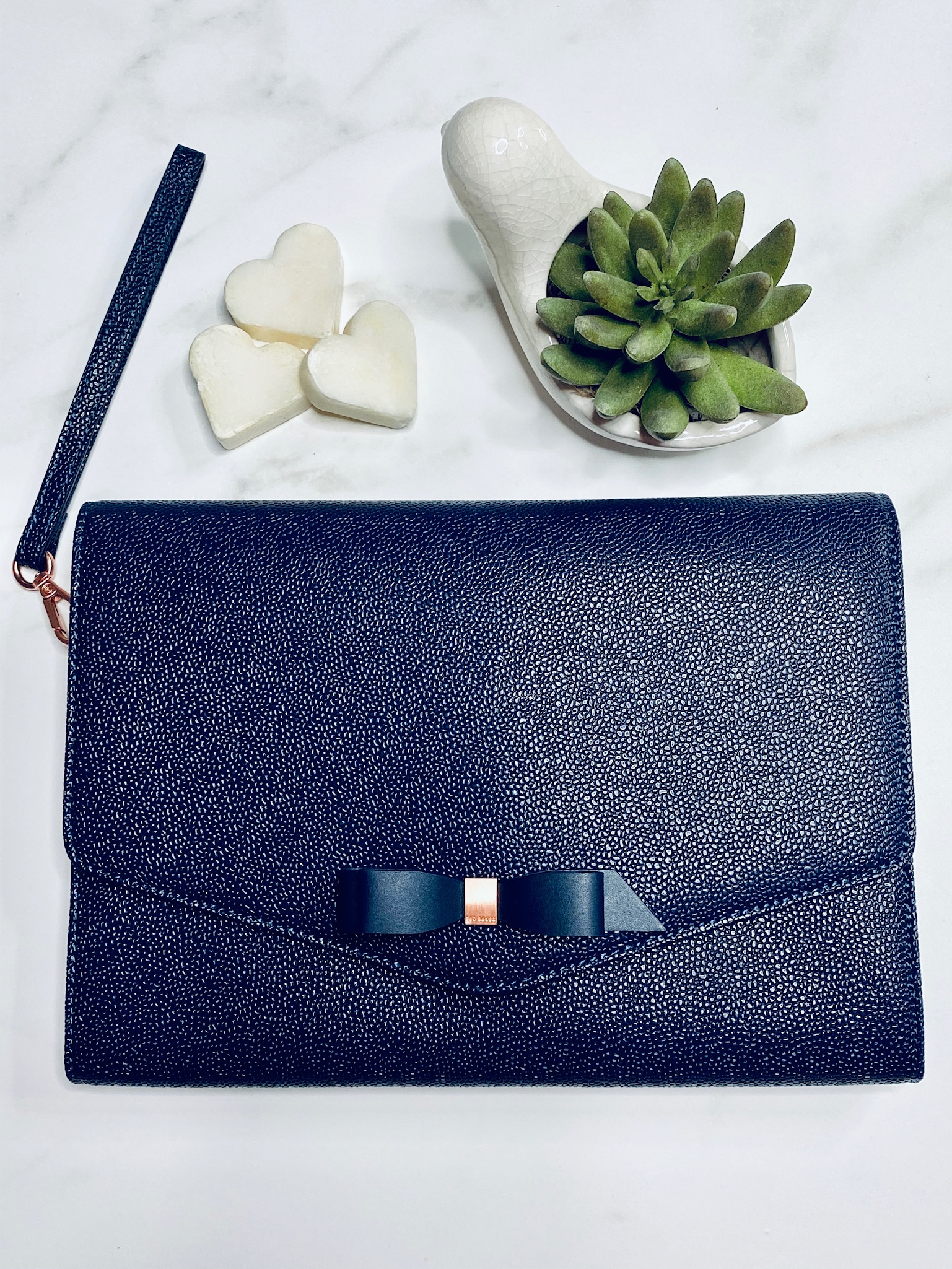 Ted Baker Leather Navy Bow Clutch
UPDATE: Once all votes were tallied, look #2 got 52% of the vote. (Although one follower said they looked like pajama pants! 😴🥱😂)
Holiday Party Look: It's Time to Vote!
So which will it be? I'm absolutely dying to know which you'll pick! (Remember, the party is in Miami, so I don't have to worry about wraps or coats!) Please leave me a comment below and let me know your fave—just a 1,2, or 3 is fine. 😀 Thanks so much for your help! xoxo
Happy Friday! What's up for your weekend? I'm traveling to Florida today to spend Thanksgiving week with my parents, and I'm so ready for the warmer temps and ocean breezes! 🌴
Watch your inbox on Saturday for a very special "What's Up, Weekend?" post. There's a big ole' sale at one of my favorite sites exclusively for those who follow me on the LiketoKnow.it app! If you don't follow me there, head on over to the App Store, download the app, and follow Empty Nest Blessed for all the details! (For more information on how to follow me on the app, see the video on my Instastory or check out THIS post.)
Don't forget to check out the more than 600 items in nine categories on the Empty Nest Blessed Holiday Gift Guide this weekend! (I add to it all the time—at least 15 new items just this week!) You'll find unique and fun items there that you won't see anywhere else! Also, if Amazon is your jam, head on over to the Empty Nest Blessed page on Amazon for my Amazon-only gift guide.
(Every time I mention Amazon, I'm required to state that as an Amazon Associate, I earn a small commission from any qualifying purchases you might make as a result of this post. 😀)
Blessings,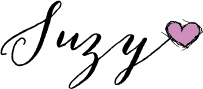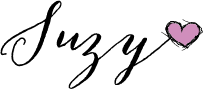 P. S. Be sure to Pin this post on Pinterest for future reference! (And please follow Empty Nest Blessed while you're there!)