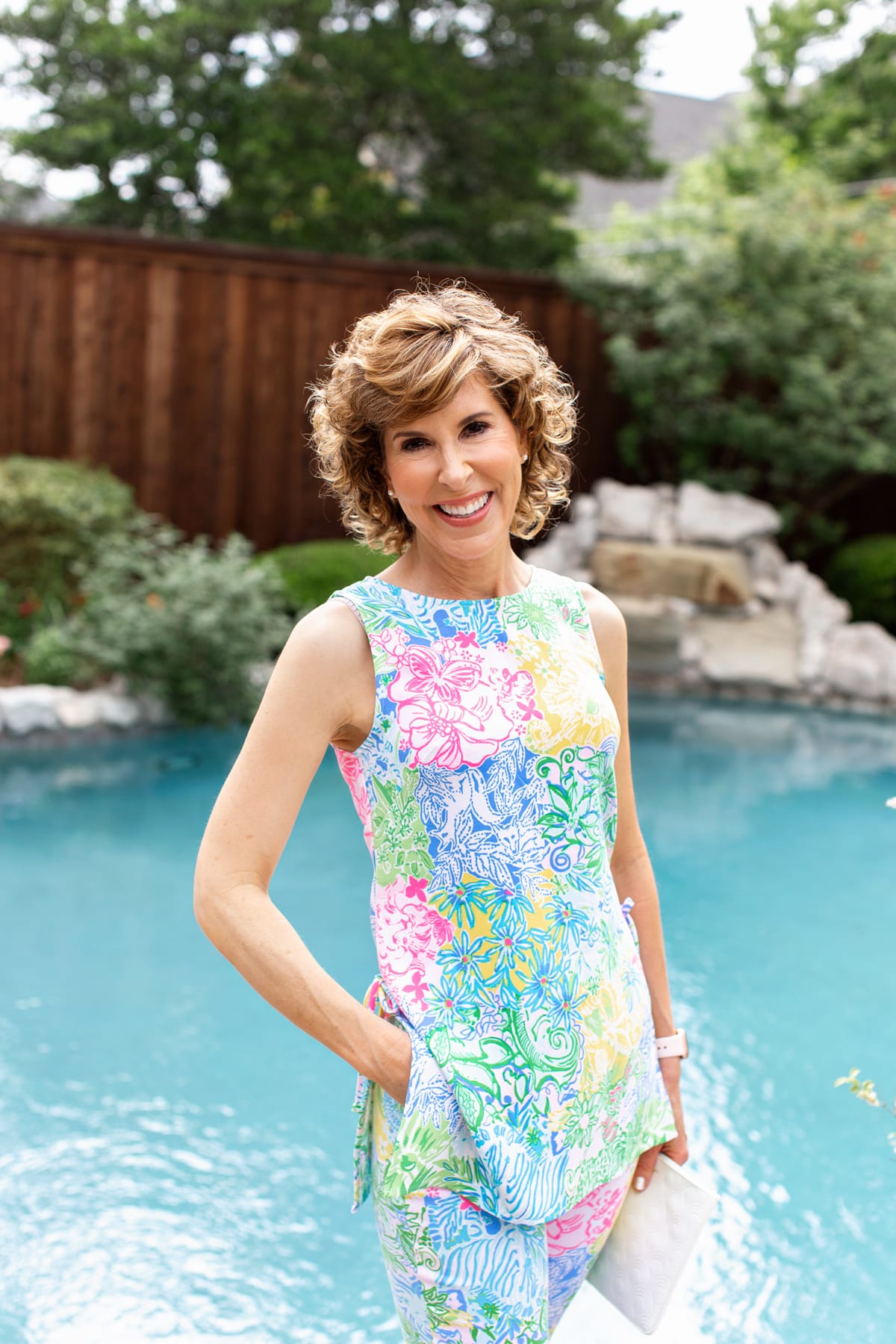 I love Lilly Pulitzer's classic styles, but they tend to be expensive, and they rarely go on sale. But when they do, they go BIG! Twice a year, Lilly Pulitzer holds a giant After Party Sale, and if you like Lilly, it's well worth your time! This year it starts online on Monday, September 9, at 7 a.m. CST (8 a.m. EST) and goes through Wednesday, September 11 at 10:59 p.m. CST (11:59 p.m. EST). Today, I'm going to give you all the scoop you need on the sale, and even share a few insider tips and tricks you need to maximize your shopping success! (Look for those in Lilly green below!)

What You Need to Know About the After Party Sale
In past years, Lilly Pulitzer has released sale products in waves, a little at a time. But this year, they're releasing everything at once. What does that mean for you? It means that as soon as an item is sold out, it's gone, and no more will be released.
Although you can shop from your phone or tablet, or the Lilly Pulitzer app, the best experience will be shopping at LillyPulitzer.com.
Once you get to the Lilly Pulitzer site, you'll be placed in a virtual waiting line. Don't panic and think you need to refresh your page. Keep it open and give it time. Refreshing will knock you out of the queue. It usually moves pretty fast!
Once you get into the sale, use the filters to guide your search! First, filter by your size. You can also filter for specific prints.
During the sale, even if an item is in your cart, it isn't reserved for you! That means you need to be ready to checkout quickly once you're finished shopping. (See the pre-sale to-do list below!)
New styles will be added throughout the sale, so come back and check several times throughout it. In fact, they've promised to

drop

new sale items during the sale, one on Tuesday, September 10th and one on Wednesday, September 11th! Stay tuned to @lillypulitzer on Instagram to find out specifically when!
All sales during the After Party Sale are final.
Due to high demand during the sale, it can take four to six weeks to receive your items.
Shhhh🤫…BIG INSIDER SECRET…Items tend to start "disappearing" from the Lilly website in the week or so before the After Party Sale. For example, the tunic top and matching pants I'm wearing in the photos in this post currently say "sold out" on their product pages. All I'm saying is, don't be surprised if they are suddenly "restocked" for the sale. Those Lilly peeps can be tricky like that! 😄

Florin Reversible Tank Top (Click HERE to check out the other patterns/colors) – from $44 | Blush Denim Shorts (similar) | Reversible Snake/Patent Belt (sizes limited, similar HERE) | "Blessed" Coffee Mug | White Acrylic Monogram Necklace | Faux Pearl Stud Earrings | Collagen Powder (See this post for more info.)

To Do Before the 

After Party Sale
If you're not familiar with the Lilly Pulitzer website, it would be smart to familiarize yourself with it before the sale. Click HERE for a tutorial on their website, and HERE for a rundown of the new tools and features that they've integrated.

 

Go to LillyPultizer.com and create an account if you haven't already. Enter your credit card info now, before the sale, to save time during the sale and increase your chances of getting everything in your cart. (Remember, just because it's in your cart, unfortunately, it isn't reserved for you. It's not yours until you actually check out.)
Fill out a

Fit Predictor profile

to get a suggested size in any given style. You should also use your best judgment and previous experience with Lilly Pulitzer products to make your decision, as these size guides are based on industry averages and sizing may vary based on personal preference. Find the "Fit Predictor" tool right under the sizes on each product page. To set yours up and link it to your account, go to a product page like the awesome reversible v-neck top (also comes in patterns) in my photo above, click "Calculate Your Size" next to the Fit Predictor, and fill out the info they ask for. They will calculate the correct size you should order. (I've found this to be very accurate.)

Four Classics to Shop During the After Party Sale
While we can't predict exactly what will be on sale, when it comes to Lilly, there are four classics that I think you should consider shopping if they are on sale.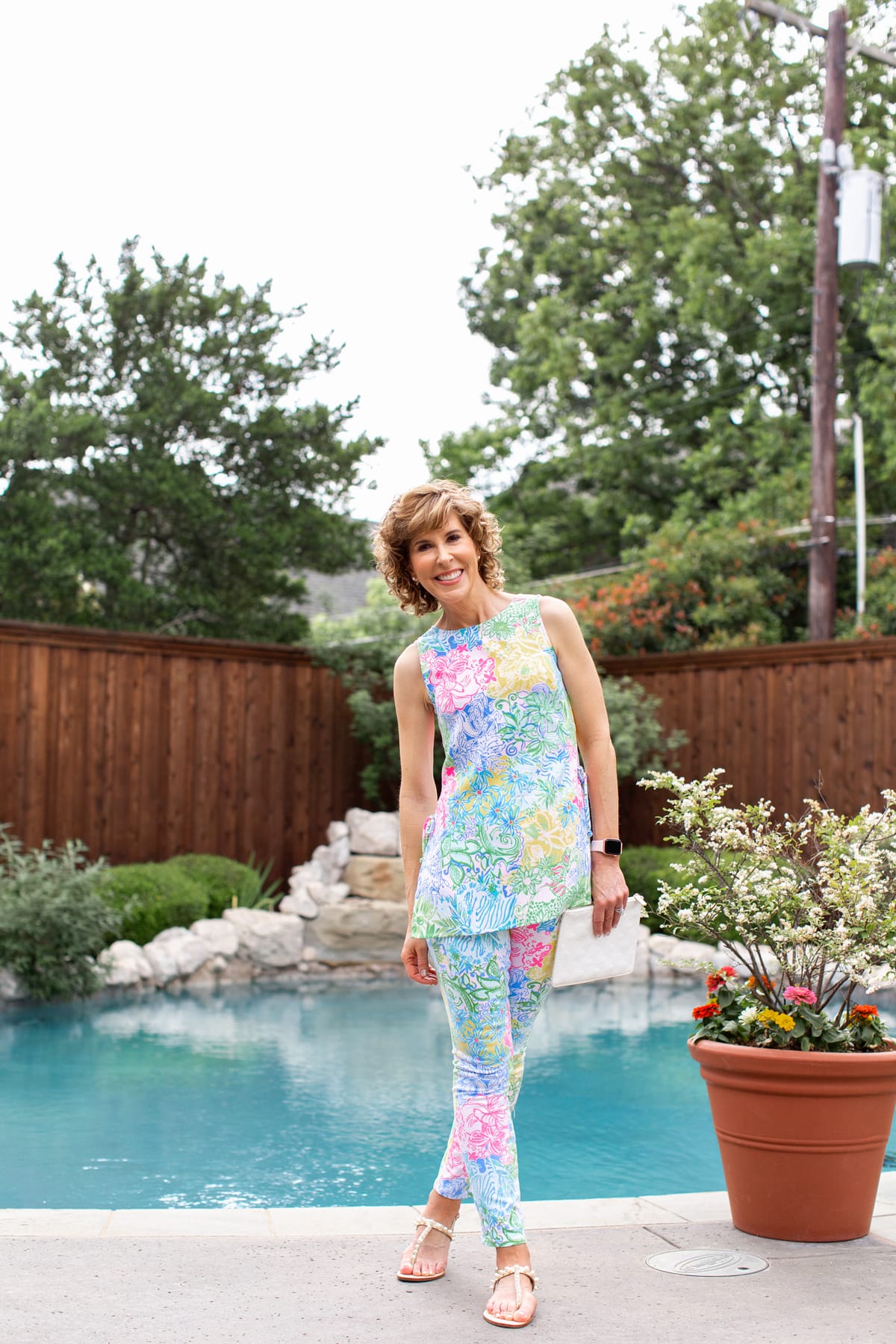 Donna Tunic Top ($39) | South Ocean Pant ($44) | Moira Pearl Sandals ($49) | Faux Pearl Stud Earrings | White Envelope Clutch

What are you going to shop for during the Lilly Pulitzer After Party Sale? I'd love to know! I hope you've found my tips and tricks helpful as you get ready to shop.

Leopard Puff Sleeve Tee (on sale!) | Black 5″ Stretchy Shorts | Ruffle Booties | Suede Skinny Stretch Belt | Convertible Clutch/Crossbody/Shoulder Bag | Earrings (similar)

Other Sales Worth Checking Out This Weekend
BANANA REPUBLIC | 40% off must-have styles, including this leopard ruffle wrap dress in either pink or blue! #love
J.CREW | I love it when J.Crew puts out new styles! Plus, they're having a fantastic sale! 40% off of 3+ items, 30% off of 2 items and 25% off of 1 item from this huge selection the code SHOPMORE. (The sale includes my leopard puff sleeve tee above!)
J.CREW FACTORY | Up too 60% off so many styles! Includes women's sweaters! Also, 50% off fall faves. This adorable leopard ruffle neck pullover sweatshirt that I own is 43% off. Use code MORETOLOVE.
LOFT | 30-50% off almost everything.
TALBOTS | 30% off tops you'll love + $25 off all pants & jeans.
Have a great weekend! Bob and I are hosting a fun family birthday party on Sunday, and of course, we'll be spending Saturday fully immersed in college football! Coming up on Empty Nest Blessed, I'm bringing you answers to the FAQs I get about the empty nest, gameday outfit ideas, and a new post in my Tackling Your Tech series. I'm going to tell you what's in and what's out in the texting universe so that your kids don't make fun of you. 🤣 (Always good, amirite?) xoxo
Blessings,