Well, all thanks to Amazon, it's happened. I've officially become a free shipping snob. Like, I get kind of mad ????‍♀️ (?!) when a brand doesn't offer free shipping now. Has this happened to you too? Also, it's summer (Hello Summer!), and it's getting hot. The last thing I want to do is to run around from store to store. Luckily, there are more & more brands with free shipping out there.
But let's be real. We know nothing is really free! We also know online retailers add the cost of shipping in there somewhere, right? Or if they offer free shipping with a minimum purchase to qualify, we know they're trying to prompt us to buy more merchandise. The trouble is, we still tend to fall for it! Some of us (and I'm not saying who…????) fall for it every time. Like it or not, Amazon has spoiled us all and now we think we deserve free shipping. Um, also, we may or may not have gotten kind of lazy, just sayin'. (Er, maybe that's just me.????‍♀️)
Here's how it happened: As customers flocked to Amazon Prime's free shipping, online retailers were forced to take notice. The result? More and more retailers now offer free shipping and returns with no minimum purchase. I, for one, am all in!
BTW, If you haven't signed up for Amazon Prime, yet, you might want to consider it. There's a 30-day free trial, and their same-day and two-day shipping will save you a whole bunch of running around this year. I couldn't live without it and especially appreciate how easy it makes sending things to my kids who live out of town. Also, it gives you access to tons of free Amazon Prime Videos, free books and magazines on Amazon Prime Reading, and more! (For more on the benefits of Amazon Prime—many of which you may not even know about—click HERE.)
Today I thought I'd share a comprehensive list of some favorite retailers with free shipping. Oh, I was brutal! To make my list, you also had to offer free returns and no minimum purchase! #suchatoughie This is a list you'll want to keep, so feel free to bookmark this post or to use the button at the bottom of this post to Pin it to your Pinterest page, or share it on your Facebook, or Twitter pages.

How Shopping Has Changed
Back in the early 2000s, you probably took your style cues from magazines, commercials on the three big TV networks, or what your friends were wearing. Even though Amazon launched in 1994 and went public in 1997, for many years it was a book retailer ('Memba that?) and it struggled to survive after the dot.com bubble burst in late 1999. But survive it did, and it expanded to sell clothing in late 2002. Amazon Prime debuted in February 2002, ruining all of us forever. #canIgetanamen ????
At the same time all of this was going on, mobile phones were becoming a staple in our lives. Did you know that back in 2011, 25% of all shopping was done via mobile, but in 2018 that number jumped to 60%! It's predicted to go up to 80% in the next year or so, and this year for the first time, there were actually more online sales than in-store sales!
Your biggest style influences now? Well, it's still your friends, for sure, but it's probably also expanded into the realm of social media, and you have influencers and bloggers that you follow on Instagram, Facebook, the LiketoKnow.it app, or their blogs. (Thank you for that, by the way! It means the world to me to think that I am one of those people for you, and your trust in me is something I take very seriously.) I actually hate the word "influencer" because it sounds kind of self-important when you say it out loud. I didn't set out to be one of those (!), and I want you to know that the mission of Empty Nest Blessed has never changed, and never will. As always, I'm here to bless, encourage, and inspire you, whether that be in your relationships, your health and fitness, your beauty routine, or even your fashion choices.
Shopping has changed a lot, for sure, and now you can shop in a brand's own app, on the SHOP page on an influencer's blog, or in apps like the LiketoKnow.it app, where you can follow your favorite influencers all in one convenient place! For more on the LiketoKnow.it app and how to use it, click HERE.
Now, with no further ado, here's THE LIST! Also, since on Fridays I usually share a list of the best weekend sales, if they're having one right now, I've included that for you in bold as well. (I get lots of thank yous for compiling that list every week, and that thrills me to pieces! I am all about saving you time, energy, and money!)
Brands With Free Shipping & Returns (No Minimum Purchase)
Click the links to visit their sites!
Amazon – with Amazon Prime, of course!
Apple – I am in love with my Apple Watch!
Billabong – The fun tee I'm wearing in this post is from Billabong! You have to join their Billabong Crew Rewards program to score free shipping.
Bloomingdales – Buy more, save more sale with code SAVEMORE! (Online only.)
Bonobos – Men's Activewear. This is one of Bob's favorite brands and he especially loves their flat front men's tech chinos. No matter what your man's girth, the sleeker fit is just more flattering!
Casetify – With everything from glitter Apple Watch bands (seriously?!) to unique phone, iPad, and MacBook cases, this is one brand you need to get to know.
Chicwish – I've never ordered from them, but after browsing their website, I'm definitely planning to in the future! How cute is this striped maxi dress?
Coach – It think their handbags are fantastic, and I'm loving their shoes right now (Check out these sale styles, which are up to 50% off right now.)
Dermstore – Great site for skincare, cosmetics, and hair care. To see if they carry your favorite brand, click here.
East Dane – A subsidiary of Amazon featuring clothing and accessories for men from over 125 designer brands.
Fossil – Famous for their watches, but they also carry handbags, jewelry, and accessories. Their sale items are up to 40% off right now.
J.Crew – Free shipping for J.Crew Rewards members. 40% off 3+ styles; 30% off 2 styles; 25% off 1 style with code NOTSOBASIC. (Online only.)
J.Crew Factory – Free shipping for J.Crew Rewards members. BOGO women's dress or men's shirt with code DOUBLEUP+ 40-60% off so many styles + extra 60% off clearance. (Online only.) I'm just crazy about these drawstring shorts with the pom-pom hem!
Lilly Pulitzer – I totally subscribe to their tag line: "ANYTHING IS POSSIBLE WITH SUNSHINE AND A LITTLE PINK." #amen
Madewell – Women's jeans, shoes, bags, and more. You have to join their free Madewell Insiders loyalty program to snag free shipping.
Molton Brown – I love their luxury bath & beauty gifts. (They're found at some of the finest hotels in the world!)
NYDJ – NYDJ stands for "Not Your Daughter's Jeans" and that's totally accurate! I love this company, where women create jeans for women. (But of course!) Their jeans will shape, boost, and sculpt you in all the right places!
New Balance – Free shipping when you join their NB Rewards program. These are my go-to athletic shoes!
Nordstrom – They were a leader in the free shipping/returns movement, and their customer service is stellar! Their Half-Yearly Sale is going on now and ends June 2, and it's across all brands and categories. Click HERE if you haven't checked it out yet. (Oh, it's good, y'all!)
Saks Fifth Avenue – Use the code FREESHIP at checkout. Up to 50% off women's designer ready-to-wear & up to 40% off accessories and men's.
Shopbop – A subsidiary of Amazon featuring designer clothing and accessories for women from over 400 designer brands. To see if they carry your favorite brand, click HERE and to check their sale section, click HERE. 
Smashbox – Makeup, primers, BB creams, and more. They're famous for their Photo Finish Foundation Primer!
The North Face – Every college kid I know owns at least one North Face Fleece, but they're also great for summer adventure gear for women and men, like quick-dry shorts and windbreakers.
Tory Burch – Up to 40% off Spring Sale. Great deals on handbags and sandals!
Walmart – They came out publically and said they were aggressively going after Amazon's customers! They started by offering free 2-day shipping. Need it faster? Buy online and pick up in store.
White House Black Market (WHBM) – Free shipping if you join WHBM Rewards. There's more here than black and white! I've got several fashion posts coming up with great looks from them. I love their business looks and I truly think their jackets are the best-fitting on the market! I own this beautiful blazer. Sale on sculpting jeans + 40% off sale. I just bought this fun top to wear to an upcoming party and I'm going to recycle it again for the holidays. Extra 10% off your order if you text SHOP to 50443.
Zappos – Did you know they're owned by Amazon? You probably just think of them for shoes, but now they also carry clothing and accessories. They've always got a good sale going.  Look at these pretty Kate Spade earrings I found on sale! They offer an additional 10% off to students, teachers, and military personnel. #lovethat
Do you have any favorite brands that offer free shipping and need to be on my list? Does free shipping/returns influence your purchasing behavior? Leave me a comment and let me know!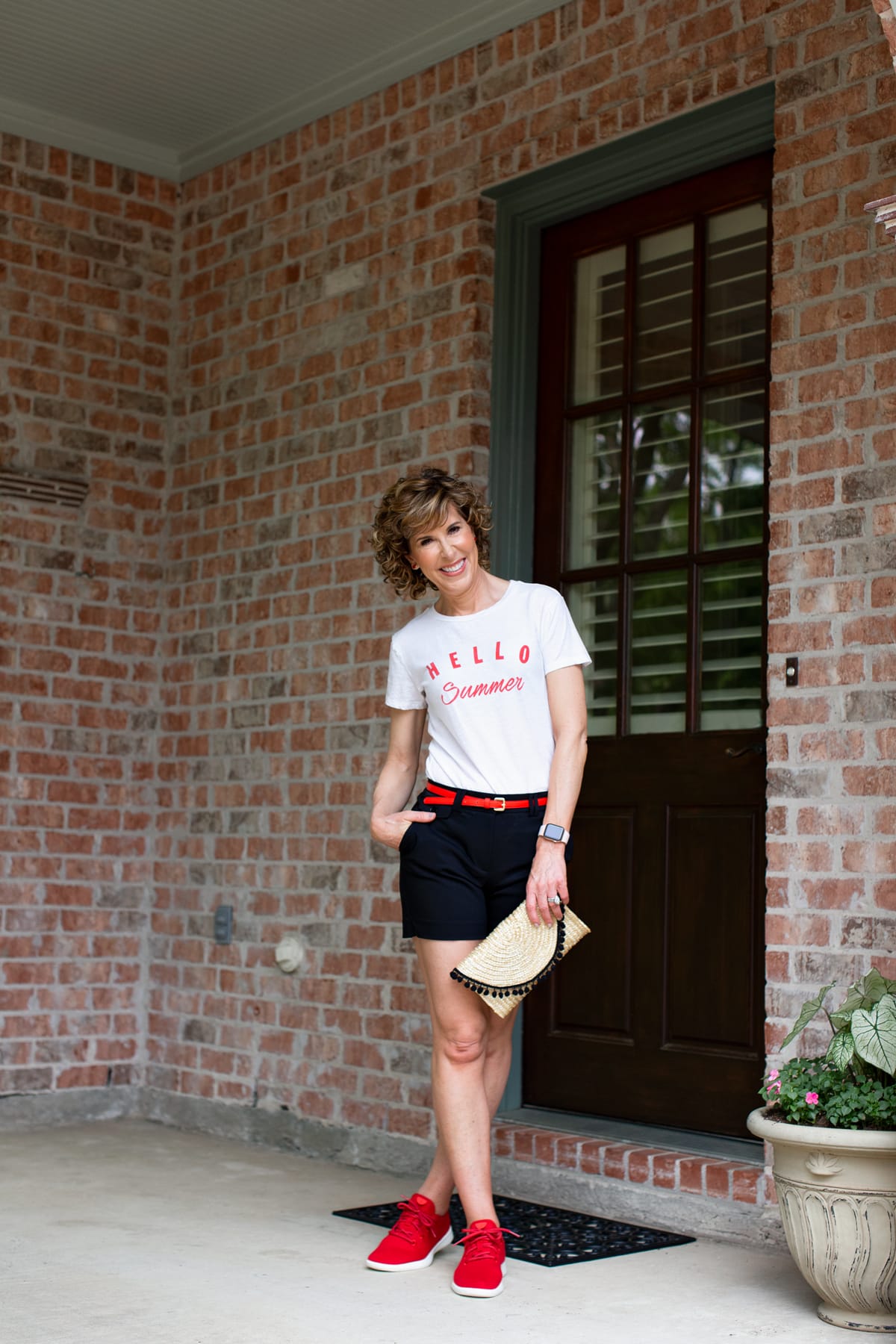 Hello Summer Billabong Graphic Tee (Free shipping!) | Black WHBM 7″ Shorts (Free shipping!) | Red Belt | Red Allbird Wool Runners | Straw Clutch with Black Poms | Red Kendra Scott Earrings (Free shipping!) | Apple Watch (Free shipping!) | Doormat (Free shipping!)

My graphic tee is fun, but I really want you to check out my black shorts! They're the tough-to-find 7″ length, which is so good for midlife women. They have stretch and give, so they're easy to move in, and they fit TTS (true to size). My red Allbird Wool Runners are billed as "The World's Most Comfortable Shoe!" I have to agree, which is why I love them for travel and I now own multiple pairs! If you're between sizes or you have wide feet, you might want to size up. This shoe is made of wool, so it's soft and breathable, but hey, it is wool. ???? For summer, you might want to check out their Tree Runners, which are designed to keep your feet cool. Those run small and they advise you to size down if you're between sizes. I have wide feet, so I stayed with my normal size. #fatfeet
Other Notable Weekend Sales
ANN TAYLOR | 50% off select full-price styles with code FIFTY + extra 50% off sale styles.
ANTHROPOLOGIE | Up to 50% off summer favorites.
BANANA REPUBLIC
| Extra 50% off sale styles & 30% OFF regular-priced styles. Extra 10% off for Banana Republic cardholders every day with code
BRCARD
.
TALBOTS
| 25% off all dresses & skirts
Happy Weekend! What's up for you? I'm headed down to Austin to help my son look for a new apartment. (Hey, when our adult kids ask for our help, we GO, amirite?????) Wishing you a wonderful weekend, no matter what you're up to!
Blessings,