Once a month I open up, give you a life update, and share my heart with you. I wish I could sit down and have coffee with each one of you, and we could have a good long chat in person. This is the next best thing! So, in the spirit of those old SNL "Coffee Talk" skits with Mike Myers as Linda Richman, let's have cawfee, and let's tawk! Here's what's on my heart this month.
Wow! It's hard to believe it's mid-March already! I'm sure some of you have kids home or on their way home for Spring Break. Our daughter, Becca, is coming home today for her last spring break ever. Whoa. I had to go back and read that sentence again to let it soak in good and proper. That's right. Last kid. Last Spring Break. Gulp. It's an empty nester milestone, for sure. Today, I'm sharing a life update, sharing the big ups and downs of our month, answering a few of your questions, and sharing the weekend sales with you. (There's one I'm so excited about—and you will be too, I promise!)

Life Update
I continue to be amazed that life in the empty nest doesn't seem to slow down like I thought it would! Does anyone relate? I'm not sure why I thought the pace would be slower! Hahaha! Oh, the way we spend our time is different, and I'd say there's a lot more wiggle room and flexibility in our schedule. But slow down? Not so much! It's been a month of highs and lows, for sure. It's been a tough month in some ways and a joyful month in others. Here's what's on my mind and in my heart.
A New Hip for Bob!
By far the most significant date on our calendar this month was March 11—the day of Bob's hip surgery. He has, I mean, had (!) a degenerative hip that first started bothering him in his 30s, and doctors told him then that he'd eventually need a hip replacement. They urged him to put it off as long as he could since artificial hips only last 20-30 years, and they wanted him to be "one and done" for life.
He had his surgery on Monday this week and came home on Wednesday. Y'all, he is doing fantastic and is just about done with the walker! (It helped that he was in really good shape pre-surgery.) He's been so brave and such a good patient! Honestly, I'm just trying to be a caregiver worthy of him. (Mostly I just clean things because after researching this post, I've become a certified germophobe!) #hahaha #ididittomyself
Thanks to all of you who prayed (and continue to pray) for him! Your emails and messages have been such an encouragement. 🙂  #grateful
Bedroom Remodel
These things always seem to take longer than you think they're going to! The new carpet is in, and the painting is done. For the paint, we went with a barely-there shade of pink called Shell Pink (#883) by Benjamin Moore. It's exactly what we wanted! I'm using the talented Ellen Thompson from Elegance in Draperies for all of my custom bedding and window treatments. (I shared the fabrics we're using in February's Coffee Talk post.) We hope to have everything done by the first of the month, and we couldn't be more thrilled! I'll share a full reveal when it's finished, I promise!
A Devastating Loss
My sweet friend, Gale, was leaving work on Feb. 11 and didn't feel right. She did the smart thing and came back inside. Thankfully, she ran into her boss who led her to a sofa so she could lay down. She continued to decline, so they called 911. When she got to the hospital, they diagnosed her with a brain aneurysm and performed surgery. Her prognosis was good, and they were going to keep her in ICU for 2-3 weeks as she recovered. While in the hospital she contracted bacterial meningitis, and despite the doctor's best efforts and multiple antibiotics, it caused a great deal of brain damage. (It's 80% fatal.) At this point, her family has made the heart-wrenching decision to take her off life support. As of this morning, she has passed through this life and is in the presence of the Lord. The Lord has healed her eternally.
Gale was a precious friend, a huge cheerleader for Empty Nest Blessed, and one of those people who was always there when I needed her. A single mom, she raised two kids, delighted in her grandkids, and tenderly cared for her aging mom. She was the kind of friend that always remembered my birthday, and she was by my side for so many other things that were big in my life. She literally sat by my side at the rehearsal dinner we threw when my son got married because she was like a part of our family. All of my kids called her Aunt Gale. I missed her so acutely on Monday when Bob had surgery. If she'd been well, she would have been sitting right by my side. Her loss is so painful to me, but as a Christian, I grieve with hope. I'm thankful that she'd given her life to the Lord, and she'll be by my side again one day.  #weallneedabymysidefriend
Rejoicing with a Friend
During the same time I've been grieving the loss of my precious friend, Bob and I have been rejoicing with another! (The Lord works things that way sometimes, doesn't He?) The University of Dallas just announced that our good friend Tom Hibbs has been appointed as their new president. We've known Tom for years and worked closely with him as a part of Baylor University's Honors College Advisory Board. The University of Dallas is his alma mater, and I cannot imagine anyone more qualified to lead that school forward in the future. (Not to mention, we're thrilled that he and his wife Stacey are moving to Dallas!)
"Rejoice with those who rejoice; mourn with those who mourn."
Romans 12:15
It's been a month of that, for sure. 
Reader Questions
I love it when you all ask me questions! For each one that's asked, I kinda figure there's a few more of you with the same question. 🙂 Sometimes (as in Monday's post) I get to write an entire post to address a question! Other times, I try to answer them during coffee talk. I want this to be a two-way conversation, so I'm grateful to you for asking!
If you have a question for me (or a request for a topic you want me to write about), please feel free to email me!
* Do you take any vitamins/supplements on a regular basis? If so, which ones?
I take Juice Plus. When I was diagnosed with Celiac Disease and had to switch over to a gluten-free diet, I was concerned about missing out on nutrients and minerals. My gastroenterologist told me that she used Juice Plus, and that was enough for me!
* Do you have a system/method for storing photographs – both printed and digital?
Oh. Dear. No. I'm the worst about this! I'm ashamed to say that our printed photos are all rapidly turning yellow in old photo albums. I store newer, digital photos on iCloud. But switching them over to Amazon Photos (unlimited free storage with an Amazon Prime account) is on my to-do list!
* When do you read? I'm challenged with finding the right time of day. If I try to read in bed, I fall asleep in about 5 minutes. I can tend to feel guilty sitting down to read at home because there always seems to be something that needs to be done!
I hear you, friend! I have trouble making time to relax, too. Basically, I just decided I wanted to make reading a priority, so I started doing it whenever I could steal a minute. I'll do it in line at the grocery store, while I'm eating my lunch, and especially on trips! It's helped to have an Amazon Kindle Unlimited Membership Plan. (There's a 30-day free trial, so you can see if you like it before committing.) I can read on my Kindle or any other device via the Kindle app, and it includes access to over 1 million books, current magazines, unlimited audiobooks (love those)! #winner
* What are your vices?
I talked about them a little bit at the end of this post. I adore Diet Dr. Pepper and popcorn! I mix this popcorn and this one to keep the calorie count down, and I tell myself that popcorn is full of fiber, so that's a good thing. Right? Hahaha! Also, I'm always down for an In-N-Out lettuce-wrapped burger and fries!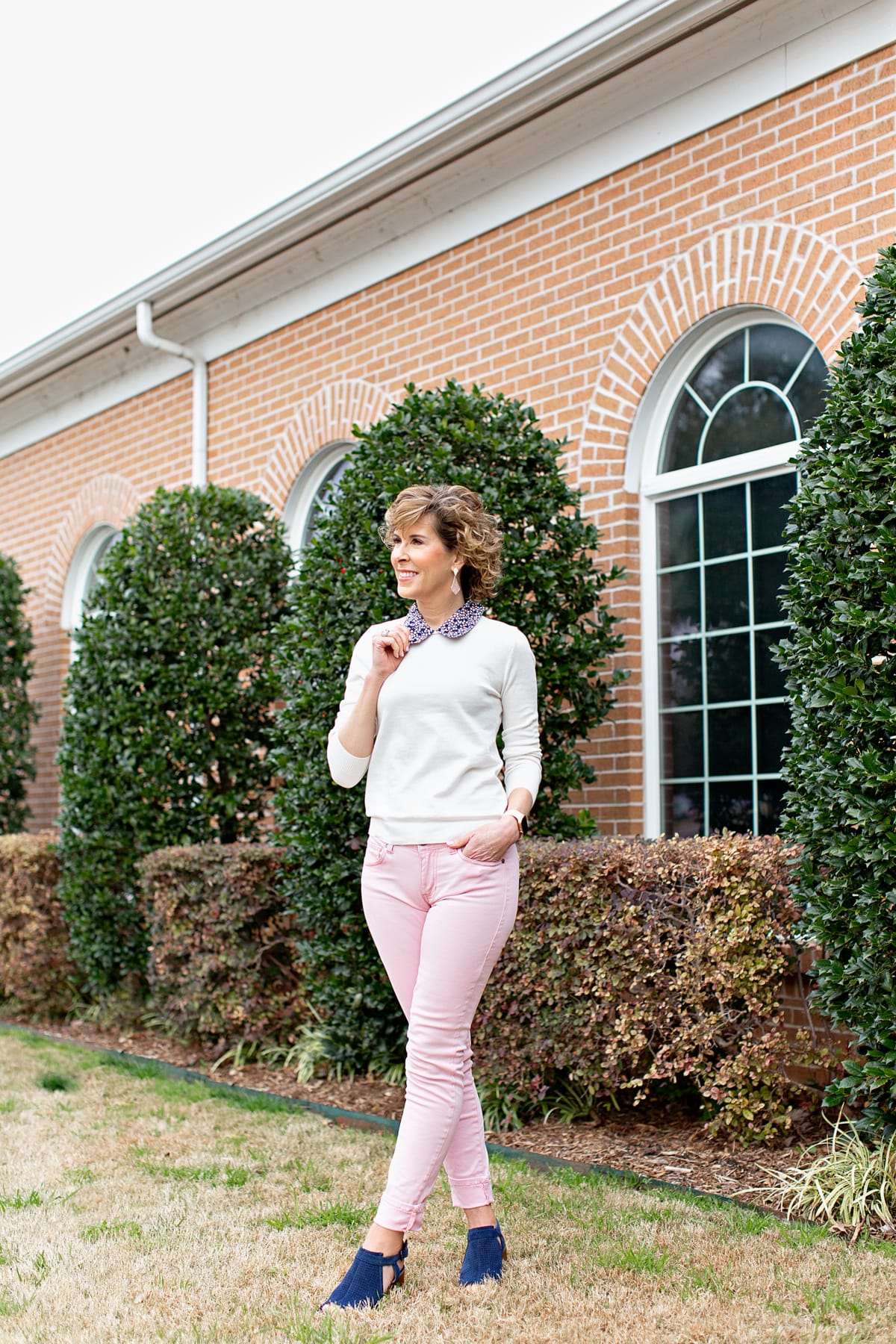 Peter Pan Collar Sweater (comes in 2 other color combos) | NYDJ Blush Jeans | Navy Peep-Toe Suede Block-Heel Sandals | Kendra Scott Custom Earrings | Empty Nest Blessed "Blessed" Coffee Mug | Plumping Lip Gloss "Sun Diego" by City Lips (See below for a promo code that will snag you 30% off this Saturday!)

In my Spring & Summer Style Trends post, I told y'all that Peter Pan collars were back in a big way this year! This sweater is affordable, lightweight, and perfect for spring. Yay! #styletrifecta

My navy suede peep-toe sandals are comfy and easy to walk in, thanks to the cushy insole and block heel! These are last year's version, so I've linked to this year's, which also come in a versatile taupe.

I hope you have fun plans this weekend! We're continuing Operation Recuperation over here! I've got big stuff on tap for Empty Nest Blessed next week, including a post on the Amazon Prime benefits you may not know about (and thus be missing out on), and a post on how to score a designer bag for less, and a post on the best swimsuits for women over 50. (Oh, yeah, we're going there.)
Happy Weekend! xoxo
Blessings,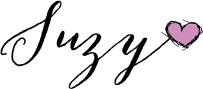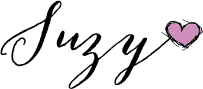 Photos by Megan Weaver.