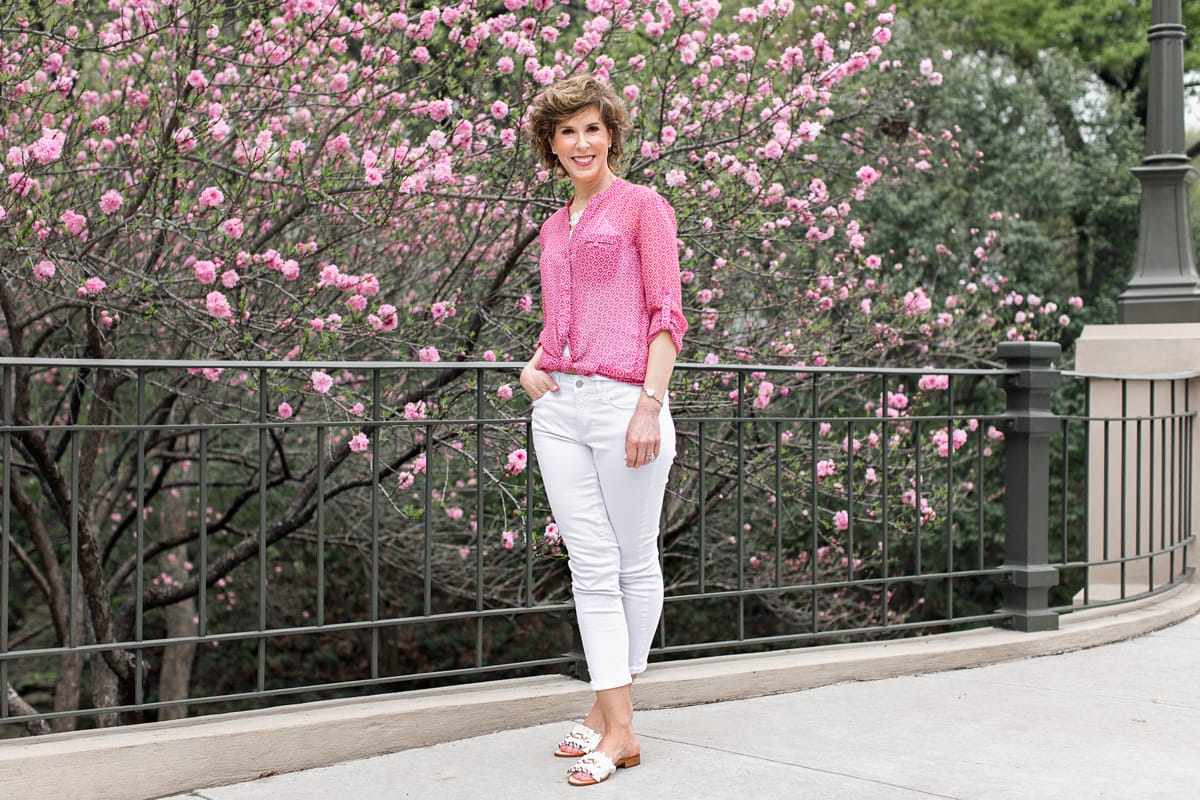 I love hearing from you all, whether in comments of my posts, or emails, and I do my best to answer each one personally. Sometimes, I get good questions that I think other readers might have too, so today I decided to answer some of them on the blog. Let's do this!
Susie asked: Do you have some suggestions for dresses to wear to a summer wedding?
HI Susie, I'm so glad you asked! Of course, I love the fit & flare dress I wore for Easter this year, and it's 60% off right now. (See me in it here.) Also, the one I wore for my son's graduation last weekend is 60% and so slimming, thanks to the black vertical piping on the seams. (See the Instagram post here.) If those don't do it for you, scroll through the widget below for a few other suggestions in a variety of styles.

Janie asked: I love the look of casual dresses with sneakers, but I'm never sure what type of sneakers to wear. Help!
Hi Janie! I love sneaker dresses too! You can wear them with almost any kind of casual sneaker like Converse Chuck Taylors, an embellished slip-on (here's the pair I bought — just marked down 40% at Nordstrom), or even a pair of Keds. For the most updated look, go for an embellishment of some kind, whether it's a ruffle, print, sparkle, or a fun pop of color. Scroll through to check out the ideas I've linked for you below.

Cami asked: I know you love to read. Can you give me some good summer reading suggestions?
Hey, Cami! Yes, I do love to read, and I've got some good suggestions for you up on the Empty Nest Blessed Amazon page. (Yes, feeling kinda giddy that I have my own Amazon page!!!) Once you're on the page, you can see my comments on each book by hovering over the little symbol at the top right of each selection. I hope you find something wonderful. Also, you can check out the "Resources" section of Empty Nest Blessed for good ideas for Soon-to-be Empty Nesters, New Empty Nesters, and Long-Time Empty Nesters. I'd love to know what you're reading this summer!
Julie asked: Where are you and Bob going on vacation this summer? I need some good ideas!
Hi Julie! Bob and I are going several places this summer. In late May, we're going to NYC for a long weekend to see Billy Joel in concert in Madison Square Garden. (He doesn't tour anymore but does one show per month at Madison Square Garden.) While we're there we're also going to see several Broadway shows, like School of Rock, Come From Away, and Beautiful: The Carole King Musical. Next we're going to our favorite beach resort with our son & daughter-in-law for a week in early June. Finally, we're taking an Alaskan cruise in July. If you need good ideas, I think one of the resources is this page on Trip Advisor.
Natalie asked: My makeup seems to melt right off my face in the summer! What are your favorite summer makeup products?
Natalie, I'm so glad you asked! (You're not the only one.) I actually started trying out products last summer, but I didn't feel like I had strong enough opinions on the subject to publish a post. So, I've been trying out products all winter! (Bob: "Why are you wearing makeup in the shower but not washing it off?") I've been trying lots and lots of products. (Bob: "This is getting expensive! When are you going to do this post again?") I'm finally ready to write this post! Watch for it in the next few weeks.
Carol asked: How do you so stay fit and trim?
Hey, Carol! It's a challenge, for sure! I've talked a lot about my dislike for exercise in past posts. It takes a lot of willpower, but I do it because I know its good for me. I finally admitted to myself that at my age, I was just going to have to eat less and move more. One thing that's really helped me lately is my new Fitbit Alta HR. It measures my heart rate, sleep quantity and quality, calculates my activity time, calories burned and the number of steps I've taken during the day. Most importantly, it gently vibrates to remind me to move at regular intervals throughout the day.

Jasmine Top | White Camisole | NYDJ White Ankle Jeans | White Ruffle Slides | White Acrylic Monogram Necklace | Earrings | Nail Polish | Toenail Polish | Lipstick
The top I'm wearing in this post is sheer and cool for summer If you're one of those people who doesn't like to show your upper arms — I've gotten your emails (!) — this is a wonderful option for you. It's the Jasmine top by Kut From the Kloth at Nordstrom. (It's a brand known for great denim, and I especially like their longer denim shorts.) Their Jasmine top comes in multiple patterns, the price point is good, and it works for all ages. (See my 21-year-old in a Jasmine top in this post.) Scroll through to see all of them below.

Lisa asked: What are your favorite places to shop?
Hi Lisa! If you've been hanging around here for awhile now, you've probably figured out that I love Nordstrom, WHBM, Kate Spade, Zappos, and Amazon. Lately, I've been getting into Madewell and Soma for PJs. I really like Marley Lilly for inexpensive monogrammed items, and for gifts, it's hard to beat Mark & Graham.
I hope I answered some of your questions today! Now may I ask one of you? I'd love to know your favorite places to shop. Would you leave me a comment and let me know your fave retailer(s)? (Even a one-word comment will do!) Thank you. 🙂
Have a wonderful Mother's Day, sweet friends! You deserve it. We're spending tomorrow doing a massive yard & patio cleanout in preparation for Connor's graduation party next weekend, and then going out for a  big family dinner on Sunday to celebrate all the moms in our family. I hope you have special plans too. I'm so grateful for you! xoxo
Blessings,

SHOP THE POST