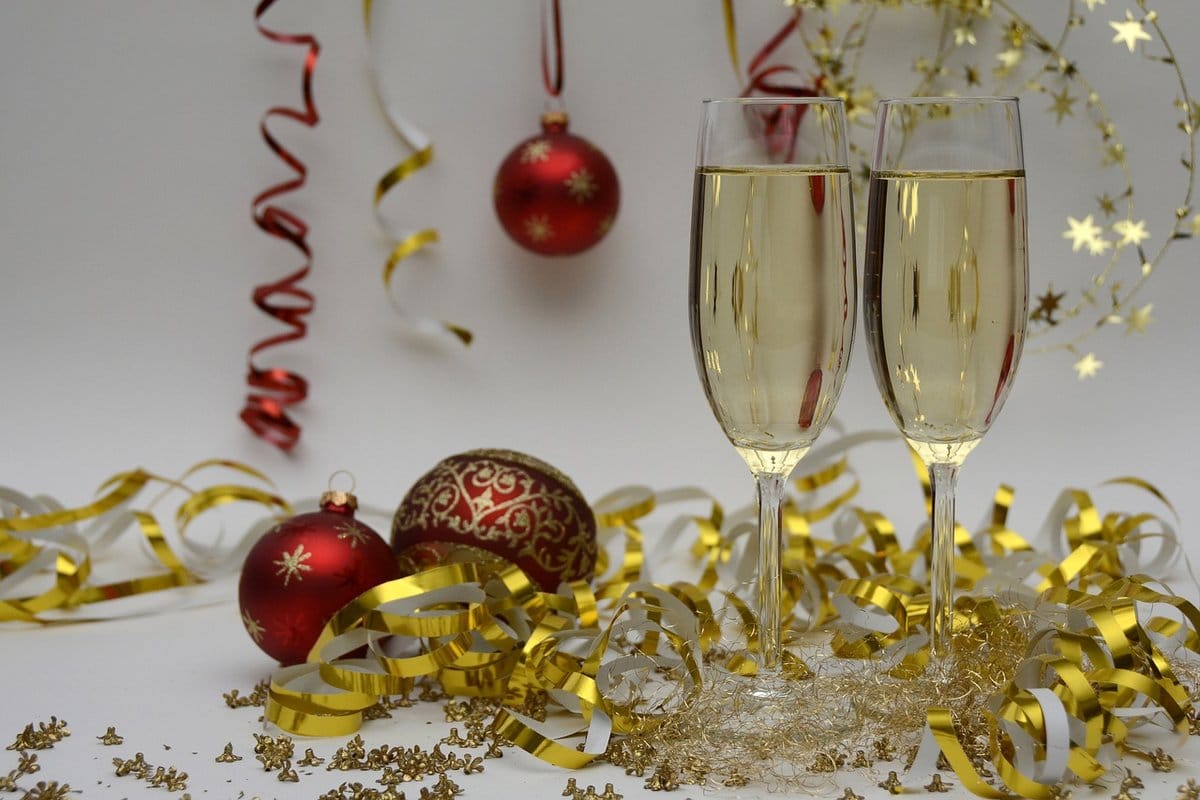 I hope you've had a wonderful week with your families! With Christmas (and New Year's) on a Monday this week, I've been reminding myself what day it is every single day. Have you done that too? We had a great Christmas long weekend and we've really enjoyed the slow, quiet week. It's been so relaxing! We "played" with our gifts, went out to the movies a few times, watched some bowl games, returned/exchanged a few gifts, and shopped some of the after-Christmas sales. (See my complete listing of the sales in this post.)
I'm so looking forward to our family NYE at HOME. Yep, that's right. We have a pajama party and do it up right. Today I'm letting you in on what we wear, what we do, and even the crazy way we spend New Year's Day.
NYE at HOME Attire
Pajamas are the mandatory attire for our party. As an empty nester, I spend more time in my jammies than I ever used to when I was running around to kids' activities. Do you do that too? Sometimes I get into my jammies around 4 p.m.! (My husband probably thought that in the empty nest season of life I would greet him at the door in some kind of slinky lingerie. Um, that hasn't happened, as I favor flannel.) At least I've upgraded my pajama game by tossing all of my tired and worn pajamas and replacing them. If you haven't done that but have been meaning to, now is a perfect time because everything is on sale! Nordstrom is having their big Half-Yearly Sale right now, and they have lots of yummy jammies at significant savings. (All of the ones I've linked below are on sale. Click the images for more information.)

NYE at HOME Activities
For our NYE at Home Pajama Party, we always have a puzzle going. (Sometimes more than one!) We work on it a little at a time, and usually don't finish it until the next day. Games are always fun, and this year we're obsessed with the game LCR. (I told you all about it in my post on our family's Christmas traditions.) The great thing about LCR is that it's a game of chance, so there's really no skill involved. (Translation: No arguing!) The big secret to this game?  Play with real money! (Don't panic, only $3 per person.) We played with my extended family on Christmas Eve and Bob's family on Christmas Day and it was a huge hit. My sister's family is really into Telestrations, so I just bought that for us to play this NYE. I've also heard that Speak Out is hilarious. Our other long-standing favorites are Taboo and Guesstures.

Other Ideas for NYE at HOME
Some years we've worked an enthusiastic karaoke session into our evening, and of course, a good set of silly hats, noisemakers, and plastic leis is a must for midnight revelry. Want a quieter night? I love the movie New Year's Eve that came out in 2011. It features a bunch of your favorite stars, in a mash-up story about various New Year's Eve experiences that intersect in ways you can't even begin to imagine.

NYD is DIP DAY
New Year's Day is our annual family Dip Day. That basically means that I whip up about five different dips and we eat dip the whole day while watching copious amounts of football. I am not kidding you. Just to paint the picture for you—there is a lot of Velveeta involved, along with massive amounts of cream cheese, and of course, Fritos. Please don't be confused. It is not for the faint of heart. (And I mean that literally.) We do not mess around with a bunch of wussy veggies on Dip Day.  A must-have for Dip Day? My Crock-Pot Little Dipper. (It's only $8.39 on Amazon right now!) I use it to make everyone's favorite queso.
Suzy's Super-Easy Queso
1 lb. block of Velveeta cheese
(In an effort to save our arteries, I've switched to 2% Velveeta, and so far nobody has noticed!)
1 can Wolf brand Lean Beef Chili
(I tried to switch to turkey chili a few years ago, but there was a massive revolt.)
Fritos
(One year I attempted to substitute baked tortilla chips for the Fritos and it did not go well.)
Cut cheese block into cubes and place into Crock-Pot Little Dipper. Add canned chili. Plug in Little Dipper. Stir occasionally with a spatula. That is it. Yes, really. It is fantastic.

I'd love to know what you have planned for New Year's Eve. Are you going out or spending NYE at HOME with the FAM? Please leave me a comment below and let me know how your family spends New Year's Eve.
As 2017 draws to a close, I want to thank you all for following Empty Nest Blessed. Your comments, suggestions, and encouragement mean so much to me! I pledge to do my best in 2018 to bring you more content that is engaging, fun, and most of all, a blessing.
This is a precious season of life, and we're in it together, my friends. Hugs to you all, and Happy New Year! xoxo
Blessings,